Fiocchi Ammo Review: High Quality Italian Ammunition Engineering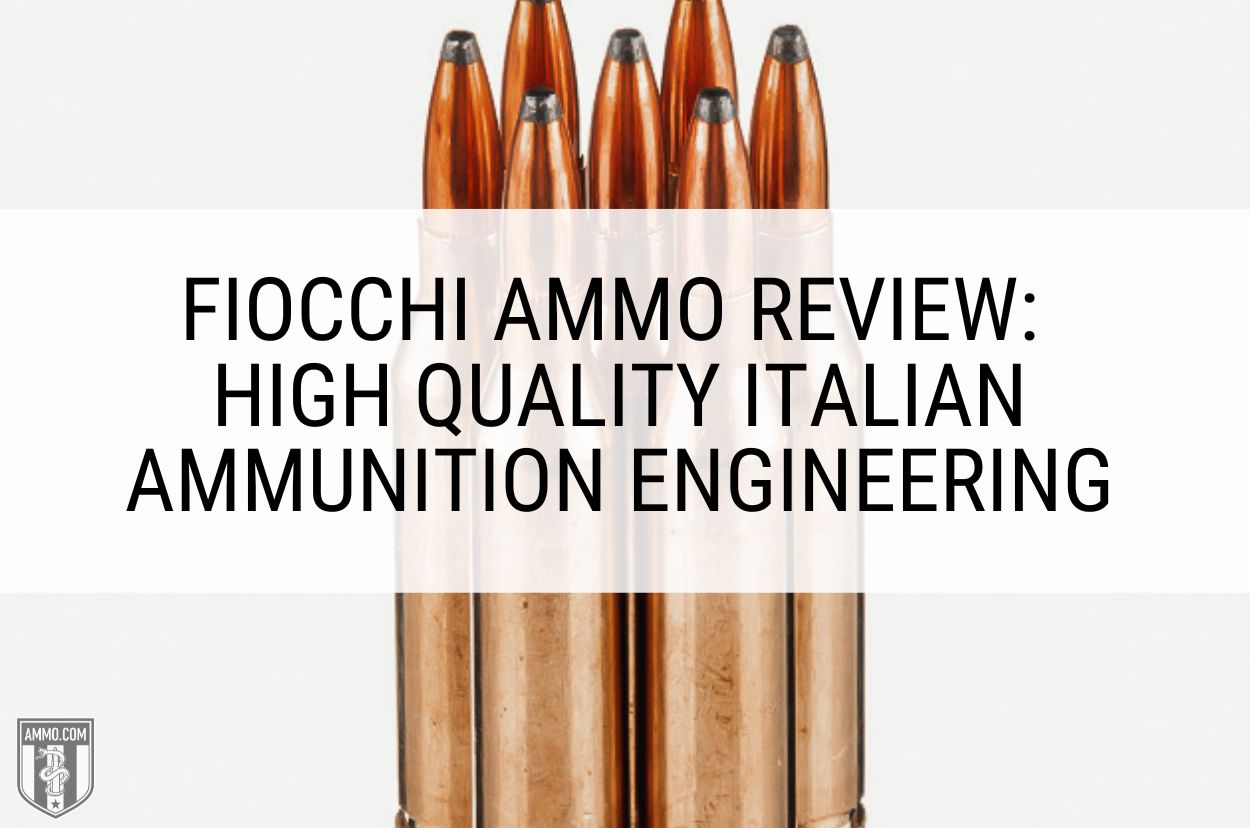 When someone starts talking about exquisite Italian engineering, the average person will naturally think of names like Ferrari, Lamborghini, and Ducati. And although Italy is very well known for their luxury car brands, if you've ever put any number of rounds of Fiocchi ammo through your favorite Glock, Sig Sauer, or Smith & Wesson, you know that Italian ammo is good stuff!
Although many shooters know Fiocchi for their handgun ammo, the company also has an excellent line of centerfire rifle ammo and has made a huge impact in the world of sporting clays with their shotgun target loads as well as offering a comprehensive line of rimfire ammo as well.
To put it bluntly, Fiocchi makes quality ammo at a price point most every shooter can afford. In this Fiocchi ammo review, we will take a look at what makes Fiocchi an excellent choice for your favorite handgun or rife as well as digging into the storied history of Italy's oldest ammunition factory.
What is the quality of Fiocchi ammo?
Fiocchi ammunition is good ammo, extremely high-quality, and is perfect for plinking, competitive matches, or long-distance target shooting. I have not experienced any jams of failure to fire (FTF) malfunctions while using Fiocchi ammo. No matter if you enjoy rimfire shooting, sporting clays, or centerfire rifle/pistol, factory Fiocchi loads are perfect for any situation.
Where can I buy Fiocchi Ammo?
Check out our entire selection of Fiocchi Ammo for sale online!
Fiocchi Ammo History and Important Information
Fiocchi Munizioni (Fiocchi Ammunition) was established in 1876 by Giulio Fiocchi in Lecco, Italy. It is one of Italy's oldest and largest ammo manufacturers and supplies centerfire, rimfire, and shotgun ammunition to civilians, hunters, and law enforcement.
Although Fiocchi is not Europe's oldest ammo manufacturer (that tile goes to Sellier & Bellot), Fiocchi has developed a reputation as one of the world's finest loaders of metallic cartridges. In 1989 they received NATO qualifications to produce 9x19mm NATO ammunition to CIP specs, and their 5.56x45mm NATO qualification came 10 years later in 1999.
Although the ammo factory in Italy remains the home of Fiocchi ammo, access to the American market has been a tricky path Fiocchi has had to traverse.
During the 1950's, Fiocchi in partnership with Smith & Wesson, owned a factory in Alton, Illinois. However, Fiocchi decided to sell their portion of the factory back to Smith & Wesson and it wasn't until 1980 when Carlo Fiocchi helped put Fiocchi ammunition back into American shooting goods stores.
On his honeymoon, Carlo traveled in the United States with the interest of locating a site for a new Fiocchi ammunition plant. Carlo was able to convince the then president Paolo to build a manufacturing plant in Ozark, Missouri near Springfield.
Today, Fiocchi is known for their high-quality ammo at affordable prices, Fiocchi is often used by competitive shooters who demand the highest levels of accuracy and precision. Fiocchi has really made a name for themselves in the sporting clays circuit, as they have numerous professional shooters on their roster including Jerry Miculek, Dianna Muller, and Lanny Barnes.
Fiocchi Ammo has multiple lines of ammunition that are perfect for every shooting situation.
For every day shooting or plinking at the range, Shooting Dynamics and Range Dynamics offers marksmen an affordable round that doesn't compromise on consistency and accuracy.
For self-defense ammo, Defense Dynamics is the best option. This line of ammo utilizes state of the art bullet and projectile technology to limit over penetration while maximizing expansion inside the target. The result is amazing terminal ballistics that can easily defend your life should the need arise.
For long-range shooting and target practice, Hyperformance Match ammo will make sure your groups are tight and you get the consistency you demand from match-grade ammo. This ammo utilizes the Sierra Matchking bullet, with unparalleled consistency and a high ballistic coefficient to ensure your rounds go exactly where you want them.
However, for the hunting crowd, we highly recommend Hyperformance Hunt as these rounds are specifically designed to hunt big game animals that require improved terminal ballistics to ensure a clean kill. For varmint hunters, Fiocchi has multiple smaller caliber rounds loaded with polymer tipped bullets to ensure that groundhog or prairie dog doesn't escape your sights.
No matter what type of shooting you're interested in, Fiocchi has ammunition that can meet your needs at a price point everyone can afford.
Where is Fiocchi Ammo Made?
The original Fiocchi ammunition plant is located in Lecco, Italy. In the United States, Fiocchi has two ammunition factories, one located in Ozark, Missouri and the other in Little Rock, Arkansas.
Which Calibers are Available?
Fiocchi offers a wide variety of ammo in different calibers, here are some of their most popular factory loads:
22 Long Rifle (.22LR)
357 SIG
243 Winchester
6.5 Creedmoor
300 Win Mag
338 Lapua Magnum
FAQ's
Does law enforcement use Fiocchi ammo?
Fiocchi Defense Dynamics is the company's primary brand of self-defense jacketed hollow point (JHP) ammo. This ammunition is designed as defensive and duty ammo.
What primers does Fiocchi Ammunition use?
Fiocchi uses their own brand of non-corrosive Boxer and shotshell primers for all their centerfire ammunition. These primers are available for sale to civilian handloaders.
Are Fiocchi cases good for reloading?
Yes! Fiocchi centerfire ammo uses brass cases that are Boxer primed, which are perfect for handloading. Their shotgun hulls are also excellent for shotshell reloading.
Which Fiocchi 9mm ammo works best in a Glock 17?
The best Fiocchi 9mm Luger for target practice with a Glock 17 is Range Dynamics 115 grain FMJ (full metal jacket). This round is accurate, shoots clean, has low recoil, and is inexpensive.
What's the best shotshells Fiocchi loads for sporting clays?
Fiocchi Shooting Dynamics 12 gauge #8 Target Loads are excellent for shooting skeet, trap, and sporting clays thanks to their low price point and excellent spread.
Which Fiocchi ammo is best for big game hunting?
The best Fiocchi ammo for big game hunting is their 30-06 Springfield Field Dynamics 180 grain Pointed Soft Point (PSP) bullet. This round can take down big game like elk and black bear.
Which Fiocchi ammo is best for varmint hunting?
The best Fiocchi ammo for varmint hunting is their 223 Remington Field Dynamics loaded with a 55 grain Hornady V-MAX bullet with a muzzle velocity of 3,240 fps. This round is excellent for taking on coyotes, prairie dogs, and other varmints thanks to its flat trajectory.