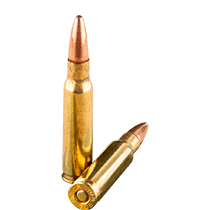 Bulk 308 Ammo For Sale
Live Inventory
Below you will find our assortment of bulk 308 ammo, including full metal jacket (FMJ) and soft point (SP) rounds for all your shooting and hunting needs. To shop all 308 ammo options, check out our
308 ammo
page. The 308 Winchester round has been the precision rifle cartridge of choice by military snipers for years. Get your .308 bulk ammo below!
Learn More
There are no products matching the selection.
History of Bulk 308 Ammo
Development of the 308 Winchester began after WWII and was completed after the Korean Conflict. Although it only served front line soldiers for a short period during Vietnam, it quickly became the precision rifle round of choice for military, police, and civilians.
If you own a rifle chambered in 308, then you owe it to yourself to purchase bulk 308 ammo and save. You see, sporting goods stores and gun ranges will rip you off with inflated prices to make sure the CEO gets his next yacht paid for. But when you get 308 bulk ammo you cut out the middleman and save.
That's where Ammo.com comes in, as we want you to get your bulk 308 at the best price possible. As fellow shooters, we understand that sometimes buying 308 bulk can be scary, but you needn't worry because we've got all your .308 bulk ammo needs covered.
You see, the key to extreme accuracy is consistent practice, and we understand that ammo prices can make it hard to decide if you're going to practice at the range or not. But when you load up on .308 bulk ammo, you can keep your marksmanship skills at high levels without depleting your hard-earned cash.
And not only do we have bulk 308 ammo, but we also have your NATO needs covered with 7.62x51 bulk ammo. No matter if you want to feed your NATO precision rifle or your 308 Winchester hunting rifle, we have all your bulk 308 ammo needs covered.
Some shooters worry about purchasing 308 bulk ammo, as they are concerned that their 2A hating hippie neighbors might cast shade on your right to self-defense. But don't worry, because we will send your beloved 7.62x51 bulk ammo package in a discrete, unmarked package right to your doorstep. Those unicorn tree-huggers will have no idea that you're prepared for any SHTF situation with your 308 bulk ammo purchase.
With all the issues surrounding the supply chain, buying 7.62 x51 bulk ammo just makes sense. No longer will you be dependent on your favorite gun range to have 308 ammo in stock! All you have to do is grab a few boxes from your 308 bulk ammo delivery and you're off to the range.
Buying bulk 308 ammo just makes sense, because it makes you a more independent shooter, just the way the Founding Fathers intended. And when you spend less money by buying 7.62x51 bulk ammo, it means you have more cash left over in your pocket for other 2A needs (like buying bulk 45 ACP ammo!)
Here at Ammo.com, we believe that your rights to life, liberty and self-defense are inalienable and we support that by giving you the absolute best prices on bulk .308 ammo on the market. Don't waste anymore time, check out all the bulk 308 ammo options available.