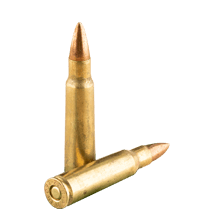 Bulk 7.62x39 Ammo For Sale
Live Inventory
Below you will find our assortment of bulk 7.62x39 ammo, including full metal jacket (FMJ) and jacketed hollow point (JHP) rounds for all your shooting needs. To shop all 7.62x39 options, check out our
7.62x39 ammo
page. Bulk 7.62x39 is most commonly purchased for owners of the AK-47 and SKS rifles which were popular in Eastern Europe during the Cold War.
Learn More
Bulk 7.62x39 Ammo - 1000 Rounds of Bulk 122 Grain FMJ Ammunition from Arsenal

Muzzle Energy

1555 ft lbs

1000 Rounds
44.0¢ per round
Made by Arsenal

Bulk 7.62x39 Ammo - 1000 Rounds of Bulk 122 Grain FMJ Ammunition from Wolf

Muzzle Energy

1556 ft lbs

1000 Rounds
45.0¢ per round
Made by Wolf
History of Bulk 7.62x39 Ammo
If you're concerned about preparedness, any potential SHTF scenario, or just love to plink with your AK-47 or SKS, then getting stocked up on 7.62x39 bulk ammo is the best thing you can possibly do. With rugged, steel-cased design, the bulk 7.62x39 is an awesome option for any prepper stockpile or shooter who loves his Eastern European rifles.
Designed towards the end of WWII, the 7.62x39 was developed as an improvement on the German STG-44 assault rifle. Since its release, the 7.62x39 and AK-47 have been considered the most reliable rifle system in the world and this is the best reason why you should make sure you purchase 7.62 x39 bulk ammo.
Listen, when you're at the range it's easy (and fun) to do a mag dump in a short period of time (just don't let the range officer see you!) If you like doing this, as most every 2A loving red-blooded American does, then the best way to enjoy your semi-auto fire is by saving as much money as you can and load up on bulk 7.62 x39 ammo.
You see, if you purchase 7.62x39 ammo at the range, the price must be jacked up to cover all of their corporate markups. But here at Ammo.com, we cut out the corporate red tape and sell you the lowest cost bulk 7.62 x39 ammo on the market.
This is perfect because it means that you can go shooting more often, which you obviously want to do. Bulk 7.62 x39 ammunition ensures that you are paying the lowest cost per round so you can punish your paper targets and not your wallet.
However, some shooters worry that purchasing bulk 7.62x39 ammo is difficult, but Ammo.com makes it super easy for you. Just put in your 1000 round 7.62x39 order and we will discretely ship it to your doorstep in an unmarked package. Your nosey neighbors will have no idea that your bulk 7.62 ammo has arrived and that you plan on unleashing Communist hellfire at the range this weekend.
Also, when you buy your 1000 round 7.62x39 case of ammo you don't have to worry about supply chain issues either. No need to worry if the range has your beloved Commie ammo in stock, because you're set with your 7.62x39 bulk ammo stash. Just grab a few boxes and head to the range!
As a true survivalist, you understand that unbridled reliability is tantamount to having the most sexy, maneuverable possum-shooting AR-15 rifle. No, you understand that the combat-proven AK-47 will never fail you, and you've got plenty of ammo to feed it with your bulk 7.62 x 39 ammo purchase.
Cleaning kits be damned! You can blast away with confidence that your rifle will always go bang with your bulk 7.62x39 purchase.
Let's face it, we live in uncertain times. And purchasing your 7.62x39 bulk ammo pack is the best insurance you can buy while preserving your freedom!