Winchester Ammunition Review: The White Box is All You Need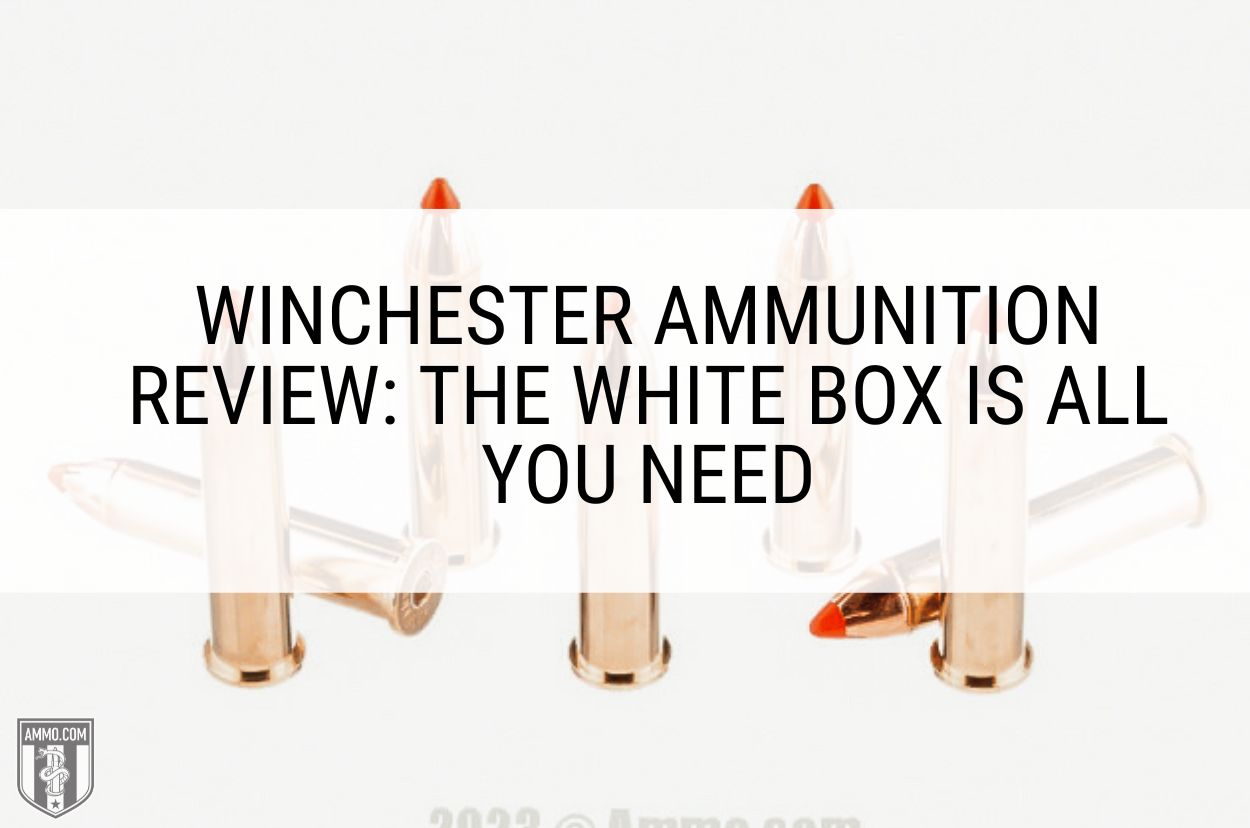 I can remember the first time I went out to the range with my father after I purchased my brand-new Glock 17 handgun. I had stopped by my local ammo retailer and picked up several 50 round boxes of Winchester White Box, it was 115 grain FMJ 9mm Luger loads.
I remember the feeling of opening the first box open and loading it into my magazines as well as the incredibly tight shot groups I had that day!
Since 1866, Winchester Ammunition has been producing good ammo for handguns and rifles at good prices every shooter can afford. Their ammo is reliable, accurate, and won't break the bank.
No matter if you're looking for some Winchester USA range ammo for a weekend of target shooting or Winchester Defender PDX1 for self-defense, you know that you have the legacy of Winchester Ammo behind every round you load into your magazines.
But what makes Winchester ammo some of the best in the world and why do so many shooters count on it every day? Let's look at the storied history of Winchester Ammunition and why you should be loading it into your EDC mags every day in this ammo review!
So, is Winchester Ammo a good choice?
Yes! Winchester makes great ammo for any budget. From a weekend of causal plinking, competitive matches, or long-range precision target shooting, Winchester ammo has a round that will meet your needs as a shooter.
Where can I buy Winchester Ammo?
Check out our entire selection of Winchester Ammo for sale online!
Winchester Ammo History and Important Information
The Winchester Repeating Arms Company was established in 1866 and has been producing high-quality firearms and ammunition for American and International shooters for well over a century. As one of America's most recognizable ammo and firearms companies, Winchester has a storied history of innovation, wild successes, and near-crippling mistakes.
The company is famous for its lever action rifles, bolt action rifles, and shotguns, and is synonymous with winning the Wild West. By far the 1873 Winchester lever-action rifle is the company's most notable firearm ever produced. Winchester made excellent firearms that saw action in both World Wars, but they struggled in the years between and after.
In terms of ammunition innovation, Winchester has multiple cartridges to its name including the 44-40 WCF, 270 Winchester, 308 Winchester, and 300 Winchester Magnum.
After WWI and during the Great Depression, Winchester Repeating Arms went into receivership and was purchased by Olin family's Western Cartridge Company in 1931. Olin still maintains the rights to all Winchester ammunition production although FN Herstal and Browning currently manufacture Winchester branded rifles and shotguns.
Where is Winchester Ammo Made?
Winchester's primary manufacturing operations are in Oxford, Miss. and East Alton, Ill.
Which Calibers are Available for Winchester Ammo?
Winchester offers a multitude of rimfire, shotshell, and centerfire handgun and rifle cartridges in a wide array of calibers. Here are some of their more popular offerings.
10mm Automatic
44 Remington Magnum
45 G.A.P (Glock Auto Pistol)
204 Ruger
338 Lapua Magnum
338 Win Mag
350 Legend
45-70 Government
6.8 SPC
7.62x39 Soviet
7mm-08 Remington
FAQ's
Is Winchester still making bullets?
Yes! Winchester bullets are available for reloading centerfire handgun and rifle cartridges. These bullets are great for target practice, varmint hunting, and long-range shooting.
Who makes Winchester ammunition?
Winchester is owned by the Olin Corporation, an American manufacturer based in Clayton, Missouri. It is a global distributor of chemical products and one of the leading ammo manufacturers in the U.S.
What is the quality of Winchester ammo?
Winchester has different lines of ammunition that vary in quality. The economic Winchester lines tend to be less accurate, while the more specialized rounds are high quality, reliable, and consistent.
How good is Winchester Defender JHP ammo?
Winchester Defender PDX1 jacketed hollow point (JHP) ammo is an excellent choice for self-defense and is utilized by multiple law enforcement agencies for their duty ammo.
What is Winchester USA Forged ammo?
Winchester Forged ammunition is the company's line of steel case cartridges. Made from 100% USA steel, these rounds feature brass jacketed projectiles, allowing their presence on gun ranges and making them safe for all firearms. The ammo is currently available in 9mm Luger loaded with 115 grain FMJ bullets.
What primers does Winchester Ammunition use?
Winchester uses their own brand of non-corrosive Boxer primers on all their centerfire ammunition.
Are Winchester cases good for reloading?
Winchester brass casings are Boxer primed, making them excellent for reloading with the Forged ammo line being the only exception. All current production Winchester ammo is loaded with non-corrosive primers.
Which Winchester handgun ammunition works best in a Glock 19?
For general target shooting, Winchester White Box 115 grain full metal jacket (FMJ) 9mm ammo is a great choice. However, if you're looking for a target round for competition or just want to be more accurate with your handgun ammo, then Winchester Super-X 124 grain JHP ammo would be your best choice.
What is Winchester's best deer hunting ammo?
Winchester Power Point, Deer Season XP, Ballistic Silvertip, and Copper Impact are all excellent choices for deer hunting ammo. These rounds are designed to expand on impact, improving their terminal ballistics and ethically putting down deer with as little suffering as possible.