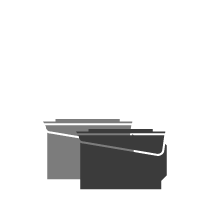 Ammo Cans For Sale
Live Inventory
Technically, you can keep ammo in pretty much any container, but the guys at the range are going to raise their eyebrows if you show up carrying a Hello Kitty lunchbox full of 9mm. Store your ammo in style, keep it safe against the elements, and tote it around more conveniently with Ammo.com's selection of quality ammo cans!
Learn More
Mil-Spec Ammo Can - 1 Brand New 50 Cal M2A1 Green Ammo Can

Ammo Can Caliber

50 Cal M2A1

Blackhawk Mil Spec Ammo Can - 1 Brand New 30 Cal M19A1 Green Ammo Can

Ammo Can Caliber

30 Cal M19

Target Barn IDPA Cardboard Target - 100 Official IDPA Carboard Silhouette Targets
History of Ammo Cans
We would imagine that it's feasible to store and tote around your ammunition in many types of containers. Wouldn't you feel just the slightest bit silly, however, if you went to the range with a load of pistol cartridges tucked away in a cooler, or if you took to the forest in search of big bucks with your hunting rounds stored in the canvas bag your wife got in the mail for making a $25 or higher donation to public radio? We don't have to guess at your answer.
No, where your ammo really wants to be is in an ammo can. And Ammo.com, which, as you might imagine, sells quite a fair bit of ammo, has got the ammo can market cornered as well. Our cans are made of rugged steel, sealed tightly via rubber gaskets to keep their contents fresh and potent, and possess sturdy folding handles so that their owners may traipse into the wilderness without fear that something will break and send several pounds of ammunition hurtling downward toward their soft, sensitive toes. If you've any reasonable amount of ammo in your stockpile, then you'll certainly want to invest in a few quality ammo cans like ours, if only to make it look a little more professional. And if you get a brand new ammo can, you can even use it to store edible things such as your lunch! Won't everyone at the office be impressed when you open your ammo can only to reveal its sandwich and fruit contents. Your boss will ask you to come and see him in no time, presumably to offer you a big raise.
So have a look around and find the perfect storage and transportation solution for your valuable ammunition. We've thoroughly tested each and every can that we offer on our site, so you can be certain that no reasonable amount of use, abuse, and boneheaded mistakes will jeopardize your "working man's hedge fund."
Customer Reviews
Daniel said:

This was well made, and the powder coating is clean. The only problem I have with is the foul stench that seems to build up inside the can. It smells similar to rotting vegetables yet, it's too dry to be an organic stench. First time I opened it up I got a massive whiff; I lost my breath for a few minutes. I would still recommend but I would put some air refreshers in there.