Aguila Ammo Review: The Mexican Ammo Connection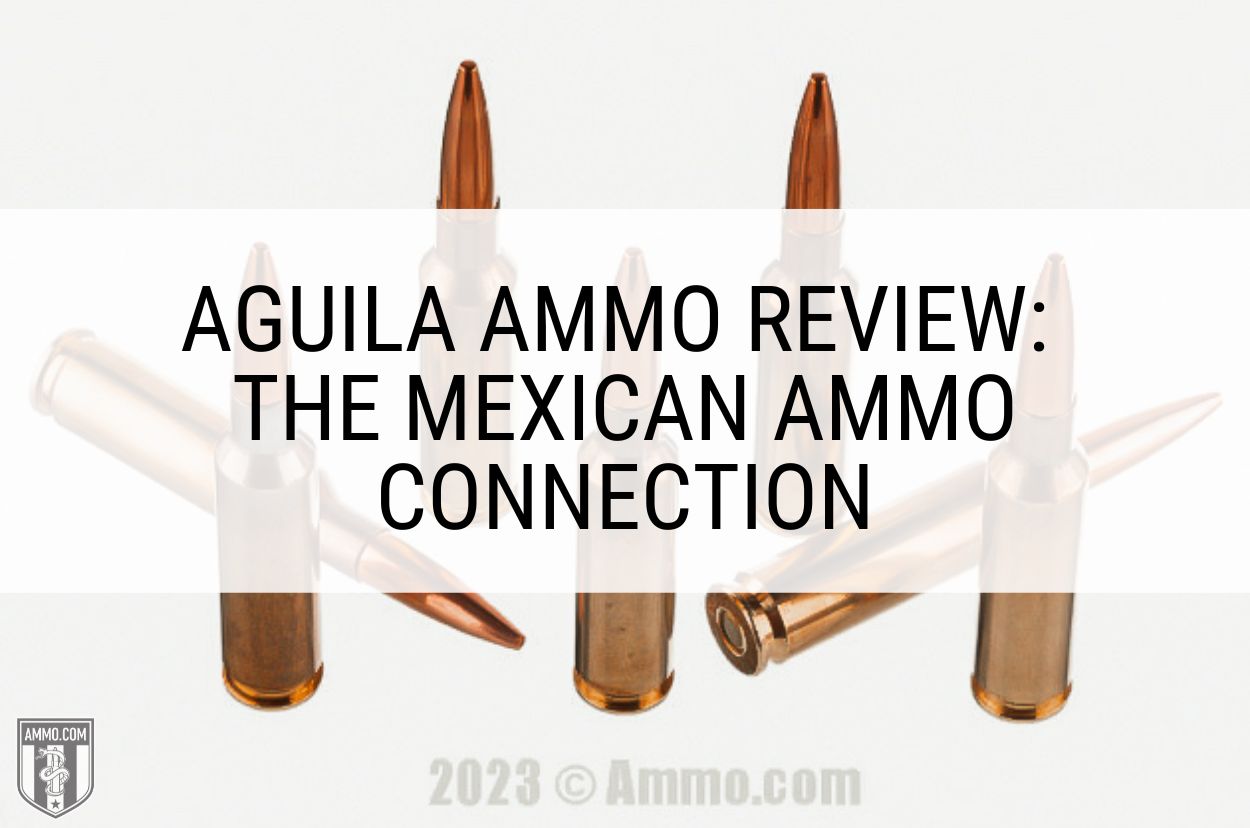 Aguila Ammo Review: The Mexican Ammo Connection
American shooters can sometimes be worried about using imported ammo in their prized handguns and rifles, often sticking to their mainstays like Hornady, Winchester, and Remington. However, when it comes to Aguila, there is little need for concern as this company puts out great ammo!
Aguila prides themselves in creating high-quality cartridges that are not only accurate, but incredibly reliable and effective. Not only does Aguila Ammo produce exceptional centerfire handgun and rifle ammo, but they have also become the largest rimfire ammunition manufacturer on the planet.
In this Aguila ammo review, we will take a deep dive into what makes Aguila an excellent option for not only a weekend of plinking at the range, but for long-range target practice and even self-defense.
What is the quality of Aguila Ammo?
Aguila ammo is known for reliability and performance. They take pride in their extensive process for sourcing raw materials, guaranteeing that only choice materials enter the factory and only exceptional ammo leaves it.
Where can I buy Aguila Ammo?
Check out our entire selection of Aguila Ammo for sale online!
Aguila Ammo History and Important Information
Established by Industrias Tecnos in 1961, Aguila Ammunition manufactures firearms cartridges in Cuernavaca, Morelos, Mexico, commonly known as the City of Eternal Spring for its gorgeous climate.
Aguila Ammunition is developed for self-defense, competitive shooting, hunting, law enforcement, and military use. Furthermore, it has become one of the largest rimfire ammunition manufacturers in the world and has multiple lines of 22LR to fit every shooting need.
They're also known for their sponsorship of the Aguila Cup shooting event held in Texas that features rimfire challenges, sporting clays, and 3 gun competitions.
In 2011, Aguila Ammunition partnered with Texas Armament & Technology to completely overhaul Aguila's manufacturing plant. The goal of this modernization was to redefine ammo production, reliability, and to thrust Aguila into the forefront of modern shooters.
In particular, the company sought to orient themselves closer to the military and law enforcement markets.
Upgrades to the manufacturing facilities included tighter quality control directives, moisture-sensitive equipment, more frequent die changes, and an all new, state-of-the-art .22 LR production machines.
Texas Armament & Technology is the sole American distributor of Aguila to calm concerns of North American shooters and provide a point of contact and for greater responsiveness to any quality issues.
Quality control is taken extremely seriously by Texas Armament & Technology. In the event of an issue being raised with Aguila ammunition, Texas Armament will send suspected faulty ammunition back to Mexico for ballistics testing. The goal is to resolve quality control issues within two weeks or less.
One fact shooters might not be aware of was that Aguila originally was the Mexican production factory for Remington. The plant opened with a staff of 70 in 1961, so if you've fired a single round of Remington in the last 30 years, there's a good chance you fired off an Aguila round in a Remington box.
Based on current production numbers, Aguila Ammunition produces over a billion rounds annually. Furthermore, Aguila is the primary ammo used by the Mexican police and military, and the company's products are sold on five continents.
Aguila is Sporting Arms and Ammunition Manufacturers' Institute (SAAMI) and Permanent International Commission for the Proof of Small-Arms (CIP) compliant.
Aguila has sought to differentiate themselves in the market with many of their rimfire ammo offerings.
One of their notable 22 LR ammo products include the Sniper SubSonic (SSS). This round fires a heavy .22 LR 40 grain lead round nose bullet at 950 fps, well below the supersonic speeds. This means the round does not create a sonic crack when fired and is perfect for use with a suppressor for hearing safe shooting.
The .22 Super Colibri is a short 22LR ammo with a primer, but no gun powder propellant. It fires a 20 grain pointed lead bullet at 590 fps. Although this round anemic by most rimfire standards, it is excellent for close range pest control and is completely hearing safe. Although not the most accurate rimfire round in existence, it can hold "minute of rat" consistently at 10-15 yards.
Lastly, Aguila revolutionized the shotshell industry with their 12 Gauge Minishell. This is a 12 gauge shotgun shell that is only 1 ¾" long (compared to traditional 2 ¾" shells). It is ideal for competition clay shooting, as it has considerably less recoil and a quieter report to reduce sound-induced flinching.
Although their specialty loads are fun to play with, the cream of the crop are the Aguila Super Extra High Velocity and Interceptor loads. These closely mimic CCI Mini-Mags and Velocitor loads, respectively. Firing a 40-grain copper plated lead round nose, we found that the Aguila ammunition was slightly more accurate in our hands than the CCI loads and was on par with Eley match-grade ammo.
Aguila is an ammunition brand that is unlike any other in the industry. With atypical product names a non-linear thinking, Aguila has positioned themselves as a brand that appeals to shooters who like weekend plinking and competitive shooting at the same time.
Their unique product offerings and preference among shooters and governments around the world are some of the many reasons Aguila Ammunition will remain a top competitor in the ammo industry for years to come.
Where is Aguila Made?
Aguila Ammunition manufactures firearms cartridges in Cuernavaca, Morelos, Mexico.
Which Calibers are Available?
Aguila offers a wide variety of ammo in different calibers, here are some of their most popular factory loads:
22 Long Rifle (.22LR) Standard Velocity
.22 LR Intercetor
22 LR Sniper Subsonic
22 LR Super Colibri
22 WMR (22 Mag)
5mm RRM (Remington Rimfire Magnum)
12 Gauge
12 Gauge Minishells
20 Gauge
.410 Bore
380 Auto
9mm Luger
40 S&W
45 ACP
38 Special
357 Magnum
223 Remington
5.56x45mm NATO
30 Carbine
300 AAC Blackout
308 Winchester
FAQ's
Is Aguila ammo accurate?
Aguila ammo offers match-grade ammunition that is extremely accurate and on par with other manufactures like Hornady, Federal, Winchester, and Remington.
Is Aguila ammo good for hunting?
Aguila centerfire rifle ammo is loaded with full metal jacket bullets. These are fine for varmint hunting but not appropriate for big game hunting.
Is Aguila ammo corrosive?
No, Aguila ammo is loaded with non-corrosive Boxer primers.
Does law enforcement use Aguila ammo?
Aguila Ammo is the primary ammunition provider for the Mexican military and various Mexican police agencies utilize their hollow point handgun ammunition for self-defense.
What primers does Aguila Ammunition use?
Aguila loads all their centerfire ammo with their own brand of non-corrosive Boxer primers.
Are Aguila cases good for reloading?
Yes! Aguila uses brass cases that are Boxer primed, which are perfect for reloading.
Which Aguila 9mm ammo works best in a Glock 17?
The best Aguilla 9mm Luger ammo for target practice with a Glock 17 is 115 grain full metal jacket round nose ammo. This is a high-quality handgun cartridge that has 1150 fps muzzle velocity, is extremely reliable, and accurate.
What are Aguila Minishells?
Aguila Minishells are 12 gauge shotshells that are only 1 ¾" long. They come loaded with 7 ½ shot, #4 buckshot, or a 5/8 oz slug and have considerably lower recoil compared to standard 2 ¾" shotshells.
Aguila Ammo Rated 4.43
This is average rating of this manufacturer's ammo.