Tula Ammo Review: Good Ammo for Any Budget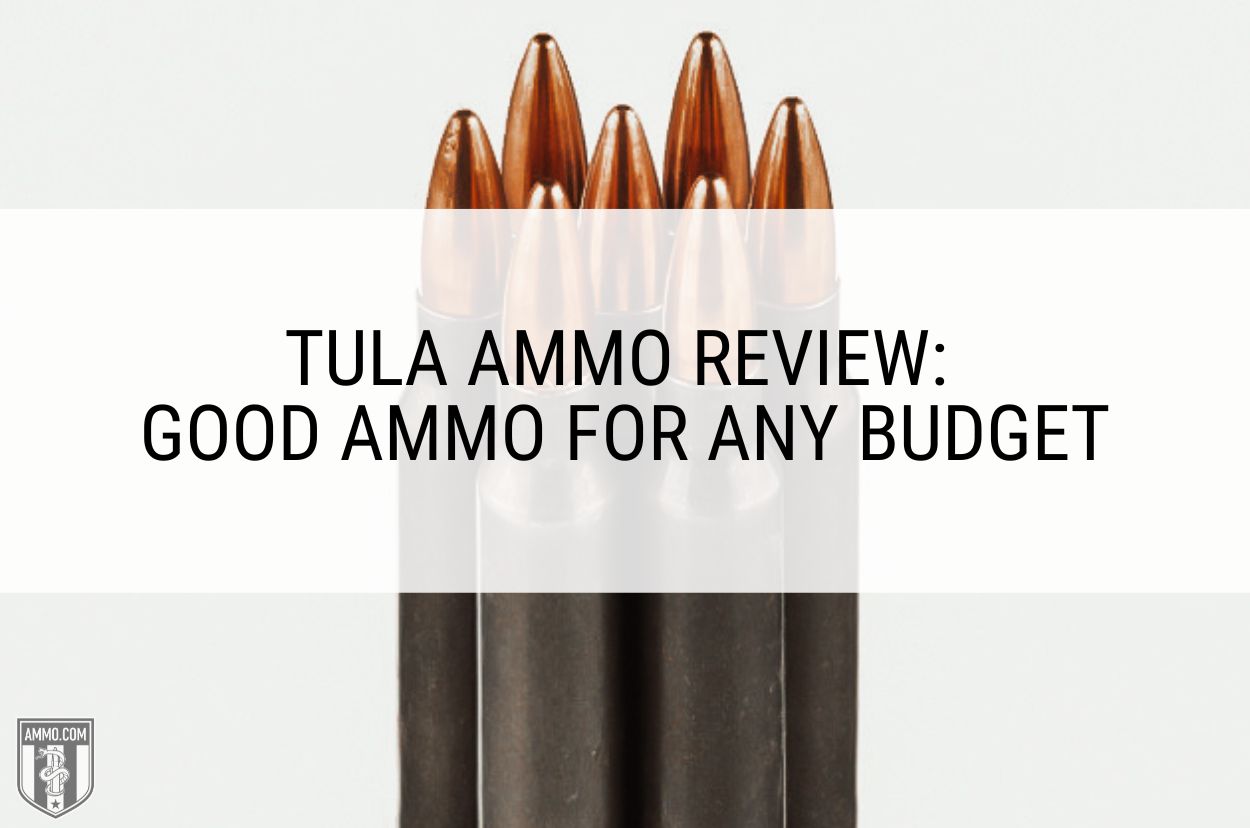 Do a quick search on any internet shooting forum for "Tula Ammo" and you'll quickly be regaled with stories of broken extractors, constant jams (failure to eject or FTE), and failure to fire (FTF) malfunctions due to bad primers.
But does Tula Ammo (also known as Tulammo) deserve this bad reputation or is it mostly overblown?
Although it might not be the most accurate or clean burning ammo on the market, in our experience Tula Ammo is an amazing choice for a weekend of plinking or stockpiling for a disaster scenario (SHTF) if you're looking to save some cash.
But is Tula Ammo the right choice for your favorite Glock, Ruger, Beretta, Taurus, or Hi Point? In this Tulammo review, we will look at the ins and outs of the mercurial Tula cartridge and whether you should invest in some steel cased ammo or if brass ammo is a better choice for your shooting needs.
So, is Tula Ammo a good choice?
This is a hotly debated topic in the 2A community and many shooters have different opinions. If you're looking for cheap ammo that you can train with on a regular basis and aren't overly concerned about reloading or match-grade accuracy, then Tula Ammo is an excellent choice. This ammo is inexpensive, easy to buy in bulk, and great for plinking.
However, steel-cased ammo is notoriously hard on extractors and the inexpensive bimetal bullet used by Tula Ammo will wear out your barrel faster than traditional brass ammo especially in an AR-15.
Numerous torture tests that included thousands of rds of 223 Remington Tula Ammo have shown that continuous use of a bimetal bullet will wear out a barrel faster than traditional copper jacketed bullets. However, does a trop to the gunsmith for a barrel change warrant using cheap ammo?
In most cases, the answer is yes, as the ammo cost savings more than paid for a new barrel when accuracy degraded to the point of being unsafe. However, I'd not run Tula Ammo through my prized match-grade rifles or family heirloom handguns.
However, for all your 7.62x39 rifles, Tula Ammo is a great choice. Make sure you buy bulk 7.62x39 to get the most bang for your buck!
Where can I buy Tula Ammo?
Check out our entire selection of Tula Ammo for sale online!
Tula Ammo History and Important Information
The Tula Ammunition plant was established in 1880 by Czar Alexander II and is one of Europe's oldest ammunition factories. The plant was contracted to deliver an impressive 210 million rounds of ammunition during its first seven years of production to meet the growing ammo needs of the Soviet Army.
Surprisingly, the Tula Ammo plant produced brass-cased ammo until the 1920's when it switched to the more economical steel-cased ammo. Russia commands extensive iron deposits, however, it needed to repurpose its non-ferrous metal reserves towards industrial applications instead of ammunition.
Tula Ammo has since mastered the use of bimetal jacket material encapsulating the soft lead core of the bullet to produce staggering amounts of ammo that they sell to the Russian Army as well as hunters and shooters across North America and Europe.
Where is Tulammo Made?
The Tula Cartridge Works plant is located in the town of Tula, Russia approximately 100 miles south of Moscow.
Which Calibers are Available?
Tula offers a wide variety of steel-cased ammo in the following calibers:
5.45x18mm
5.6x39mm
12.7x108mm
FAQ's
Is Tula Ammo corrosive?
No, Tulammo uses non-corrosive Berdan primers in all their current ammunition. However, older surplus Russian ammo (typically found in spam cans) typically utilized corrosive primers.
What is the downside to steel-cased ammo?
Steel cased ammo is often rough on extractors from free-floating firing pin rifles like the AR-15. Sometimes these light extracting rifles can experience failure to eject (FTE) malfunctions, while more aggressive extracting rifles like the AK-47 have no issues firing steel-cased ammo.
What are bimetal bullets?
Bimetal bullets are projectiles comprised of a soft lead core surrounded by a steel jacket that is then enclosed in a 100% copper jacket coating. Bimetal bullets are banned from some indoor ranges due to their ability to penetrate deeper than traditional full metal jacket bullets used by the United States and NATO.
What is the quality of Tula ammo?
On Tulammo's website, they state they have strict quality controls on all their ammo products. However, in our experience Tula Ammunition burns a bit dirtier than traditional FMJ ammo from manufactures like Winchester, Remington, Federal, and PMC.
What primers does Tula Ammunition use?
Tula loads its ammo with non-corrosive Berdan primers.
Are Tula cases good for reloading?
No, steel cases can damage reloading dies and should not be used for reloading. Furthermore, Tula Ammunition uses Berdan primers, which are difficult to remove. If you reload, you should use brass cases that are Boxer primed.
Which Tula handgun ammunition works best in a Glock 17?
I found that the best Tulammo 9mm Luger for a Glock 17 is their 115 grain full metal jacket rounds with a muzzle velocity of approximately 350 – 390 m/s (1150-1280 fps).
Why does Tulammo steel cases have a polymer coating?
Steel lacks adequate surface lubricity to ensure reliable feeding and extraction. Initially, a lacquer coating was used but polymer-coated steel cases are now normal and ensure proper function for all Tula Ammunition.
Tula Ammo Rated 4.22
This is average rating of this manufacturer's ammo.