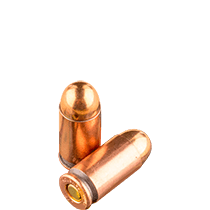 9mm Makarov Ammo For Sale
Live Inventory
In 1948, the 9x18mm Makarov was designed to be used in the Makarov PM pistol, and was adopted by the Soviet army in 1951. Soon it was found in a variety of weapons, including the Skorpion vz. 82. Although not in wide military use now, the 9x18mm remains popular among firearms enthusiasts.
Learn More
Hornady 9mm Makarov Ammo - 25 Rounds of 95 Grain JHP Ammunition

Casing Type

Nickel-Plated Brass

25 Rounds
$1.20 per round
Made by Hornady
History of 9mm Makarov Ammo
In 1946, Boris V. Semin designed the experimental 9x18 Makarov cartridge as an alternative to the popular 9x18 Ultra, developed in 1936 by Gustav Genschow for the German Luftwaffe. In 1947, Nikolay Fyodorovich Makarov designed the Makarov PM pistol around the 9x18mm round, which was introduced in 1948. Makarov's pistol, also known as the Pistolet Makarova, was a powerful alternative to the 9mm used in the Walther PP/PPK series. The 9mm Makarov, a double-action, straight blowback pistol, was manufactured at Russia's Izhevsk factory. One of the benefits of Makarov's design was that the pistol was made with only 28 parts.
In 1951, the 9x18 Makarov became a standard issue sidearm for many Russian military installations as well as civilian homes. Although the pistol and ammunition were dominant in the Soviet Union, they also took hold and were produced in Bulgaria, East Germany, and China. The Cuban military also carried Makarov PMs, but it has never been proven that they were manufactured in Russia or on the island under license.
The Makarov PM pistol was used as a replacement for the TT-33 pistol. However, the ammunition had to meet certain requirements. First, it needed to function well in a blowback pistol. Second, it needed to be distinct from NATO ammunition, so that Warsaw Pact ammo could not be used by NATO forces against them. In other words, the difference in the case size of the 9x18 Makarov was intentionally smaller than the traditional 9x19mm Parabellum, so that if the ammunition was captured by an enemy, it could not be used safely in standard 9mm Luger pistols.
Alternate Names
The 9mm Makarov is the ammunition's official designation by the Commission Internationale Permanente Pour L'épreuve des Armes à Feu Portatives a.k.a. "Permanent International Commission for the Proof of Small Arms." The C.I.P. is the international organization responsible for setting standards for safety testing of firearms.
The cartridge is also referred to as:
9x18mm
9x18mm PM
9mm Mak
9x18mm Soviet
Variants
Although the 9mm Makarov did not last long as a standard pistol round, it saw more success as a submachine round and it remained in use by the Armed Forces of the Russian Federation. In 2003, several variants of the 9x18mm Makarov were produced. These include:
57-N-181S
This 57-N-181S cartridge is loaded with a steel-core bullet with a clad metal envelope encasing the core. It is designed to kill personnel up to 50 meters. It can penetrate a 5mm ordinary steel plate at 20 meters.
RG028
The RG028 cartridge is loaded with an enhanced penetration bullet with a hardened steel core. It is designed to kill personnel wearing body armor.
SP-7
The SP-7 cartridge is loaded with a black-tipped enhanced stopping effect bullet and is designed to kill live targets.
SP-8
The SP-8 cartridge is designed to engage personnel with a low-penetration bullet.
Specifications
The 9x18mm Makarov cartridge is unusual in that it is .365 inch, unlike the .380 ACP (9mm Browning) and the 9mm Luger which are .355-inch rounds. Another major distinction in the cartridge is that calibers manufactured in the USSR were measured between the lands instead of the grooves. Therefore, the 9x18mm Makarov ammo's bullet is larger in diameter than other 9mm rounds. It measures 0.365 inch compared to the 9x19mm Parabellum, which measures 0.355 inch.
The ammo uses small pistol primer and can use full metal jacket and hollow point bullets weighing from 93 to 115 grains. Muzzle velocity ranges between 820 and 1,300 feet per second.
For more options, remember to check out our Hornady 9mm ammo, and Tulammo 9mm ammo page.
Comparisons
The 9x18mm Makarov is often compared to the 9x19mm Parabellum cartridge, despite the minor difference in size. SAAMI does not publish official or specific pressure specifications for the 9x18mm Makarov, but tests show that surplus ammunition can develop pressures in mid-20,000 pounds per square inch (psi) – the 9×19mm Parabellum ranges about 35,000 psi. Similar to the .380 ACP cartridge, the 9x18mm is designed to be used in low-powered blowback semi-automatic pistols.
Self Defense
When asked about using the Makarov PM as a self-defense weapon, many experts will advise against it, stating that it lacks firepower and that the guns are not well manufactured. While some perceive that Warsaw Pact firearms are crudely designed and of low quality, the Makarov PM is the exception to the rule.
The Makarov PM has a traditional double action/single action fire control mechanism. The first shot has a long, heavy trigger pull that averages about 13 pounds. Subsequent shots are single action and have a lighter, shorter pull of about five pounds. Experts claim the ammo is ballistically inferior to a 9mm Luger, but, for certain purposes, users find it equal in performance.
The gun is ideal for concealed carry due to its size. It can be carried with the hammer down and the safety in the off position, which is a benefit for many armed civilians.
Models Chambered for 9x18 Makarov
The 9x18 Makarov has been chambered for many different weapons and is still used in many countries involved in the Warsaw Pact. Although it has recently been replaced, the Makarov PM and ammo served for 60 years in Russian military service.
Pistols
ČZ vz. 82
Produced by the Czechoslovak firearms manufacturer Česká zbrojovka, the Česká zbrojovka Vz. 82 is a single/double-action, semi-automatic pistol designed for the Czechoslovakian military. In 1983, it replaced the 7.62x25mm Tokarev vz. 52 pistol. The CZ 83 is an export version designed for civilian use.
FEG PA-63
In 1948, FÉGARMY Arms Factory (FÉG) of Hungary began to produce Walther PP/PPK clones with their Model 48. By the 1950s, FEG released their PA-63, which is chambered with the 9x18mm Makarov cartridge. The PA-63 became the standard issue sidearm for Hungarian police and military forces.
The compact firearm is often sold in the U.S. as a "PA-63 Makarov." While the PA-63 and the Makarov PM are both fashioned after the Walther PP/PK, they are different guns. There are no common parts between the Makarov PM and the FÉG PA-63 pistols.
Grand Power K100 Model P9M
In 1992, Jaroslav Kuracina, a former weapons officer in the Slovak Army, began to design the K100, a 9x19mm semi-automatic pistol. However, the weapon was not developed until 1996, due to stringent restrictions in the post-Communist era.
In 2007, Grand Power signed a contract with Texas-based handgun manufacturer STI International Inc. to manufacture 100,000 units for the U.S. market.
The P9M-93 is a variant of the K100 PA-63, chambered in 9x18mm Makarov.
MP-448 Skyph
In the late 1990s, engineer and weapon designer Dmitry Bogdanov developed the MP-448 Skyph, a Russian blowback pistol. The gun, manufactured by Izhevsk Mechanical Plant (IzhMech), designed for private security and export sales, was advertised as an enhanced version of the Makarov PM. The MP-448, which uses a double-stacked 12-round magazine, is lighter than the Makarov and slightly smaller.
P-64 Pistol
In 1958, the Institute for Artillery Research held a competition for a new service pistol to be used by Polish military and police forces. The winning design team, H. Adamczyk, M. Adamczyk, W. Czepukajtis, S. Kaczmarski, J. Pyzel, and R. Zimny, created two versions of the CZAK pistol: Model M, designed for police use, was chambered for the .380 ACP (9x17mm Short) cartridge. Model W, designed for military use, was chambered for the 9x18mm Makarov cartridge. Both versions had a magazine capacity of six rounds.
P-83 Wanad
The P-83 Wanad is a double action/single action straight-blowback pistol. It was designed by Marian Gryszkiewicz and Ryszard Chełmicki of the Polish research institute Ośrodek Badawczo-Rozwojowy. Chambered for the 9x18mm Makarov cartridge, the P-83 replaced the P-64 as the standard issue sidearm for the Polish police and military. Although it has been replaced by the Glock 19 in many areas, the P-83 is still in limited use.
Stechkin APS
In 1948, Soviet weapons designer Igor Stechkin complied with a request from the Soviet Army and produced the Stechkin Automatic Pistol, a selective fire machine weapon chambered with the 9x18mm Makarov cartridge. The large, semi-automatic pistol was fitted with a detachable shoulder stock and could ensure fully automatic fire. The gun was issued to the tank, artillery and armored personnel carrier teams, front line officers and RPG-7 teams. Sadly, the military soon learned that the Stechkin APS was too awkward to carry and lacked adequate stopping power as a military weapon.
ZVI KEVIN M
Designed by Antonín Zendl for Czech company Zbrojovka Vsetín - Indet (ZVI), the ZVI Kevin M is a self-loading pistol introduced in the 1990s. The model, usually referred to as "Kevin," is a popular choice for concealed carry or as a clutch piece for law enforcement officers. Kevin's frame is made using a high-strength aluminum alloy, the barrel and slide are steel, and the grips are made with reinforced rubber compound. The sub-compact semi-automatic, referred to as the Micro Desert Eagle (ME380), is manufactured and sold in the U.S. by Magnum Research.
Submachine Guns
Arsenal Shipka
In 1996, Bulgarian company Arsenal introduced the Shipka, a 9mm submachine gun chambered with 9x25mm Mauser. The name refers to the Shipka Pass, located near Arsenal's headquarters in Kazanlak. It was originally intended to be used by pilots, armored vehicle personnel and other shooters required to fire in close quarters. One version of the Shipka was chambered in 9x18 Makarov. However, after Bulgaria joined NATO, a model of the Shipka was introduced chambered in 9x19mm Parabellum.
Borz
Produced in Chechnya from 1992 until 1999, the Borz (Chechen for "wolf") is a submachine gun chambered in 9x18mm Makarov. It is based on the Armenian K6-92, a clone of the Soviet PPS. Unlike most weapons, the Borz is not a specific model made by a specific manufacturer – it is a common name for all handmade submachine guns of similar design.
OTs-02 Kiparis
Created in 1970, but not introduced until 1972, the OTS-02 Kiparis submachine gun was created by TsKIB SOO, a small arms design bureau located in Tula, Russia. The firearm has a fold-up steel stock and proprietary sound suppressor. Intended primarily for police and security units, the Kiparis was adopted by the MVD (Internal Affairs Ministry) and Russian law enforcement.
OTs-33 Pernach
The OTs-33, or the SBZ-2, was designed in 1995 by Stechkin, Baltser and Zinchenko for the TsKIB SOO design bureau as a selective fire blowback-operated weapon, chambered in the 9x18mm Makarov cartridge. The design team was tasked with improving the Stechkin APS, which had presented issues with recoil when it was in full-auto mode. This round solved the problem and increased the ability to control the submachine gun. It was adopted by the Russian Ministry of Internal Affairs (MVD), special OMON units in Russian law enforcement, and paramilitary units.
PM-63 RAK
The PM-63 RAK is a Polish 9x18mm fully automatic submachine gun, designed in the 1950s by Piotr Wilniewczyc, Grzegorz Czubak, Tadeusz Bednarski, and Marian Wakalski at the Warsaw University of Technology. The team was approached to design a light, handheld weapon for use by rear-echelon military soldiers, such as vehicle drivers and gun crews. In 1965, the gun was accepted for service by law enforcement and in the People's Army of Poland as the 9mm Pistolet Maszynowy wz. 1963 ("9mm submachine gun model 1963"). A small number of the RAK were exported to East Germany, various Arab countries, and Vietnam. It was eventually replaced by the PM-84 Glauberyt.
PP-91 KEDR
The PP-91 KEDR is a 9mm selective fire submachine gun created in the 1970s by Soviet weapons designer Yevgeny Fyodorovich Dragunov, who is known for the Dragunov sniper rifle. In 1994, it was adopted by the Russian Ministry of Internal Affairs.
PP-19 Bizon
The Bizon is a lightweight selective-fire 9mm submachine gun developed by a team of engineers at Izhmash. The team included Chief Engineer Victor Kalashnikov and Alexei Dragunov, the youngest son of Evgeny Dragunov. The team had been tasked by Russia's Ministry of Internal Affairs to create a weapon that could be used by law enforcement and counter-terrorist units that require accurate fire at close ranges. In 1995, Bizon prototypes were trialed by the Special Equipment Research Institute where they outperformed numerous competitors. It was accepted into service in December 1996. Currently, the Bizon is issued to the Ministry of Justice and armed response units of the Federal Security Service.
Makarov Imports
The Makarov PM was only imported from 1992 until 1995, until the Clinton Administration placed a restriction on the import of Russian military weapons. Despite the ban, many Makarov pistols entered the U.S. between 1998 and 2009. When they were imported, these "sneak" Makarov pistols were labeled with their country of origin. Therefore, pistols purchased in Russia, resold and shipped from Bulgaria and East Germany, slipped by authorities.
Makarov 9mm
The East German Makarov has become a highly sought-after firearm and a favorite among U.S. collectors. The attractive exterior has a beautiful blued, smooth finish, adorned with checkered jet-black plastic grips. The internal parts are marked by an electro pencil, showing the last two digits of the gun's serial number. Production of the East German Makarov ceased in 1965.
Bulgarian Makarov
The Bulgarian Makarov was the last model to be issued in communist Europe. They were manufactured at Friedrich Engels Machine Works, also known as "Factory 10," from 1970 until 1975.
9x18 Makarov Ammo
To date, no surplus 9x18mm Makarov ammunition has been released in any significant quantity by former communist countries. However, there is a lot of commercially available ammunition, most of which is manufactured in Russia and various European countries. Winchester's version, offered in their metric cartridge catalog, is manufactured in the Czech Republic.
Popularity
While there are a few dedicated fans, the 9x18 Makarov never really caught on. Collectors of military firearms, especially those with firearms from Warsaw Pact countries, feel their collection is incomplete if it doesn't have at least one firearm chambered in this caliber. Those who have been dissuaded from purchasing a Makarov may not know that the ammo is available from many manufacturers including Winchester, Wolf, TulAmmo, Blazer, Sellier & Bellot, Hornady, and others.
Makarov users should be aware that even though 9mm Parabellum and .380 ACP are close to the 9x18mm cartridge, the rounds are not interchangeable. Firing bullets from a weapon not chambered in that round is dangerous and perhaps fatal. There are aftermarket barrels that can be used by the Makarov PM with a barrel press. Users can adopt the same magazines.
While 9x18mm Makarov may be sought out mostly by collectors, it is an interesting cartridge that will probably endure until powder and bullets give way to laser guns. It's not a powerful round that can be used to hunt big game, nor is it an ultra-reliable round that expands well without over-penetration, which is ideal in personal protection situations. It is, however, a fun-to-shoot cartridge with mild recoil and enough accuracy to meet the needs of an average pistol owner.
9mm Makarov Ballistics: Chart of Average 9mm Makarov Ballistics
Note: This information comes from the manufacturer and is for informational purposes only. The actual ballistics obtained with your firearm can vary considerably from the advertised ballistics. Also, ballistics can vary from lot to lot with the same brand and type load.
9mm Makarov Bullet WEIGHT
Muzzle VELOCITY (fps)
Muzzle ENERGY (ft. lbs.)
Mid-Range TRAJECTORY (in.)
Barrel Length (in.)
Muzzle
50 yds.
100 yds.
Muzzle
50 yds.
100 yds.
50 yds.
100 yds.
95 Grain
1000
930
874
211
182
161
n/a
n/a
4"