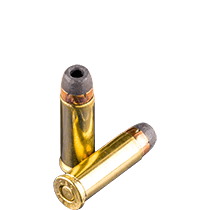 32 S&W Long Ammo For Sale
Live Inventory
In the 1890s, the .32 Long was used by the NYPD in its first departmental issue pistols, due to its accuracy and easy concealment. Today, it remains popular for use in high-grade target pistols and among vintage firearms collectors.
Learn More
History of 32 S&W Long Ammo
The .32 S&W Long (7.65x23mm) is a straight-walled, centerfire, rimmed handgun round introduced by Smith & Wesson in 1896. The round, modeled after the .32 S&W cartridge, was made for the S&W Model 1896 Hand Ejector revolver, a precursor to the modern day Magnum handguns.
An extended version of the .32 Smith & Wesson cartridge, the case is a straight-walled, rimmed centerfire – similar to the .32 H&R Magnum and .327 Federal Magnum case diameter, but shorter in length.
In 1896, the cartridge was manufactured using black powder. By 1903, S&W updated the round and used smokeless powder while preserving the chamber pressure. The introduction of smokeless powder slightly altered factory ballistics for the .32 S&W Long to a 98 grain lead bullet with 705 fps.
Interchangeability
Although one might think that the .32 S&W and the .32 S&W Long are interchangeable, it is not so. While at one time it had been publicized that the cartridges may be interchanged, it has been proven that it may not be safe to do so and should be avoided. The .32 S&W Long headspace, rim dimensions, case and bullet diameters are the same as the .32 S&W cartridge, the .32 H&R Magnum and the .327 Federal Magnum cartridges. It's the length that poses the problem.
The .32 S&W can be fired in handguns chambered for the .32 S&W Long, and the .32 S&W Long can be fired in guns chambered for H&R and Federal magnum cartridges. Those that try to chamber a longer round in a handgun chambered for shorter rounds may experience numerous problems – including firing malfunctions, jamming, issues with ejecting the spent round, or potentially worse conclusions.
Law Enforcement
New York City Police Commissioner Theodore Roosevelt quickly adopted Colt's New Police revolver and declared it should be used as a standard issue sidearm. The ammunition had gained a reputation and with the support of Roosevelt, other police departments quickly followed suit. Compared to its shorter and less powerful counterpart, the .32 S&W Long is an extremely accurate cartridge. Colt took notice of the round and began to manufacture their version of .32 S&W Long, renaming it the .32 "Colt's New Police" cartridge.
Law enforcement officers contributed to the popularity of this small-caliber pistol when it was introduced – due to its easy concealment, small size, and good fit for both plain-clothed officers and detectives. The popularity of this pistol began to fade when the .38 S&W Special arrived, but .32 S&W Long ammunition has remained popular in some circles.
Optimum Usage
Great for target shooting, the .32 Smith & Wesson Long is an accurate cartridge with light weight, low speed, and soft recoil. S&W manufactured a Model 1896 target pistol with a longer barrel and precision sights, while other manufacturers – including Hammerli, Pardini, Sako and Walther – have made .32 S&W Long target pistols. The cartridge is also a regular contender in the NRA and ISSF Centerfire Sport Pistol matches.
This cartridge has also been used by hunters as a small-game round for years. Handgun hunters highly regard .32 Long ammo, due to its accuracy and effectiveness for rabbits and squirrel (where both bullet energy and shot placement are important). 100-grain is the most common bullet weight, muzzle velocity is about 730 feet per second, muzzle energy is approximately 120-foot pounds, and the wadcutter bullet is hard to beat.
.32 Long bullets can be difficult to find in big-box stores or small shops with reduced inventory, yet it is still widely produced. Fiocchi offers the cartridge, as do Sellier & Bellot, Winchester and other manufacturers.
.32 S&W Long Chambered Competition Weapons
While the .32 Long isn't often used in the field, it remains popular among competition shooters, including those participating in NRA and ISSF Centerfire Sport Pistol matches. Following are preferred manufacturers:
Pardini: Founded in 1980 by target shooting marksman Giampiero Pardini, this Italian firearms manufacturer is often preferred by competition shooters. The company specializes in competition arms, air pistols, air rifles, and small and large caliber handguns.
Morini: Morini Competition Arm S.A. was founded in Italy in 1973. Now headquartered in Switzerland, the company manufactures target pistols designed for ISSF shooting events as well as the Olympics. Morini also produces anatomical grips for target pistols.
IOF .32 Revolver: The IOF .32 Revolver is a 6 shot handgun designed much like the Webley Mk IV .38 S&W revolver. Manufactured by India's Ordnance Factories Organization, this break action self-extracting revolver is based on the Singapore Police version with a safety catch. The smaller caliber is commonly chosen so it is legal for civilian ownership under Indian law.
Hämmerli: Hämmerli was founded by Johann Ulrich Hämmerli in 1863, formed to manufacture firearm components for the Swiss Army. In 1950, Hämmerli began to produce Olympic rifles that garnered gold medals at the next four Olympic Games. In 1966, Hämmerli introduced the Standard 208 pistol. Since then, Hämmerli has become synonymous with high-quality competition firearms.
Benelli: Founded in 1967, Italian firearms manufacturer Benelli Armi SpA is best known for producing shotguns used by law enforcement, military, and private citizens worldwide. The Benelli M3 12-gauge shotgun is used extensively by American SWAT teams. Benelli and its subsidiaries are owned by Pietro Beretta SpA.
Walther: German firearms manufacturer Walther Arms was founded by Carl Walther GmbH Sportwaffen in 1886. The company has produced air guns and firearms in Germany for over 100 years. Its U.S. subsidiary, Walther Arms, Inc., is located in Fort Smith, Arkansas.
Manurhin MR 73: Manurhin is a trademark created by French firearms manufacturer Chapuis Armes. Beginning in 1998, the company introduced the Manurhin MR73 revolver. Currently, the company manufactures military munitions.
Other Popular Models Chambered for the .32
Iver Johnson Safety Automatic "New Model"
Firearms manufacturer Iver Johnson developed a top-break revolver known as a Safety Automatic – a revolver, not a semi-automatic. Chambered for the .22, .32 Long and the .38 S&W, this New Model features a hammer-the-hammer transfer bar safety system as well as an automatic ejection of the cartridge upon breaking the revolver open.
Styles of the Safety Automatic include:
First Model (1895–1896), single post latch
Second Model (1897–1908), safety lever added to the trigger
Third Model a.k.a. New Model (1909–1941), no safety lever, adapted for smokeless powder
Iver Johnson Arms bought the company name in 2006, but has no ties to the former company. The .32 revolver was used in several assassinations, including those of U.S. President William McKinley, Senator Robert F. Kennedy, and Chicago Mayor Anton Cermak.
President William McKinley: On September 6, 1901, Leon Czolgosz fatally wounded President William McKinley in Buffalo, New York, using an Iver Johnson .32 caliber Safety Automatic Revolver. The revolver is currently on display at the Buffalo History Museum.
Senator Robert Kennedy: In Los Angeles on June 5, 1968, Sirhan Sirhan shot and killed U.S. Senator Robert F. Kennedy using an 8 shot Iver Johnson .22 caliber Cadet 55-A revolver. The revolver, as well as law enforcement documents and evidence related to the Kennedy assassination, is housed in the California State Archives.
Colt New Police
The Colt New Police is a single-action or double-action, 6 shot revolver manufactured from 1896 to 1907 by Colt's Manufacturing Company. It was chambered in the .32 New Police cartridge, with fixed sights featuring a round blade and a grooved rear sight. The revolver was available with the choice of a ​2 1⁄2-inch, 4-inch, or 6-inch barrel.
The Colt New Police was the firearm chosen in 1896, by NYPD Police Commissioner Theodore Roosevelt, to be used as the first standard-issue revolver for law enforcement officers. The weapon was eventually replaced with a more powerful .38 caliber.
A target version of the New Police with a 6-inch barrel was manufactured until 1905. The sidearm was replaced in 1907 by the improved Colt Police Positive, a retooled version that featured an internal hammer block safety.
S&W Model 30
The Smith & Wesson Model 30 is a 6-shot, double-action revolver made to chamber the .32 Long round. The design was based on Smith & Wesson's 1903 Hand Ejector Model, and featured a "round butt" I-frame. Customers could choose between a blued or nickel finish. It was made from 1948 to 1960, but was eventually replaced by the J-frame Model 30-1. The latter model was produced until 1976.
A square butt version, known as the "Model .32 Regulation Police," was manufactured during the same period as the "Model .32 Hand Ejector," but was replaced by the Model 31 in 1958.
Ultimate .32 Revolver
Introduced in 2008 by Sturm, Ruger & Company and Federal Cartridge, the Ultimate .32 revolver is also known as the .327 Federal Magnum. It was designed for use in 6 shot, compact revolvers and to replace the .32 H&R Magnum. Like many cartridges used in the .357 Magnum, its energy contains high pressure and outperforms the .32 H&R. Small-game hunters choose the revolver for varmint hunting and pest control, but the increased power of the bullet also makes it well suited for self defense.
.32 Colt Revolver Ammo
In 1875, Colt presented .32 Colt Short and .32 Colt Long ammunition designed to be chambered in the New Line .32 Revolver series. Colt was the only American manufacturer at that time to chamber a .32 caliber.
The cartridge was used in the United Kingdom, where it was referred to as the .320 revolver. Colt's version differed in that they used a .30 caliber round that measured .300 as opposed a bullet that measured .311-.312. The Brits attempted to manufacture a heeled bullet, but it never became popular with the buying public.
.32-20 Revolver Cartridge
Introduced in 1882, the .32-20 is touted to be a more useful round than other .32 caliber rounds. It was originally designed for Winchester's Model 73 rifle, but Colt and other top manufacturers created revolvers for it. As with other calibers, the rounds are not meant to be interchangeable. The manufacturer recommends that only light loads be used in the revolvers to prevent damage to the weapon or personal injury – as the guns weren't designed to handle hot loads.
In 1984, Federal introduced a new style of the .32. To increase the power of the round, H&R lengthened the case and dubbed its new creation the .32 H&R Mag.
Self Defense
Today, .32 Smith & Wesson Long ammo would not be an ideal weapon for self defense. Although the .32 was used as a standard issue sidearm for the NYPD and other northeastern law enforcement agencies, the ammunition met the bare minimum requirement for a self-defense round. Eventually, it was decided that the ammunition was not suitable for police use and officers adopted the .38.
32 S&W Long Ballistics: Chart of Average 32 S&W Long Ballistics
Note: This information comes from the manufacturer and is for informational purposes only. The actual ballistics obtained with your firearm can vary considerably from the advertised ballistics. Also, ballistics can vary from lot to lot with the same brand and type load.
32 S&W Long Bullet WEIGHT
Muzzle VELOCITY (fps)
Muzzle ENERGY (ft. lbs.)
Mid-Range TRAJECTORY (in.)
Barrel Length (in.)
98 Grain
705
670
635
115
100
90
2.3
10.5
4"