Federal Ammunition Reviews from a Hunters Perspective: Can Federal Ammo Be Trusted?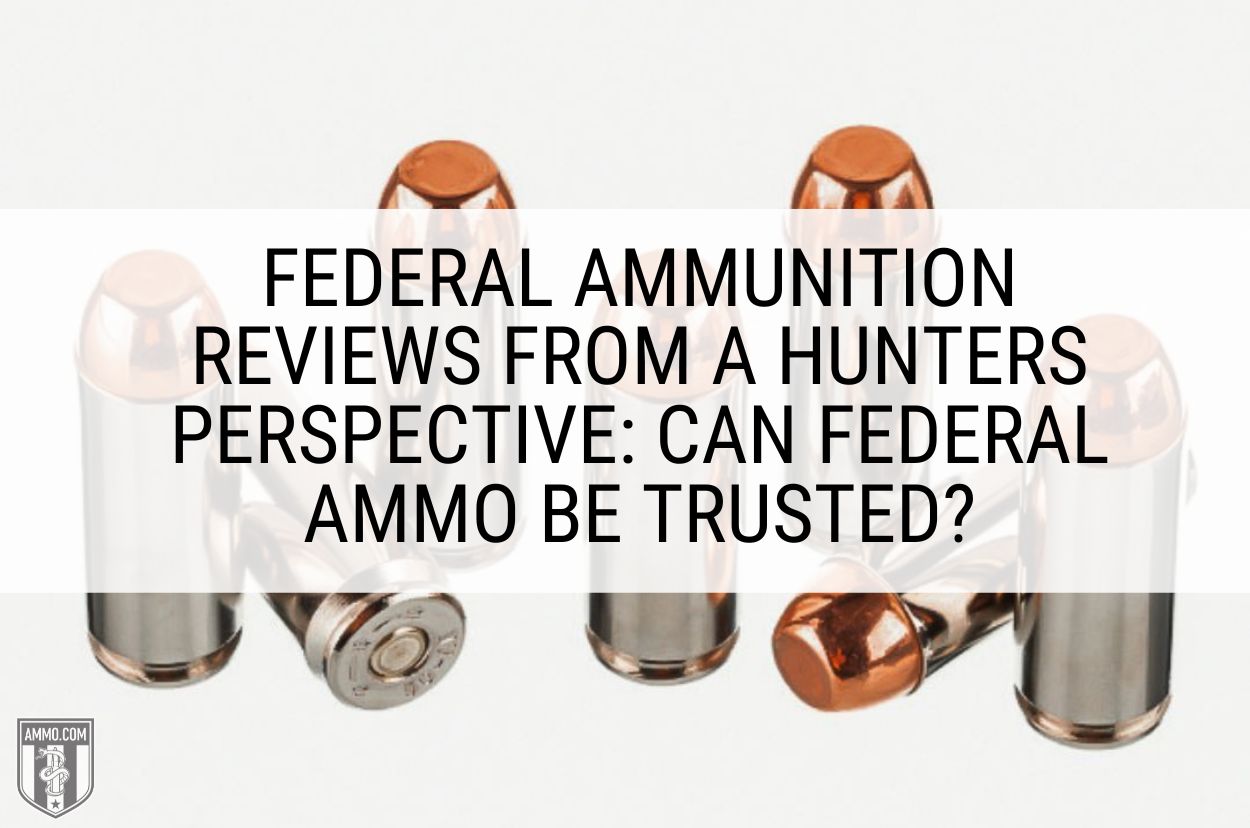 I've used Federal ammo sporadically at the range and while hunting in the field for years. I've learned two things about this ammo: no matter the caliber, it tends to be a little more expensive, but it's ridiculously reliable.
Whether you need ammo for steel targets at the shooting range or to put some meat on the table, Federal Ammunition has you covered with various options.
Let's get to my Federal ammunition reviews.
Is Federal A Good Brand For Ammo?
Yes, Federal is a good brand for ammo. Countless shooting enthusiasts and hunters across the U.S. trust their rounds.
I've hunted everything from ducks, doves, rabbits, squirrels, and deer with Federal ammo, and rarely have I been disappointed.
The main factor that tends to keep me from purchasing Federal is the price of most of their ammo. However, they have a less expensive option with Federal American Eagle, which I use for plinking at the range with my 9mm Luger and 5.56mm, but it comes in many other calibers.
Federal Premium is, well, their premium offering. If you need the latest bullet technology, this high-performing ammo is for you, regardless of your caliber.
Which Calibers Are Available from Federal Ammunition?
Federal Ammunition manufactures all major calibers, plus many niche ones. I've compiled a list of many of the calibers that Federal makes ammo for; feel free to click the caliber you're interested in and read the reviews of actual Ammo.com customers.
25 Auto
32 Auto
32 Long
32 H&R Magnum
41 Rem Mag
45 GAP
454 Casull
460 S&W
50 Action Express
500 S&W
Federal Ammo Reviews
As mentioned above, I've been shooting Federal Ammunition for many years. My first experience with Federal was as a child shooting 22s.
Federal 22 LR Ammo
I remember always seeing at least one Federal 22 LR ammo box in the safe. That's because the Federal 22 LR 40 grain LRN was and still is very inexpensive.
Feeding issues are the main problem I've had with this ammo. It feeds well into a bolt-action rifle, but it jams on my semi-auto Ruger pistol and rifle because the lead bullet is soft and catches easily, similar to a flat-nose bullet.
Other than that, it does its job very well.
Federal 9mm Ammo
When I first bought my 9mm, I bought 1,000 rounds of Federal American Eagle with it, and I never had any malfunctions or problems with it, despite it being very inexpensive.
As I became a more serious shooter, I tested Federal Punch 124 Grain JHP and Federal Law Enforcement HST 147 Grain JHP for my personal defense rounds. I wasn't as accurate with these rounds in my Smith & Wesson Shield, so I decided to go with another self-defense ammo, but that's just a personal preference.
9mm Federal ammo has yet to let me down at the range, so grab a box or two today.
Federal 5.56mm Ammo
When I take my AR15 to the range, you can bet I have a box or two of Federal American Eagle 5.56x45 55 Grain FMJ nearby.
I love these full metal jacket rounds because they're inexpensive, and the high-quality brass makes reloading as simple as possible.
Sometimes, however, I get a light strike on the primer, and the round fails to go off. This has happened with several boxes bought at different times, so I'm leaning toward this problem stemming from my firing pin and not the ammo. Just be warned; it takes a solid strike of the firing pin to ignite these rounds.
Federal 270 Winchester Ammo
The 270 Winchester is my favorite deer-hunting caliber because it doesn't have a ton of recoil, and it is reasonably accurate out to 200+ yards, which is all I need where I hunt in Oklahoma.
I have yet to lose a deer after shooting it, thanks partly to Federal Non-Typical Whitetail 130 Grain SP.
I honestly have no complaints about these rounds, except my wallet crying a little every time I pull the trigger, but they're by no means the most expensive 270 ammo on the market.
Federal Shotgun Ammo Review
In college, I became obsessed with duck hunting. I tested many shotshell brands, including Federal Black Cloud.
While many waterfowl hunters rave about it, that wasn't my experience. Maybe I was a little sore from spending my Ramen noodle money on an expensive box of shotgun shells, but I couldn't hit the broadside of the barn when shooting these rounds, let alone small clays or fast-flying ducks.
I know they have excellent ballistics, such as a muzzle velocity of 1,450 fps, but that speed didn't help my shooting.
Now that I'm not scraping by, I'm open to testing them again to see if I was just having a bad shooting day or if my shotgun doesn't like these shells.
Federal Ammo History and Important Information
Federal began in 1916 as a bicycle company in Anoka, Minnesota but no longer sells bikes. However, in 1920 it had to shut down due to internal issues until it was bought by Charles L. Horn in 1922.
After Mr. Horn took over, Federal marketing took a unique approach by advertising and selling in gas stations, barber shops, and grocery stores for two decades.
In 1941, Federal Ammunition was awarded an $87 million contract to supply the U.S. government with ammunition for WWII. This continued with the Korean War and the Vietnam Conflict.
It wasn't until 1963 when Federal began producing centerfire cartridges for rifles and pistols and continued to make their high-quality shotshells.
Charles Horn retired in 1977 and handed the management of Federal to his son William, who followed in his father's footsteps and continued the outstanding marketing efforts.
Federal Premium ammunition was introduced after William took over as a high-end ammunition for rifles and shotguns.
The ammunition plant still operates in Anoka, Minnesota, producing ammo for rifles, pistols, shotguns, and rimfire weapons.
Notable Products
Federal has been an industry leader, creating unique bullets and aligning with other bullet manufacturers, such as Nosler and Sierra Bullets, to make some of the best ammo in the industry.
They continue to make some of the most sought-after pistol ammo, such as Federal Premium Hydra-Shok, Vital-Shok Trophy Bonded Tip rifle ammo, and Black Cloud shotgun shells.
Federal received a Department of Homeland Security contract in March 2018. Allowing Federal to produce 180 million rounds of Federal .40 cal Tactical HST duty ammunition for law enforcement agencies such as Immigration and Customs Enforcement (ICE), the Department of Homeland Security (DHS), and other federal government agencies.
Federal produces a high-performance Federal .22-caliber cartridge designed for AR-15s.
The Guard Dog ammo for handguns is one of their newest products for self-defense.
Federal Fun Facts
Federal began the color-coded shotgun shell practice in 1960. This includes their slugs, buckshot, and steel shot.
Federal was the first ammunition company to offer a shell designed for turkey hunting.
Federal uses recycled lead for some of their bullets, making them one of the greenest ammo manufacturers.
Vital-Shok Trophy Bonded Tip ammunition won the Game & Fish Readers' Choice award in 2013 and 2015.
Federal Personal Defense HST earned the Golden Bullseye Award for 2015 Ammunition Product of the Year from the National Rifle Association's (NRA) Shooting Illustrated.
Vital-Shok Buckshot received the 2016 Reader's Choice Award from Predator Xtreme.
The American Eagle Federal Syntech is a polymer-coated lead core round that dramatically extends barrel life and reduces fouling by nearly eliminating metal-on-metal contact.
Frequently Asked Questions
Below I've answered some of the most common questions about federal Ammunition.
Where Is Federal Ammo Made?
Federal ammo is made in Anoka, Minnesota.
What is the difference between Federal and American Eagle ammunition?
The difference between Federal and American Eagle ammunition is nothing. American Eagle is a budget-friendly ammo option from Federal.
How good is Federal American Eagle ammo?
Federal American Eagle ammo is really good. I often use it while at the shooting range and while hunting.
Is Federal shotgun ammo good?
Yes, Federal shotgun ammo is good. However, in my experience, it's not the best despite the high price.
Is Federal ammo safe?
Yes, Federal ammo is safe. I've shot thousands of rounds of Federal ammo and have never felt in danger.
Parting Shots
Now that you've read my Federal ammunition reviews and know a little about the company, you can confidently purchase their ammo, knowing it can be trusted to fire with each trigger pull and hit the target.
Be sure to load up on all your ammo, no matter the brand, at Ammo.com!