PMC Ammo Review: Worth Using or Overrated?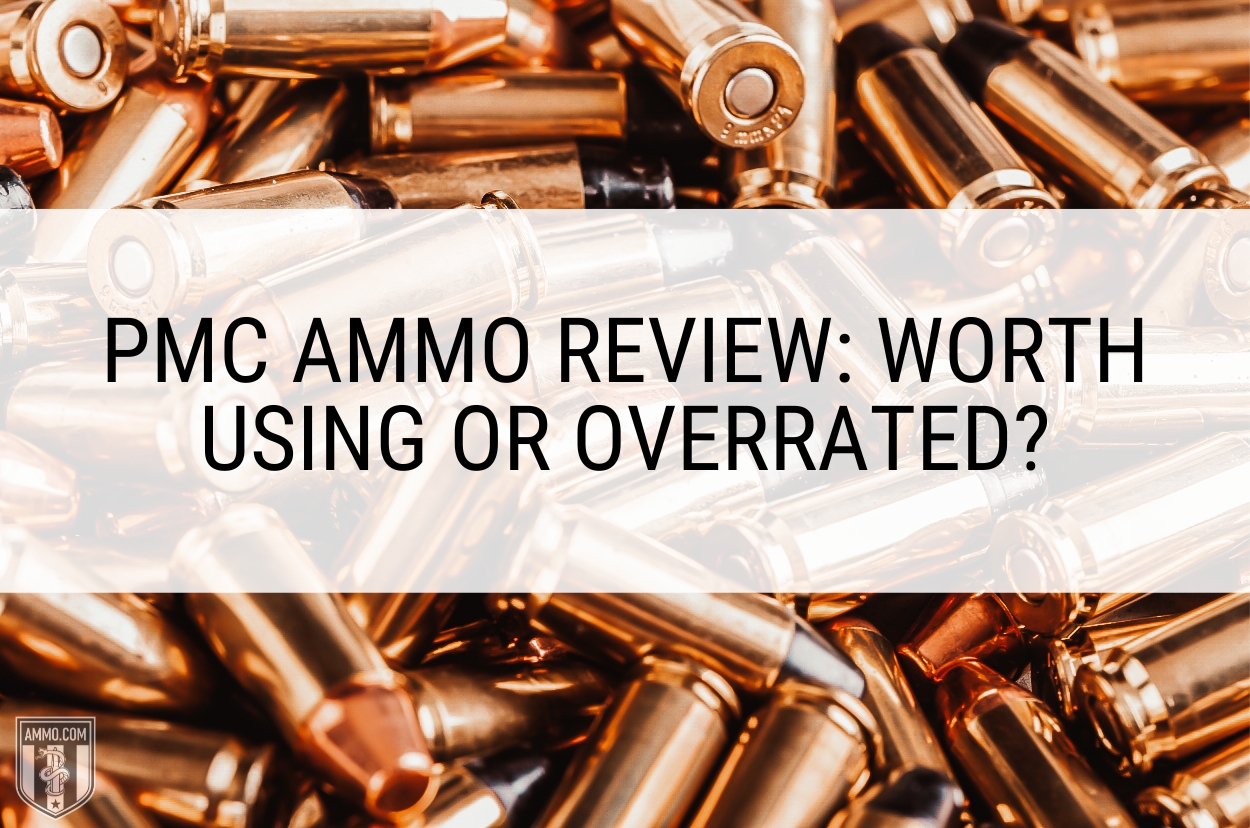 Want to learn more about PMC and the ammunition options that they offer?
In an industry full of giants, PMC has managed to carve out a niche for itself. Today, we're going to explore that niche with a deep dive into PMC ammo.
In this in-depth PMC amo review, we'll be taking a look at the overall quality that PMC offers and how they compare to some other major brands. We'll also go into the different product lines they have and how they manufacture them.
We'll start with some basic background, and then we'll take a closer look at things like available calibers and types of ammo and help you decide whether or not PMC is for you.
Is PMC Ammo Good?
PMC ammo has earned a solid reputation among shooters for its consistent performance and reliability. If you're wondering whether PMC ammo lives up to its reputation, the answer is a resounding yes. In fact, they're one of the top-selling brands on the market, and for good reason.
From target practice to self-defense scenarios, PMC ammunition delivers consistent accuracy and dependable functionality. The company's commitment to quality control ensures that each round meets strict standards, providing shooters with confidence in their ammunition choice.
Take a look at the different ammo options from PMC that are out there if you'd like to see more of their offerings.
Pros and Cons
When considering any ammunition brand, it's important to look at both its strengths and its potential weaknesses. Let's take a look at some key points that you should consider when deciding whether or not PMC Ammo is right for you.
Pros
PMC Ammo controls its entire supply chain, from raw materials to finished products, allowing them complete quality control.
PMC Ammo is known to make a reliable, consistent product, offering an assurance of performance.
PMC Ammo's line covers the most popular calibers, with the exception of shotgun ammo.
Competitive pricing means that you don't have to empty out your wallet just to spend a few hours training at the range.
All PMC ammunition is designed to be reloadable. Some rifle ammunition has crimped military primers, and the crimp can easily be removed with a common reloading tool.
All ammo is designed to modern standards, is non-corrosive, and is available in bulk ammo amounts. (Battle Pack, etc.)
High-end match ammo is also available.
Cons
While PMC Ammo covers all of the most popular calibers, they may have limited options for specialized ammunition needs or niche calibers.
While PMC Ammo is certainly reliable enough for training or plinking, you may want a higher-performance round for self-defense or duty use.
PMC ammunition offers a wide range of options, including both handgun and rifle ammo, making it a versatile choice for shooters. PMC provides both full metal jacket (FMJ) and jacketed hollow point (JHP) options, catering to different shooting needs.
PMC ammunition is known for its great price and good quality, making it accessible to a wide range of shooters. The brass casings used in PMC rounds contribute to reliable performance and ease of reloading for those who reload their own ammunition. Whether you are using a Glock or any other handgun, PMC ammo is designed to function flawlessly with no problems.
For rifle ammunition, PMC X-Tac Match, available in 77 grain .223 Remington, 168 grain .308 Winchester, and 740 grain .50 Caliber, offers excellent accuracy and consistency, making it suitable for competitive shooting or precision work.
PMC Bronze is a cost-effective option with options for both handguns and rifles, including popular calibers like .223 Remington, .308 Winchester, .357 Magnum, and 9mm ammo.
The boat tail design enhances aerodynamics and stability, contributing to tight groupings and sub-MOA performance. PMC Bronze is available for a good price and offers a very consistent muzzle velocity.
PMC also provides soft point (SP) and jacketed soft point (JSP) options for hunters looking for effective terminal performance. These offerings have more than sufficient muzzle velocity for hunting and should not be overlooked come deer season.
PMC ammunition is often available in bulk options, allowing shooters to stock up on range ammo at a great price. This accessibility and affordability make PMC a popular choice among plinkers and avid shooters who go through large quantities of ammunition.
In short, PMC ammunition offers a variety of options for both handgun and rifle shooters. With good quality, reliable performance, and competitive pricing, PMC provides great ammo choices in the most popular calibers, including .223 Remington and 9mm, with options such as a full metal jacket, hollow point, and soft point.
Whether you're looking for range ammo, self-defense rounds, or precision rifle cartridges, PMC has options to suit your needs.
For all my SKS and AK-47 shooters out there, PMC has excellent 7.62x39 ammo available at a reasonable price. Make sure you stock up on bulk 7.62x39 for all your plinking and target shooting needs to keep your cost per round as low as possible.
Which Calibers Are Available?
PMC 10mm
PMC .25 ACP
PMC .32 ACP
PMC .357 Magnum
PMC .38 Special
PMC .38 Super
PMC .380 ACP
PMC .40 Cal
PMC .45 ACP
PMC 7.62x39
PMC 9mm Luger
PMC Ammo Review: History and Important Information
PMC has a rich history and a commitment to providing high-quality ammunition. Founded in South Korea in 1968 under the Poongsan Corporation, the Precision Made Cartridges (PMC) brand quickly gained recognition for its reliable and affordable ammunition. Over the years, PMC has expanded its product line, offering a diverse range of calibers for shooters worldwide.
With a strong focus on quality control and precision manufacturing, PMC has become a trusted name in the shooting community. Their dedication to consistency and reliability has made them a popular choice among shooters of all levels.
Where Is PMC Ammo Made?
Now that you know that PMC is a South Korean brand, you may be wondering, "Where is PMC ammo manufactured?"
PMC ammo is manufactured in South Korea, where the company was founded. Known for its advanced manufacturing facilities and strict quality control measures, PMC ensures that each round meets its high standards for performance and reliability. With its commitment to excellence, PMC has gained the trust of shooters all over the world.
Frequently Asked Questions about PMC Ammo
What does PMC stand for in PMC ammo?
The PMC in PMC Ammo stands for "Precision Made Cartridges." This acronym is intended to reflect the company's commitment to manufacturing high-quality ammunition.
What is the difference between PMC ammo and other ammo?
The difference between PMC ammo and other ammo is PMC's commitment to precision manufacturing, strict quality control, reliable performance, and competitive pricing. These things help PMC ammunition stand out from other available brands.
Is PMC Bronze good ammo?
PMC Bronze ammo is generally regarded as good ammunition. It offers reliable performance, consistent accuracy, and solid functionality, making it very popular among shooters, including both civilians and law enforcement officers. In addition, PMC Bronze ammo balances both quality and affordability, making it a great choice for a wide range of shooting purposes.
Is PMC 556 ammo any good?
PMC 5.56 ammo has a good reputation among shooters thanks to its reliability and performance. It delivers accuracy and consistency for target shooting, training, and even some competitive shooting. It's an excellent option for anyone in the market for 5.56 NATO ammo.
PMC Ammo Review: Final Thoughts
All in all, PMC makes some rock-solid ammo that we've found to be accurate, reliable, and very good for the cost. On a personal level, this is one of my go-to choices when I'm picking up a bucket of range ammo, and I am always happy with the results I get.
Now that you've read our full PMC ammo review, it's time to check out our full listing of PMC ammo, or you can read ammo reviews from other brands, such as Federal or Blazer.