Blazer Ammo Review from Experts and Real Shooters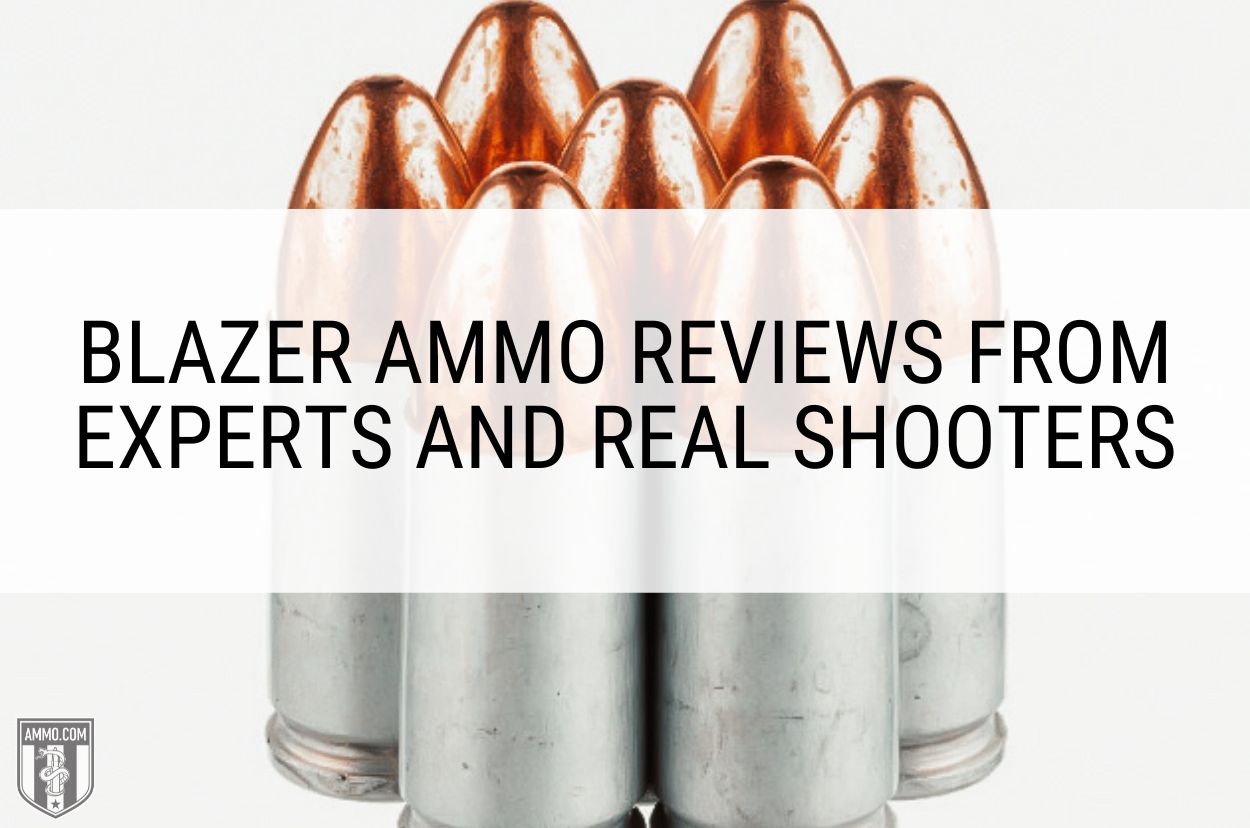 No matter if you're looking for a long day at the range or new self-defense ammo, Blazer Ammunition and Blazer Brass ammo are worth your consideration.
However, this ammo isn't for everyone.
In this Blazer ammo review, you'll learn the pros and cons of these rounds to help you decide if this ammo is for you.
Let's get started!
Is Blazer Ammunition Good?
Blazer ammo is good for most shooters. Blazer has a wide array of calibers and qualities of ammo.
When you see a cheap box of blazer ammunition, it's likely aluminum cased with Berdan primers, a lower quality ammo than brass casings with Boxer primers.
The aluminum casings are known to cause malfunctions in many semi-auto guns, while the Berdan primers are known to be less reliable than Boxer primers.
So if you want a reliable round that will go bang when you pull the trigger, Blazer Brass is the way to go. Blazer Brass offers shooters high-quality rounds that meet SAAMI specs and are manufactured under strict ISO-certified quality systems.
But if you want a full day of smelling burnt gunpowder at the range, Blazer Aluminum ammunition is still a good choice, especially for the price.
I have not had a jam during target practice in my Smith & Wesson 9mm Luger Shield when feeding it Blazer Brass 9mm ammo 147-Grain Full Metal Jacket (FMJ) rounds. However, the Blazer Ammunition 9mm Luger 115 Grain FMJ had a few minor hiccups while testing it. After researching it a bit further, this seems to be expected due to the aluminum cases.
Our customers also agree Blazer Brass ammo is great ammo. It's consistently rated with 4-5 stars by shooters who regularly buy and shoot Blazer Brass.
One last reason to go with Blazer Brass is that it's reloadable. Even if you're not a reloader, you can save your brass and sell it to someone who reloads to help you save up a little extra money for more ammo.
As I mentioned above, Blazer ammo is not for everyone.
Though it's a small number of shooters, I don't recommend Blazer Ammunition for competition shooters. CCI, who makes Blazer Brass, also makes high-quality rounds that are much better suited for competitions.
Pros and Cons of Blazer Ammo
Here are several of the pros and cons I came up with while testing and researching Blazer Ammunition-
Pros
Inexpensive
Reliable, you don't have to worry about a misfire
Highly rated
It gives shooters options of aluminum or brass cases
Let's shooters choose between Berdan or Boxer Primers
Brass is reloadable
Cons
Aluminum cases cause more malfunctions and are non-reloadable
Berdan primers are not as reliable as Boxer primers
Less than ideal for competition shooting
What Blazer Ammunition Calibers Are Available?
Ammo.com has a wide range of Blazer ammunition available at a great price. Whether you're looking for carbine or handgun ammo, we have you covered.
What You Need to Know About Blazer Ammo
There are a lot of confusing statements floating around about Blazer ammo. In this section, we will debunk a few myths while giving a quick history lesson about Blazer Ammunition.
CCI Blazer Brass is manufactured in Lewiston, Idaho, where Richard "Dick" Speer founded the company with Arvid Nelson.
The Speer name should sound familiar because Richard's brother, Vernon, founded the Speer Ammo company. Known for its accessibility and the Law Enforcement favorite, Speer Lawman rounds.
CCI, Blazer Brass, Estate, Federal, Remington, and Speer are all owned by Vista Outdoor, which is why many people believe Blazer ammo is made by Federal instead of CCI.
CCI is known for manufacturing supplies for reloaders mass-producing competition-level ammunition, so they created the Blazer Brass line in 1981 to give shooters a range ammo at a good price. The Blazer Ammunition line was formed to lower the cost even more while still offering good ammo to those who didn't mind shooting aluminum cases in their Glock.
Whether you're looking for high-quality centerfire 9mm ammunition or a cheap box of rimfire 22LR, CCI Blazer Brass has you covered with a wide range of bullets to boot. The Blazer Brass hollowpoints make for excellent self-defense rounds, while their round nose and total metal jacket (TMJ) bullets are perfect for the shooting range.
Frequently Asked Questions
Is Blazer ammo made by Federal?
No, Blazer ammo is made by CCI. The confusion comes in because CCI and Federal have the same parent company; they're both owned by Vista Outdoor Company (which used to be ATK).
Is Blazer aluminum ammo any good?
Yes, Blazer aluminum ammo is good for plinking at the range. However, it is not high-quality ammo like Blazer Brass. So don't be surprised if you get a malfunction or two when shooting Blazer aluminum.
Is Blazer ammo corrosive?
No, Blazer ammo is not corrosive. They began using non-corrosive formulas many decades ago.
Parting Shots
Now that you've read this Blazer ammo review, you understand why Blazer Ammunition is a good ammo for a majority of shooters, and you don't have to worry about purchasing this ammo unless you're a reloader or competition shooter.
So go ahead and stock up on your favorite calibers at Ammo.com today!