Rimfire-Primed Ammo: Rimfire Primers Explained
Rimfire is a category of ammunition that is fired when the firing pin strikes the rim of the cartridge. The primer compound is located inside the rim of the cartridge, hence the term "rimfire".
Rimfire ammo is the most common type of ammunition in the world today. It offers shooters a low pressure, low bullet weight, low recoil, and most importantly, low cost of entry into shooting. Additionally, it is extremely popular with new and young shooters.
Rimfire Ammunition: What is Rimfire Ammo?
Rimfire ammo is a type of metallic cartridge that is fired when the firing pin strikes the rim of the cartridge. Inside the cartridge case, the primer compound is spread evenly around the inside of the rim of the cartridge, which allows the firing pin to strike any location around the rim.
The pressure created by the firing pin strike ignites the primer in the rim of the cartridge. This ignites the propellant, which can be either black powder or smokeless powder. The pressure caused by the ignition of the propellant then pushes the bullet out of the barrel of the gun.
You can easily purchase a handgun or long gun chambered in rimfire – both semi-auto and bolt-action variants are available. Major firearms manufacturers like Smith & Wesson, Winchester, Ruger, Springfield, and Remington all carry at least one rimfire rifle, carbine, or handgun in their catalog.
Rimfire cartridges are the most popular ammunition in the world. They are available from a variety of manufacturers including Aguila, CCI, Winchester, Hornady, and Remington.
Due to the popularity of rimfire ammo worldwide, a variety of different cartridges are available to fit your needs for target shooting, plinking, and varmint control. These cartridges are readily available in hollow point and full metal jacket from most major ammunition manufacturers for plinking.
Rimfire shotshells are available to take care of small game at close range (snakes, rodents, etc.), while specialty match grade rimfire ammo is available for long range target shooting. Cost is another major benefit; compared to its centerfire counterpart, rimfire ammunition and firearms are considerably less expensive.
This makes rimfire an ideal choice for a rookie and seasoned shooter alike. As most rimfire cartridges are low pressure and have lower bullet weight, when compared to centerfire cartridges, the felt recoil is almost negligible. This allows new shooters to learn good shooting habits (trigger control, breath control, proper stance, etc.) without having to deal with uncomfortable recoil that can lead to bad shooting habits, like recoil anticipation and jerking the trigger.
The first rimfire cartridge was developed by the French gunsmith Louis-Nicolas Flobert in 1845. The cartridge he created was referred to as the 6mm Flober or the .22 BB Cap. It consisted of a percussion cap and a bullet without any additional propellant. All other rimfire cartridges after 1845 evolved from the .22 BB Cap.
Rimfire Calibers: What Calibers are Rimfire?
Historic rimfire cartridges have been available in multiple calibers from .17 caliber to .58 caliber; however, the heavier bullet weight cartridges were quickly replaced by centerfire cartridge cases to allow for added propellant, pressure, and increased reliability.
Modern rimfire ammunition is currently only available in .17 and .22 caliber.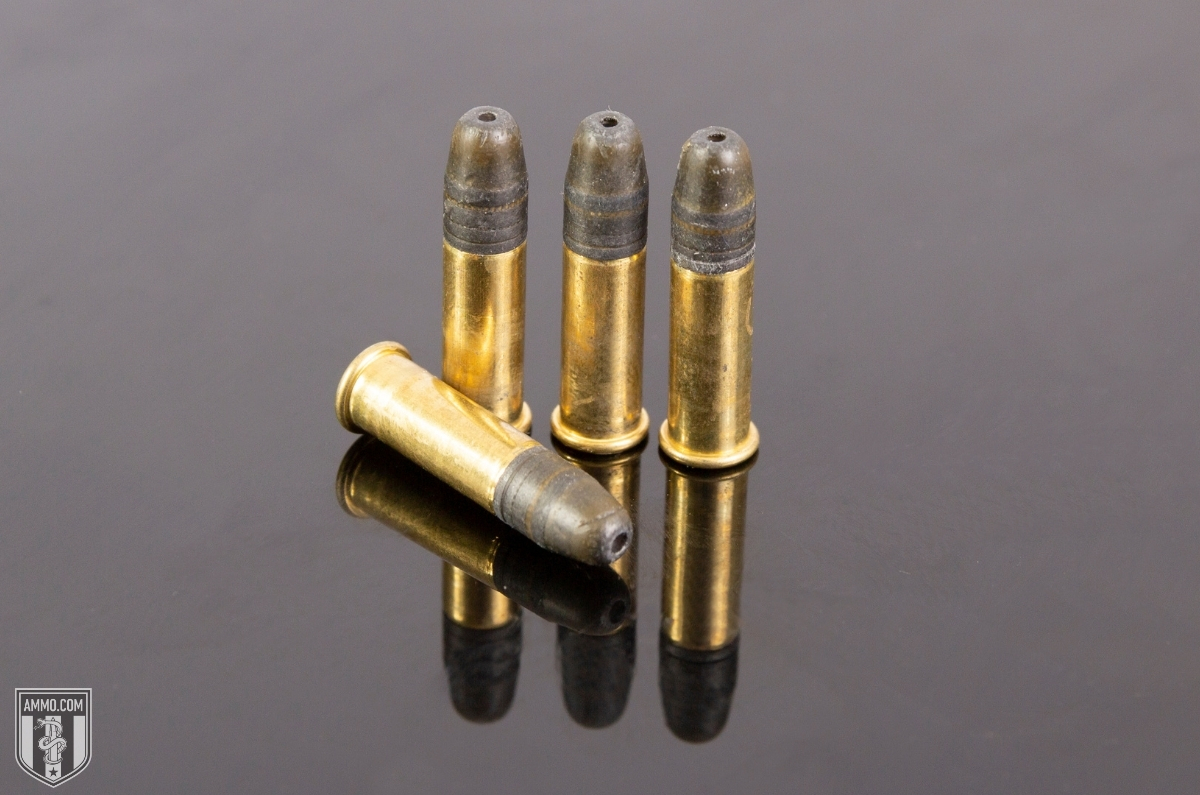 Final Thoughts
Rimfire ammunition and firearms are extremely popular with new and experienced shooters and provide a strong foundation for learning the fundamentals of shooting. With a wide variety of bullets, loadings, and applications, it will always have a place in the inventory of every shooter.
The flexibility of the cartridge design allows for a wide variety of applications, from long range target shooting to varmint control, with reduced cost per round when compared to their centerfire counterparts.
As ammo companies and wildcatters continue to push the limits of velocity with rimfire cartridges in a pseudo-nuclear arms velocity race, new applications might arise in the future.
That being said, there's no doubt that every firearm owner needs to have at least one .22 LR firearm in their collection to learn proper shooting techniques and to pass down to the next generation of 2A supporters.