Magtech 9mm 124gr Review: The Midrange Range Ammo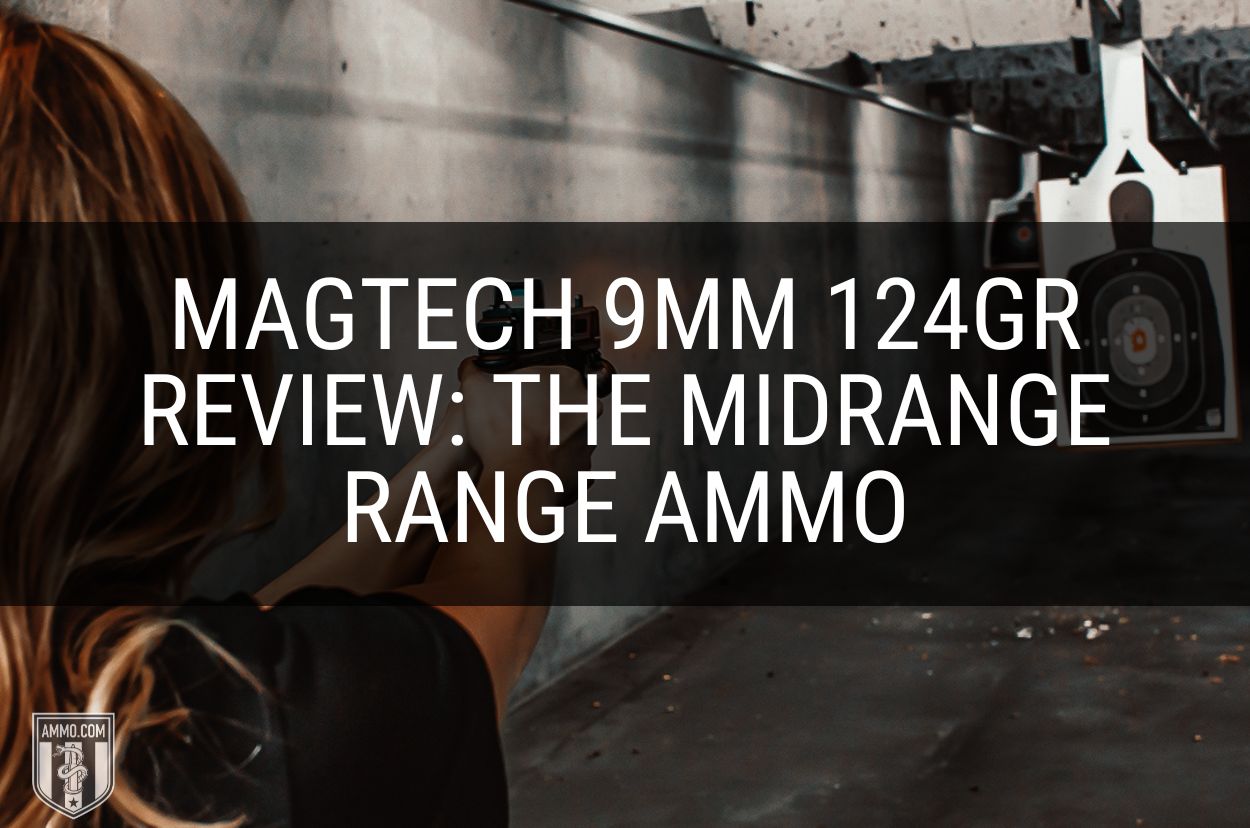 If you're in the market for cheap range ammo, you aren't alone. A lot of people ask me which 9mm performs well at the range but is also affordable. When we take our everyday carry firearms out for target practice, I'm looking for something that chambers well, has minimal duds, mimics my carry ammo, and doesn't cost a lot of money.
The MagTech 9mm 124gr is a viable option, and you can pick it up HERE. However, if you're like me, you'll want to know more about it before adding it to the cart. So, I've compiled this Magtech 9mm 124 grain ammo review to help you decide if this is perfect range food for your Glock, Sig Sauer, or any other 9mm pistol.
Magtech 9mm 124gr Ammo Overview
Magtech Ammo is affiliated with CBC (the Brazilian Cartridge Company). While CBC hit the scene in 1926, Magtech ammo wasn't founded until 1990. As the name would suggest, Magtech is Brazilian ammunition, but the parent company was founded by two Italians.
Magtech is relatively reputable with a long history of providing high-quality ammunition with low price tags. I don't know about you, but I'm always a little skeptical of a new brand as I've had some problems with cheap range ammo, like Zinc Point in the past.
Fortunately, I've never had a problem with Magtech, and many shooters pack their range bags with it regularly.
According to their website, CBC produces more than 1.5 billion rounds annually and is available in more than 50 countries. The company has factories in San Paolo, Brazil, Germany, the Czech Republic, and a subsidiary in Minnesota.
Although Magtech produces more than just range ammo (they offer SP and HPBT projectiles, too) the 9mm 124gr Magtech fires a full metal jacket bullet. It's loaded in a brass casing with a Boxer primer, so it's perfect for reloading.
It's true that some ammo made overseas is unreliable, but Magtech reminds me of Sellier & Bellot. It isn't dirty, and you likely won't have issues with misfires, duds, and FTE (failure to eject). However, this also depends on the firearm. Some 9mm handguns don't like Magtech, but this is true for any ammunition. I recommend buying one or two small boxes before making a bulk 9mm ammo order.
Our Magtech 9mm 124gr Ammo Review
Magtech has a few things going for it. The first is accessibility. It's easy for me to find on our website, it's reliable, and reloading is a breeze (Magtech makes the reloading data readily available). Now, the only question is, "Is it right for you, too?"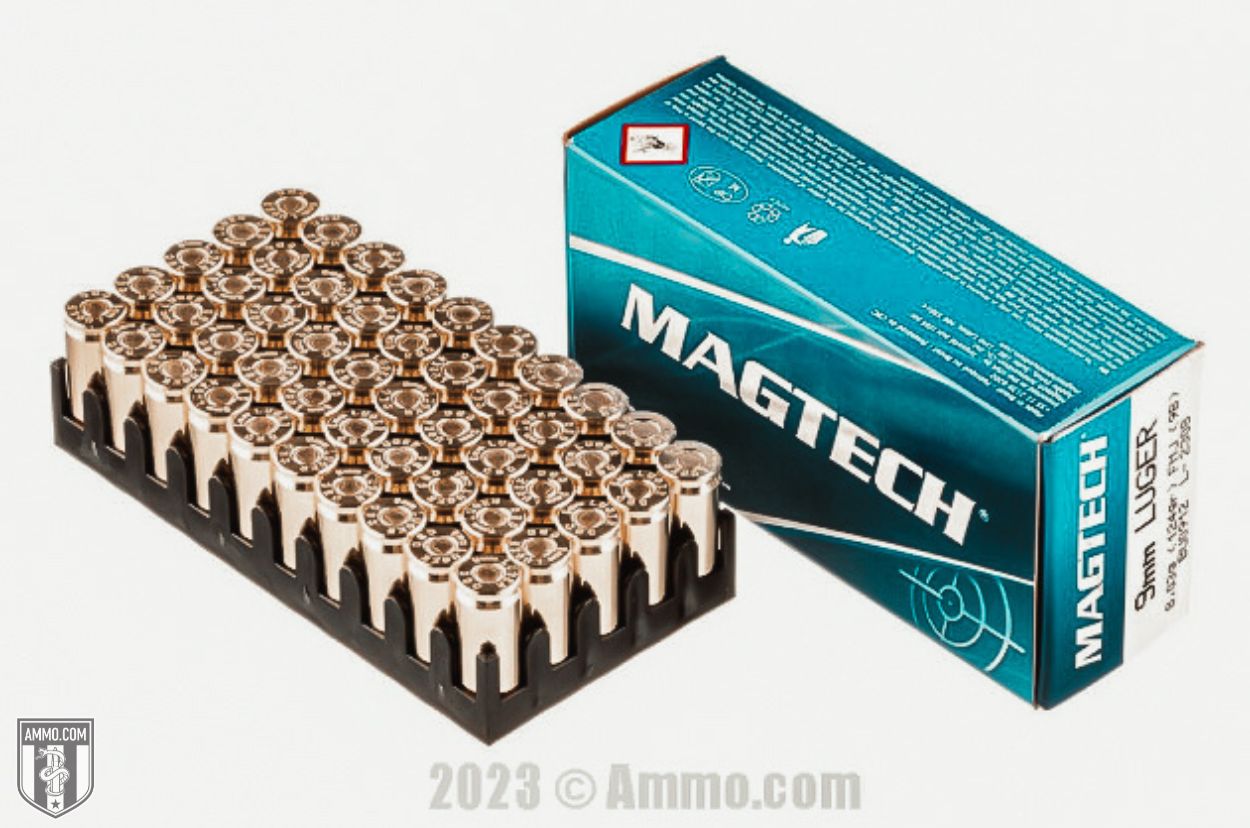 If you aren't into handloading your ammo, you might find something equally reliable and a little bit cheaper with steel or aluminum casings. However, beware that some firearms don't exactly appreciate these, and you may run into problems.
Next, Magtech 9mm 124gr FMJs may be a little too heavy for your preferences. 9mm FMJs typically come in 115, 124, and 147-grain weights. Choosing the one that's right for your needs is an important part of the buying process.
There are too many variables to discuss in one article regarding the 9mm grain weights, so we'll focus on perceived recoil. Lighter bullets tend to have higher muzzle velocities and, therefore, spend less time in the barrel than heavier bullets. The general consensus here is that the 115-grain Magtech 9mm FMJs will have a higher recoil than the 124-grain or 147-grain options.
If you're new to shooting, just going plinking, or you carry 124gr self-defense cartridges like the Speer Gold Dot, the 124gr Magtech FMJs are perfect. They're similar in muzzle velocity and muzzle energy. So, when you draw your more expensive EDC ammo, you're better prepared for how it will feel.
However, if you're getting ready for a competition or want a higher muzzle velocity, the 115gr will suit your needs. The 9mm Luger 124gr Magtech FMJ has a muzzle velocity of 1,135 fps. Some shooters will tell you the Magtech is a bit spicier than other 124-grain full metal jacket rounds. However, most of them run between 1,050 fps and 1,200 fps.
Furthermore, it's important to note that the speeds you'll see vary depending on barrel length. If you're playing around with a pistol caliber carbine (PCC) rifle, your Magtech 124gr should have gets faster speeds than a short-barrel handgun. The longer the bullet stays in the barrel, the more time it has to build up speed. Furthermore, 124gr Magtech 9mm ammo maintains speeds over 1,000 fps out to 50 yards.
The Magtech 124gr is your standard full metal jacket projectile. It has a lead core and metal alloy jacket. We're using this handgun ammo for the range, so you'll likely go through quite a few rounds during each shooting session. This presents two factors to consider: Whether the range you're shooting at has specific lead exposure requirements and how comfortable you are with the lead exposure risk (only applicable to shooting indoors).
For example, when law enforcement holds qualifications, they sometimes prefer TMJs. Total metal jacketed projectiles completely encase the lead projectile in a copper alloy jacket and, therefore, minimize lead exposure. So, if this is a concern for you, or your range doesn't permit FMJs, check out something like Speer Lawman 124gr.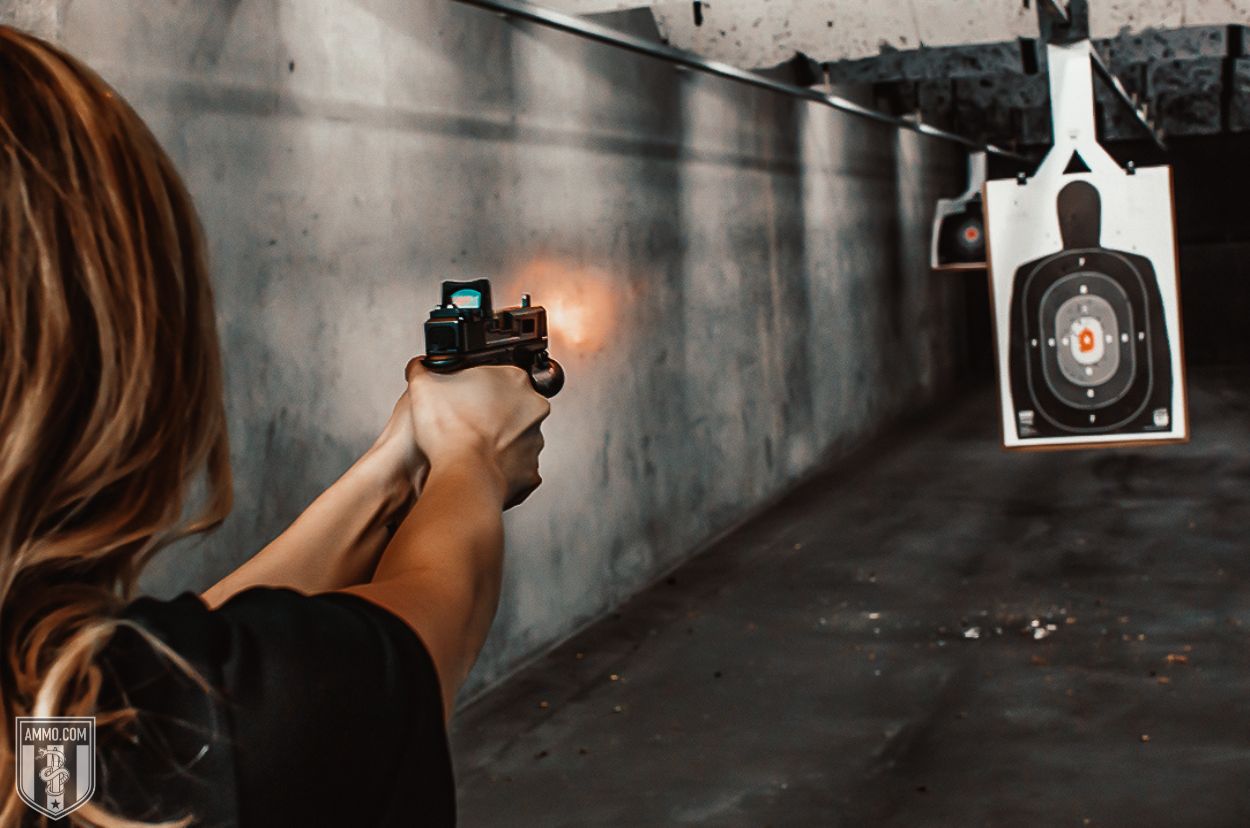 What is it best for?
Magtech 124gr FMJs are perfect for plinking, target practice, stockpiling, and reloading. It's good ammo at a great price. You can fill your range bag with it and perfect your shot placement or shoot at milk jugs all day without excessive buyer's guilt.
This affordable handgun ammunition is typically in stock, making it great for buying in bulk and target shooting. Furthermore, Magtech brand 9mm ammo is similar to Remington's 9mm Luger FMJs and Winchester's 124-grain FMJs. So, if your favorite American brand is out of stock, you have a backup.
Disadvantages
I have nothing bad to say about Magtech ammunition. It fires when I need it to, and for range ammo, that's good enough for me. However, I have talked to other shooters who've had issues with the rounds. Unfortunately, this is the nature of the business. Some firearms do not cooperate with some ammunition.
If this concerns you, it's best to buy a few small boxes before stockpiling. Testing 124-grain full metal jacket rounds before investing a lot of money may benefit you.
Pros and Cons
Pros
Affordability
Availability
Boxer primers and reloadable brass cases
Performs well
It's new production ammo
Magtech primers are non-corrosive
The 124-grain FMJ is a mid-range bullet weight
Cons
Magtech ammo does not feed well in some handguns
Specifications
Below we've included a spec chart for Magtech 9mm 124gr ammo for your reference.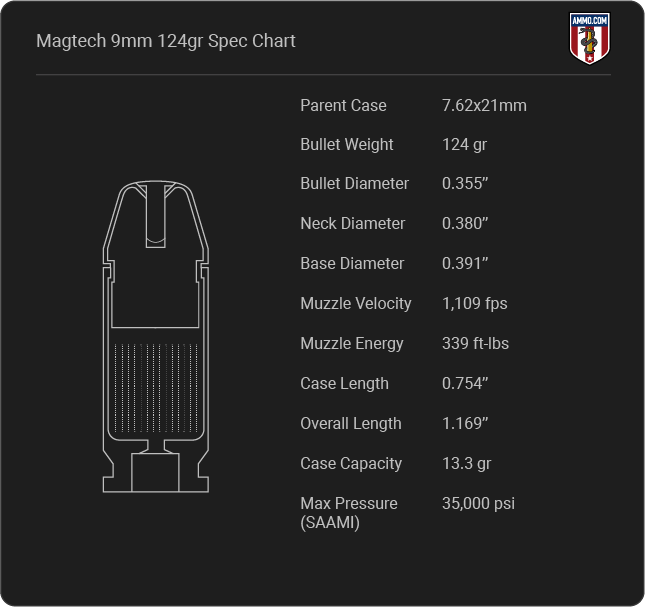 Ballistics For Magtech 9mm 124gr Ammo
Below is a ballistics table for Magtech 9mm 124gr ammo out to 150 yards. Please note that these are manufacturer provided data, and actual ballistic performance may not be identical in your firearm.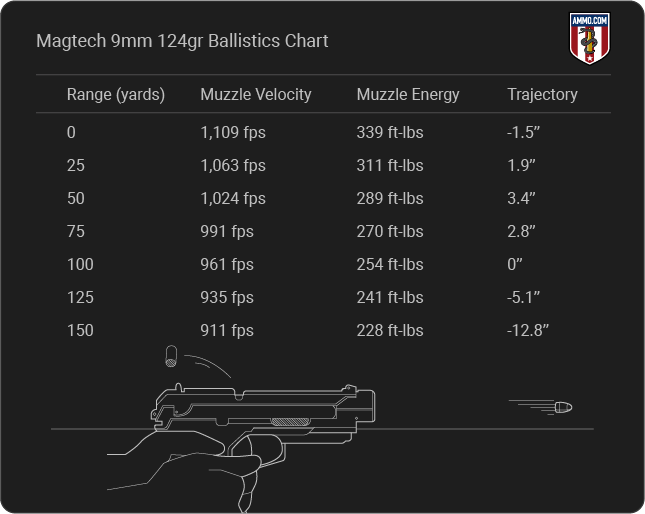 Parting Shots
There aren't many things I can think of that are better than cheap and effective FMJ ammo. Magtech ammo is a great solution for a common need that we all share; the need to practice. If you've found that your favorite brand isn't in stock, Magtech 9mm Luger 124gr ammo is a perfectly acceptable cartridge to buy.
FAQs
Below we've compiled a list of question we get here at Ammo.com about Magtech 124gr 9mm ammo.
Is the 9mm Luger 124-grain ammo worth buying?
Absolutely! Not only is the Magtech FMJ ammo good for 9mm handguns, but it's also great in other calibers like the .45 ACP or .380 Auto.
What is the range of a Magtech 9mm 124gr bullet?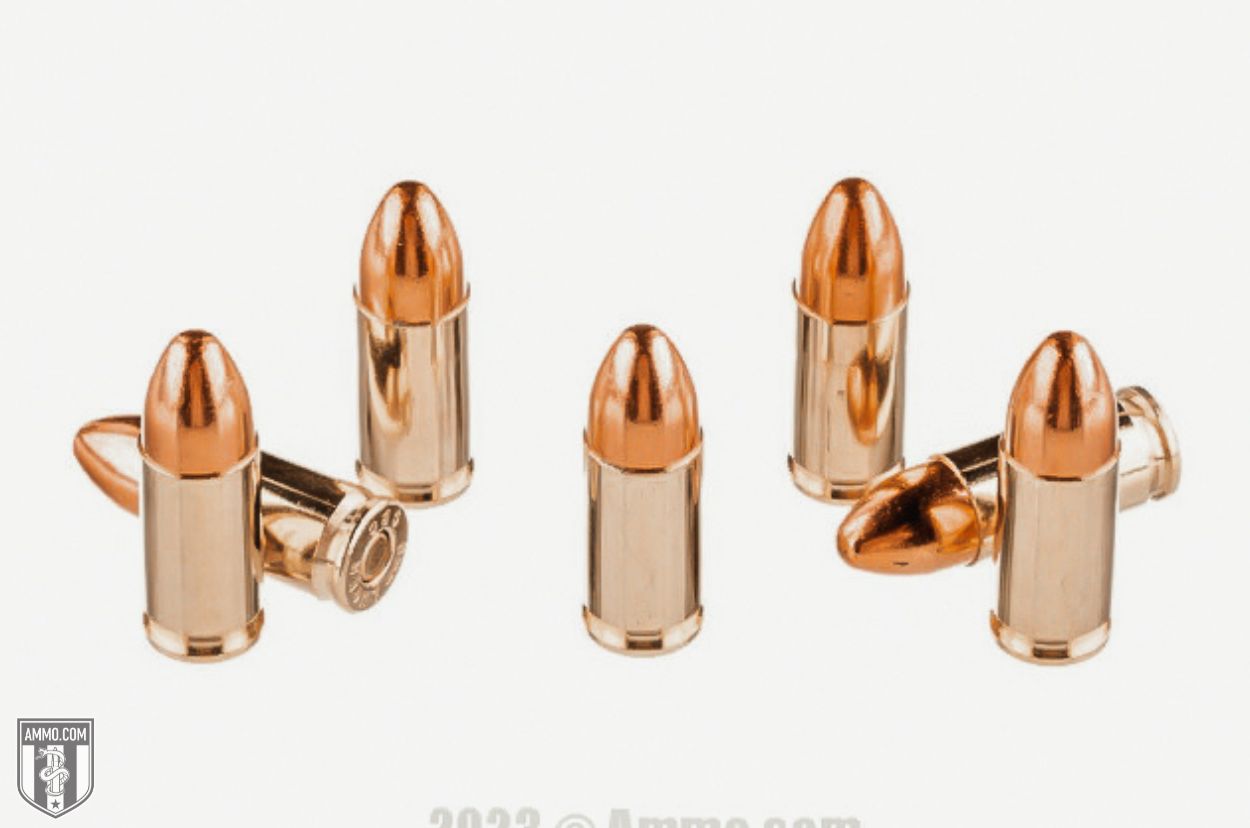 Magtech ammo performs well, up to 50 yards.
Is Magtech 9mm 124gr ammo good for self-defense?
No. FMJ ammunition isn't great for self-defense. Jacketed hollow points (JHP) is the preferred bullet type for personal defense as it will expand and minimize the risk of over penetration.
Does Magtech make rimfire ammo?
Yes. Aside from FMJs, the company also makes rimfire ammunition. However, it isn't as widely available as the company's centerfire cartridges.
Is Magtech ammo available in California?
Yes. However, there are rules. Of course, you can't hunt with it. Also, call the range before purchasing. Many indoor ranges prohibit FMJs due to lead exposure risks.