Hornady American Whitetail 223 Review: Does It Hold Up?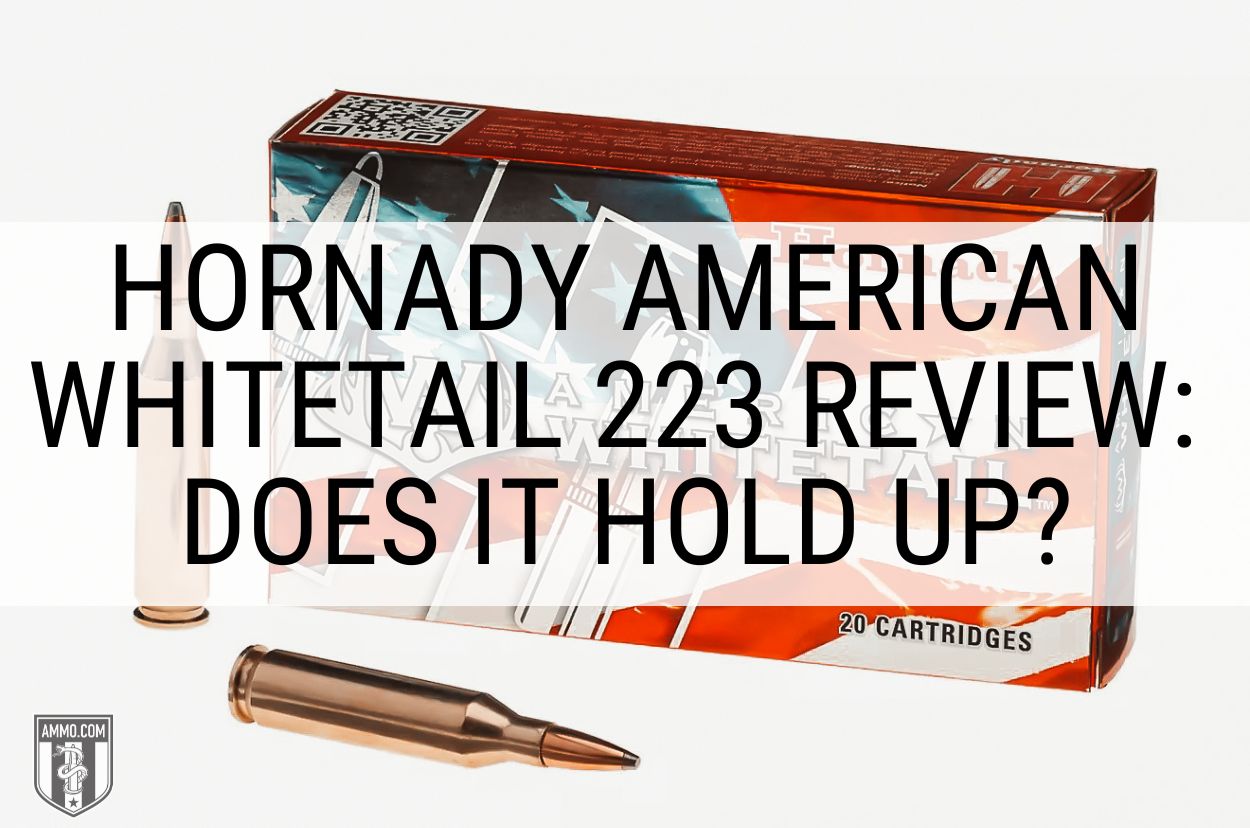 When Hornady, a legendary ammo company, and the 223 Remington, America's favorite caliber, team up, it's gotta be good, right?
One would believe so, but will it be good deer hunting ammo?
Let's find out in this Hornady American Whitetail 223 Review!
I've been shooting Hornady handgun ammo for many years, and I've shot other Hornady American Whitetail ammo (270), as well as Hornady LeveRevolution 30-30. So, after hours of researching, I've come to a few surprising conclusions.
Keep scrolling to discover if Hornady American Whitetail .223 ammo is right for you.
Hornady American Whitetail 223 Ammo Overview
Hornady Ammunition has been a leading ammo manufacturer for decades, developing new bullets and pushing the envelope for better ammo.
The Hornady American Whitetail line "combines generations of ballistics know-how with modern components and the technology you need to take the buck of a lifetime!"
According to Hornady, the Hornady Interlock bullets used in this centerfire rifle ammunition have exposed lead tips to control expansion and for hard-hitting terminal performance. An embedded raised ring inside the jacket keeps the core and jacket locked together during expansion (similar to Remington Core-lokt), making the bullet more effective at ethically harvesting big game.
You won't be breaking any velocity records with these rounds, but you can trust Hornady uses top-of-the-line powder, brass casings, and primers, so every time you pull the trigger, they go boom.
Hornady Whitetail ammo isn't limited to 223. It's also found in 243, 30-06, 308, 270, 6.5 Creedmoor, 300 Win Mag, 450 Bushmaster, and many other big game hunting calibers.
But in the section below, we will focus on the 223 round.
Our Hornady American Whitetail 223 Review
While I'm a big fan of Hornady ammo in general, this is an instance where these rounds have a lot going against them.
However, there are benefits to this ammo, so you might find it's the perfect fit for you.
Hornady American Whitetail .223 Rem uses a 60-grain Interlock bullet, which many claim to be inferior to Nosler Partition bullets. These bullets are not as technologically advanced as the Hornady SST or V-Max hollow point hunting bullets are polymer-tipped, and have a boat tail design to increase the ballistic coefficient.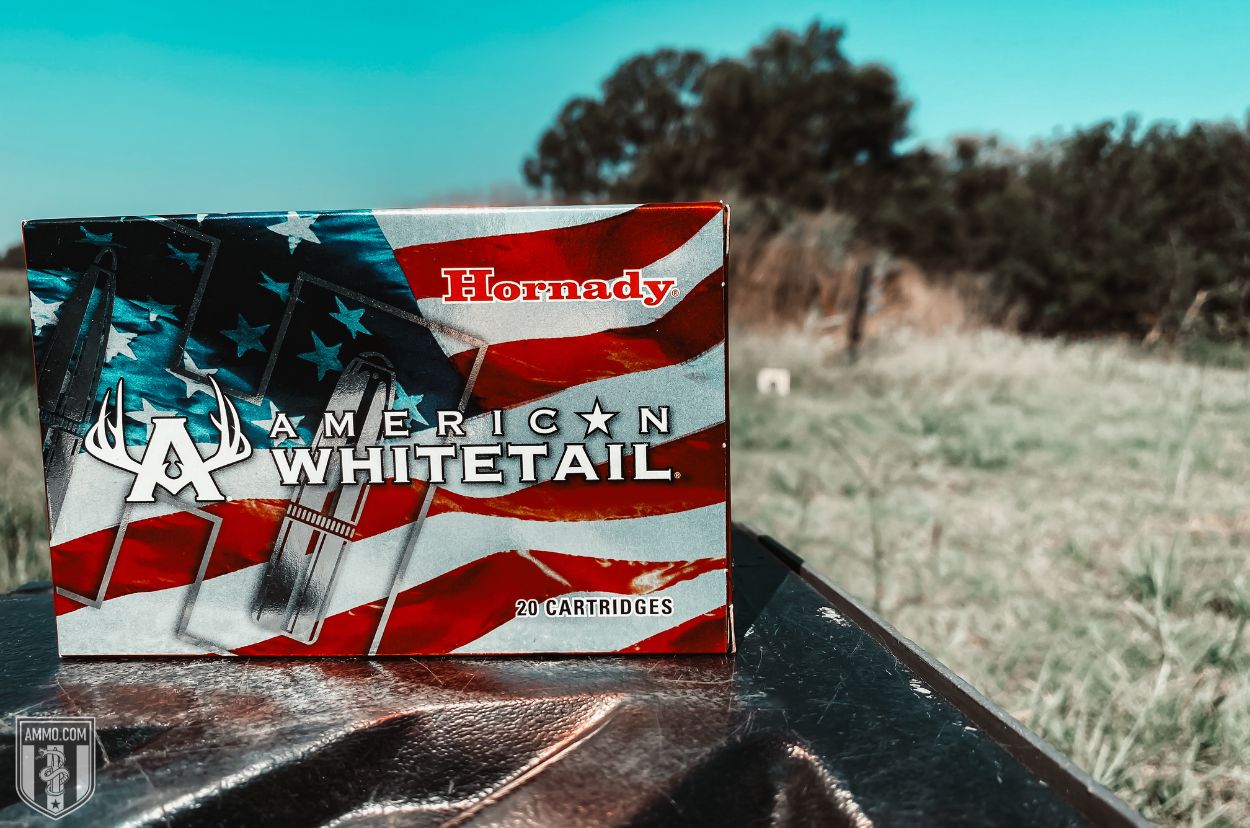 But this ammo is also less expensive than ammo loaded with SST and V-Max bullets.
Because it's a soft point bullet, I wouldn't recommend using it in semi-auto rifles, like an AR-15, because it will likely cause malfunctions or, at the very least, damage the bullet and potentially make it less accurate.
I couldn't find a single instance of someone complaining about a misfire, nor have I ever had one using Hornady American Whitetail ammunition. However, there were a few complaints of the ammo being over-pressure, making it difficult to extract the case from a bolt-action rifle, almost to the point of being dangerous.
As far as it being a capable round for deer season, it received high praise from the deer hunters who have used it to harvest a whitetail with it successfully. I wouldn't recommend it as a mule deer hunting bullet, though.
The low recoil of the 223 Rem allows it to be more accurate, and it's also a great way to introduce kids to deer hunting. The reasonable pricing will enable you to take it to the range and be prepared for deer season without breaking the bank on ammo.
What Is It Best For?
This ammo is best for whitetail deer and varmint hunters who are recoil-sensitive, only own a 223 bolt action rifle, or are looking to grab some budget-friendly hunting ammo.
I also like it for introducing young hunters to the deer woods.
Disadvantages
The most significant disadvantage is how limited this ammo is; it's exclusive to Academy Sports and Outdoors. I couldn't even find these rounds listed on Hornady.com.
Another major disadvantage of these rounds is the lack of knockdown power. While they will do the job with a well-placed shot, not all shots will be well-placed, so you might be tracking your deer for a while, and hopefully, there's a good enough blood trail to follow.
Pros and Cons
As always, we strive to remain unbiased at Ammo.com, so we will tell you what we believe to be the benefits and drawbacks of Hornady American Whitetail 223 Rem ammo.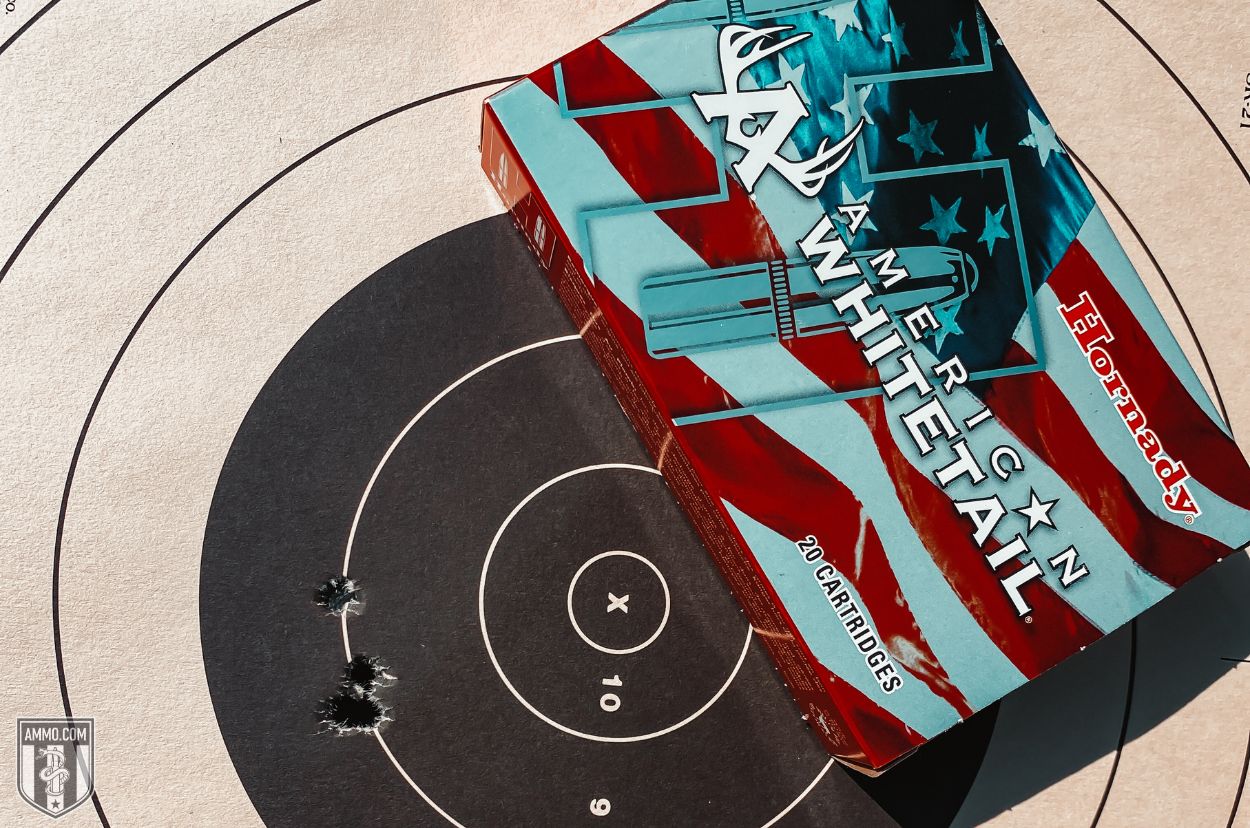 Pros
Low recoil
Accurate
Trusted ammo brand from the USA
Round is designed for varmint and deer hunting
Reasonably priced
High-quality brass casings make reloading possible
Cons
Hard to find (Exclusive to Academy)
It does not function well in semi-auto rifles
Mixed feelings about bullet performance
223 Rem is generally the smallest caliber state hunting agencies will allow for deer hunting
Specifications & Ballistics of Hornady American Whitetail 223 Bullets
Below, the team at Ammo.com has created a specs and ballistics chart on Hornady American Whitetail 223 ammo for your convenience.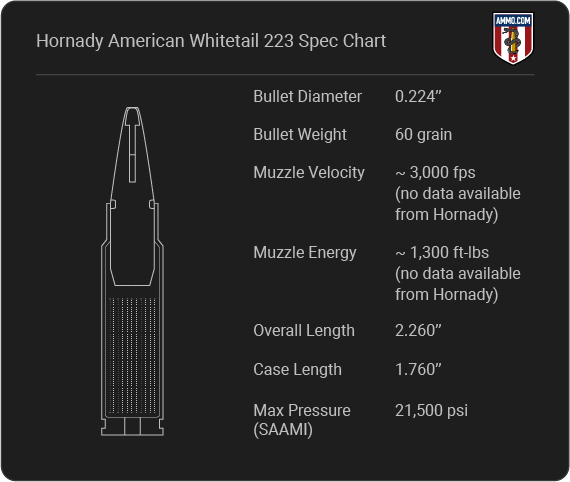 Alternatives
Below are some of the other 223 Rem options you have when choosing a round for deer hunting.
Hornady 223 Rem 50gr CX Superformance
Remington Core-Lokt 62gr
Winchester Power Point SuperX 64gr
I recommend stepping up in caliber to a .243 Win or 270 to increase the effective range. Hornady American Whitetail is also available in the calibers listed below:
25-06 Remington
7mm-08 Remington
7mm Remington Magnum
30-30 Winchester
300 Winchester Short Magnum
350 Legend
Parting Shots
Now that you've finished reading this Hornady American Whitetail 223 review, you understand it's only available at Academy and often not ideal for deer hunting.
However, this rifle ammo still makes a good round for shooting your bolt-action rifle without taking out another mortgage on your home or introducing a kid to deer hunting.
Good luck in the deer woods this season, and remember to check out Ammo.com for all your ammunition needs!
Frequently Asked Questions
I've taken the liberty to gather and answer a couple of the commonly asked questions regarding Hornady American Whitetail 223 ammo.
Is the Hornady American Whitetail 223 worth buying?
Yes, Hornady American Whitetail 223 is worth buying if you're on a tight budget or you only own a 223 Remington bolt-action hunting rifle. Otherwise, stepping up to a 243 or larger caliber is best.
What is the range of Hornady American Whitetail 223?
The range of Hornady American Whitetail 223 is about 250 yards; after that, it does not maintain enough energy to consistently and ethically kill deer.