PMC X-TAC 5.56 Ammo Review: Keeping Your Mags Full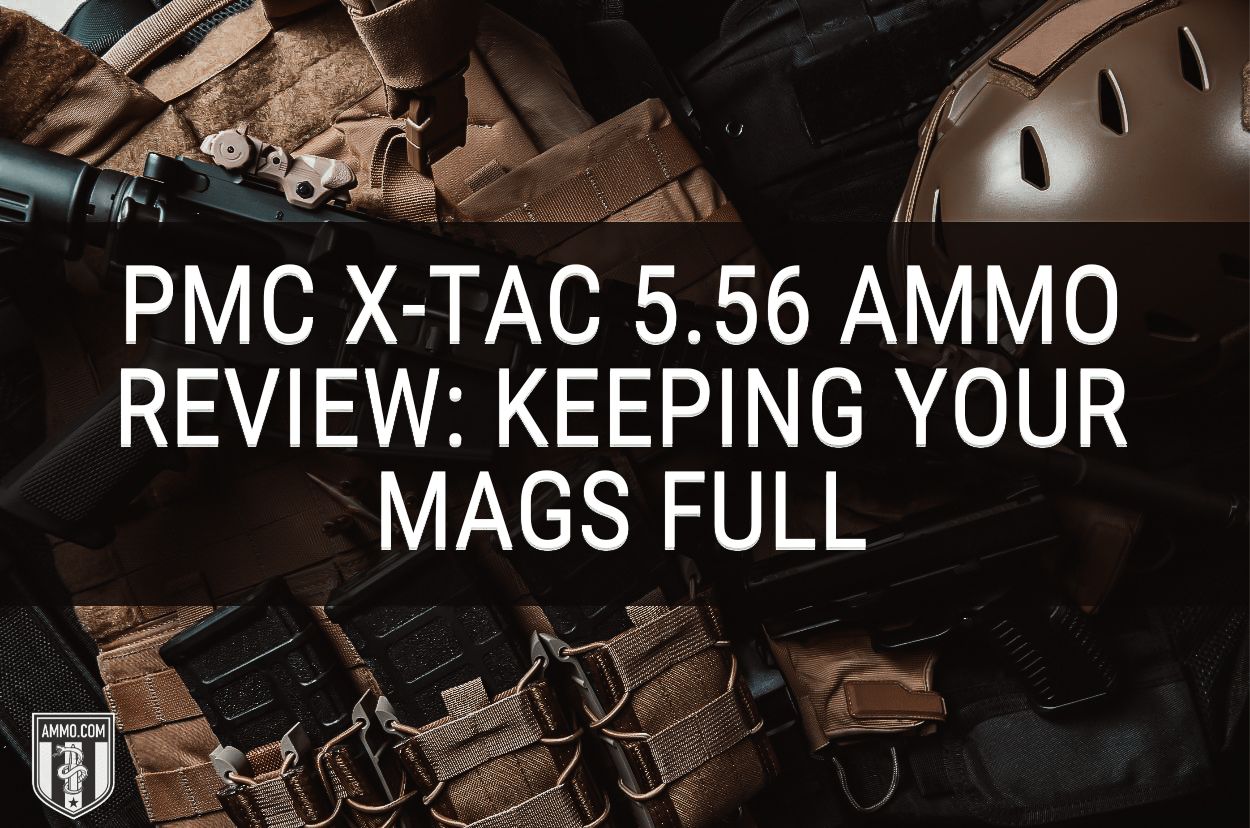 If there's one thing American shooting enthusiasts love, it's their AR-15s and the 5.56 NATO round. As the most popular semi-auto rifle and rifle cartridge in the country, there's a high demand for high-quality 5.56 NATO ammo to keep all these lovely implements of freedom, fed and happy.
Some shooters opt for inexpensive steel-cased ammo from Wolf or Tula, which is totally cool if you're into that. But for those shooters who want brass-cased ammo that is reloadable and as close to mil-spec as possible, you really should consider PMC X-TAC 5.56 ammo.
In my experience, this is good ammo that is great for target practice and buying in bulk to ensure I've always got plenty of rounds on hand for a rainy day.
But is X-TAC ammo good for your AR-15 carbine, or should you go with a more traditional brand like Winchester, Remington, or Lake City? In this PMC X-TAC 5.56 ammo review, we will take a look at what this ammo has to offer and why you shouldn't hesitate to order some PMC X-TAC ammo for your stockpiles.
Now let's get to the review!
PMC X-TAC 5.56 Ammo Overview
In 1973, the Angang ammo plant was founded as Precision Made Cartridges (PMC) to provide South Korea with all the ammo their military and police required.
PMC utilizes what is known as vertical integration, meaning that it controls every aspect of the production of its ammo. From the primers to brass casings to all the different bullet types used in their ammo, PMC maintains strict quality control standards to ensure every piece of ammo that leaves the factory floor will work as intended.
Not only does this ensure that PMC ammunition is high-quality, but it allows them to keep their cost per round as low as possible since they don't have to pay middlemen a premium for ammo components. Furthermore, if supply chain issues ever crop up again, PMC will be able to restart their production faster than other companies who must wait on order fulfillment from third parties.
PMC manufactures a wide variety of rifle and handgun cartridges in common calibers for the Korean Military as well as the American consumer. Not only does the company manufacture full metal jacket (FMJ) ammo for target practice, but self-defense jacketed hollow point ammo and hunting ammo are available for your favorite handguns.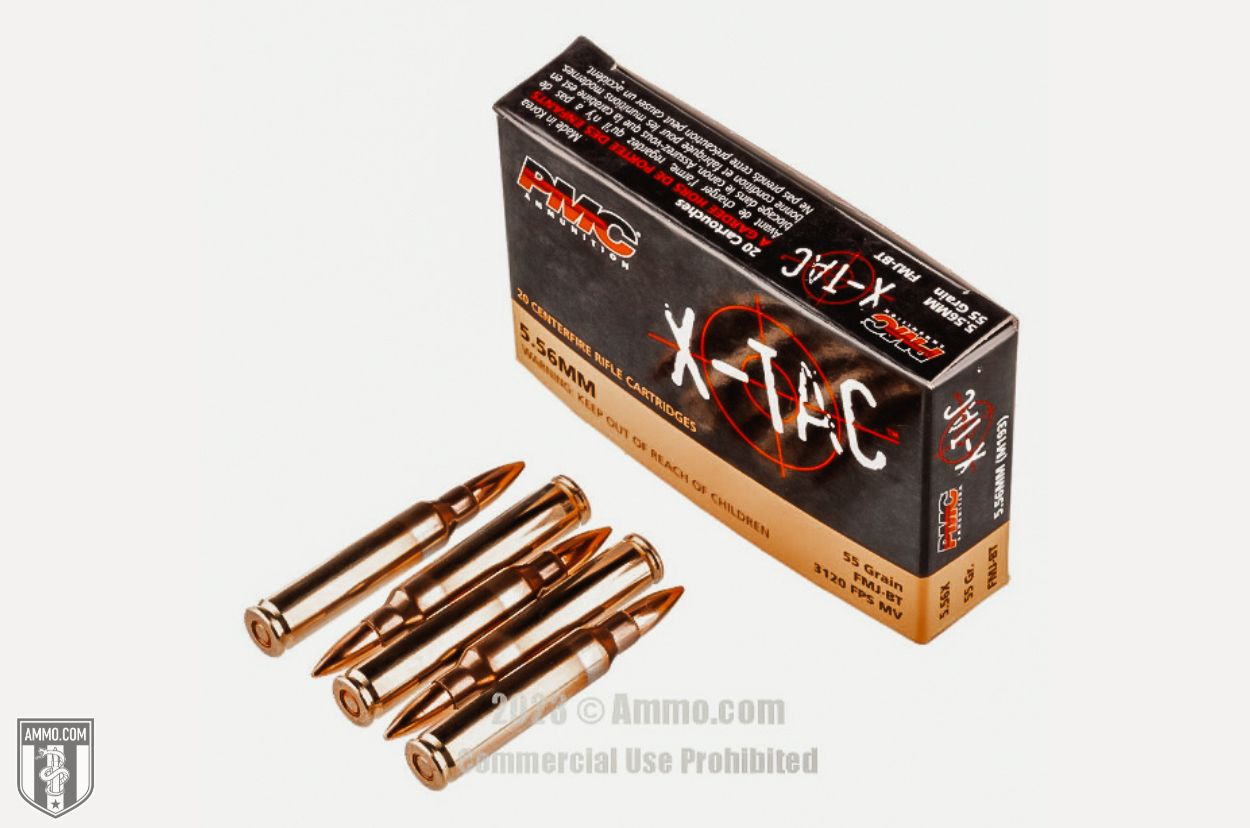 PMC is fully certified with the Sporting Arms and Ammunition Manufacturers Institute (SAAMI) and United States Military Standards and Specifications (US MIL-STD and US MIL-SPEC).
When it comes to PMC X-TAC ammo, this is the same ammo that is used by the South Korean military and NATO allies. This means it's about as close to legit mil-spec ammo as you can buy unless you grab a handful off the Lake City assembly line (I wouldn't recommend that!)
Loaded with standard 55-grain FMJ or 62-grain LAP (light armor piercing, think green tip M855) bullets, PMC X-TAC 5.56 ammo adheres to NATO specs and comes with sealed primer pockets and annealed brass cases.
This makes them completely reloadable and extremely weather-resistant, which is good if you ever shoot in adverse conditions. And if you want to buy in bulk but hate owning tons of ammo cans, PMC X-TAC can be purchased in hermetically sealed battle packs. These are perfect for throwing in the back of your ammo closet to save for a rainy day.
To summarize, if you're looking for some good ammo to load into your favorite 5.56 rifle or handgun, then don't hesitate to try out a few boxes of X-TAC 5.56 PMC ammo, as it won't let you down.
Our PMC X-TAC 5.56 Ammo Review
I purchased my first AR-15 in 2008, and after field stripping my new boomstick a few times to get more familiar with it, I was on the hunt for some ammo to feed it. My first trip to the range included multiple boxes of rifle ammunition from various manufacturers like Winchester, Remington, and PMC Bronze because I needed to know what my new baby liked.
The PMC ammunition functioned flawlessly, and I was very impressed; however, I knew that I wanted something that was a little closer to NATO ammo to stockpile "just in case".
Enter PMC X-TAC, and after my first trip to the range with it, I was hooked.
This PMC ammo does everything I could ask for from a military-style round. It has the muzzle velocity I needed for a flat trajectory and was inexpensive enough to buy in bulk. I also love that the cases are perfect for reloading, as I took up handloading shortly after getting my new AR.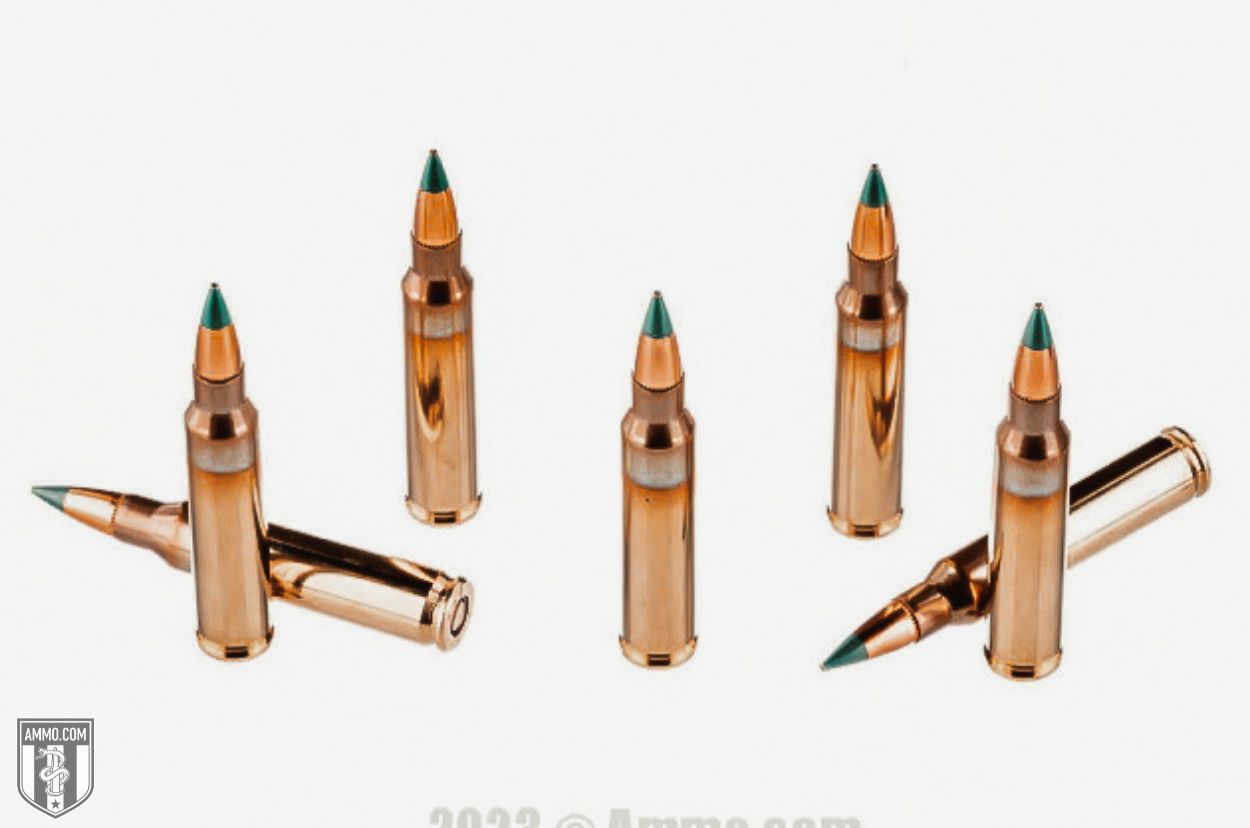 In my personal experience, the 55-grain FMJ X-TAC PMC ammo usually shoots around 1-1.5 MOA in my hands. I'm not an expert marksman by any means, but I feel these groups are representative of the ammo. The 62-grain LAP M855 clone X-TAC PMC ammunition suffers from the same accuracy issues as legitimate M855, holding around 2 MOA in my hands.
LAP stands for Light Armor Piercing and has a mild steel core penetrator just like green tip M855 ammo used by NATO and the US military. Although this is not considered armor-piercing ammo, it can damage steel targets or baffles, so make sure your local range allows these types of rounds before blasting off a mag and racking up a huge bill you weren't expecting.
All in all, this is great ammo that can be had for a good price. It feeds and functions properly and doesn't leave excessive amounts of carbon fouling in your barrel. It's accurate enough for the needs of most shooters across the USA who are happy enough to consistently punch holes in paper or clang steel targets.
And as this PMC ammunition is about as close to mil-spec as you can get, it's good ammo for long-term storage and stockpiling. I don't know about you, but for bulk ammo, I don't think I could ask for much more!
What's It Best For?
PMC X-TAC 5.56 ammo is best used for plinking, target practice, and long-range shooting. Its low price point makes it easy to buy in bulk to store away for any SHTF situation, and its sealed primer pockets make it extremely resistant to the elements. As PMC has extremely strict quality control standards, this rifle ammo is excellent for use in any of your 5.56 rifles. PMC ammo is also Boxer primed and uses high-quality brass cases, which are excellent for reloading.
Disadvantages
As this ammo is imported and is extremely high-quality, it is a few pennies more expensive per round than Lake City Surplus or PMC Bronze. Accuracy for PMC X-TAC 5.56 is reported to be around 1.5 MOA, so if you need sub-MOA accuracy for extremely long-range shooting, you'll likely want to invest in X-TAC Match or other match-grade ammo. Also, these rounds are not designed to expand on impact, making them a less-than-ideal choice for self-defense.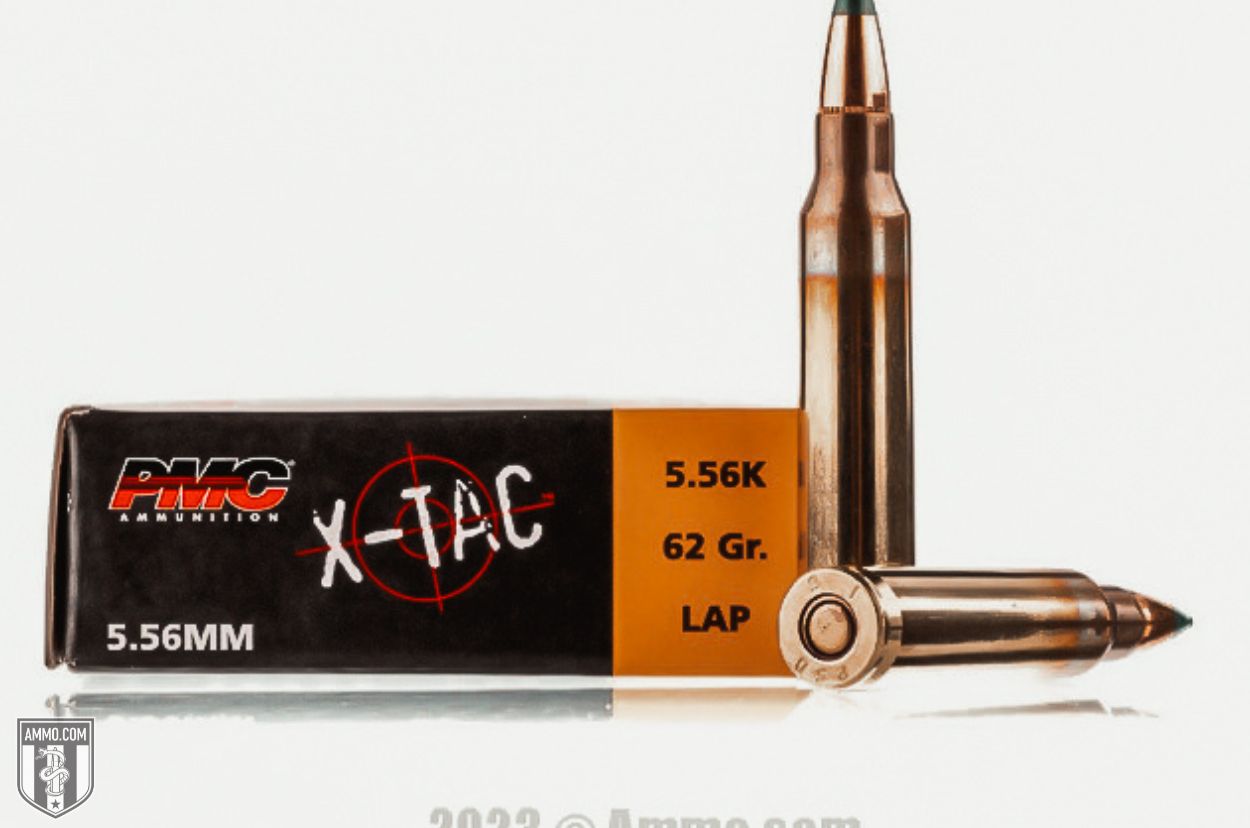 Pros and Cons
As much as we love ammo, we understand that no manufacturer is perfect. Here are some of the pros and cons of PMC X-TAC 5.56 ammunition you should be aware of.
Pros
Relatively inexpensive
Accurate
Reliable
Easy to buy in bulk
Brass cases are great for handloading
Cons
There are cheaper bulk ammo options available
Not match-grade quality
Questionable for self-defense
Variation Review
PMC X-TAC 5.56 ammo comes loaded with two different bullet weights, 55-grain and 62-grain. Below we will review each individually.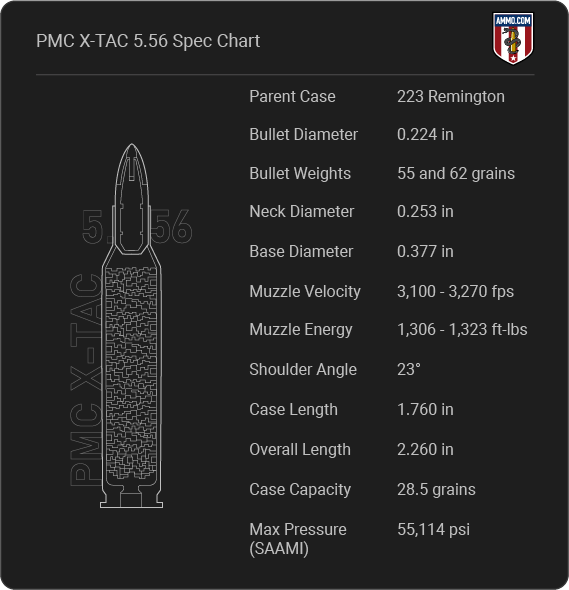 PMC X-TAC 5.56 NATO 55 grain FMJBT
PMC X-TAC 5.56 NATO 55-grain FMJBT ammo is your bread-and-butter round for any AR-15 carbine or Ruger Mini-14. Loaded with a classic 55-grain full metal jacket boat tail (FMJBT) projectile, these rounds have a muzzle velocity of 3,270 fps and muzzle energy of 1,306 ft-lbs, just like the classic M193 military round.
This PMC ammo utilizes sealed primer pockets to ensure reliability in even the harshest conditions, making their rifle ammunition goes "bang" every time you pull the trigger. I've found accuracy in my ARs to be around 1.5 MOA with this ammo. Simply put, this ammo will go where you want it to so long as you do your part.
As this is a standard lead core FMJ round, it is perfectly safe to use on indoor shooting ranges if rifle ammo is permitted.
PMC X-TAC 5.56 NATO 62 grain LAP
PMC X-TAC 5.56 NATO 62 grain LAP is PMC Ammunition's M855 or SS109 clone. Loaded with a 62-grain light armor piercing (LAP) bullet, this cartridge closely mimics the current issue green tip ammo for the U.S. military and its NATO allies.
Like M855, these bullets have a mild steel core penetrator insert. This means they are not safe to use at indoor ranges as the penetrator can damage the steel baffles used to catch bullets. With 3,100 fps muzzle velocity and 1,323 ft-lbs of muzzle energy, these rounds are about as close to real M855 rifle ammo as you can get next to Lake City surplus.
Ballistics for PMC X-TAC 5.56 Ammo
Below we've compiled ballistics tables for the PMC X-TAC 5.56 ammunition we reviewed in the previous section. Please note that the muzzle velocities listed might vary depending on your barrel length.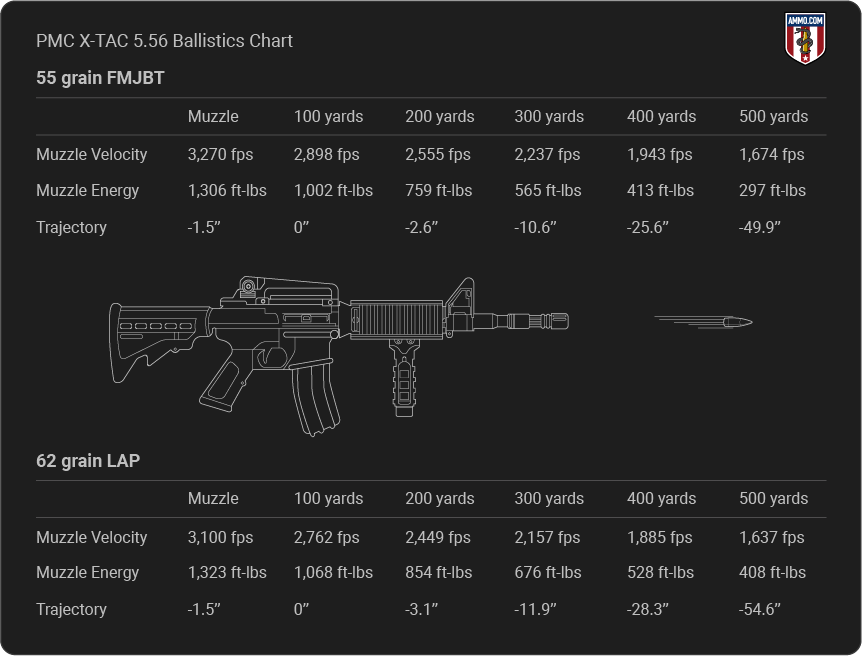 Note: This information comes from the manufacturer and is only informational. The actual ballistics obtained with your firearm can vary considerably from the advertised ballistics. Also, ballistics can vary from lot to lot with the same brand and type load.
Parting Shots
After finishing this PMC X-TAC 5.56 ammo review, you see why, overall, I like PMC X-TAC 5.56 ammo. It's an excellent round for plinking and target practice and will serve you well in a disaster scenario. It's reliable, accurate, and clean shooting, which is about all I can ask for when I'm loading up my ammo cans with bulk ammo.
But if your ammo cans are running a little light these days, make sure you stock up on some exceptional PMC X-TAC ammo here at Ammo.com and keep your supplies topped off for all your shooting needs. And make sure to check out all our bulk 5.56 ammo if you prefer another brand.
As always, stay safe, and we'll see you out on the range!
Frequently Asked Questions
Below are some questions we get asked a lot here at Ammo.com about PMC X-TAC 5.56 ammunition.
Is PMC X-TAC 5.56 worth buying?
Yes, this is great ammo for a good price. Most shooters report excellent accuracy results and that PMC ammo shoots clean.
What is the range of PMC X-TAC 5.56 ammo?
PMC X-TAC 5.56 ammo will have an effective range of around 500 yards. However, this can vary from rifle to rifle and depends on your barrel length, marksmanship skill, and ambient weather conditions when shooting.