Federal Independence Ammo Review: Stars, Stripes, and FMJ's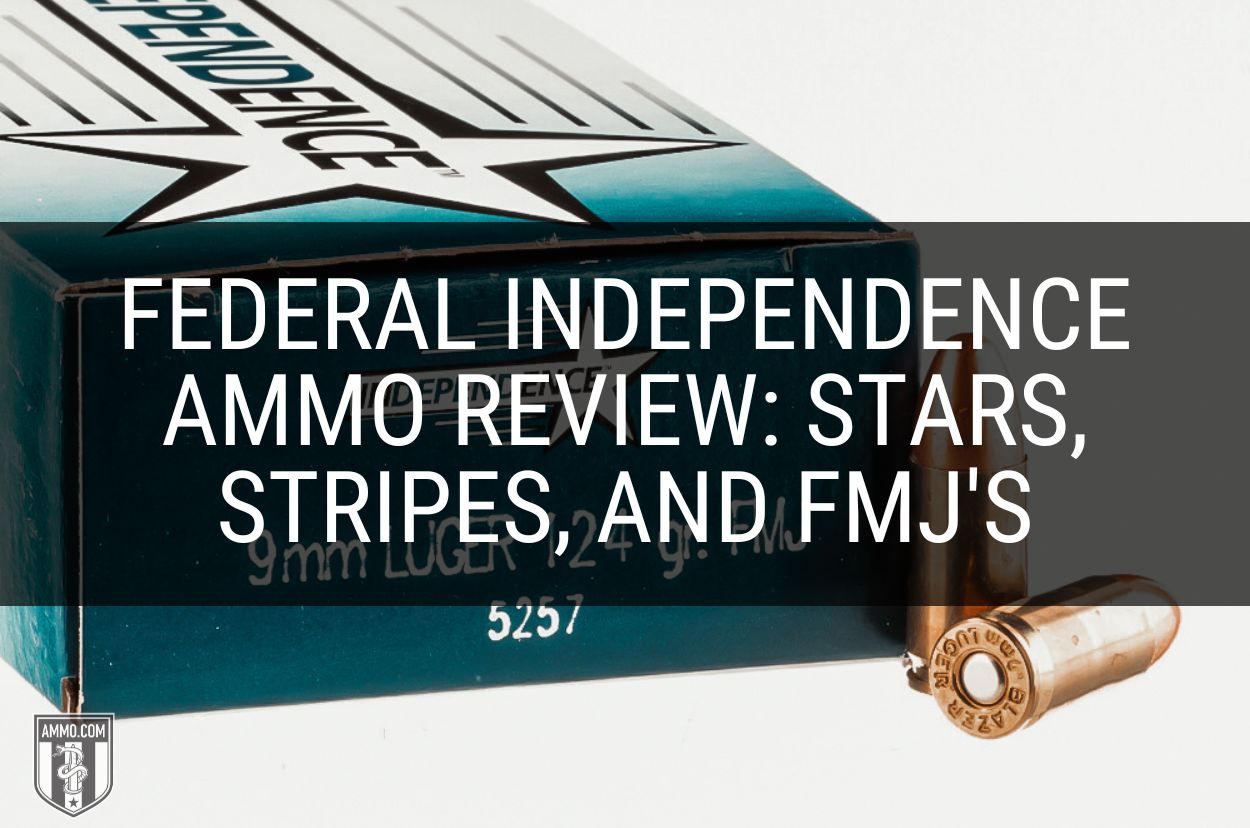 It seems like everyone I know is in the market for bulk ammo these days. Stockpiling FMJs for a SHTF scenario is pretty commonplace, and a lot of people ask me what I think of Federal Independence ammo. So, I've put together this ammo review to let everyone know it's pretty good ammo, but there may be better options.
Full metal jacket rounds aren't incredibly versatile. You shouldn't hunt with them, and there are far better options for personal defense. However, they're great for target practice, plinking, and stockpiling. Independence ammo has a few variations of FMJs, and they're a bit cheaper than some other available alternatives.
However, they're a bit challenging to find and go out of stock quickly. If you're ready to pick up some Federal Independence ammo right now, click HERE. Otherwise, keep reading this review, and I'll tell you all about it.
Federal Independence Ammo Overview
Independence is owned by ATK, which is a parent company of Vista Outdoors. It's the same company that manufactures Federal, CCI, and a few other popular U.S. brands. While most would think that the ammo comes from a reputable company, there is some debate about exactly where these cartridges are manufactured.
It's typically pretty easy to track down the origins of ammo because the manufacturing plant is stamped on the case. On the other hand, Independence ammo may throw you through a loop. For example, I've seen cases from the Lake City ammo plant in Missouri and the IMI plant in Israel. So, I'll clear up the confusion.
The majority of Independence ammunition is IMI (Israeli Military Industries) manufactured and sold by Federal. Although it's annoying if you like to know where you're ammo is coming from, Independence ammo is still reliable and reputable. Whether it comes from Lake City or Israel, I don't have too many complaints about it.
Independence ammo offers basic centerfire cartridges in a variety of different caliber options. Most Independence ammo is Full Metal Jackets (FMJs), but you can find some 9mm JHPs (jacketed hollow points), as well.
Although their ammo functions well, Independence ammo certainly isn't top-of-the-line. To be painfully honest, it's simply inexpensive ammunition that you can buy in bulk and use for target practice. However, it's worth the purchase when you can find it.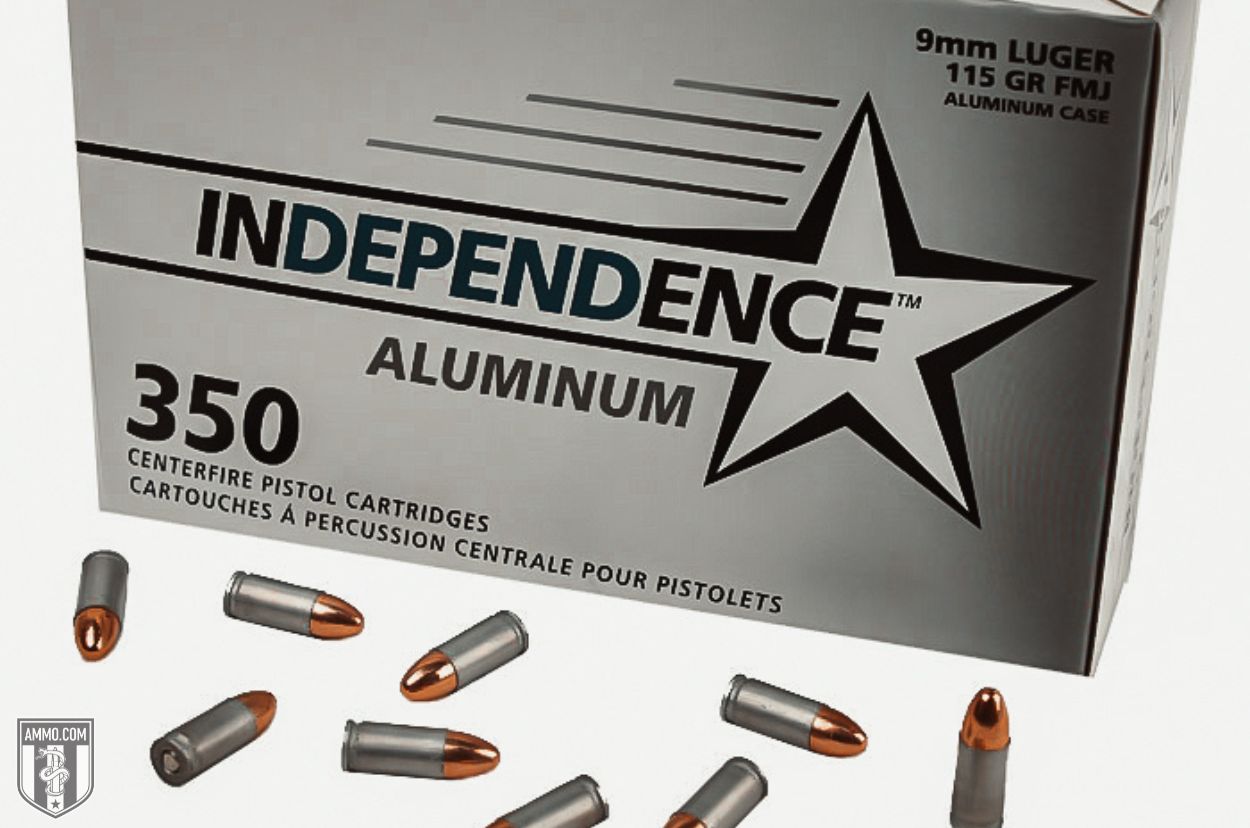 If you find that you love Independence ammo after testing a few boxes, you'll be happy to know that you can buy it for all your guns. From carbines to handguns and rifles, Independence ammo covers just about everything.
Furthermore, you have brass and aluminum case options. Albeit, aluminum cases aren't as thick as brass, which many blame for jams and FTEs (failure to eject). If given the option between the two, definitely go with the brass case variations (plus, brass is better for reloading).
Finally, Independence ammo isn't the best FMJ cheap ammunition, but it isn't bad either. It's a budget option comparable to Winchester White Box or Federal American Eagle. Although, based on our experience, Independence ammo is a bit hotter than some made-in-the-USA brands. So, it's also a good idea to consider that before purchasing.
Our Federal Independence Ammo Review
Independent ammo isn't anything super special. Whereas I love Golden Tiger because it performs so well at the range, and I love Federal, Winchester, and Speer for hunting or personal defense. What I'm trying to say is, Independence just doesn't really stand out.
Aside from the fact that it's a bit cheaper than other ammo made in the USA, it isn't the first box I would go looking for online. Of course, I wouldn't pass it up either if it was all I could find. The Independence 230-grain .45 ACP, for example, is nearly identical to the 230-grain Federal American Eagle FMJs. They have nearly identical muzzle velocities, cases, and projectiles. Furthermore, they're about the same price per round.
Independence ammo is loaded with non-corrosive centerfire boxer primers in brass cases. It's great for reloading, is fine range ammo, and I found it to be pretty reliable. My only issue with it is that I don't know exactly where my cartridges are being manufactured. Looking at the cases, I've seen some stamped for the IMI facility in Israel and some stamped for the Lake City plant in Missouri.
Of course, that's only an issue for those of us who are really invested in understanding the ammo we're taking to the range. IMI (Israeli Military Industries) and Federal both produce pretty good ammo. So, it probably isn't important if your goal is to get cheap range ammo or stock your ammo cases.
Overall, I wouldn't actively avoid Independence ammo. It's a solid option for target practice, plinking, training, and general shooting activities. If I were to find it in stock with a lower price tag than some USA brands, I'd go for it.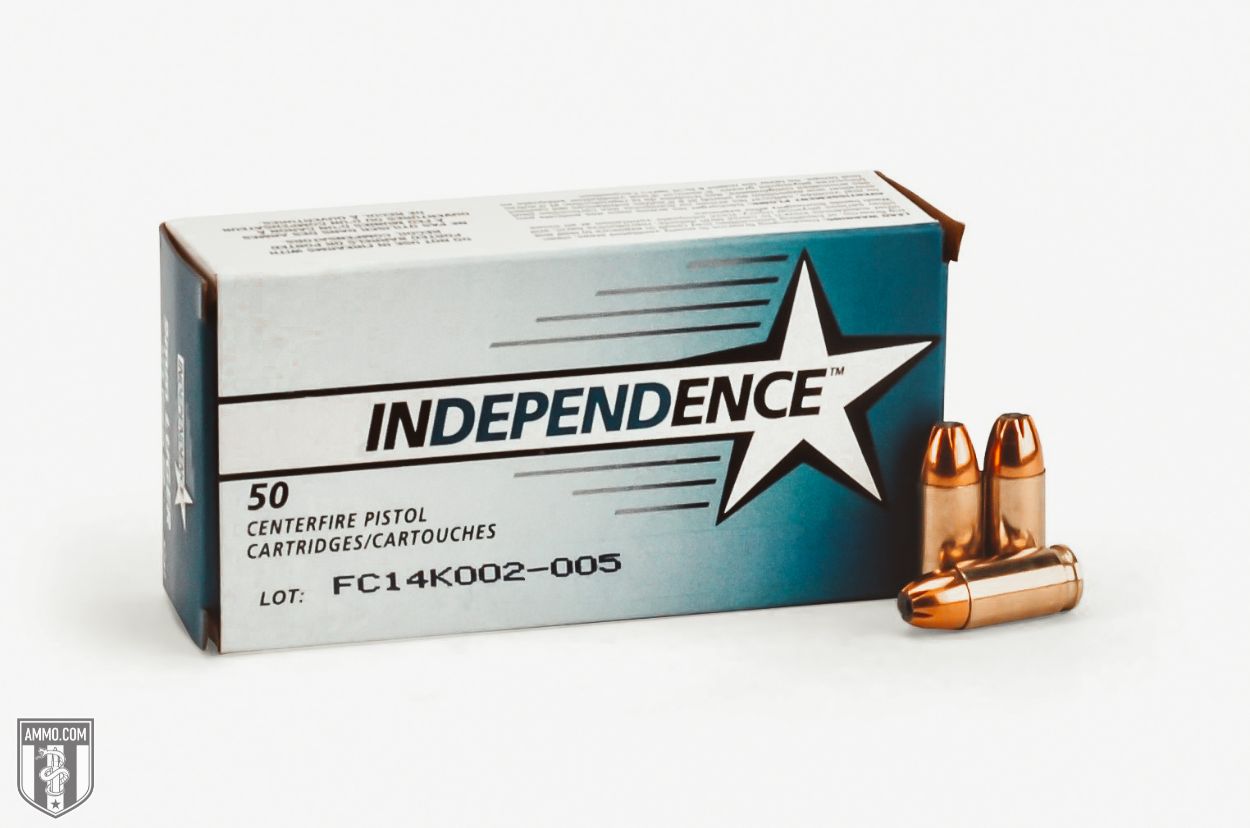 What is it Best for?
Independence ammo produces FMJs and hollow points. While I would absolutely use hollow points for self-defense and CQB (close-quarter battle), I wouldn't use those for target practice because they're a bit pricier.
On the other hand, the FMJs are the perfect cartridge for a range day. It's fun to shoot, you won't have buyer's guilt, and it's pretty effective. It's perfect for target practice, plinking, and training.
Disadvantages
A few disadvantages of Independence ammo are that you don't know exactly where your cartridges are coming from, and it is challenging to find.
Pros & Cons
Here's an easy-to-digest list of the pros and cons of buying Independence ammo:
Pros
It's affordable
Comparable to other reputable brands like IMI and Winchester
Few FTFs, misfires, and duds
Great for buying in bulk
Loaded with non-corrosive primers in brass cases that are reloadable
Cons
Accessibility is questionable
Specifications
If you're serious about your firearms, you may have several different calibers. As mentioned above, Independence ammo makes a little something for everyone. Let's cover the ammo's specs for a few of the most popular calibers today.
Independence 40 S&W Review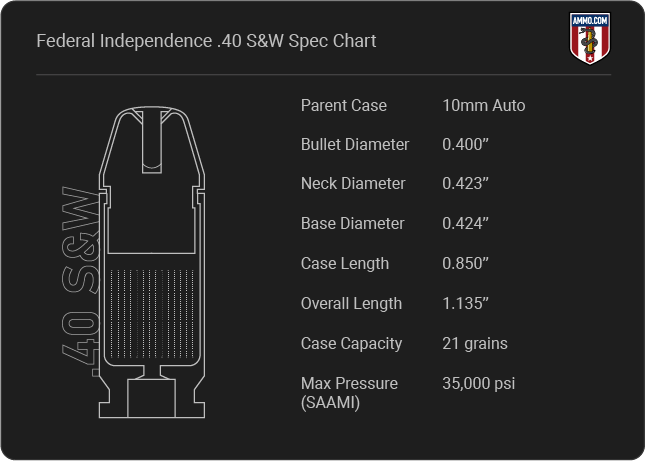 The Independence 40 S&W is loaded with a 180-grain full metal jacket bullet. The projectile leaves the barrel with a muzzle velocity of 1,000 fps, which is right in line with what we expect from .40 S&W. The brass casing and boxer primer means it's reloadable.
Independence 5.56mm NATO Review
The 5.56 NATO Independence 55-grain FMJ is a fast-shooting, hard-hitting round with a boat tail and excellent trajectory. The design increases the ballistic coefficient to reduce wind drift, so it's great for sighting in your scope and having a fun day on the range.
You'll get tight groupings, and it's similar to other M193s in a lot of ways. You can use this ammunition in your 5.56 AR, but it isn't recommended for .223 Rem rifles because the 5.56 NATO is loaded to higher chamber pressures. Read more about the differences between 5.56 vs 223 Rem ammo here: 223 vs 5.56.
Independence 9mm Luger Review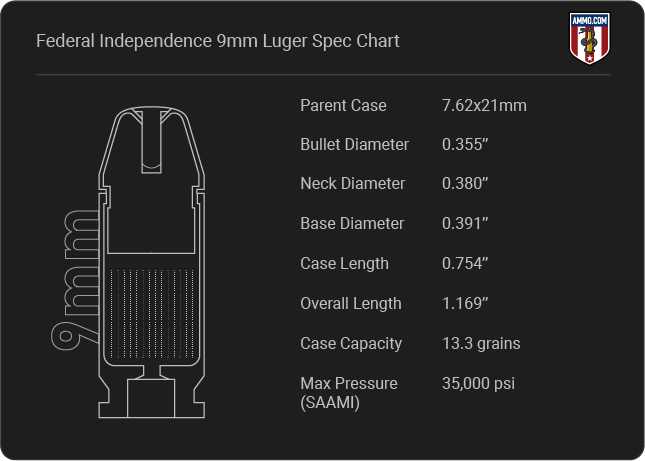 Independence offers two popular variations of 9mm Luger: the 115-grain full metal jacket and the 115-grain jacketed hollow point. With a muzzle velocity of 1,155 fps, it aligns with most of your 9mm options.
It's pretty good ammunition, but if you want to use it for self-defense, go with the JHP. The FMJ projectiles don't expand on impact and, therefore, aren't great for defensive use.
Independence 45 ACP Auto Review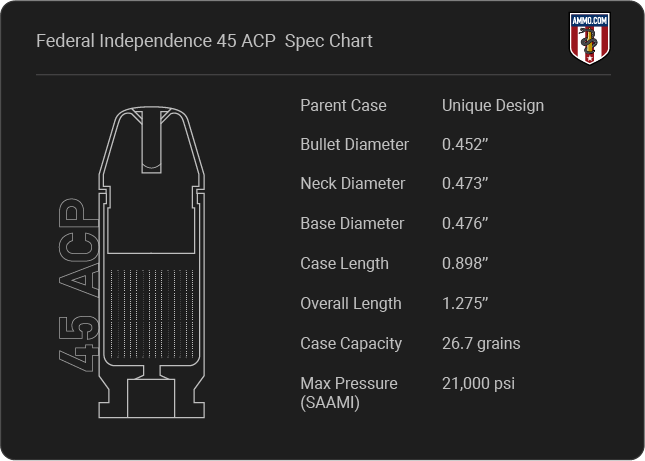 The Independence .45 ACP is a great cartridge for the range. It comes in with a muzzle velocity of 890fps and 404 ft-lbs of muzzle energy.
Furthermore, it's appealing to me for the brass case and Boxer primer. That's a bonus for you, too, if you're into handloading. The 230gr full metal jacket typically performs well and is accurate within 50 yards.
Independence 380 ACP Auto Review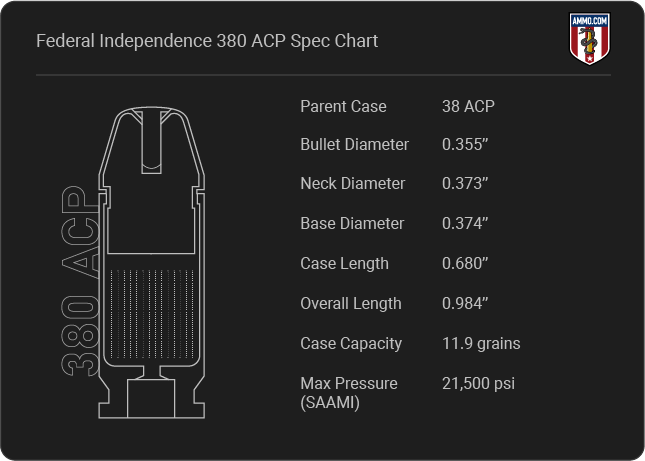 Finally, the .380 ACP Independence 90gr FMJ is another great option for our readers who carry a more compact handgun. The .380 ACP variant has a muzzle velocity of 945 fps and 180 ft-lbs of muzzle energy. It's pretty accurate, with minimal malfunctions and FTEs, so the only challenging aspect is actually finding it in stock.
Federal Independence Alternatives
If you came here today looking to buy affordable FMJs and you can't find Independence ammo in stock, there are some great related products. Scroll to your caliber and click the links. We should have plenty of FMJs in stock with similar features and functions.
Independence 40 S&W Alternatives
I mentioned this previously, but the Federal American Eagle 180gr is nearly identical to Independence. It's an affordable FMJ with a similar muzzle velocity and the brass case/boxer primer setup.
Sellier and Bellot 80gr FMJ is another excellent alternative. However, this one has a bit lower muzzle velocity and is a few pennies higher per round (at the time of writing). Finally, PMC has an FN (flat nose) version of the .40 S&W FMJ. If you're looking for a different bullet type, you might like the PMC.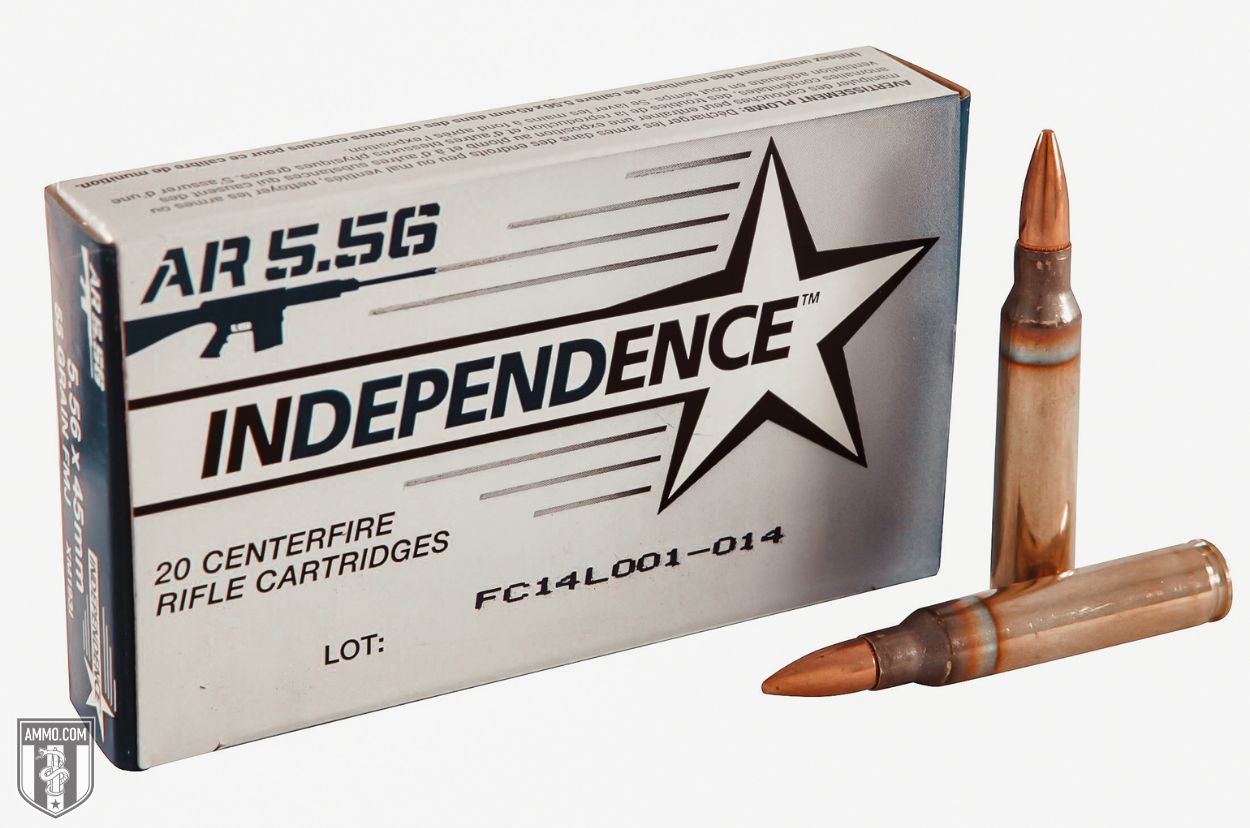 Independence 5.56mm NATO Alternatives
Our readers in the market for rifle ammo will be happy to know that it's pretty easy to find in stock. Whether you're looking at Winchester, PMC, IMI, or some other brand, you can see the selection HERE. These 5.56 NATO full metal jacket bullets are all similar in price and function.
Independence 9mm Luger Alternatives
Bulk 9mm Luger 115gr FMJs are not in short supply these days. You can easily pick up affordable 9mm ammo from CCI Blazer Brass, Winchester, Magtech, and others. For a complete list of what we have in stock, click HERE.
Independence 45 ACP Auto Alternatives
Although Federal Independence .45 ACP ammo is pretty easy to find at the time of writing, you might want something different. Make sure you check our full selection of 45 ACP ammo HERE.
Independence 380 ACP Auto Alternatives
Winchester, Aguila, PMC, Fiocchi, Federal, and Remington all make full metal jacket rounds for the .380 ACP. You can check out everything we have HERE. The majority of this selection is a viable alternative to Independence ammo.
However, it's important to note that you may find different grain weights and compositions. The .380 ACP variant hits muzzle velocities of 945 fps (depending on barrel length). If you want something faster, the specs are listed with the ammo.
Ballistics of Federal Independence Ammo
Independence 40 S&W Ballistics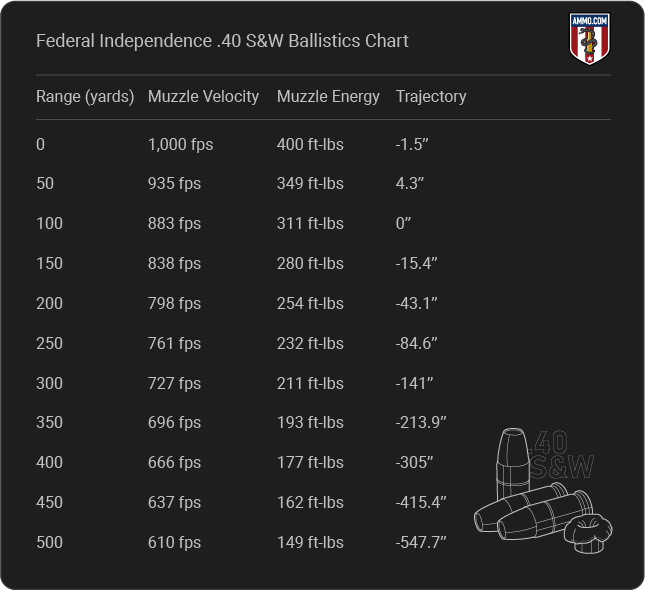 Independence 5.56mm NATO Ballistics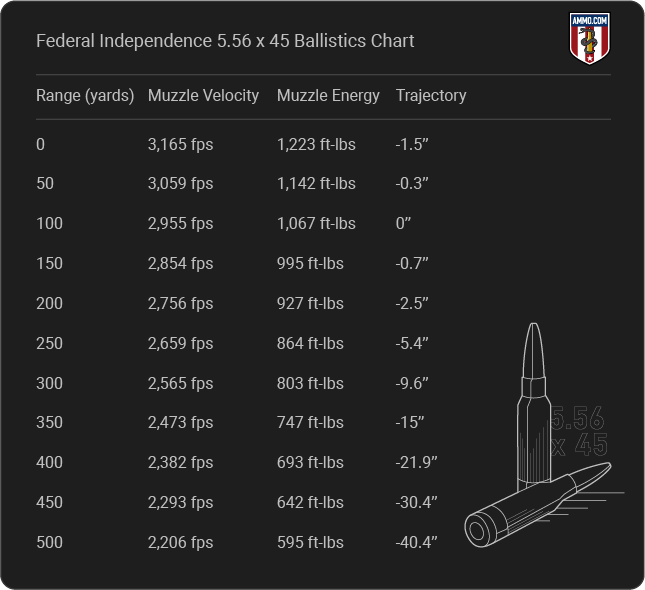 Independence 9mm Luger Ballistics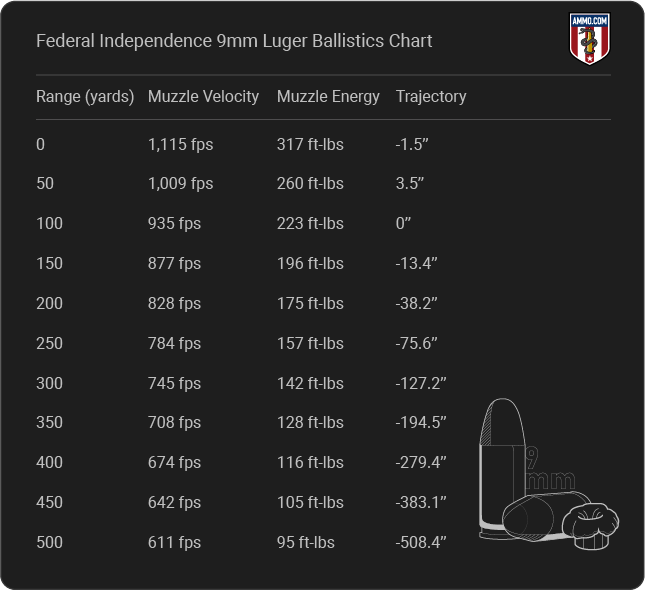 Independence 45 ACP Auto Ballistics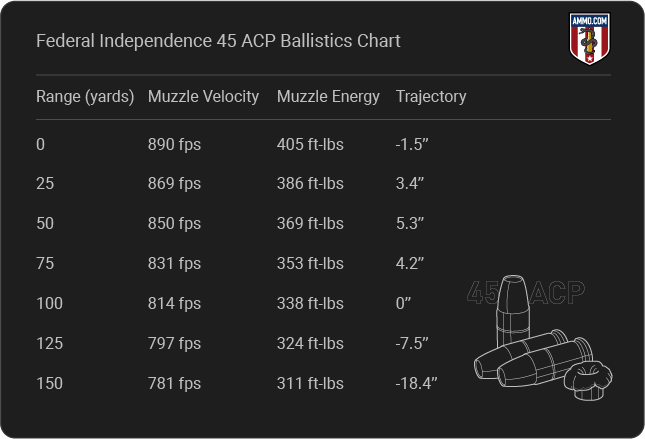 Independence 380 ACP Auto Ballistics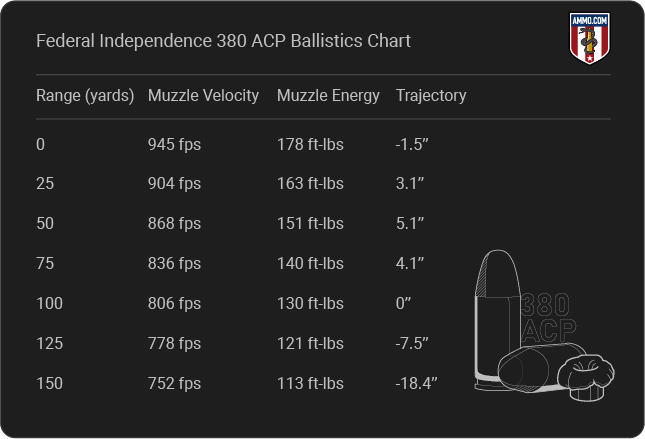 Parting Shots
Cheap FMJs are almost always a good thing. You can stockpile them and have a lot of fun at the range. However, not all cheap FMJs are alike. You can buy aluminum cases and save a few dimes, or you can go just a bit higher and get high-quality brass cases.
While finding Independence ammo (and sometimes, where it was manufactured) is challenging, it's certainly a contender with other popular brands in the USA.
FAQs
We like to end our ammo reviews with a little bit more knowledge. If you still have questions, this section is for you.
Is the Federal Independence worth buying?
Absolutely! While I wouldn't say I'm chomping at the bit to get a 5,000-round box, I'd buy it again.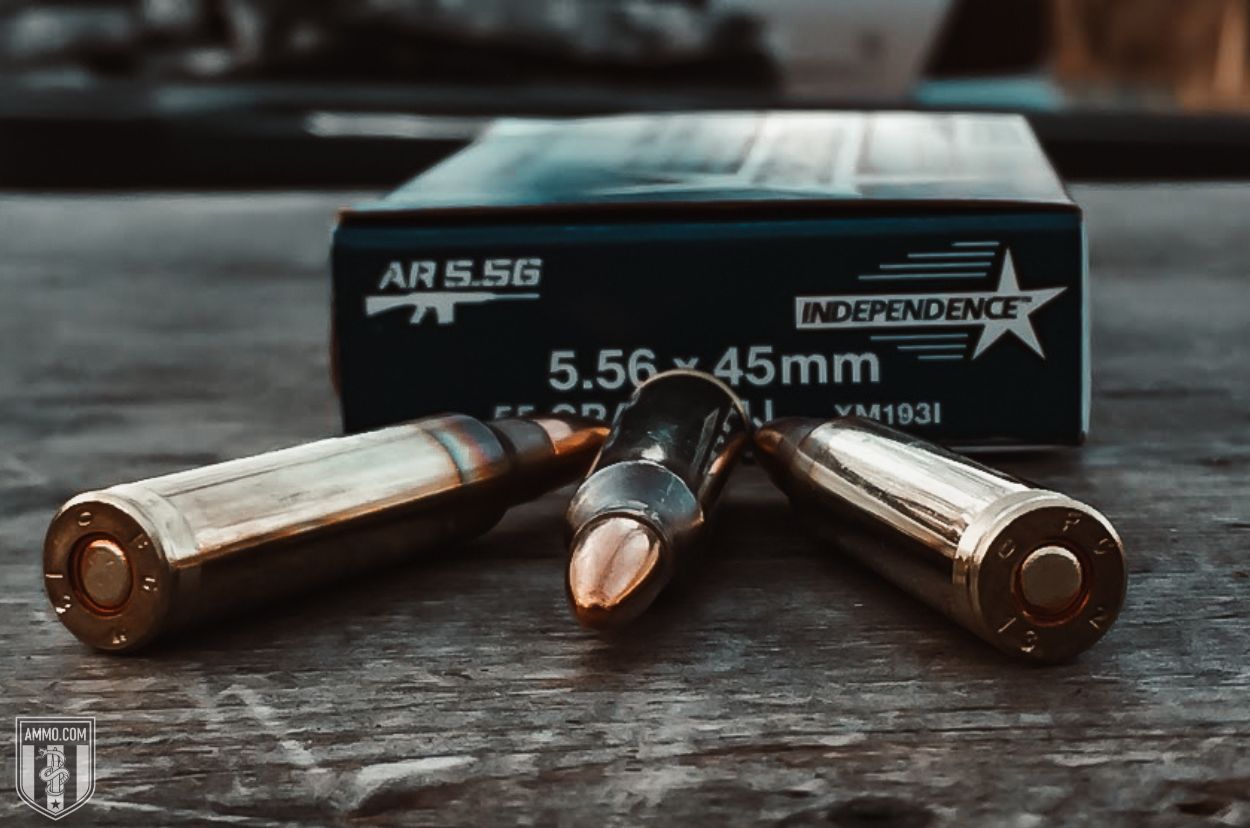 What is the range of Federal Independence?
Your Independence handgun ammo will have a range consistent with its competition, so about 50 yards. Your 5.56 NATO, on the other hand, is great for up to 300 yards.
Is Federal Independence ammo dirty?
No. We've never gotten dirty Independence ammo. However, there have been instances where some shooters do have that complaint.
Who owns Independence ammo?
Independence ammo is an offshoot of ATK. Some of the ammo is produced by IMI, but Federal sells Independence ammo in the US.
Is Independence ammo corrosive?
No. Independence uses non-corrosive primers.