Wolf Performance 7.62x39 Ammo Review: Should You Pass on It?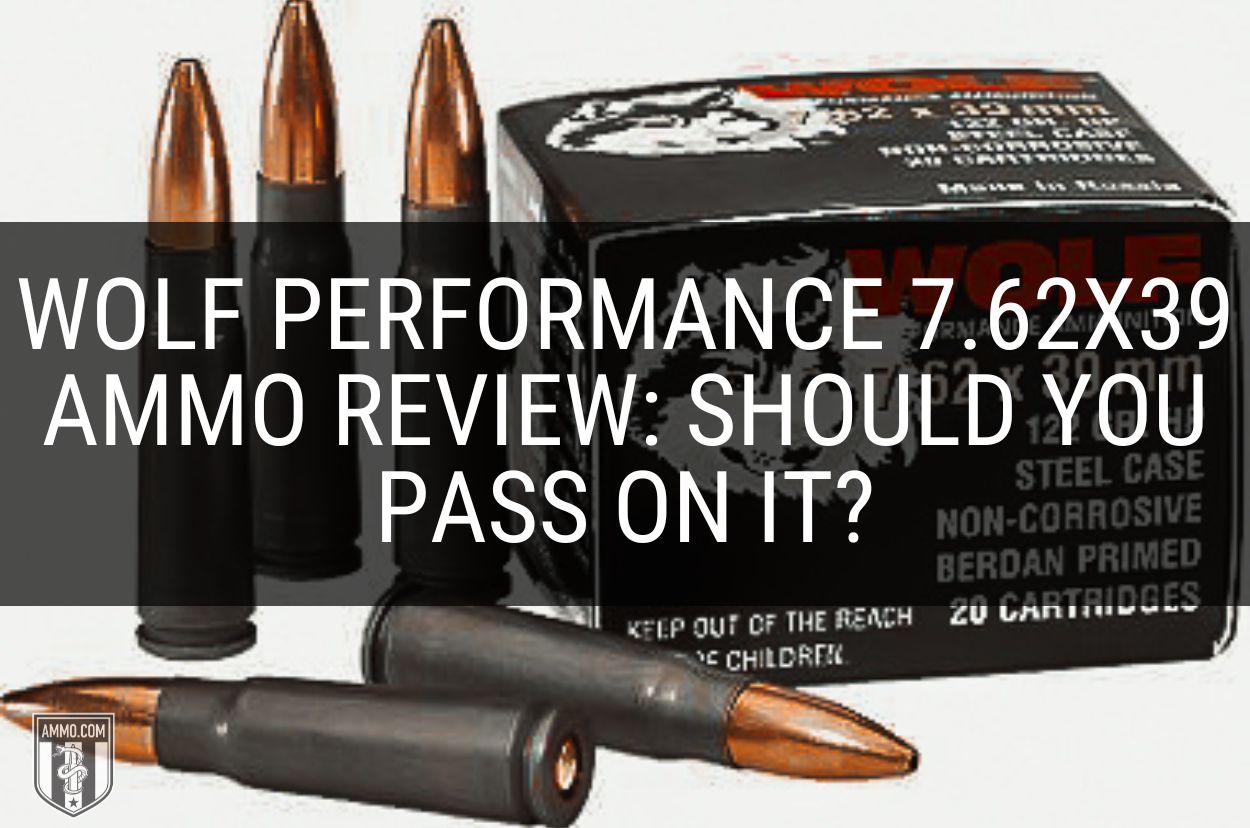 I'm a fan of stockpiling ammo. You never know when the zombie apocalypse will happen. Or, slightly more likely, you feel like dumping 100 rounds down range to enjoy the smell of burnt gunpowder.
As shooters, we don't always need high-performance ammo, nor can we afford much of it at these prices.
This is why we decided to write this Wolf Performance 7.62x39 ammo review. Throughout this article, you'll learn if this cheap ammo is worthy of your firearm based on the pros, cons, and company history.
Let's not waste any more time and get into it.
Wolf Performance 7.62x39 Overview
Wolf Performance Ammunition, or WPA for short, is known for producing low-cost steel-cased ammo for shooters across the globe. They produce rimfire, shotshell, handgun, and rifle ammo at an affordable cost for most shooters.
Many American shooters (incorrectly) believe that WPA is a Russian ammo company. This misconception comes from the fact that from 2005 to 2009, Wolf ammo was produced at the Tula ammo factory in Russia.
Wolf Ammo currently has manufacturing facilities in several NATO nations, and its headquarters are in Placentia, California.
WPA uses a proprietary polymer coating they call their Polyformance coating. This coating ensures that the steel cases have a lower chance of getting stuck in your rifle's or handgun's chamber during loading and firing. Some shooters claim that this coating makes the cases jam in their firearms.
Wolf ammo produces a wide variety of calibers, like 9mm Luger, 223 Remington, 5.56 NATO, 308 Winchester, 6.5 Grendel, and 7.62x39.
Wolf Performance, Wolf Polyformance, and Wolf Military Classic are Wolf's three non-corrosive steel-cased ammo lines with Berdan primers. In some instances, Wolf uses a bi-metal jacket to help keep prices lower than most of its competitors.
Because of its low cost per round, Wolf Performance ammo is a top choice for shooters who love plinking but don't want to pick up a third job to help pay for quality ammo.
Our Wolf Performance 7.62x39 Review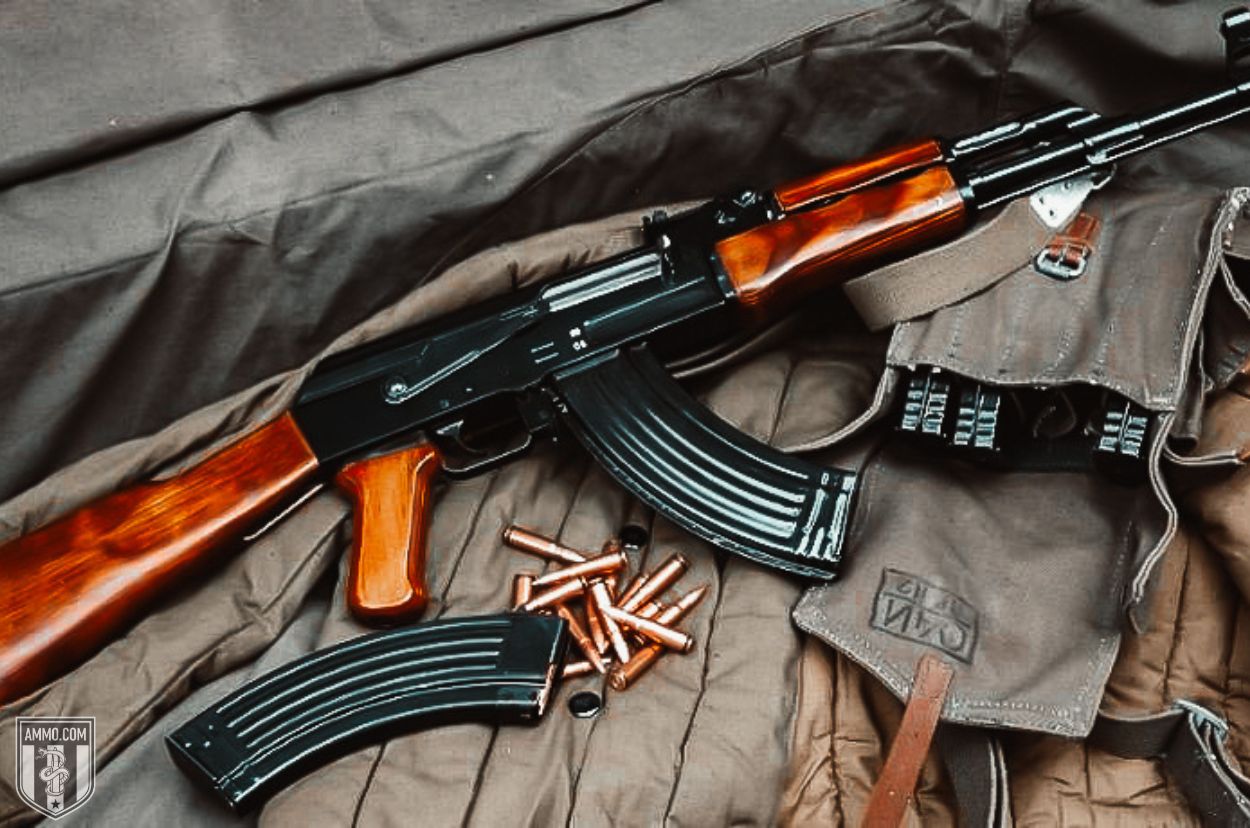 If you want to feed your AK great ammo, Wolf Performance 7.62x39 FMJ rounds are worth checking out. It's good stuff at a great price, and don't just take my word for it.
Our customers sure love these Wolf Ammunition rounds-
Jerry said this after purchasing a 20-round box of 122-grain FMJ: "Works fine in my 2 AK47s. Never any jams."
Chris said: "Great value! Good ammo, no misfires at all." when he purchased a 1,000-round case of 122gr full metal jacket.
TB said: "So far so good. I've shot at least three hundred rds so far, and through my Windham Weaponry AR, no jams or misfires."
Beth said: "I have shot about 100 rounds of this lot but have shot 1000s of this ammo with not one bad round; they all went bang. As for the customer service at ammo.com and the fast shipping; I will be using them again and highly recommend them."
While I, by no means, believe these rounds to be the best of the best in terms of accuracy, they're tough to beat for the price. This is why I struggled to find any negative comments regarding these rounds.
As long as you're not expecting match-grade, high-accuracy ammunition, you'll be delighted with this Wolf rifle ammunition.
What Is It Best For?
Wolf Performance 7.62x39 ammo is best for plinking during a fun day at the range. It won't blow you away in terms of accuracy, but when you pull the trigger, it will go bang (no misfires) and rarely cause jams.
Thanks to the ridiculously good price, this ammo is great for buying in bulk and boosting your 7.62x39 stockpile.
Disadvantages
The most significant disadvantage of these rounds is the lack of accuracy. Though I wouldn't consider them inaccurate, I don't believe the average shooter will consistently shoot sub-MOA groupings with cheap Wolf ammo.
The FMJs commonly found in Wolf Performance ammo are less than ideal for hunting. However, hunters have had success with Wolf 7.62x39 125-grain soft point (SP) ammo.
I would only use these rounds for home defense if it were my only option because FMJ bullets are more prone to overpenetration, unlike hollow point bullets.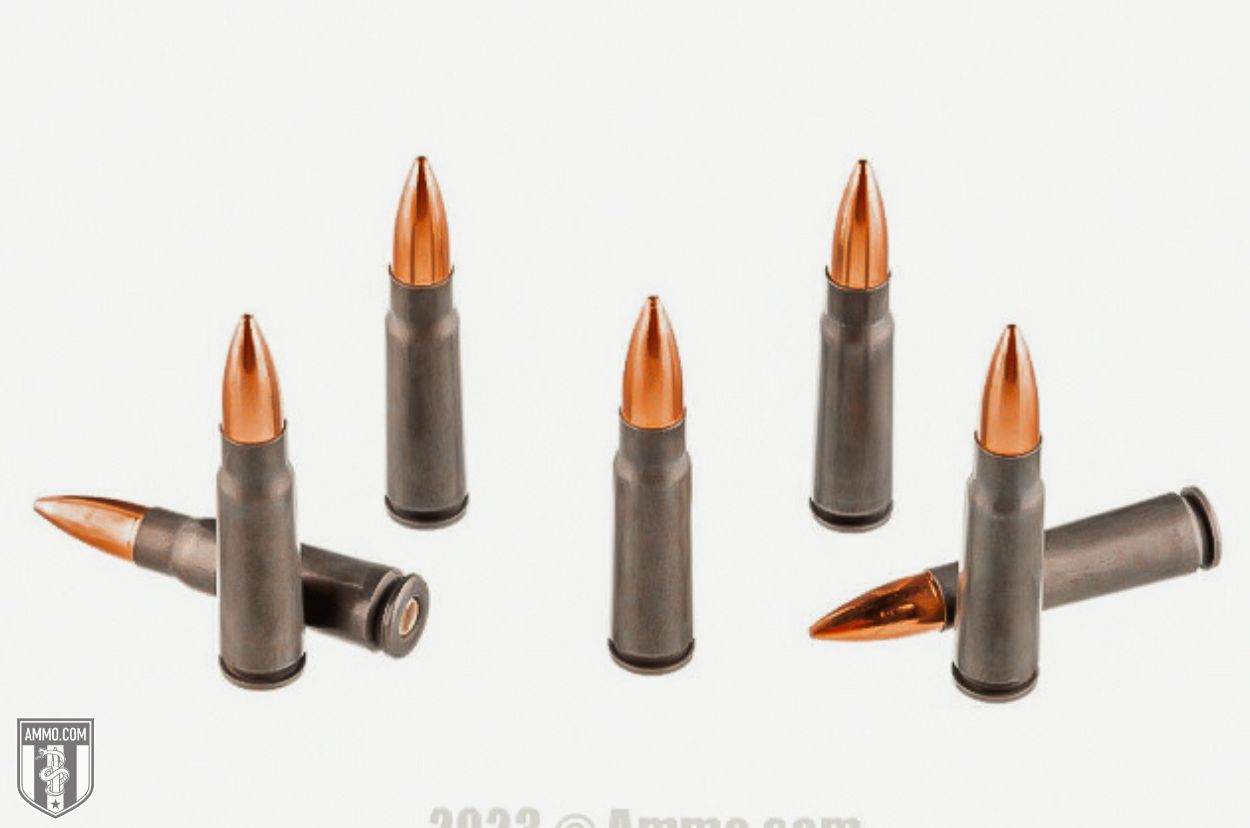 Pros and Cons
I'm not here to trick you into buying ammo you'll hate, so I've listed the benefits and drawbacks of Wolf Performance 7.62x39 ammo to help you decide if it's right for your situation.
Pros
Reasonably priced
Dependably goes bang
Bulk ammo available
Solid accessibility
Cons
Despite the name, it's not high-performance ammo
Non-reloadable
Steel core bullets are not allowed at most indoor gun ranges
7.62x39 Ammo Specifications
The team at Ammo.com has compiled the specs for the 7.62x39 for all the data and numbers lovers. Feel free to enjoy the table below to your heart's content!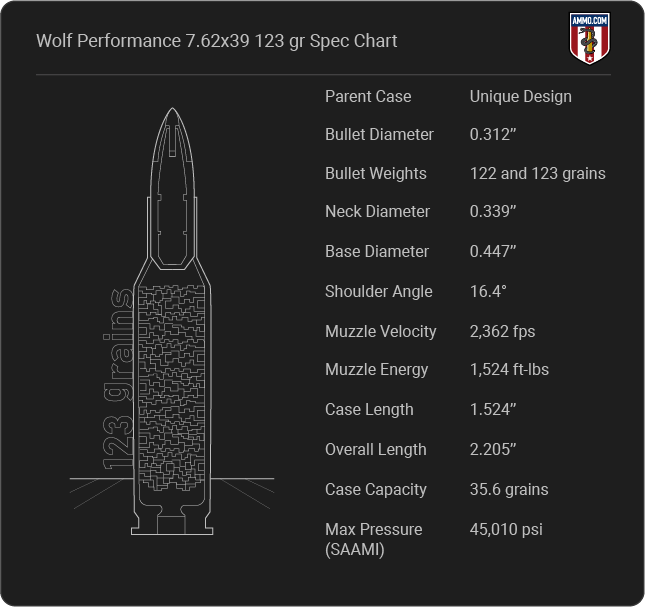 Ballistics of Wolf Performance 7.62x39 Ammo
Below, we've taken the liberty to round up a small Wolf Performance 7.62x39 ballistics table for you to look at.
At one time, Wolf Performance 7.62x39 was offered in a 122gr bullet; however, Wolf has switched manufacturing this ammo with a 123gr bullet.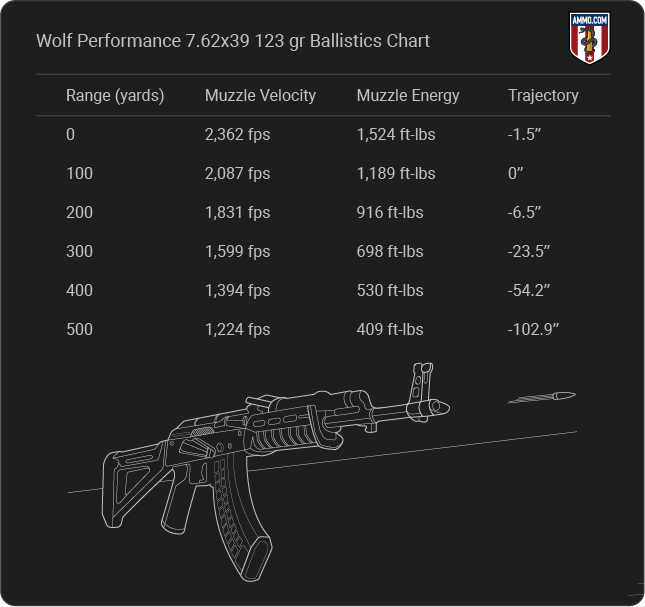 Note: This information comes from the manufacturer and is only informational. The actual ballistics obtained with your firearm can vary considerably from the advertised ballistics. Also, ballistics can vary from lot to lot with the same brand and type load.
Alternatives
If Wolf Performance 7.62x39 isn't what you want to load into your rifle, don't worry; other options are available.
Parting Shots
Now that you've finished reading our Wolf Performance 7.62x39 ammo review, you understand why many shooters enjoy loading these rounds into their rifles.
As fellow shooters at Ammo.com, we've had good luck with Wolf Ammunition, and don't hesitate to take it to the range for a long day of plinking.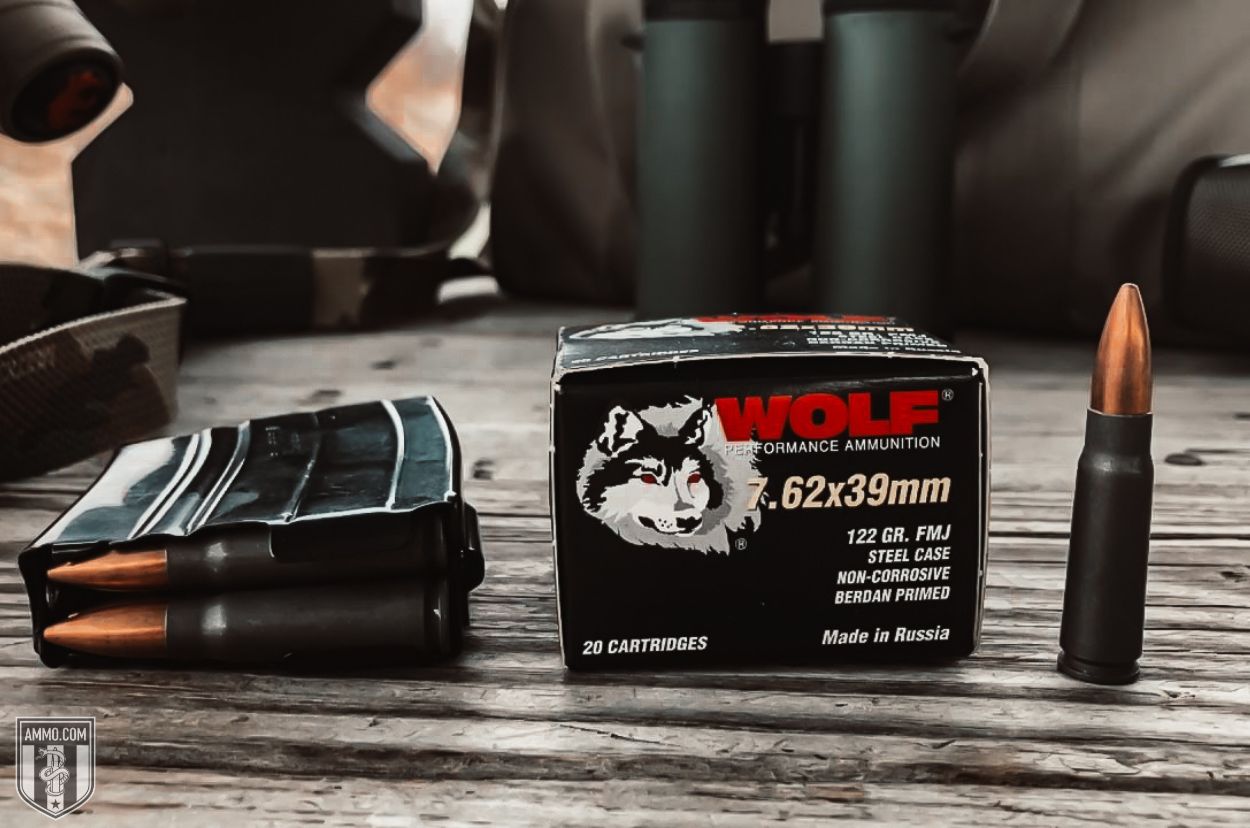 Frequently Asked Questions
Still have questions regarding Wolf Performance 7.62x39 ammo? Below, we've gathered some commonly asked questions about these rounds.
Is the Wolf Performance 7.62x39 ammo worth buying?
Yes, Wolf Performance 7.62x39 ammo is worth buying. It's cheap, reliable ammo.
What is the range of Wolf Performance 7.62x39?
Four hundred yards is the range of Wolf Performance 7.62x39.
Is Wolf 7.62x39 ammo reloadable?
It depends. Some Wolf 7.62x39 ammo is reloadable, such as the brass-cased Wolf Gold with Boxer primers. However, Wolf Performance, Polyformance, and Military Classic are steel-cased with Berdan primers, which makes them nearly impossible to reload.