Magtech 5.56 Ammo Review: Everything You Need to Know BEFORE Purchasing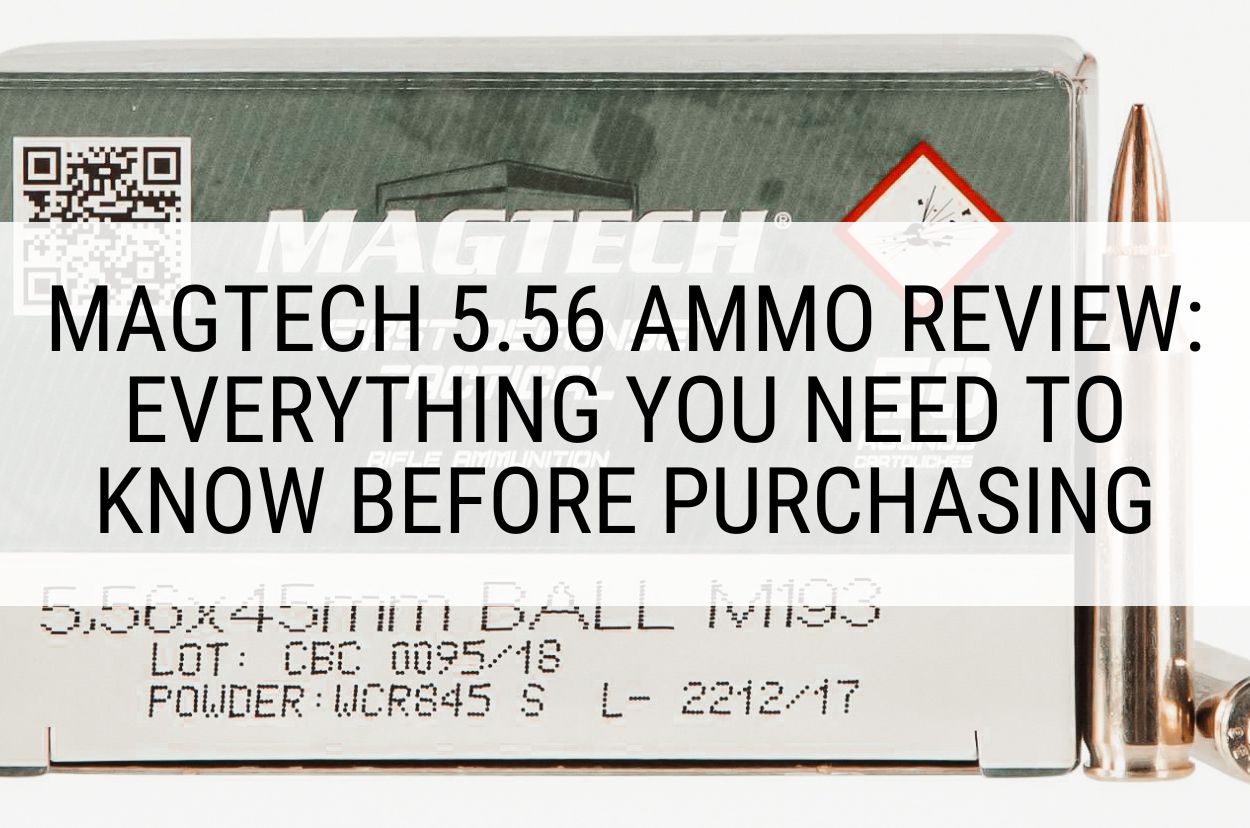 After years of shooting, you'll eventually find a brand of ammo that underperforms, whether it doesn't fire consistently, causes jams, or is inaccurate. That tends to happen even more often with a caliber as popular as the 5.56 x 45mm because companies are jumping on the popularity bandwagon.
I've come across my fair share of 5.56 ammo that my AR-15 just didn't like.
Recently, I learned I'd be tasked with writing about Magtech 5.56 ammo, so I began thoroughly researching it. The following Magtech 5.56 ammo review is my thoughts on the quality of this round.
Should you trust feeding this ammo into your beloved 5.56?
Keep reading, and let's find out!
Magtech 5.56 Ammo Overview
Magtech has been one of the most successful ammo brands since its creation in 1990. Known for producing high-quality ammo at reasonable prices.
It is a member of CBC Global Ammunition, which is a conglomerate of ammo companies such as CBC Brazil, Magtech Ammunition USA, MEN Germany, and Sellier & Bellot Czech Republic.
Magtech products are made in Brazil at one of their three manufacturing facilities, but Magtech Ammunition Inc, located in Minnesota, is the US market distributor.
CBC defense ammunition is trusted by militaries, law enforcement agencies, and citizens worldwide.
Their 5.56 NATO rounds are no exception.
Magtech gives their customers a few options for 5.56 NATO ammo, the 5.56 x 45mm Ball M193 linked and unlinked, as well as the 5.56 x 45mm 62-grain full metal jacket linked and unlinked, and the 5.56 77gr HPBT Cannelured.
We'll plunge into the differences of each round a little further below.
First, let's discuss my opinion of this ammo.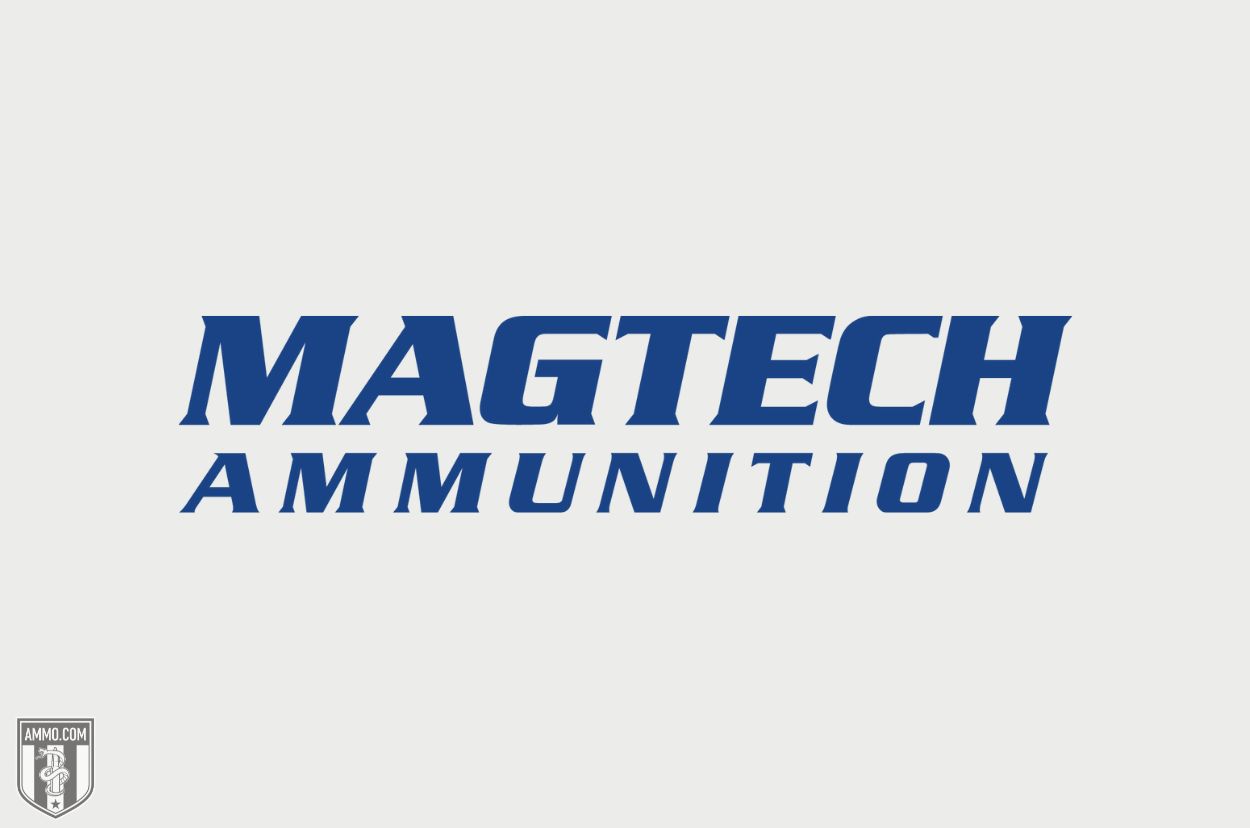 Magtech 5.56 Ammo Review
It's always concerning when you search for a product, and one of the first things that pops up is a recall, which is what happened during my initial research.
My concerns were quickly dismissed when I realized it was an outdated recall, and, more importantly, Magtech stood behind their products and replaced the recalled ammo at no extra charge to the customer.
That is exactly how it should be.
As I continued to dig into Magtech 5.56 ammo, I found more and more shooters who love it as target shooting rifle ammo because it's reliable and inexpensive.
The worst comment I could find about this ammo was that the powder load was inconsistent, and the bullet seating varied but not so much that it was dangerous for the shooter or those nearby.
Overall, Magtech 5.56 is great ammo at a great price. It's easily a 4/5 stars.
What Is It Best For?
Now that we know Magtech ammo is a solid choice, what are its best uses?
The one that stands out to me the most is target shooting. Magtech ammo is generally inexpensive and reasonably accurate, so if you're one that loves to head to the range with bulk ammo and do a little plinking with your carbine or bolt action rifle, Magtech 5.56 Nato ammo is right up your alley.
I also appreciate that Magtech is taking care of competitive shooters and those who partake in self-defense training with an incredibly accurate hollow point boat tail projectile. Magtech uses Sierra MatchKing HPBT projectiles, which are some of the most accurate bullets on the market.
Disadvantages
As great as this ammo is, it still has some downsides.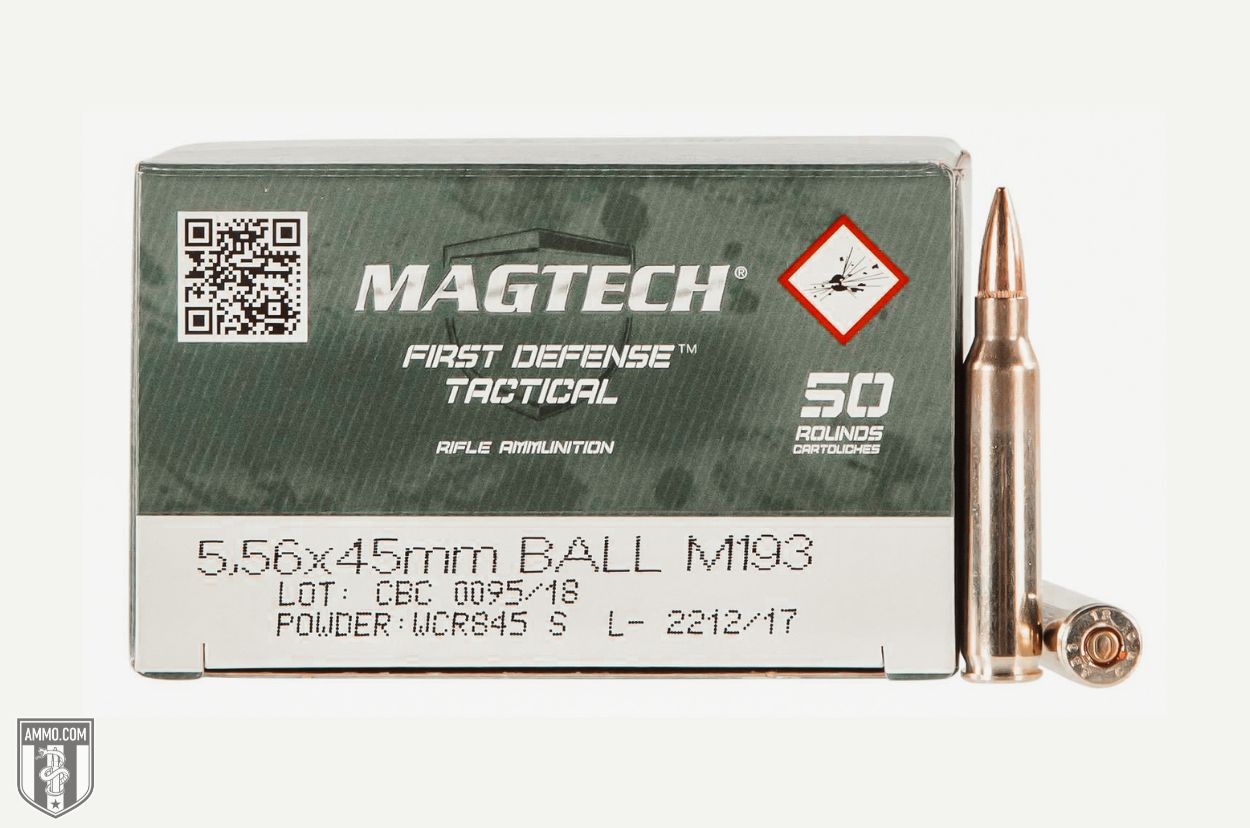 The first is that it should not be used for hunting. It's against the law in many states in the US, and that's not what it was intended for.
Another disadvantage, which I've already touched on, is the inconsistency in bullet seating and the amount of powder in each case. If you're just plinking, this won't be a major concern, as it's still not enough to be dangerous, but for competition shooters, these inconsistencies can quickly ruin a day.
The drawback that concerns me the most is the lack of availability and accessibility to this ammo. It's not the easiest to find in stock. That's because it's quality ammo at a decent price, so everyone quickly scarfs it up when it is in stock.
Pros and Cons of Magtech 5.56 Ammo
Below you'll find a quick but honest overview of the pros and cons of this ammo.
Pros
Goes bang reliably when you pull the trigger with minimal malfunctions
Accurate; it'll go where you're pointing
Non-corrosive reloadable brass cases will save reloaders money in the long run
Inexpensive, especially when you buy in bulk
Clean shooting rounds mean you can stay longer at the range without it hurting your accuracy
Cons
Not good for hunting
Difficult to find at times due to high demand
Inconsistencies in bullet seating depth and amount of powder in the cartridge
Specifications
As shooters, we always want to know the specs of the ammunition we're shooting; that's what you'll find in the table below.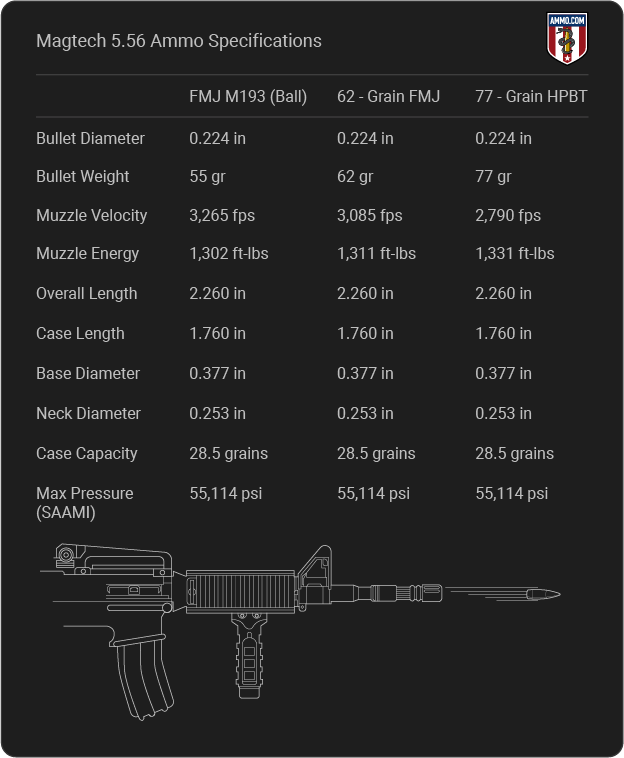 Variations
What makes this review more difficult is the variations of Magtech 5.56 ammo. If there was only one, it'd be much more straightforward.
However, since there are a few different versions, I'll give some specifics of each.
5.56 x 45mm Ball M193
Magtech First Defense Tactical 5.56 ammo comes in a 50-round box or in bulk of 1,000 rounds. These are full metal jacket bullets (lead core with a metal coating), perfect for training, target shooting, and plinking at the range.
These are the least expensive rounds of Magtech 5.56 ammo.
5.56 x 45mm Ball M193 Linked
These are the exact same rounds as the ones above, except they're belted with an M27 link, which also means they come in an ammo can of 800 instead of 50 or 1,000.
5.56 x 45mm 62gr FMJ
If you're looking for a middle-of-the-road bullet weight, you've found it with the 62-grain FMJ. Since it uses a heavier bullet, it's a little slower but has higher muzzle energy than the 55-grain bullet.
5.56 x 45mm 62gr FMJ Linked
These are the same rounds as above, just belted with an M27 link, so they only come in 800-round boxes.
5.56 77gr HPBT Cannelured
The most expensive 5.56 ammo from Magtech is the 77gr HPBT Cannelured because they take advantage of the unique capabilities of the Sierra MatchKing hollow point boat tail bullets. These bullets are often considered the most accurate in the industry.
Magtech 5.56 Ammo Bullet Ballistics
Alternatives
Because Magtech 5.56 ammo is often sold out at Ammo.com, I've provided a few quality alternatives.
PMC
PMC 5.56 ammo is a great option because it's available in bulk at a similar price to Magtech. It's also loved by many shooters getting high remarks from many of our customers.
Igman
Igman Ammunition is another worthy choice as its low price offers shooters lots of time at the range, and the Igman 5.56x45mm 55-grain FMJ M193 is a very similar round to the Magtech 5.56 FMJ M193.
Federal American Eagle
Federal American Eagle 5.56 ammo is reasonably priced; it's what I end up feeding my AR most of the time when I want to spend a day plinking at the range.
Winchester
Winchester 5.56 ammo is generally more expensive than Magtech or any of the other ammo brands. However, it's also very reliable and accurate and offers shooters multiple options for bullet types and shooting scenarios.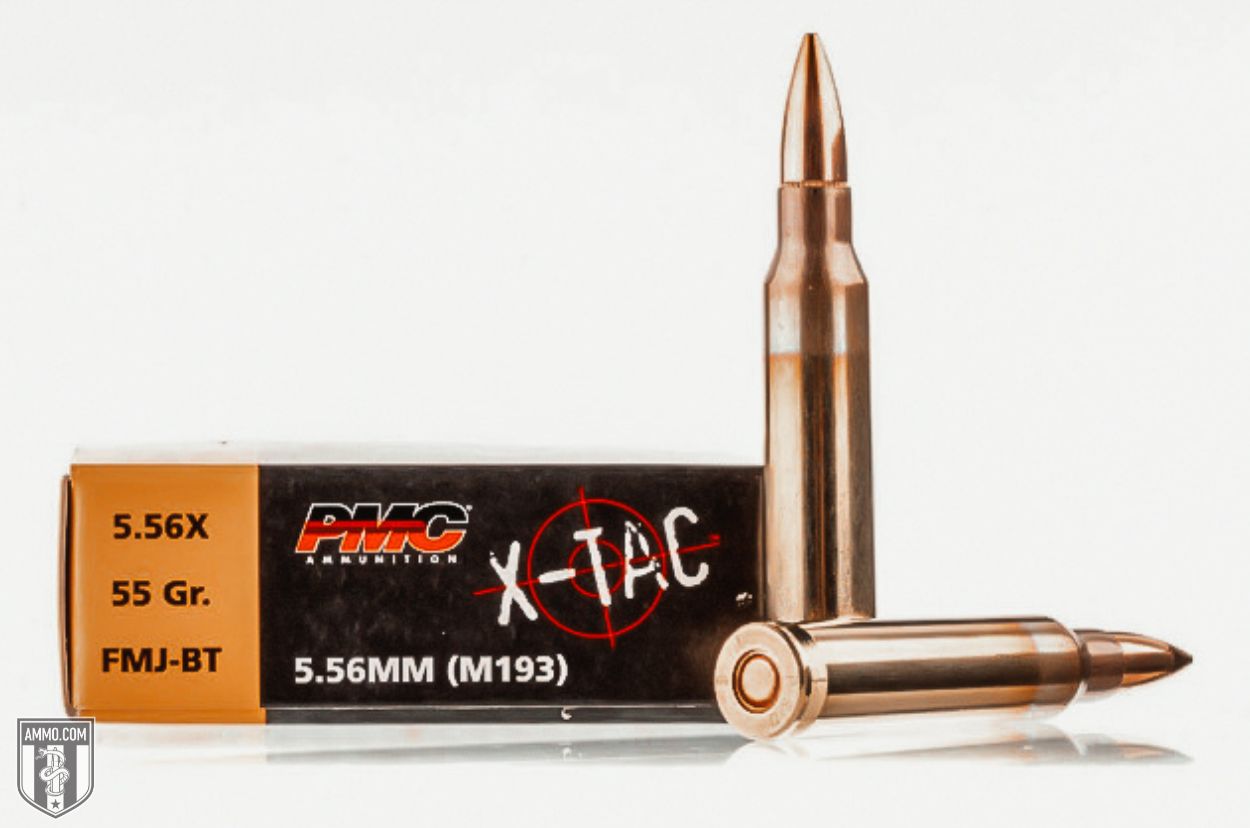 Parting Shots
Now that you know Magtech 5.56 ammo is worth purchasing for shooters who love plinking and training, which is most of us, it's time to order a box or two, head to the range, open it up, and get shooting!
While you're waiting on our fast shipping, don't miss out on our PMC Ammo review, where we tell you all the critical information about another ammunition company that makes quality training and plinking rounds.
Frequently Asked Questions
Below I've taken the liberty to answer some of the most commonly asked questions about Magtech 5.56 ammo.
Is Magtech 5.56 ammo any good?
Yes, Magtech 5.56 ammo is good ammo. It's accurate, reliable, and reasonably priced.
Is Magtech 5.56 dirty ammo?
No, Magtech 5.56 ammo is not dirty. It shoots pretty clean, especially for cheap ammo.
What is the 5.56 Magtech ammo range?
The 5.56 Magtech ammo range is similar to all other 5.56 ammo; it maxes out around 300 yards for most shooters.