Rio Shotgun Shells Review From a Duck Hunters Perspective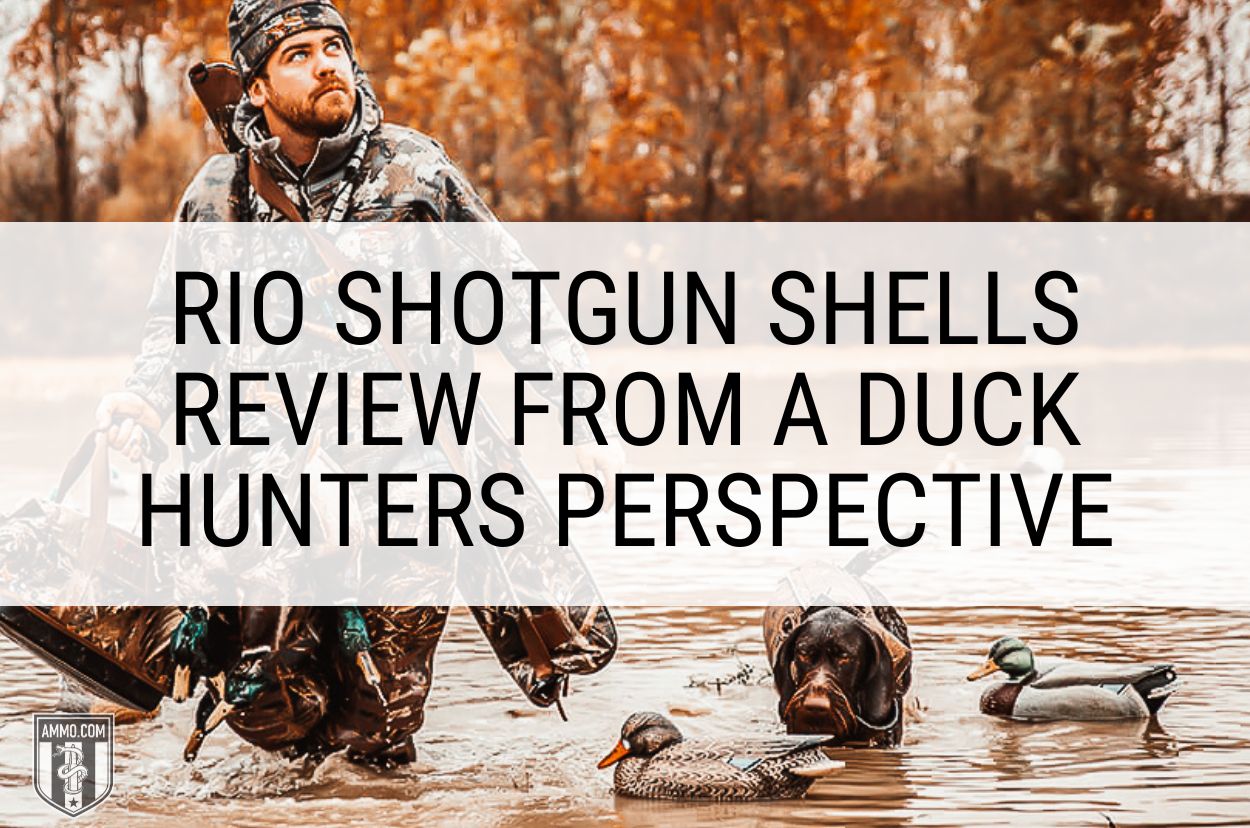 Maybe I'm a sucker for the new bright and shiny gear, but I love testing new equipment, especially ammo.
However, I was a little skeptical of RIO shotgun shells, as they're so much cheaper than brands like Federal, Remington, and my favorite, Winchester.
Despite my concerns, I headed to the duck blind, loaded with RIO shells, to see what the day would bring.
The following RIO shotgun shells review is based on hours of research coupled with my and my waterfowl hunting buddies' experiences (Read with dramatic Law & Order intro voice).
Grab a steaming cup of coffee, and join me in the duck blind!
RIO Shotgun Shells Overview
RIO Ammo was established in 1896. However, they didn't enter the American market until 2002. Alfred Nobel founded RIO's parent company MAXAM. Mr. Nobel is inventor of TNT and the Nobel Prize founder.
As a member of the Sporting Arms and Ammunition Manufacturers' Institute (SAAMI), RIO must adhere to strict standards for their ammo, meaning you can rest easy knowing you're buying high-quality ammo.
RIO shotgun shells are what the company is primarily known for, specifically its RIO 12 gauge shotgun shells, which was my introduction to the company.
RIO has production plants in Spain, the UK, and Texas. At these state-of-the-art facilities, they assemble a wide range of hunting and target loads for shooters. From shooting ducks with BlueSteel to shooting targets at the range, RIO offers a wide range of shotshells to satisfy your needs.
RIO Elite is the first product RIO designed that did not modify an existing product. These rounds are specifically designed for American shooters. RIO Bismuth is the company's offering of lead-free products available at an affordable price.
RIO Ammunition produces approximately one million shotshells daily at its Texas plant. That's how RIO sells its high-quality products at discount prices. Their rounds rank high for accessibility to the average hunter and competitive shooter.
RIO Shotgun Shells Review
My first introduction to RIO ammo was while duck hunting. I traditionally hunt with Winchester, Remington, or Federal game loads, but my buddy purchased some RIO Blue Steel to run through his Mossberg, and it performed flawlessly for him, so I knew I had to pick up a couple of boxes for myself.
I grabbed a couple of boxes and headed back to the duck blind with my dad's Benelli in hand. If the shells cycled with a Mossberg shotgun, they dang sure better function in a Benelli.
Unsurprisingly, these shells were great on my waterfowl hunt, so great; in fact, I used them for the rest of the season in a few different shotguns, including an old single shot, to make sure it wasn't a fluke. Out of everyone who used RIO shells, we had very few cripples, which means the shells were doing the job.
I love that I had multiple options for shot size; I prefer #4 when waterfowl hunting, but RIO has shot sizes for geese (BB) and upland game birds like quail and pheasants (5-9 birdshot) and for deer hunters (buckshot & slugs).
Steel shot generally has more recoil than lead shot. Still, compared to other manufacturers, RIO BlueSteel maintained similar recoil, at least with the shotguns I tested it with. This made it easier to get a follow-up shot off quickly when it was needed.
While I didn't test RIO's target loads, I wouldn't hesitate to buy a box for sporting clays after such a positive experience with their 12-gauge hunting ammo.
RIO also manufactures shotshells for 16-gauge, 20-gauge, 28-gauge, and 410 shotguns, so if you don't like shooting a 12-gauge, RIO hasn't left you out.
What Is RIO Ammunition Best For?
Simply put, RIO Ammo is best for hunters and target shooters on a budget. I used a ton of this ammo in college while duck hunting, as did my hunting buddies.
However, I don't hesitate to scoop up a box or two when I find it in stock because it shoots just as good as the more expensive ammo I've used over the years.
Disadvantages
I honestly struggle to find any disadvantages to these shotshells. I don't remember one time they didn't fire when I pulled the trigger, nor do I remember any jams occurring because of these shells, and I've hunted A LOT with them.
However, during my research, I did find some complaints from customers at Ammo.com-
bogertw said:
"Took my new Benelli Nova Pump to the range, and the first four shells in a row (from 2 separate boxes) fired fine but jammed the fore-end, so I couldn't eject the shell without very forcefully yanking back. I assume the high brass casing expanded way more than it should have. I then tried four different brands, and each worked flawlessly. Put the Rio back in, and it jammed immediately. I ended up switching to an over-under gun, and they performed fine in that. So, they may work fine for you in a different type of gun, but I wouldn't recommend them for a Benelli pump."
And Bascat said:
"I purchased the ammo for use in 3-gun matches. The ammo shoots well, considering the price; the drawback is the crimp. This ammo has a roll crimp instead of a normal crimp which makes it too long for the shoot shell carriers used in 3-gun and cuts down on the capacity that can be loaded in the shotgun tube."
Not everyone has had the same experience as I have with RIO shotshells, but it's clear from the many other positive reviews our customers have left that RIO Ammo is worth purchasing.
Pros and Cons
I've come up with the pros and cons of RIO shotgun shells, which will help you determine if these shells are right for you.
Pros
Inexpensive
Cleaning cycles through multiple brands of shotguns
Shells allow for reloading
A wide array of shotshells
Dependable - when you pull the trigger, they go bang!
Cons
Reports of jams in a Benelli Nova Pump
The roll crimp makes the shells too long for some 3-gun shell carriers
Current RIO Shotshell Offerings
The specs vary widely for each shotshell product line, so we created a list of the shells offered by RIO in the USA-
RIO Ammo Game Load 12-gauge, 16-gauge, 20-gauge, 28-gauge, and 410
RIO Royal Turkey Buffered Copper 12-gauge
RIO Royal Pheasant Copper 12-gauge
RIO AMMO Wing & Target 12-gauge and 20-gauge
RIO Royal Buck 12-gauge and 20-gauge
RIO Royal Slugs 12-gauge and 20-gauge
RIO Vintage 1896 Paper Hulls 12-gauge
RIO Vinci 28 Sport Shooting 12-gauge
RIO Royal Pigeon CD & LD 12-gauge
RIO Star Team EVO Clay Shooting 12-gauge and 12-gauge low recoil
RIO Star Team Training 12-gauge
RIO Top Target 20-gauge and 28-gauge
RIO Target Load BlueSteel 12-gauge
RIO Top Target BlueSteel 20-gauge
RIO Royal ECO BlueSteel 12-gauge
RIO Game Load ECO BlueSteel 12-gauge
RIO Royal BlueSteel Super Magnum 12-gauge
RIO Royal BlueSteel Magnum 12-gauge
RIO Game Load BlueSteel 12-gauge
RIO Royal Magnum BlueSteel 20 20-gauge
RIO Game Load BlueSteel 20 20-gauge
As you can tell, RIO Ammunition has plenty of offerings for all shotgunners, which is why they remain one of the leading shotshell manufacturers in the world.
Our Testing Procedure
While my testing procedure wasn't scientific, it was practical.
I'm rough on my gear, running it through the muck and asking it to perform flawlessly in freezing temperatures around water, at least while duck hunting. When I pull the trigger, I want the primer to ignite the powder and go bang.
As a waterfowl hunter, I don't want to see the bird suffer more than is needed, so I want quick ethical kills. Getting too many cripples means the pellets aren't penetrating enough. Not only does this put unneeded stress on the bird, but it also means you're spending more on ammo because you have to use 2-3 shells to harvest a single bird.
When I purchase shells for multiple hunting seasons, that means something because I've been disappointed with some of the big brand favorites too many times and refuse to waste my money on those overpriced shotshells.
Ballistics of Rio Shotgun Shells
The ballistics of RIO shotshells will depend on several factors, including the shotgun you're shooting, barrel length, shot size, shell length, and load. So we've rounded up some general ballistics from the manufacturer for each gauge offered.
The following ballistics are from the RIO Game Loads line-

RIO's waterfowl shells, such as the RIO Royal BlueSteel Super Magnum, offer high velocity (1,550 fps) for the fast-flying birds I love to chase. So, you can buy these shotshells that are plenty fast for any game without quickly draining your bank account.
Parting Shots
Now that you've finished reading this RIO shotgun shells review, you understand why I'm such a big supporter of RIO Ammo! Whether you're shooting skeet or hunting, this ammo performs to the highest standards.
So, don't wait to order a box or two of RIO Shotshells today from Ammo.com!
Or, if I haven't convinced you, check out our other RIO Royal ammo review performed by another writer.
Frequently Asked Questions
Below I've taken the liberty to round up and answer some of the most commonly asked questions about RIO shotgun shells.
Are the Rio Shells worth buying?
Yes, RIO Shells are worth buying. They are dependable and affordable.
What is the range of Rio Shells?
The range of RIO Shells is the same as most other shotgun shells, it depends on the load, but I've seen shots made out to 60 yards on waterfowl with RIO Shells. However, I don't like to push it much past 40 yards.