Magtech 308 Win 168gr HPBT Review: Should You Feed It To Your AR?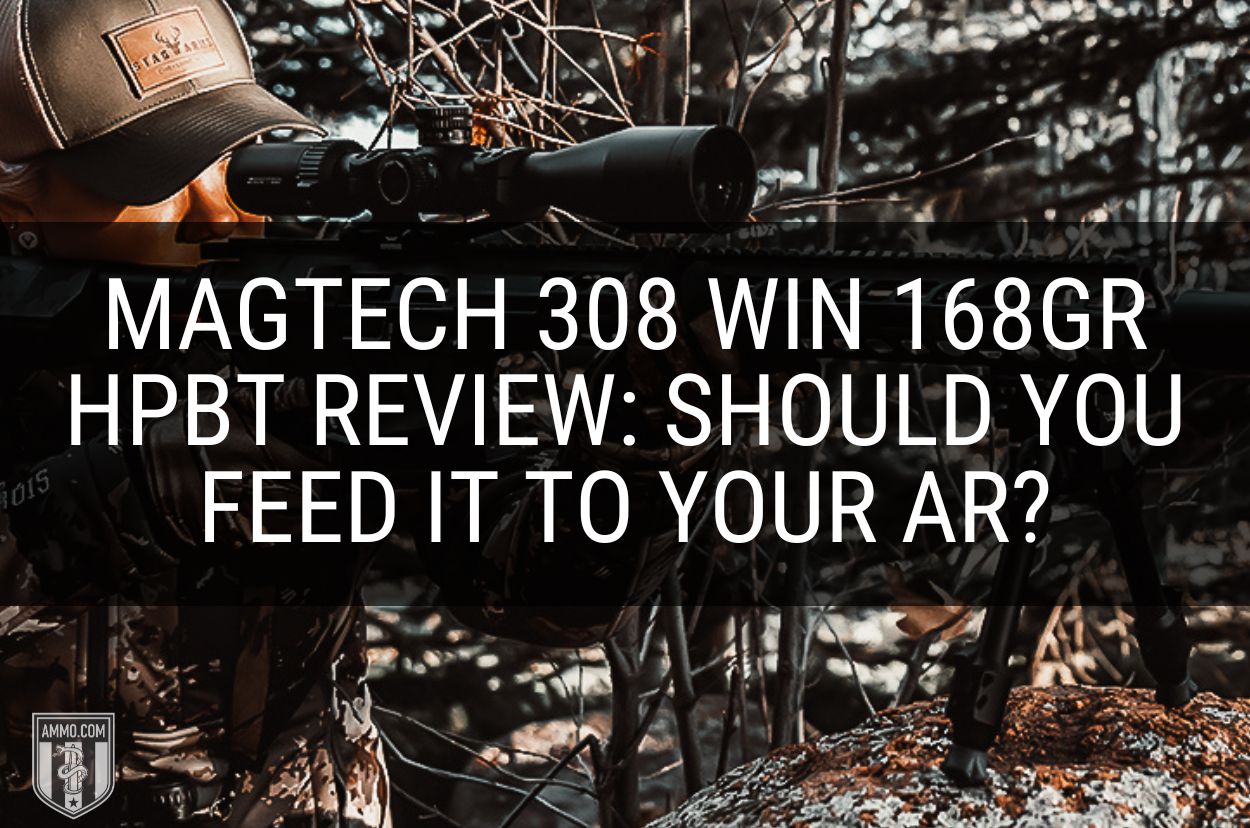 The .308 Winchester (7.62x51mm NATO) was the king of long-distance shooting, easily capable of sub-MOA target shooting. Now, it's just one of many solid sniper rounds.
However, you can always give yourself an advantage by shooting high-quality ammo. So, in this Magtech 308 Win 168gr HPBT review, you'll learn who this ammo is for and if you should feed it to your AR-10.
Grab your favorite beverage, and let's get started!
Magtech 308 Win 168gr HPBT Overview
Magtech Ammunition is one of the leading ammo manufacturers in the world based in Brazil. They are a member of CBC Global Ammunition.
CBC Brazil, Magtech Ammunition USA, MEN Germany, and Sellier & Bellot Czech Republic are the other members of CBC, exporting ammo to over 100 countries for civilian, law enforcement, and military use.
Magtech makes small and medium caliber handgun and rifle ammo, including the .308 Win 168gr HPBT Magtech Sniper rounds. These rounds utilize Sierra MatchKing 168-grain Hollow Point Boat Tail (HPBT, sometimes misspelled BTHP) projectiles, considered some of the most accurate bullets available on the market. Making them a top choice for many long-range shooters.
The brass casings are high-quality and reloadable, making the handloaders happy and saving you money on ammo in the long run.
Our Magtech 308 Win 168gr HPBT Review
Magtech ammo uses its own powder, Boxer primers, brass cases, and Sierra MatchKing projectiles in these sniper rounds to maintain strict quality control on all their ammunition.
This means these rifle rounds are reasonably reliable, accurate, and priced, which many AR shooters love.
After hours of researching and nearly three decades of shooting, I've been impressed with what I found regarding Magtech First Defense Tactical .308 Win 168-grain HPBT rounds.
What Is It Best For?
Magtech .308 Win 168gr HPBT Sniper ammunition is best for shooters looking to punch holes in paper from long distances without breaking the bank.
You won't have to sell half your gun collection to afford this ammo, even though prices have skyrocketed in the last 15 years.
The rounds are labeled as tactical, generally meaning they're designed for semi-auto firearms, such as the AR-10, FAL, or Kel-Tec RFB.
Disadvantages
Because these rounds are at such a great price, and many shooters love taking them to the range for plinking, they're sometimes tough to find. This is doubly true during ammo shortages.
Another downside is that Magtech ammo is not the cleanest shooting ammo on the market. This isn't a huge deal, but some shooters might find it annoying. However, I don't consider it a significant disadvantage, as I enjoy cleaning my guns. But for those who shoot a lot and require the utmost levels of accuracy and precision, it can become a problem.
Lastly, these rounds were designed for semi-auto rifles, which are inherently less accurate than bolt-action rifles. This means you might see a decrease in accuracy, especially at longer ranges.
Pros and Cons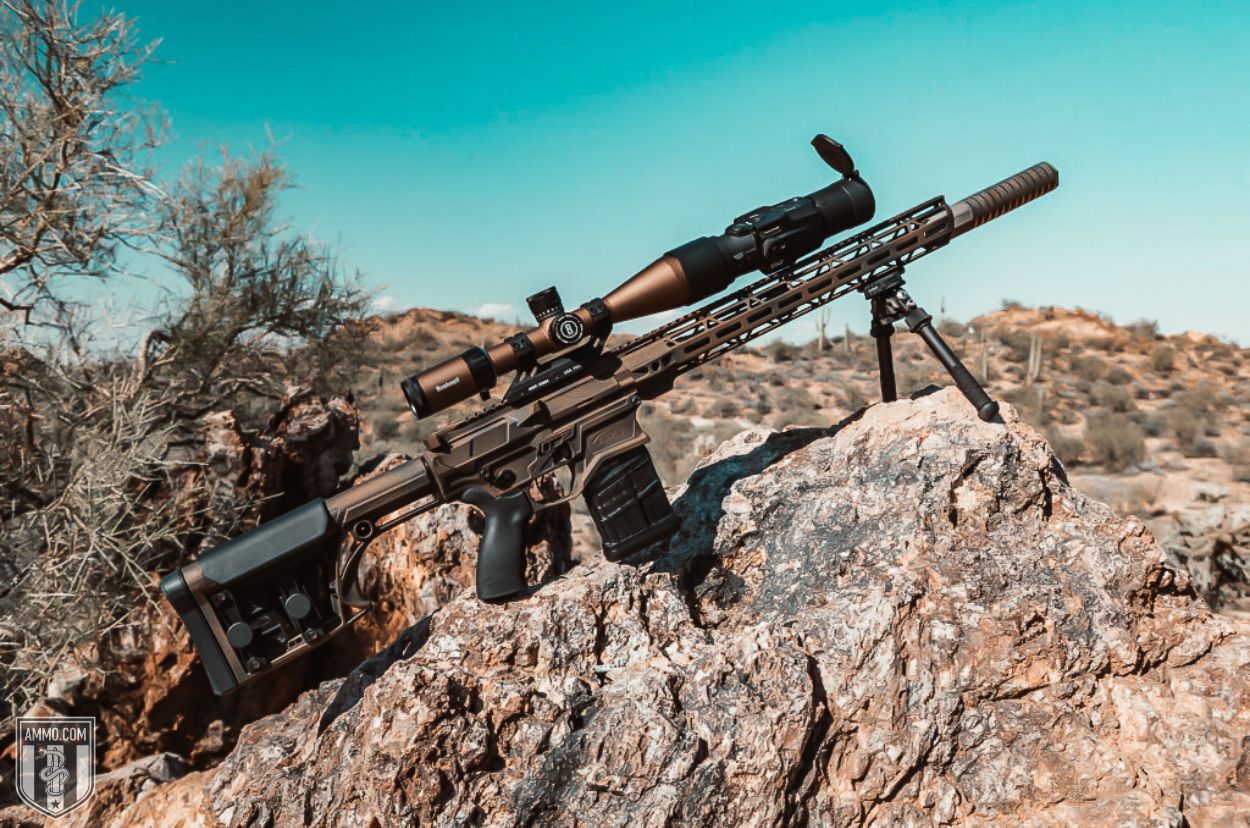 As with all of our ammo reviews at Ammo.com, we strive to remain unbiased. That's why I've compiled this list of benefits and drawbacks for Magtech 308 Win 168gr HPBT Sniper ammo.
Pros
Reloadable brass casings
Accurate bullet type
Reasonable price, especially for bulk ammo
Cons
Accessibility, it is sometimes difficult to find because everyone snatches it up
It shoots a little dirty, so you must clean your gun more often.
The AR platform is not designed to be as accurate as a bolt-action rifle
General .308 Winchester Specifications
If you're a numbers or specs person, I have you covered with some basic info for the .308 Win in the table.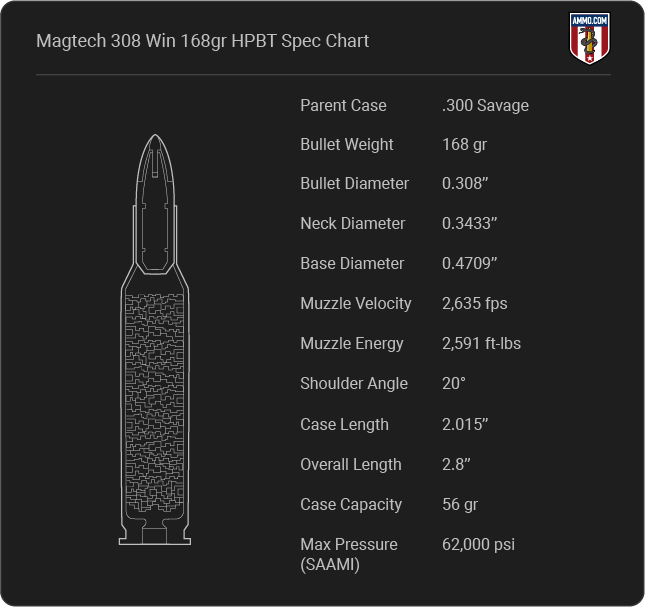 Ballistics of Magtech 308 Win 168gr HPBT Bullets
Below, I've taken the liberty of gathering the ballistic information for Magtech .308 Win 168gr HPBT rounds.
Note: This information comes from the manufacturer and is only informational. The actual ballistics obtained with your firearm can vary considerably from the advertised ballistics. Also, ballistics can vary from lot to lot with the same brand and type load.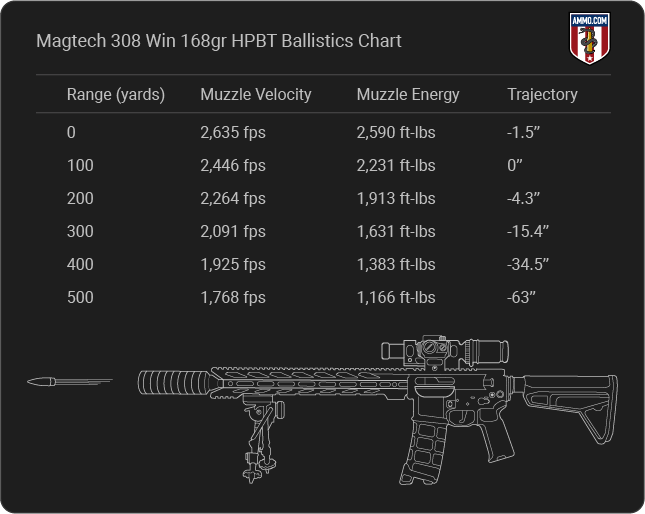 Alternatives
If you're still open to related products from other manufacturers, I've gathered a few different options that are comparable to .308 Win Magtech ammo. Hornady, Federal Premium, Fiocchi, Remington, PMC, and Winchester ammo are always good alternatives; however, they're often a little more expensive.
PMC X-TAC 147-grain FMJ-BT is very similar in price and performance to Magtech, but the Magtech rounds are still less expensive. However, the Full Metal Jacket Boat Tail bullet used by PMC is slightly less accurate than the HPBT bullet used by Magtech, but that's only noticeable to very experienced shooters. For a fun day at the range, the difference is minimal.
If you're looking for match-grade ammo, Hornady Match 168gr HPBT is a great place to start. It has excellent ballistics and performance and is incredibly reliable. However, it's often more than twice the price of Magtech 168gr HPBT rounds.
If money is no concern, the Black Hills Gold 168gr TMK is worth checking out, especially for competition shooters. However, I would consider something less expensive for those just looking to do some plinking at the range.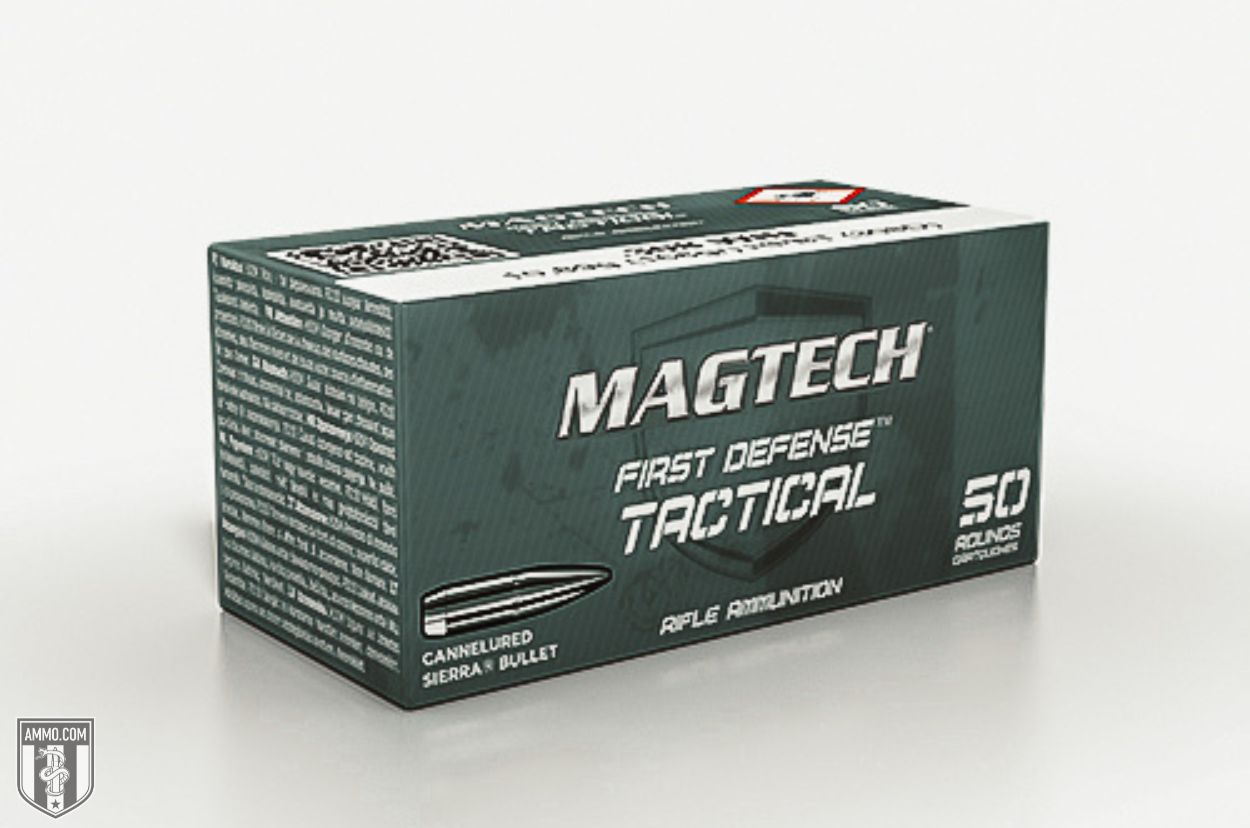 Parting Shots
Now that you've finished reading this Magtech 308 Win 168gr HPBT review, you know it's some of the most reliable, reasonably accurate, and least expensive ammo to feed your .308 Winchester rifle.
If you can find it, it's definitely worth picking up! In the meantime, check out the 308 Win ammo we have in stock at Ammo.com.
Frequently Asked Questions
Below, the team at Ammo.com has gathered and answered some commonly asked questions regarding Magtech 308 Win 168gr HPBT ammo.
Is the Magtech 308 Win 168gr HPBT worth buying?
Yes, Magtech 308 Win 168gr HPBT is worth buying, especially when purchasing bulk ammo. These rounds are reasonably accurate for a good price.
What is the range of Magtech 308 Win 168gr HPBT?
1,000 yards is often considered the range of the .308 Win, including the Magtech 308 Win 168gr HPBT bullet.