Sellier and Bellot 9mm 124gr Review: Punchy 9mm for Plinking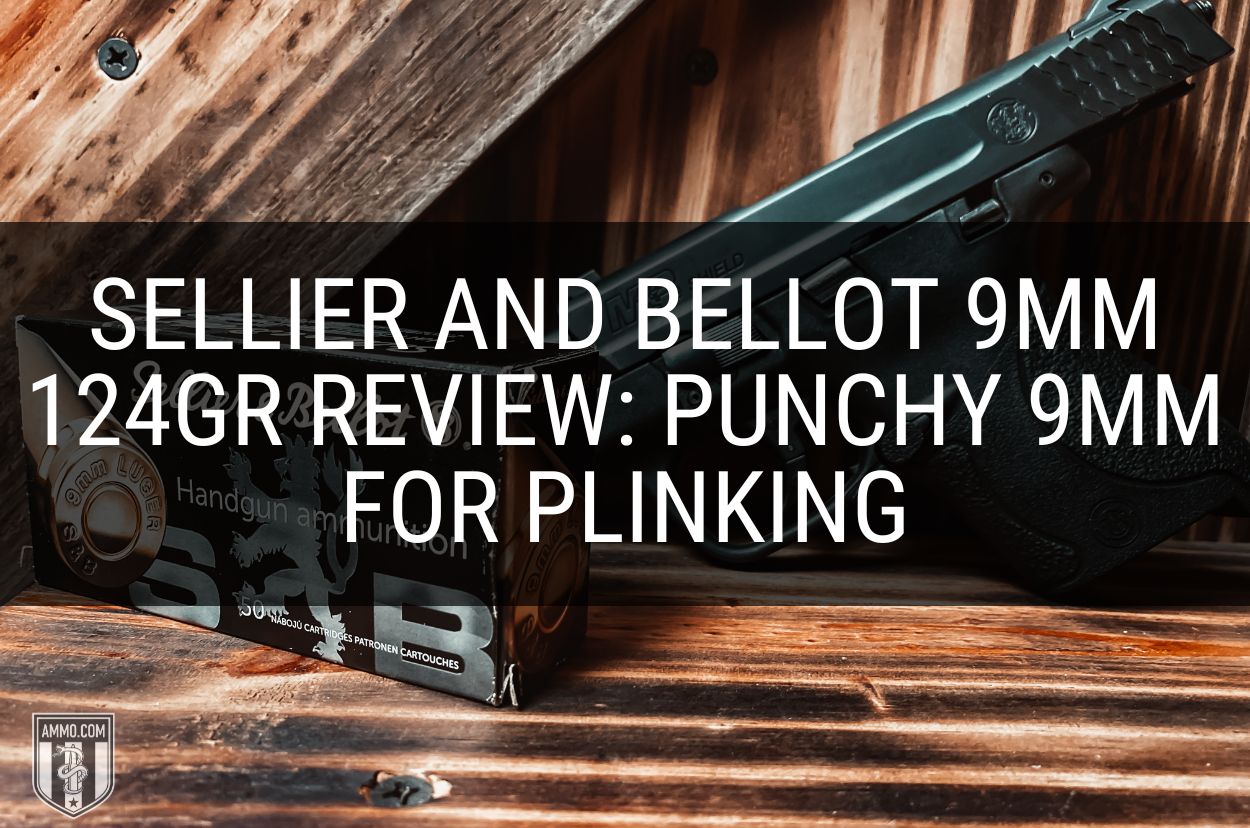 During a recent trip to the range, I was made aware of a couple of glaring problems with my pistol shooting technique by a buddy who's a former US Marine.
A few days later, I was tasked with writing this Sellier and Bellot 9mm 124gr review. Naturally, I grabbed a couple of boxes of Sellier & Bellot ammo for my 9mm NATO and headed back to the range to work on my shooting form and technique.
The rest of this article is my thoughts from that shooting range visit. All I can say is I hope you can take a punch! Let's go ahead and get to it.
Sellier and Bellot 9mm 124gr Ammo Overview
Sellier & Bellot has continuously produced products since 1825, making it one of the oldest engineering companies in the Czech Republic and the world.
Sellier & Bellot, or S&B for short, is a member of CBC Global Ammunition, which also owns Magtech. They produce and import high-quality ammo for handgun, rifle, shotgun, and rimfire calibers into the US.
Countless shooters in the USA have come to love and trust S&B ammo for target ammo, self-defense, and law enforcement needs. Thanks primarily to its good quality, reliability, and reasonable pricing.
The same can be said about SB9B rounds, these are the 124 gr FMJ rounds this ammo review is about. They are similar in price to Federal American Eagle and Winchester Target & Practice ammo and are just as reliable in my experience.
S&B 9mm 124-grain FMJ is great ammo at a good price because it uses brass cases that are good for reloading, Boxer primers, and high-quality powders. In my experience, these rounds go bang every time you pull the trigger and rarely jam, making it a great addition to your range bag.
Our Sellier and Bellot 9mm 124gr Review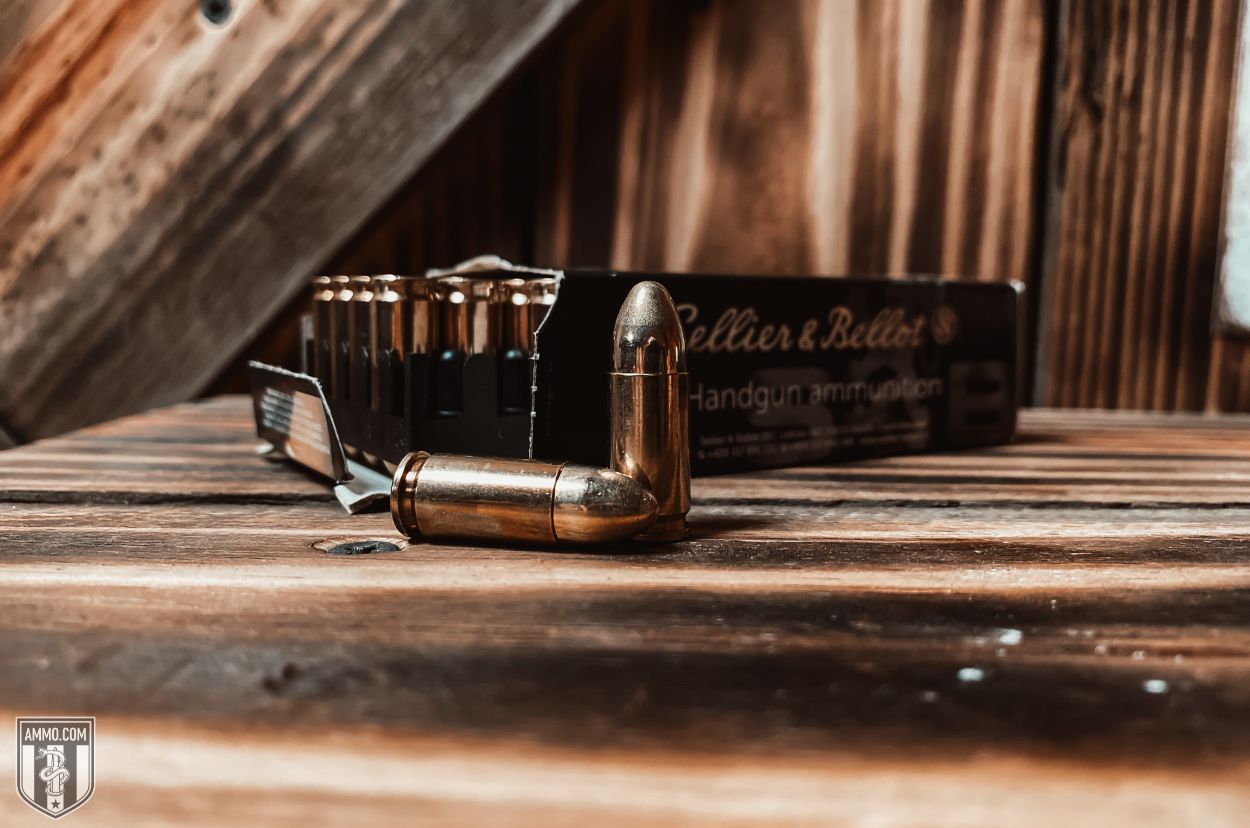 I considered article titles as I loaded several rounds into my Smith & Wesson M&P Shield mags. One title was "The Golden Standard" because the 124-grain full metal jacket bullets have a "golden" jacket instead of the traditional copper-colored jacket.
While I do consider these rounds to set the bar in many aspects, using that title could get confusing with Remington Golden Saber. Thankfully, I decided to test out the ammo first and then come up with a title.
The rounds fed smoothly into the chamber and fired every time I pulled the trigger. Though I'm still improving my accuracy by adjusting my stance and technique like I was told to, I found these rounds to be just as accurate as any that I've fired through my S&W M&P Shield despite having a little more recoil.
Using a slightly larger Glock, Ruger, or Springfield Armory pistol could cut back on the recoil; however, I'm not a big guy, and I found the recoil to be very manageable. But I don't think my wife would have liked shooting these rounds through her 9mm.
When I peeked into the chamber after dropping an empty mag, I was pleasantly surprised to see SB9B wasn't any dirtier than my other cheap target ammo. But it did require a quick cleaning after my trip to the range.
What Is It Best For?
This 9mm ammo is excellent for training for self-defense situations. Instead of spending a ton of money on jacketed hollow point bullets, you can buy these and get a similar performance out of them.
Overall, after shooting several mags, I believe this ammo to be good stuff and will continue to buy it, especially when it's at such a great price. Buying 9mm bulk ammo drastically lowers the price and is good ammo to boost your supply quickly.
Disadvantages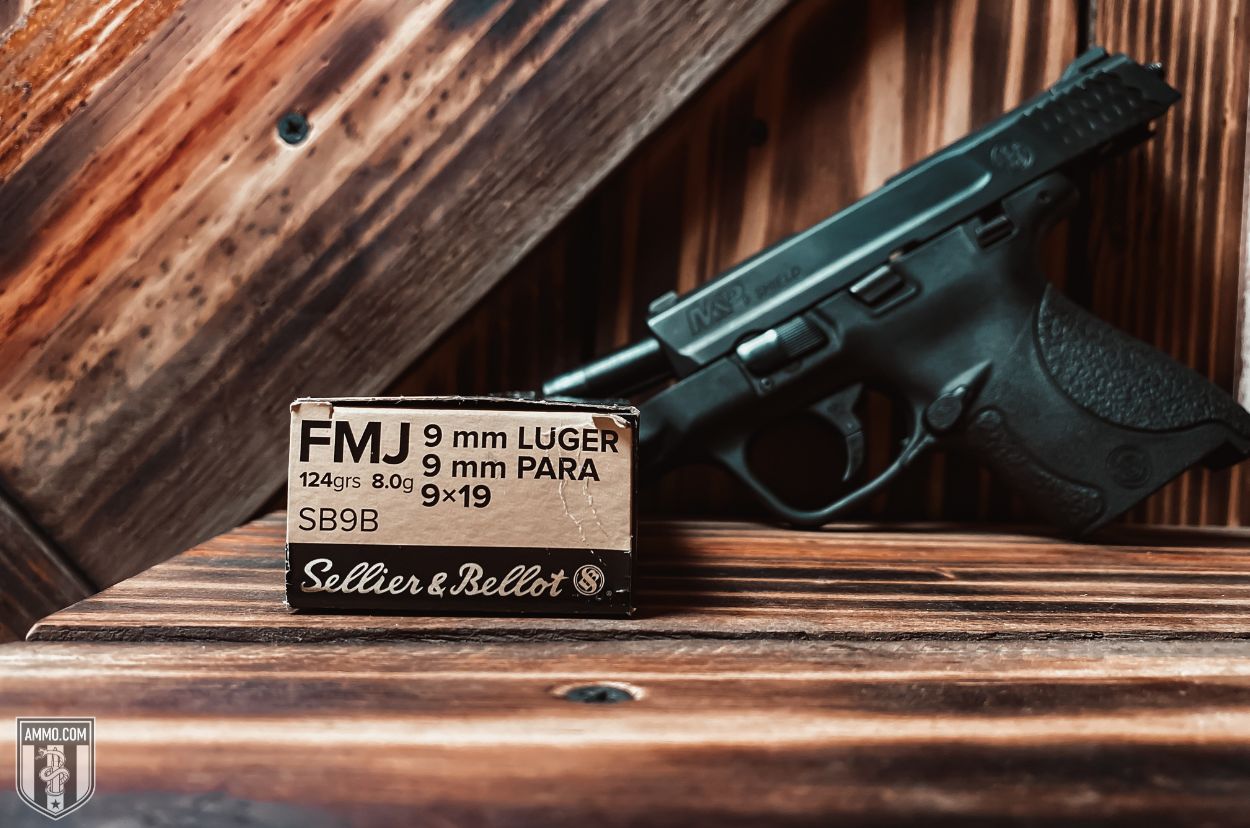 As great as this ammo is, I wouldn't use it in a home defense situation for fear of overpenetration. I'll stick with my JHP's for that.
I also found it to be a little more punchy than lighter-grain bullets, which is expected. While I didn't think it was comparable to a 45 ACP, if you're recoil-sensitive, these definitely aren't the rounds for you.
Pros and Cons
As with all of our ammo reviews on Ammo.com, we strive to remain unbiased, bringing you the benefits and drawbacks of buying and shooting this ammo.
Below, I've compiled a list of pros and cons that I found while testing these rounds.
Pros
Good quality. It goes bang every time and rarely jams
Great price. It's comparable to other major manufacturers like Federal, Remington, and Winchester
It is relatively common and not too tricky to find (especially at Ammo.com)
Non-corrosive ammo is better for your gun and long-term storage.
Cons
Only range ammo because it doesn't perform as well as JHP bullets in self-defense situations
It has a bit more recoil than lighter bullets
General 9mm Luger Specifications
For the shooters who love data and numbers, the team at Ammo.com has compiled some general 9mm specs for you to enjoy.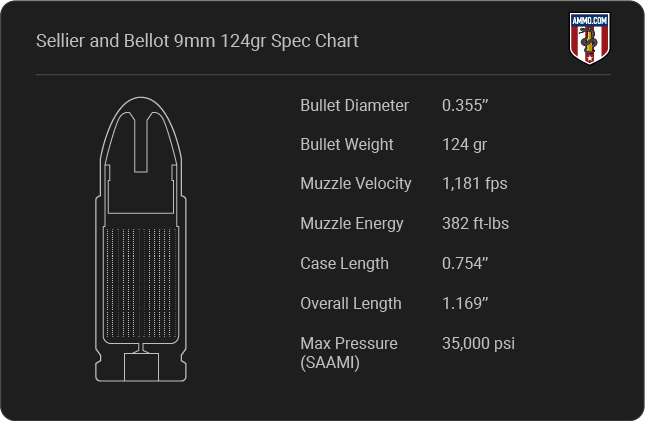 Our Testing Procedure
Instead of over-complicating my ammo testing procedures, I prefer to keep things simple and as similar to a real-world situation as possible.
So, while testing this ammo, I stood about 15 yards away from a steel target, as this is a comfortable range for me to hit where I'm aiming consistently.
I shot a few rounds slowly to test accuracy, then fired off a few quick ones to try to get it to jam, which this ammo did not.
I also shot some of my Federal American Eagle 115gr FMJs to compare the recoil of lighter-grain bullets and different brands.
Ballistics of Sellier & Bellot 9mm 124gr Bullets
Below is a ballistics table for the S&B 9mm 124-grain ammo compared to 115-grain ammo.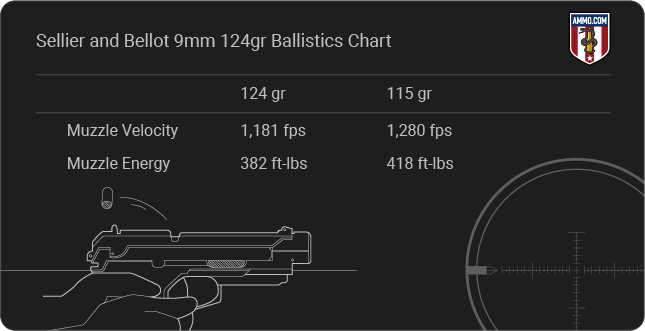 Alternatives
Several other brands like Blazer, CCI, Fiocchi, and PMC make high-quality, affordable 9mm ammo. I've gathered several excellent options in the lists below:
124-grain Bullet Alternatives
115-grain Bullet Alternatives
Parting Shots
Now that you've finished reading my Sellier and Bellot 9mm 124gr review, you can see why I enjoyed shooting this ammo. It's great for training for self-defense situations; it's reliable and reasonably priced.
What more can you ask for from your 9mm ammunition?
However, if you're recoil-sensitive, I recommend stepping down to the Sellier and Bellot 115 Grain FMJ.
Frequently Asked Questions
Below, the team at Ammo.com has gathered and answered some commonly asked questions regarding S&B 9mm 124gr ammo.
Is the Sellier and Bellot 9mm 124gr worth buying?
Yes, Sellier and Bellot 9mm 124gr is worth buying. It's excellent target ammo at a great price.
What is the range of Sellier and Bellot 9mm 124gr?
The range of Sellier and Bellot 9mm 124gr is about 50 yards, but 25 yards is the furthest most people shoot it.
What is the difference between Sellier and Bellot 9mm 115gr and 124gr?
The difference between Sellier and Bellot 9mm 115gr and 124gr is the bullet weight, muzzle velocity, muzzle energy, and recoil. The 115gr is lighter and has a higher muzzle velocity but lower muzzle energy and less recoil.