Hornady Black Ammo Review: The Jack of All Trades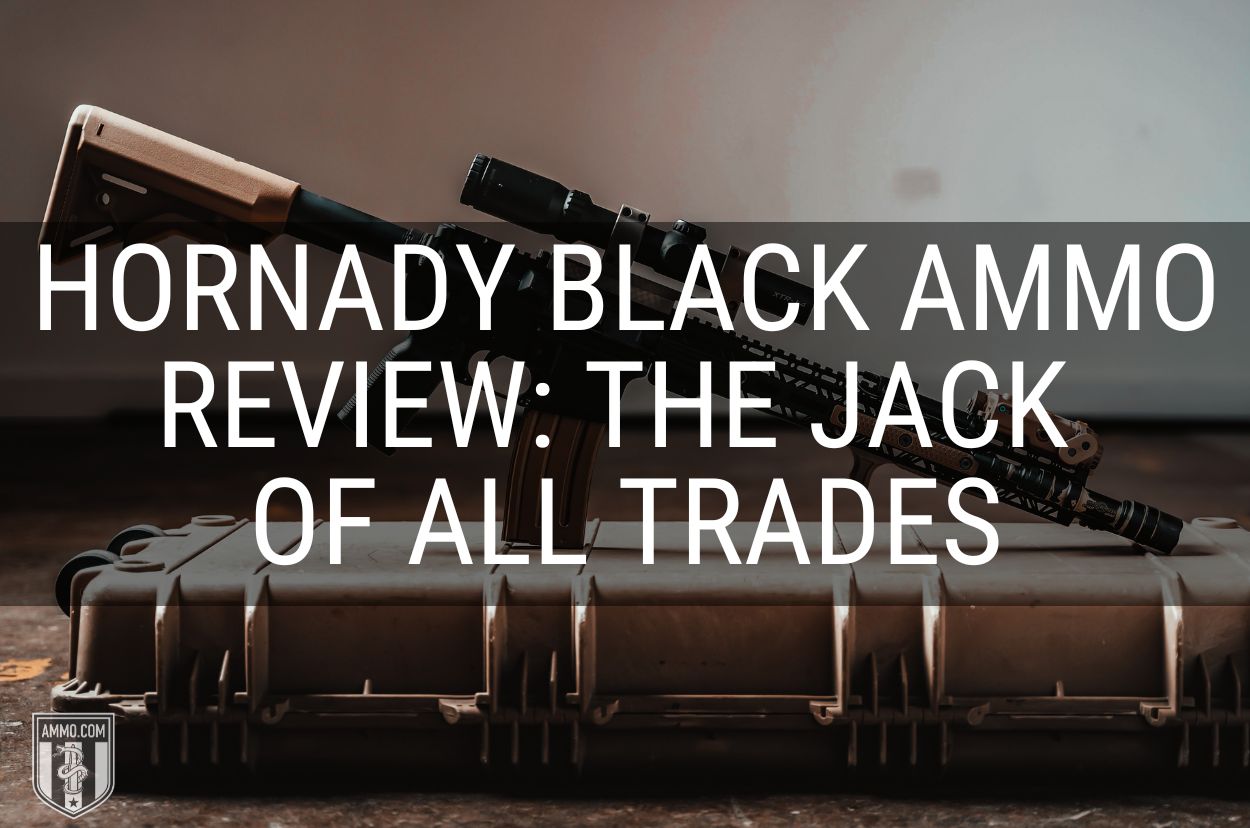 If you've ever come across Hornady BLACK ammunition here at Ammo.com or in your local sporting goods store, you might have wondered what makes this ammo special.
Packed in their stylized black packaging with an American flag in the background, Hornady Black ammo is loaded to meet the needs of modern semi-auto rifles, handguns, and shotguns.
Loaded in multiple calibers with a wide variety of bullet types, The Hornady Black line is truly the "jack of all trades" when it comes to factory ammo.
However, does this mean that it's the right ammo for your favorite black rifle, or should you look at something a little cheaper, like Hornady Frontier?
In this Hornady Black ammo review, we will answer that question for you as well as explain the origins of Hornady Black and why this is an excellent ammo line.
If you're ready to get some high-quality Hornady ammo, make sure you check out what we have in stock; otherwise, keep reading to learn more about Hornady Black Ammunition.
Hornady Black Ammo Overview
Back in 1949, when Joyce Hornady founded his company, the needs of the American shooter were relatively simple. Most of them were returning from WWII and had experience using a 30-caliber bolt-action or semi-auto rifle.
It makes sense that Hornady's first major success was a 30-cal 150-grain Spire Point hunting bullet. With so many surplus M1 Garands and 1903 Springfields hitting the market, this bullet mated perfectly with the 30-06 Springfield round, which was already popular for hunting.
However, as time forged on, the needs of the American shooter evolved with the advent of new cartridges and firearms. Sure, most 2A enthusiasts have a semi-automatic rifle like an AR-15 carbine or Ruger Mini-14 chambered in 5.56 NATO, but that same rifle can also be chambered in calibers like 300 Blackout, 6.5 Grendel, 6.8 SPC, or 450 Bushmaster.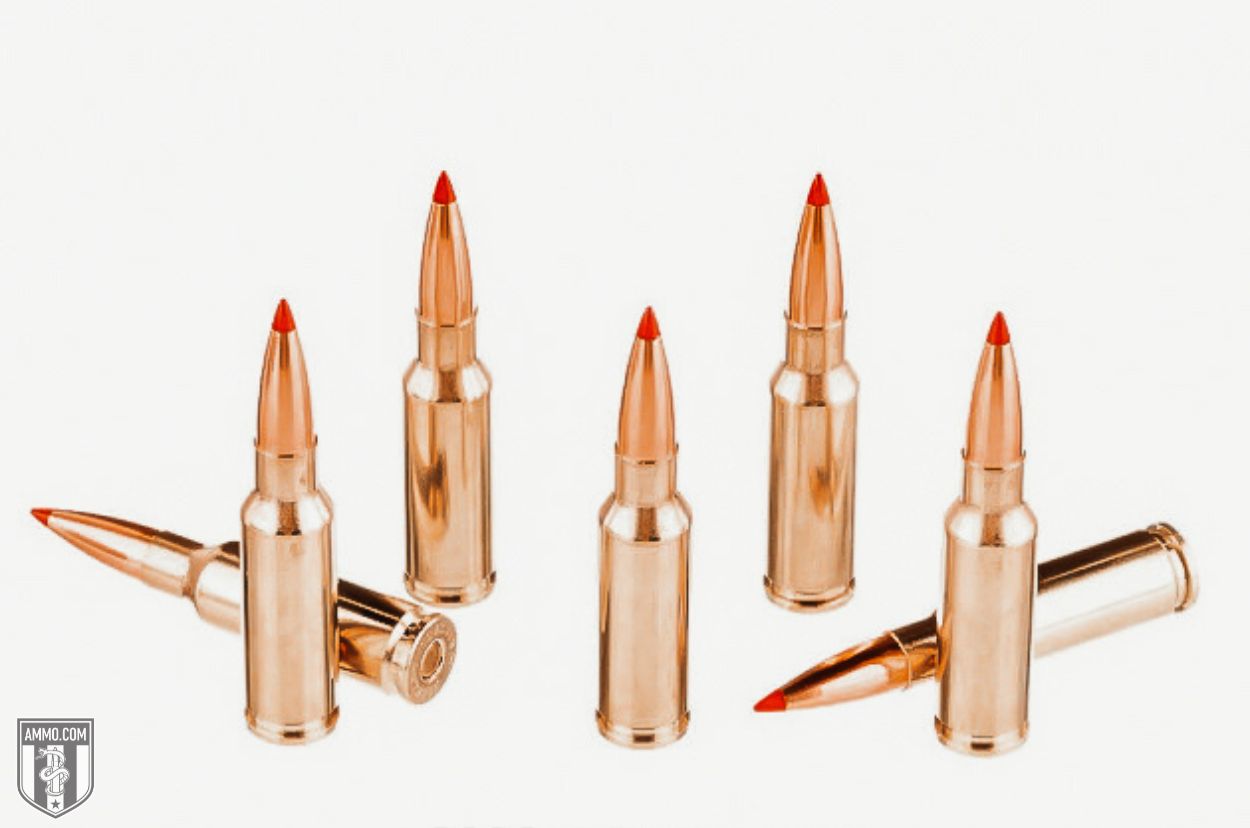 The Hornady Black Ammo line was released in 2016 to offer exceptional performance across all of America's favorite guns. Initially offered in over a dozen rifle ammunition calibers and 12 gauge, Hornady Black was formulated to work flawlessly in bolt-action, direct impingement, or gas piston recoil systems.
Furthermore, these versatile loads were designed to work when fired, suppressed, or unsuppressed, and across a wide variety of barrel lengths.
Noticeably absent from the initial Hornady Black release was handgun ammunition, and it wasn't until 2020 that Hornady added 380 ACP, 9mm Luger, 40 S&W, and 45 ACP to the line. All these rounds are loaded with the company's eXtreme Terminal Performance (XTP) hollow point projectiles, which were primarily loaded in the Hornady Custom line prior to Hornady Black.
Hornady Black ammo is loaded in the company's high-quality brass cases, with advanced propellants and Boxer primers, making them ideal for reloading.
Loaded with a wide variety of bullet options, "Hornady BLACK ammunition delivers superior performance for a variety of applications" and is a great choice for all of your favorite modern firearms.
Our Hornady Black Ammo Review
When I think of big game hunting, my mind goes towards Hornady American Whitetail, Outfitter, or Superformance ammo. For self-defense, Hornady Critical Defense or Critical Duty comes to mind. And for my favorite black rifles, Hornady Black is my personal go-to.
The Hornady Black line of ammo is a real benefit to shooters who want excellent performance without needing to sell off a kidney to afford it. Hornady really hit it out of the park with their wide variety of bullet options that simply make sense for each load.
For example, the 300 Blackout loads (which we will discuss in depth later in this article) are offered in both supersonic and subsonic varieties. This tells me that Hornady really took some time to think about what modern shooters need and want out of their ammo.
The packaging of Hornady Black says it all to me. With the subdued American flag in the background adorned with some of America's favorite guns in the stripes, this ammo just screams freedom. The addition of the Gadsden Flag really adds to the flavor, as this ammo is perfect for the protection of liberty and the elimination of tyranny.
Although Hornady Black currently does not have a rimfire option, one does not protect freedom or bring home a trophy buck with a plinking rifle. Instead, you reach for Hornady Black and understand that you've loaded rounds of pure performance into your favorite firearm.
What's It Best For?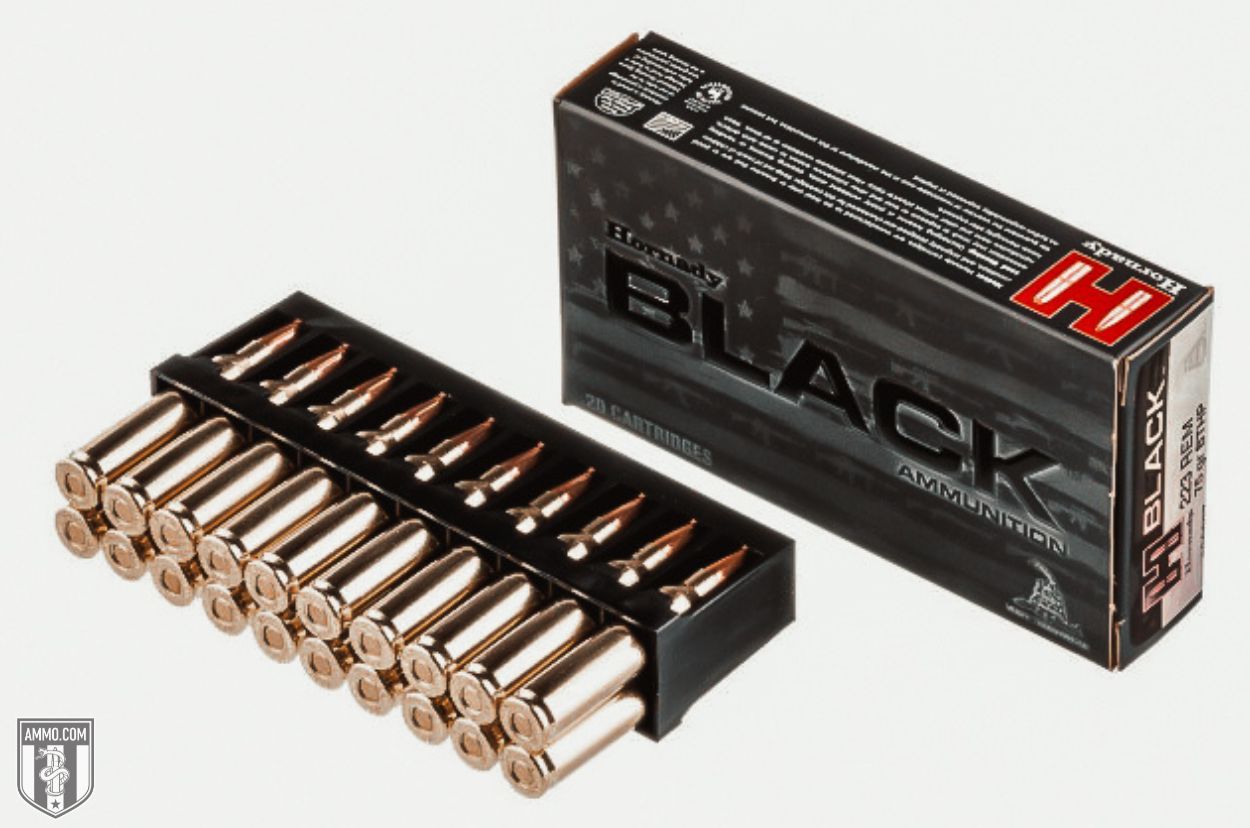 The Hornady Black line fills multiple shooting roles in America's favorite guns. If you're looking for a reliable, accurate target shooting round, then there are multiple loads topped with boat-tail hollow point (BTHP) bullets that are great for this purpose.
Hornady Black is also loaded with V-MAX bullets for varmint hunting, A-MAX bullets for long-range work, and SST or FTX bullets for big game hunting.
For self-defense, all Hornady Black semi-auto handgun ammunition is loaded with the XTP hollow points. And for home defense, Hornady Black 12 gauge 00 buckshot will never let you down.
To put it simply, Hornady Black ammo simply covers all your bases when it comes to shooting with modern rifles, handguns, and shotguns.
Disadvantages
Honestly, there aren't a lot of bad things I can say about Hornady Black line of ammunition. However, it is a bit more expensive than your run-of-the-mill plinking ammo, and this is a consideration for some shooters.
If you're looking for cheap plinking ammo, I'd look at Hornady Frontier for all your plinking needs, as Black ammo is more of a middle-of-the-road ammo that offers you high performance and terminal ballistics without splurging on match-grade or dedicated hunting ammo.
Pros and Cons
As much as we love ammo, we understand that no manufacturer is perfect. Here are some of the pros and cons of Hornady Black ammunition you should be aware of.
Pros
Versatile loads work well on multiple firearm platforms
Multiple bullet options for hunting, long-range target shooting, and self-defense
Accurate
Reliable
Cons
More expensive than plinking ammo
Calibers Offered
The Hornady Black ammo line comes loaded in multiple shotgun, handgun, and rifle calibers. Here's a list of what's available in 2023:
6mm ARC
6mm Creedmoor
4.6x30 mm
Variation Review
Hornady Black comes loaded in multiple calibers for handguns, rifles, and shotguns. Below you'll find our review of several popular offerings so you can better understand which factory load best fits your shooting needs.
Hornady Black 380 Ammo Review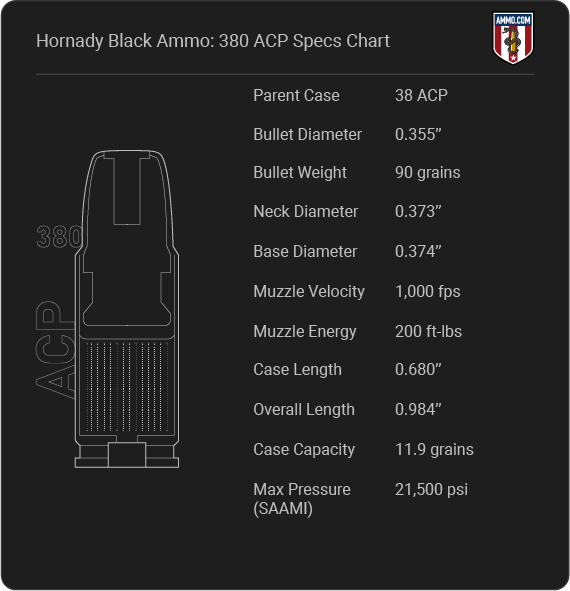 If you like deep concealment so that no one has any idea you have your EDC pistol on your hip, the 380 ACP is a great choice. Hornady Black 380 Auto ammo combines a 90-grain XTP hollow point bullet with the powders utilized for Hornady Critical Duty ammo that offer shooters low flash to preserve their night vision in low-light shooting situations.
With 1,000 fps muzzle velocity and 200 ft-lbs of muzzle energy, the Hornady Black 380 ACP self-defense load will have no problem making sure you're protected in any situation.
Hornady Black 223 Ammo Review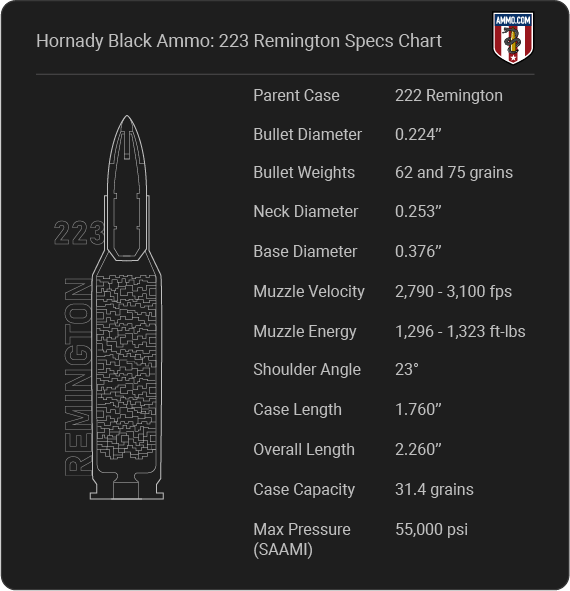 The 223 Remington is America's most popular centerfire rifle cartridge. Capable of being fired from rifles chambered in 5.56, namely the AR-15, this ammo is excellent for target shooting, varmint hunting, and self-defense.
Hornady Black has two different loads for the 223 Rem, a 62-grain FMJ and a 75-grain boat-tail hollow point (BTHP) Match. The 62-grain bullet is made for plinking and target shooting as it closely mimics the U.S. military M855 load with 3,100 fps muzzle velocity.
However, if you want to really go for long-range accuracy and precision, then the 75-grain BTHP Match is an excellent option for the AR-15 carbine or a bolt-action rifle.
Hornady Black 5.56 Ammo Review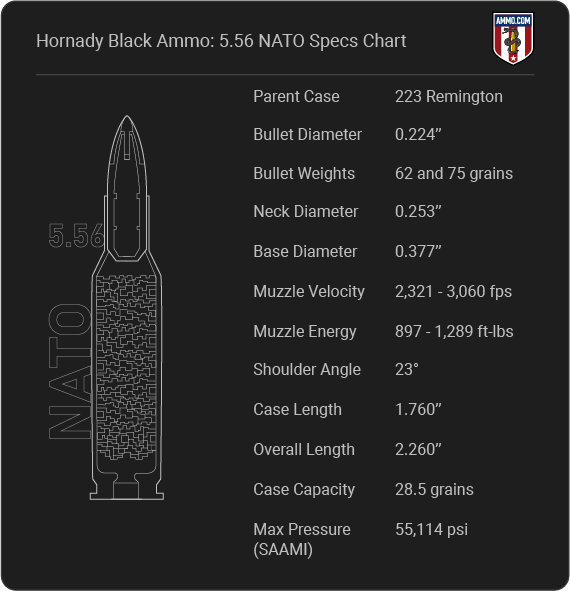 Although the 5.56 NATO and 223 Remington have identical case dimensions, they are not the same round. If you're unfamiliar with the differences, make sure to check out this article: 223 vs. 5.56.
Like the 223 Rem loads, the Hornady Black 5.56 also comes loaded with 62-grain and 75-grain bullets. Although the 62-grain FMJ bullet is identical to the 223 variety. The 75-grain option is considerably different.
The Hornady Black 5.56 NATO 75-grain Interlock HD SBR bullet is designed specifically for rifles using a 10.5" to 11.5" barrel length. Ideal for both suppressed and unsuppressed fire, this load works to minimize muzzle flash and barrel residue typically seen in short barrel rifles (SBR).
This load is tuned to dramatically reduce your sound signature when fired suppressed and will not foul your silencer during longer courses of fire. Utilizing the same bullet design as the Hornady Critical Duty FTX, the Interlock HD SBR bullet meets all the requirements of the FBI Protocol and is the perfect match for your 5.56 SBR.
Hornady Black 300 Blackout Ammo Review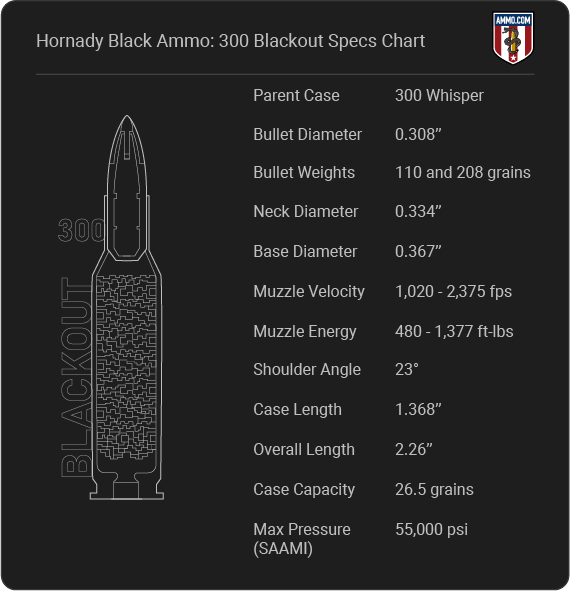 The 300 AAC Blackout is one of the most successful caliber adaptations to date that increases the stopping power of the AR-15. Designed to experience a full powder burn, a 9" short-barrel rifle, the 300 Blackout offers shooters a wide range of capabilities.
Hornady Black 300 Blackout ammo comes loaded with two bullet options, a supersonic 110-grain V-MAX and a subsonic 208-grain A-MAX.
The 110 gr V-MAX bullet is an excellent option for varmint hunting, but one of the most popular loads is the subsonic 208 gr A-MAX bullet. When paired with a suppressor, these subsonic rounds are hearing-safe, making them an excellent choice for home defense.
Hornady Black 12 Gauge Ammo Review
If you want the ultimate in-home defense, you simply cannot beat 12 gauge 00 buckshot loads. And Hornady Black 12 gauge ammo really knows how to stop any potential home invader.
Optimized to perform in both pump and semi-auto shotguns, this ammo won't fail you or jam when you need it the most.
Hornady Black 6.5 Grendel Ammo Review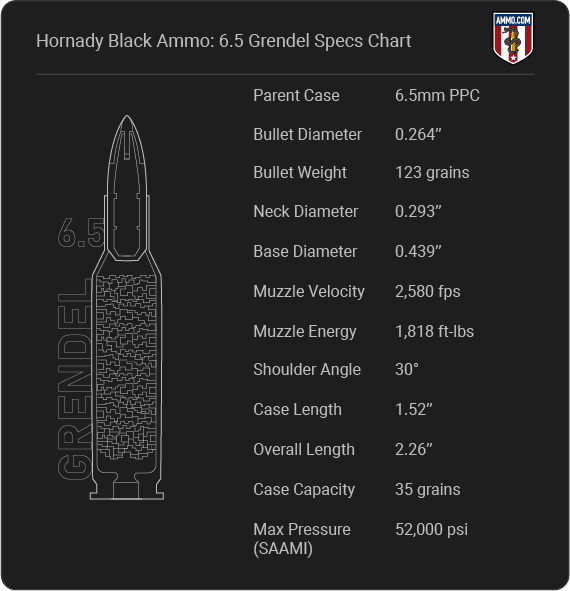 If you're looking to turn your AR-15 into a sub-MOA tack driver, then Hornady Black 6.5 Grendel ammo is what you should be loading into your mags. Topped with a 123-grain ELD-Match (ELD-M) bullet, these rounds will be sure to punch out the bullseye in any target so long as you do your part.
With an impressive 0.506 G1 ballistic coefficient, these rounds are aerodynamic, streamlined, and ready to help you win your next long-range shooting competition or impress the heck out of your friends!
Ballistics for Hornady Black Ammo
Below we've compiled ballistics tables for the Hornady Black ammunition we reviewed in the previous section. Please note that the muzzle velocities listed might vary depending on your barrel length.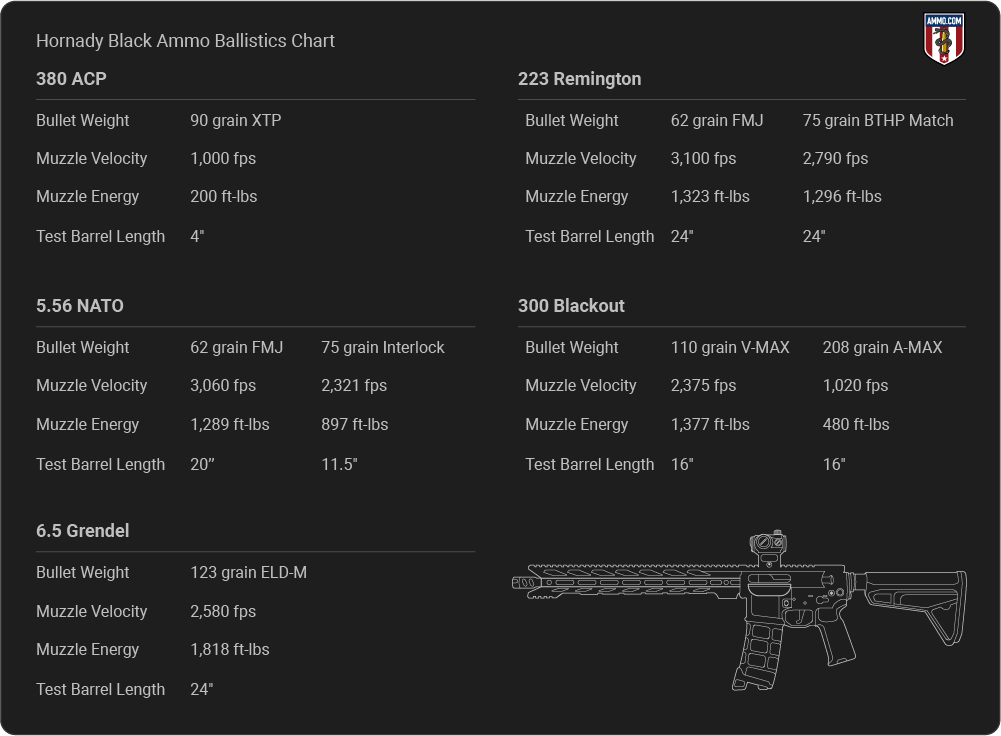 Parting Shots
Now that you've finished this Hornady Black ammo review, you know it is an excellent middle-of-the-road ammunition for a wide variety of modern rifles, handguns, and shotguns. Perfect for plinking, hunting, and competitive shooting, Hornady Black is a great choice for shooters across the USA who expect exceptional performance while not having to take out a second mortgage to afford ammo.
If you're ready to get your hands on some Hornady Black ammo, make sure to check out all of the Hornady ammunition we have in stock and ready to ship directly to your door, and we will see you out on the range!
Frequently Asked Questions
Below are some questions we get asked a lot here at Ammo.com about Hornady Black ammunition.
Is Hornady Black worth buying?
Yes, Hornady Black is accurate, reliable, and comes with a variety of bullet options to suit multiple shooting situations. Hornady Black ammo offers multiple, versatile loads that are great for a wide variety of handguns, rifles, and shotguns.
What is the range of Hornady Black ammo?
The effective range of ammo can vary depending on the cartridge, firearm being used, and barrel length. For example, a 12-gauge 00 buckshot load will be effective within 50 yards, while a 308 Winchester has an effective range well over 500 yards. However, in general, Hornady Black ammo will have an effective range commiserate with the chosen caliber.