How Civilizations Fall: Quotes to Remind Us How and Why Empires Collapse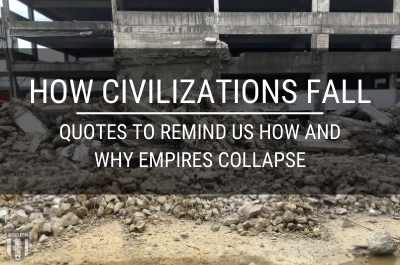 Much like human beings and other animals, civilizations have a life cycle. They begin, they become powerful, they become decadent, they decline. There is no reason to believe that our current civilization will be any different. On the contrary, there is ample evidence that it will decline and fall just as every other great civilization in history has done before it.
This has been a frequent subject of thought and discussion among philosophers and historians. It forms the entire basis of the apocalyptic genre of fiction – what happens when things fall apart?
Many average people consider the question as well. This is why the prepper lifestyle has become increasingly popular. People simply want to be prepared in the event that they find themselves and their families alive at the time civilization decides to fall.
The following quotes are food for thought for light preppers, heavy preppers and non-preppers alike.