David Marshall Williams: The True History of "Carbine Williams"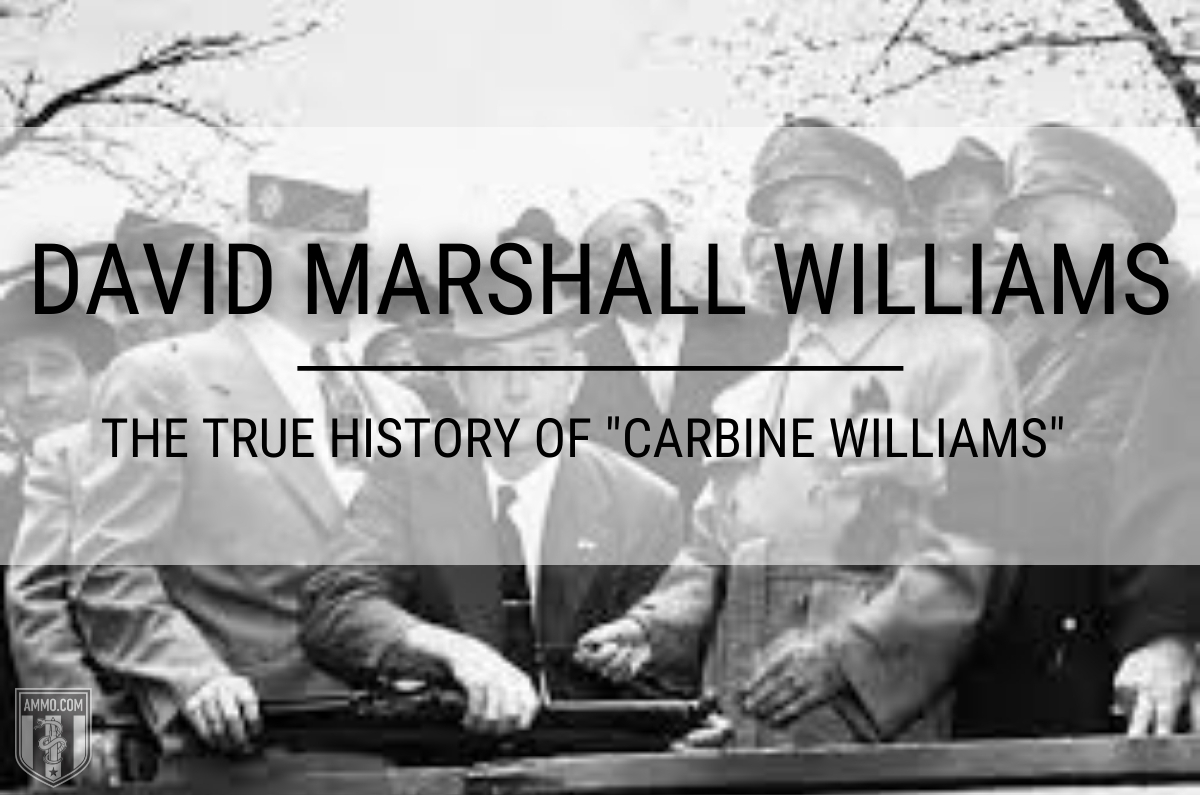 America loves an outlaw. Some outlaws simply need to find their calling, and David Marshall Williams is such a man.
A convicted murderer of a sheriff's deputy, no less, he turned his prison experience into a tale of personal redemption and revolutionized the field of semi-automatic firearms for over a century.
The Misspent Youth of David Marshall Williams
Williams was one of a whopping 12 children born to James Claude Williams, a wealthy and highly influential landowner in Cumberland County, North Carolina. His early life is pure Americana: Expelled from school in eighth grade, he apprenticed underneath a blacksmith. Finding this life lacking in adventure, he lied about his age and enlisted in the United States Navy at 15.
He didn't last long as a sailor, as the Navy quickly sussed out that he was too young for service. He enrolled in the Blackstone Military Academy where he was quickly expelled for theft of government property: several rifles and over 10,000 rounds of ammunition. The enterprising young Williams shipped the stocks to his home, refusing to return them.
In 1918 Williams married and settled down a little bit. He found work as a manual laborer with the Atlantic Coast Line Railroad, however, he didn't last long there, either. He pulled a pistol, shot at a bird and succeeded only in earning a pink slip.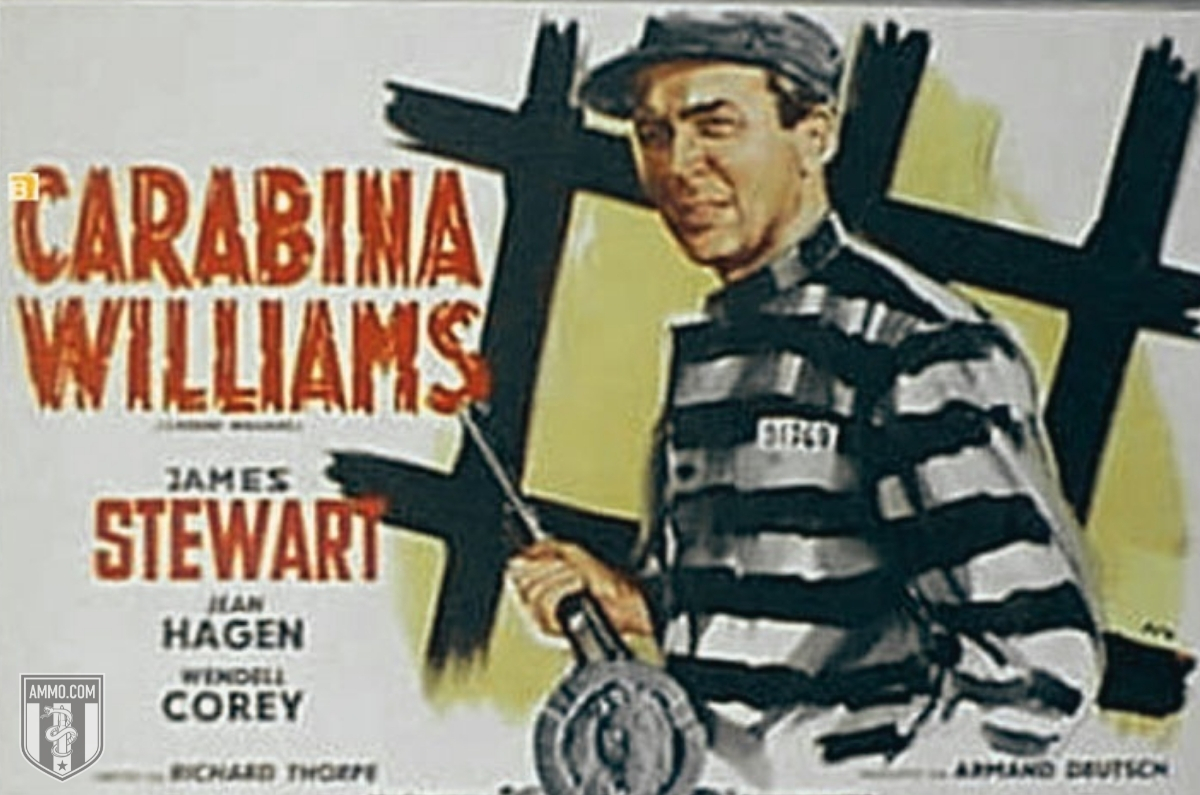 Two Lives Change Forever
Finding that work-a-day life didn't much suit him, Williams turned to the booming and lucrative trade of moonshining. July 22, 1921 would change Williams' life forever.
On this day, Williams' still was raided by local authorities under the command of the Cumberland County Sheriff. Like many moonshiners simply seeking to earn an honest living during the madness of national Prohibition, Williams defended his property and his livelihood with lethal force. While trying to escape, Deputy Sheriff Alfred Jackson Pate was shot twice. He died at the scene.
Williams curiously chose an insanity defense. His first trial for first degree murder ended in a hung jury, with one lone holdout maintaining that Williams was not fit to stand trial. Not wanting to stand trial a second time, Williams copped a plea for second degree murder and narrowly avoided the death penalty. It is lucky for firearms enthusiasts that he did. The Second Act of his life is one of both redemption and genius.
He later admitted to the charge again in court, defending one of his black still employees against charges of first degree murder. Williams received a sentence of 30 years hard labor, to be served at the Caledonia State Prison Farm in Halifax County, North Carolina.
But a man possessed of such genius as Williams would not be crushed under the weight of such a sentence. Indeed, this is where the coal of Williams' early life turned into the diamond that would be the rest.
Birth of a Gunsmith
The prison's superintendent quickly took note of the young Williams mechanical aptitude, putting him to work not breaking rocks, but in the machine shop. It was here that Williams demonstrated his toolmaking skills, fashioning what the prison needed, but did not have and could not afford to buy. Next, he began servicing the weapons used by the prison's guards. It was here that he began to think about self-loading firearms and how he might make them better.
Williams quickly gained the prisoner's ability to scrimp and save seemingly meaningless objects for future use. He spent his nights drawing up plans for how he might improve self-loading weaponry. His mother gifted him a drafting set, in addition to sending him paperwork to file for patents.
When all was said and done, Williams created four different semi-automatic rifles that would revolutionize the field. He did this by inventing the floating chamber and the short-stroke piston, both of which make modern semi-automatic weapons possible. The technicals details are complicated and, more to the point, irrelevant. The important part is that every semi-automatic weapon you own owes everything to two small but significant inventions made by a convicted murderer doing time.
You can view all of the original carbines handcrafted by Williams at the North Carolina Museum of History.
Williams and His Talents Unchained
A massive campaign for clemency was launched by Williams' family. They quickly gained the support of the sheriff Williams surrendered to, as well as the widow of the man he murdered. The campaign was successful. In 1927, North Carolina Governor Angus McLean commuted Williams' sentence to 10 to 20 years. On September 29, 1929, Williams walked free.
Upon release, Williams was finally able to file for patents on his inventions. America's major firearms manufacturers quickly took notice of his designs. Colt was the first company to snap up this still young man who was looking to use his genius to stay on the straight and narrow.
Colt put Williams to work on redesigning their .22 long rifle training weapon, the Colt Ace, using his floating chamber. Williams came up with the Colt Service Model Ace. Williams also invented a conversion kit to transform a .45 ACP into a .22 rimfire for training purposes. Perhaps more impressively, the kit could likewise transform a standard Colt Ace into its new floating chambered version.
Williams stayed at Colt for two years before moving on to the U.S. Ordnance Department. The War Department had Williams modify their .30 caliber Browning machine gun to add a floating chamber. Williams also chambered the weapon for 22s to improve the Browning's utility as a training weapon.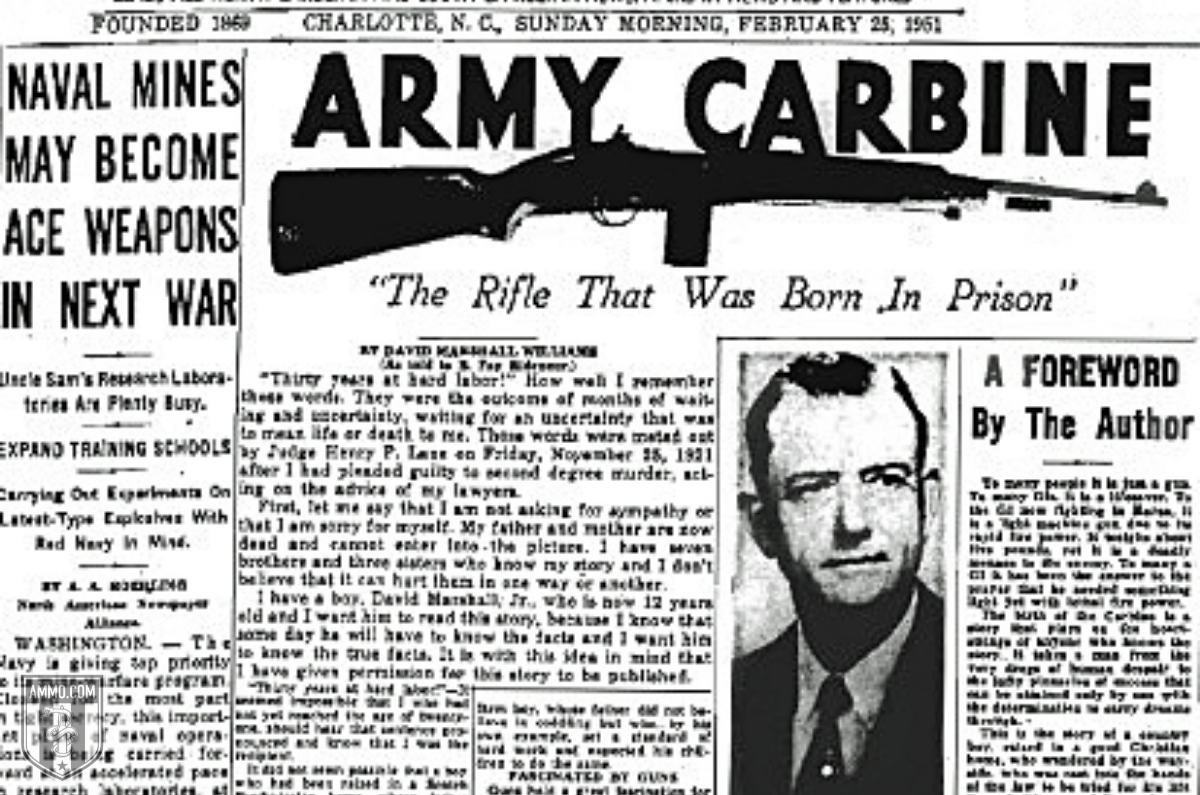 After about four years with the U.S. Ordnance Department, Williams moved on again, this time to Remington. Remington rejected his design for a 22LR semi-automatic rifle, but used his floating chamber in the finished product of two other designers, K. Lowe and C.C. Loomis. As a result, the Remington 550, hit the market in 1941.
By this time, Williams' reputation had come to precede him and in 1939, Winchester Repeating Arms came knocking on his door. He would remain with Winchester for the rest of his career.
Winchester wanted to create a superior version of the M1 Garand rifle. The result was the G30R, which later served as the basis of the Winchester Model 30, a commercial version chambered for 30-30. The prickly Williams came into conflict with management and other Winchester employees during the development of a prototype for the United States Military's newest light carbine. Winchester allowed him to work on his own prototype, which was not completed in time for trials. Photographs of his prototype can be viewed at the Springfield Armory Museum and the Cody Firearms Museum at the Buffalo Bill Historical Center in Cody, Wyoming.
Hollywood Fame for Carbine Williams
After the war, Williams continued to work for Winchester, but Hollywood had also taken an interest. Carbine Williams was released in 1952, starring James Stewart in the title role. Now Williams would transition into the final phase of his life as a celebrity. Upon the film's release, he began touring the nation, making appearances and signing autographs, and enjoying his newly found fame.
Now David Marshall Williams was a household name under his new moniker, "Carbine Williams," a name he would self-apply for the rest of his days.
Old age was not kind to Carbine Williams. Years of hard living had taken their toll and he had a number of health problems during his retirement. He mostly stayed at home with his family, donating his personal collection and workshop to the North Carolina Museum of History. An exhibit dedicated to the life and work of Williams debuted on June 22, 1971.
In 1972, David Marshall Williams moved to Dorothea Dix Hospital in Raleigh, North Carolina. He would remain here for the rest of his days, eventually passing away from cardiorespiratory arrest in 1975.
You can go visit him at the Old Bluff Presbyterian Church outside of Wade, North Carolina.
Williams' innovations revolutionized the world of firearms forever, a gift to the Second Amendment community we still hold and treasure today. But more than this, Williams is a tale of one man's redemption through finding his purpose in life. While always rough around the edges, it is worth noting how all of Williams' legal troubles ended the second he found his purpose in gunsmithing.
While none of us are likely revolutionizing firearms for over a century anytime soon, we can all take a bit of inspiration from Williams' transformation from roustabout and troublemaker to titan in his field.