The Real Life Rifleman: Chuck Connors, American Hero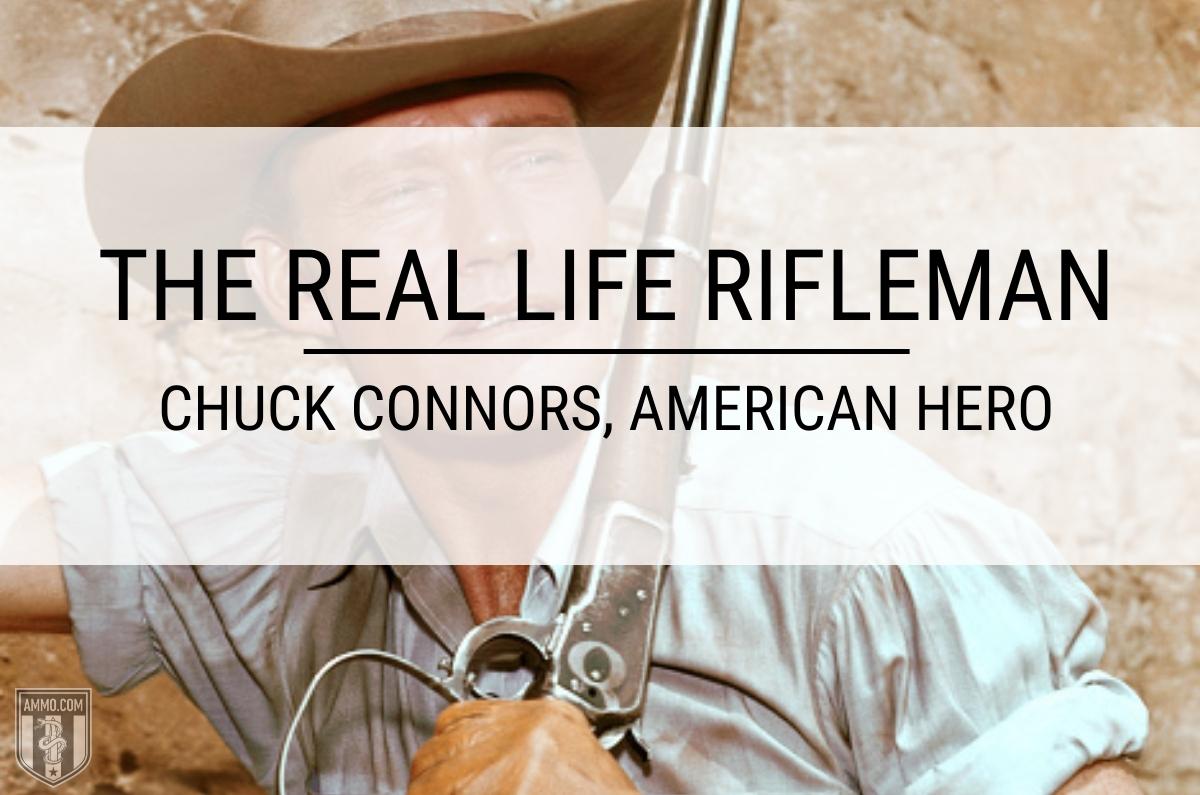 Known primarily for his turn as Lucas McCain on Rifleman, Chuck Connors was also a professional baseball and basketball player, longstanding and prolific character actor, and a conservative activist.
The Early Life of Chuck Connors
Born in Brooklyn in 1921, Connors was the son of two Irish immigrants from Newfoundland and Labrador, which were not at that time part of Canada yet. His father was a longshoreman and his youth was spent in an obsession with the Brooklyn Dodgers.
Chuck Connors attended Our Lady of Perpetual Help Basilica School where he served as an altar boy. It was here that he began his baseball career, playing sandlot ball for the Bay Ridge Celtics, the team of the Bay Ridge Boys' Club, where he spent most of his free time. It was here that he first began to dream of playing for the Brooklyn Dodgers.
Connors was originally slated to attend a vocational high school, but an athletic scholarship got him in the door of the prestigious Adelphi Academy. Here, he played baseball, basketball, and football, while also running track. Upon graduation, he received several scholarship offers but ultimately chose Seton Hall.
In 1942, Connors' country came calling and he enlisted in the United States Army. Connors saw his action stateside, serving as a tank instructor at West Point. He trained the then-famous Doc Blanchard and Glenn Davis ("Mr. Inside" and "Mr. Outside") who played for Army's National Championship-winning 1944 and 1945 football teams.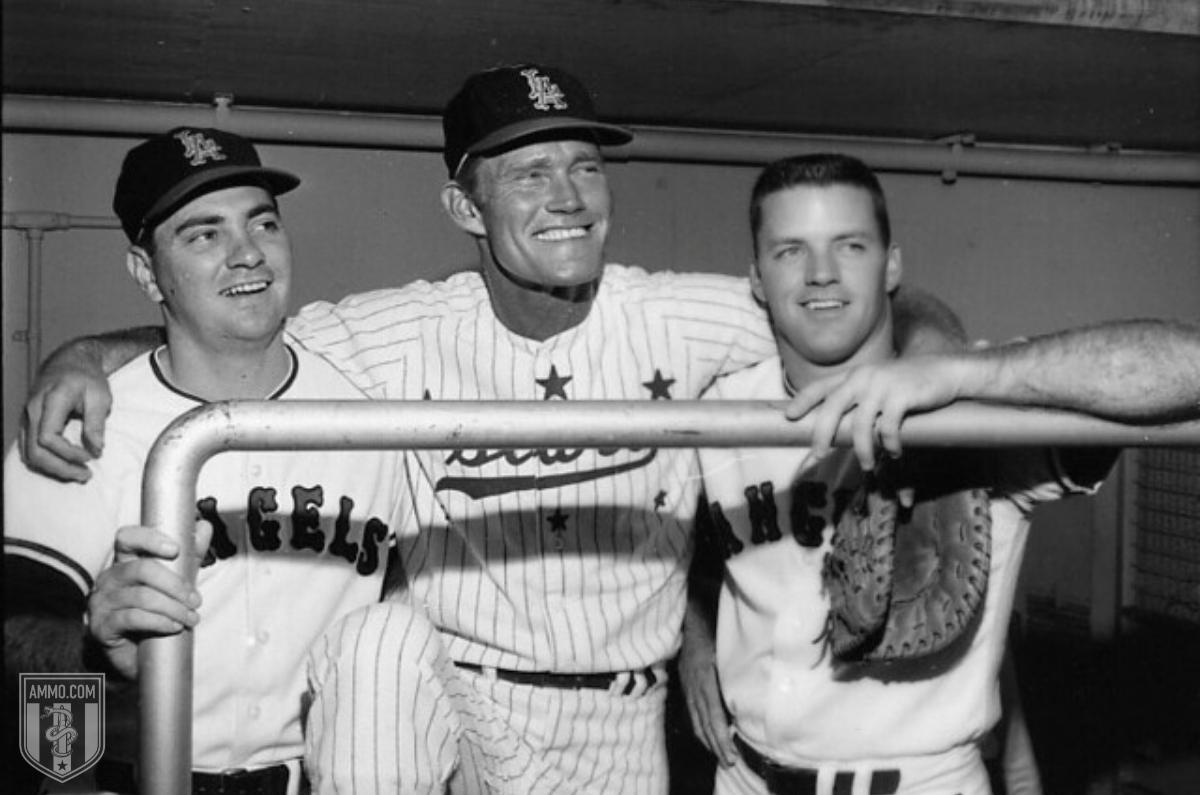 Chuck Connors in Pro Sports
After the War, he picked up his interrupted minor league baseball career. At the same time, he was asked to play basketball by the newly formed Basketball Association of America, the forerunner to today's NBA. He is one of 13 athletes to have played in both Major League Baseball and the NBA, playing 53 games for the Boston Celtics.
Connors did eventually realize his dream of playing for the Dodgers. After a year on the practice squad, he was played in a single game by the Dodgers before being sent back to the minor-league Montreal Royals. His final season in the Majors was with the Detroit Tigers, where he served as a first baseman and sometimes pinch hitter for 66 games.
His greatest achievement in the world of sport, however, was off the field. In 1966, there was a threatened strike of players against the reserve clause, led by Don Drysdale and Sandy Koufax. Connors helped to negotiate a settlement allowing the 1966 season to take place.
Connors was not terribly distinguished as a professional athlete, so he started looking for new ways to make money. Hollywood came calling during his final year playing baseball in 1952, with the Los Angeles Angels, a Cubs affiliate unrelated to the current team. An MGM agent in the stands, amused by Connors charismatic hijinks on the field, cast him in the role of a police captain for the Tracy-Hepburn picture Pat and Mike.
Chuck Connors Goes Hollywood
Thus began Connors run as a successful character actor. He appeared supporting a who's who of 1950s stars, including Burt Lancaster, Gregory Peck, and Charlton Heston. During this period of his career, Connors did yeoman's work appearing on a cornucopia of popular shows from the Golden Age of Television, including anthology series like Schlitz Playhouse, Screen Directors Playhouse, Four Star Playhouse, Matinee Theatre, and General Electric Theater, which was hosted by Ronald Reagan. He also appeared on Westerns like Gunsmoke and Wagon Train.
Connors most popular role, however, is inarguably his turn as Lucas McCain on The Rifleman. The Rifleman (so named for his 44–40 Winchester model 1892) was very different from other Westerns of the time. It did not indulge in the self-reflective, "morally ambiguous" narratives of later Westerns. McCain is a square, straight and narrow kind of guy. But The Rifleman had a much darker tone than, for example, Gunsmoke.
While there were always good guys and bad guys, the good guys didn't always win. Running for 168 episodes, it quickly rocketed to number four in the ratings on the strength of Connors' quiet charisma and the show's impeccable and compelling writing. It was the first show to feature a widowed father raising a son alone, a trope that would later come to be de rigueur among single dad shows from the era when divorce was still a social taboo.
Connors himself was married a total of three times. The first was to Elizabeth Jane Riddell Connors, whom he met at one of his baseball games. He met his second wife, actress Kamala Devi on the set of the 1962 film Geronimo. He met his third wife, Faith Quabius, on a third set, that of the 1973 dystopian classic Soylent Green.
After The Rifleman ended, Connors moved onto Branded, which had similarly superior writing for a television show of its era. The show told the story of Jason McCord, an Army cavalry soldier wrongly accused of cowardice during the Indian Wars. Much like The Rifleman, it largely dealt with McCord's wanderings from place to place, piggybacking off of his experience in anthology television. The show was much less popular and much shorter-lived, lasting only two seasons.
After The Rifleman and Branded, Connors struggled in the film industry. This wasn't due to a lack of popularity. On the contrary, it was because Connors was so closely associated with the role of Lucas McCain, a beloved and iconic character, that he found it difficult to find work. All casting agents could see was Lucas McCain.
Still, Connors was able to find work. And while few things can rival The Rifleman in terms of writing and storytelling, he kept busy and kept paid, taking on roles in the film version of Flipper and Night Gallery, the latter a return to his days on the anthology television circuit in the 1950s.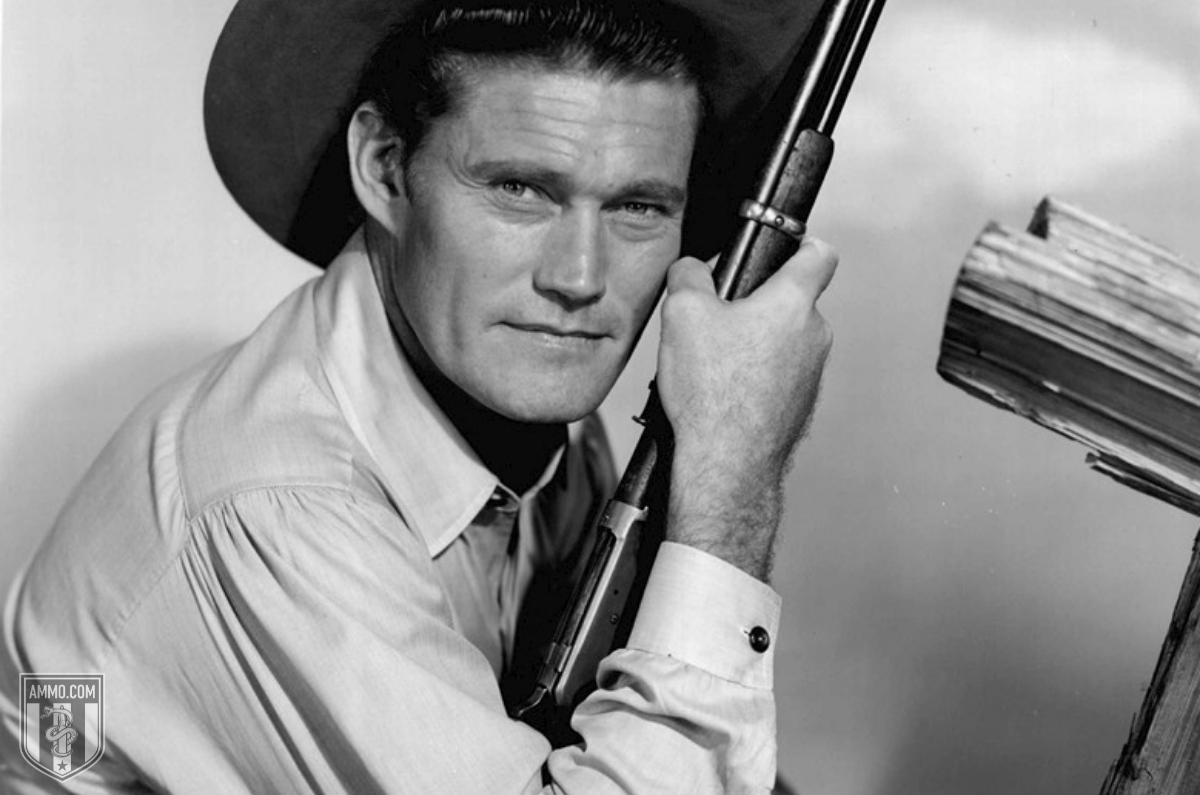 An Unlikely Friendship
The Rifleman was one of the few Western shows available for viewing in the Soviet Union. This was, in no small part, thanks to it being the favorite show of the Soviet Premier, one Leonid Brezhnev. The pair eventually met in June 1973, while the Premier was on a trip. Connors presented him with two Colt Single Action Army pistols. The pair got along famously, with Brezhnev inviting Connors to the Soviet Union in December of that year. Connors petitioned the government to be part of the official delegation for Brezhnev's funeral in 1982 but was denied.
Despite his friendship with Brezhnev, Connors was a strong supporter of conservative Republican candidates. He was a prominent supporter of President Richard Nixon, and campaigned diligently for Senator Barry Goldwater's quixotic campaign in 1964. He campaigned vigorously for personal friend Ronald Reagan in all three of his major bids and marched in support of the Vietnam War.
Connors was a hero to young children and grown men alike because of his role in The Rifleman. The writing drove the show, but Connors's everyman presence made the role relatable to a broader audience. His acting was steeped in the stage traditions that bled over into television at the dawn of the medium.
He was also among the last of a dying breed: the patriotic show business person. By the 1960s, it was hard to take a stand against student protests and urban rioting even if you were John Wayne.
But Chuck Connors wasn't John Wayne. Like Ronald Reagan, he was a television actor, not a film star, who had the strength of his convictions despite never being an a-lister.
In his golden years, he played host to the Chuck Connors Charitable Invitational Golf Tournament. All proceeds went to the Angel View Crippled Children's Foundation. Frank Sinatra was a regular participant.
Chuck Connors died at Cedars-Sinai Medical Center on November 10, 1992. You can go visit him at the San Fernando Mission Cemetery in Mission Hills, California.