Best 7.62x39 Hunting Ammo: Putting Bambi in the Freezer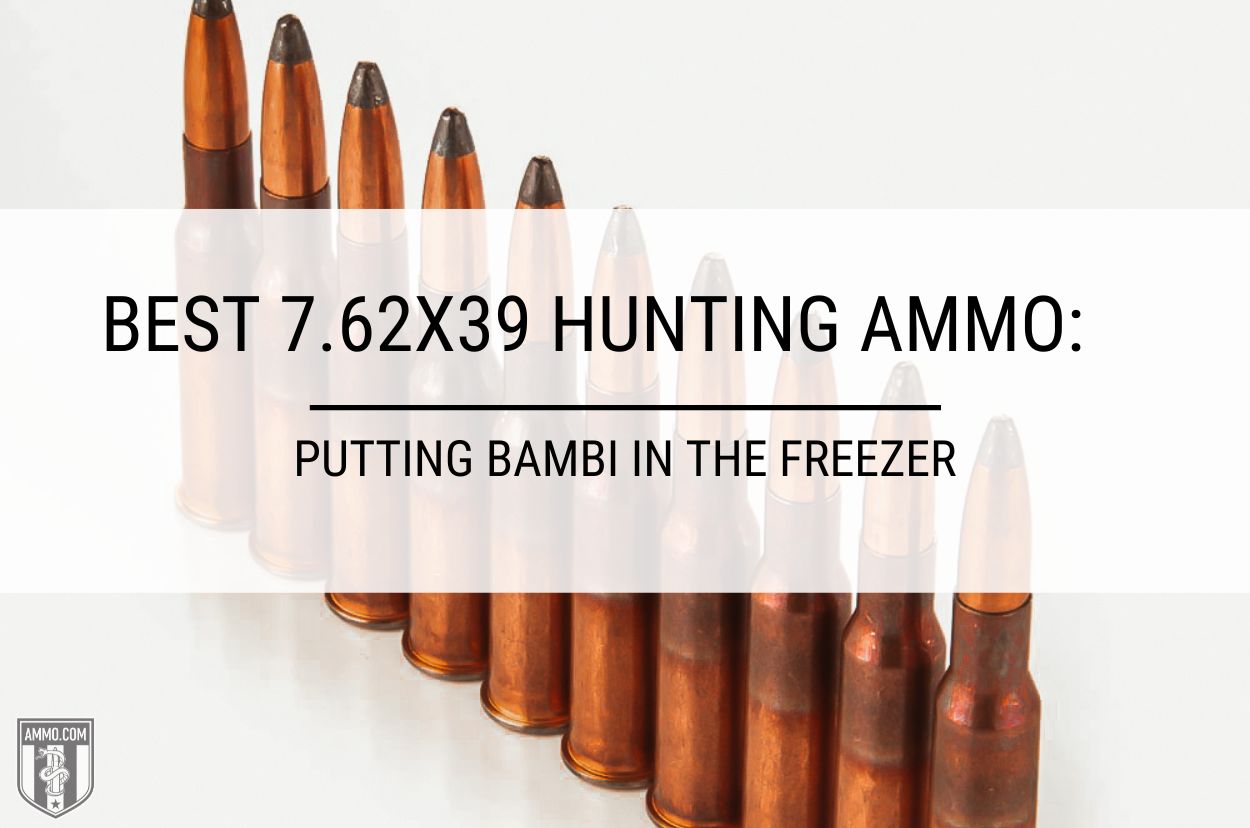 If you're looking for the best 7.62x39 hunting ammo, then you've found the right article.
We are going to tell you exactly what to load into your AK mags, Ruger Mini-30, or SKS stripper clips to make sure that trophy buck ends up on your wall and not another "I almost got him" story.
If you simply cannot wait, the best 7.62x39 hunting ammo is Hornady Black 123 gr SST.
If you're new to the 7.62x39 and aren't sure what to look for in a hunting round, check out this Buyer's Guide HERE. Otherwise, scroll down just a little more for the list…
The Best 7.62x39 Hunting Ammo on the Market
1) Hornady Black 123-grain SST
2) Federal Fusion 123 grain FSP
3) Winchester Deer Season XP 123 grain Extreme Point
4) Nosler 123 grain Expansion Tip
Hornady Black 123-Grain SST
Specs
Casing: Brass
Bullet Type: Super Shick Tip
Bullet Weight: 123 grains
Muzzle Velocity: 2,350 fps
Muzzle Energy: 1,508 ft-lbs
Pros
Polymer tip for smoot semi-automatic feeding
Developed for rapid expansion and bullet weight retention
Easier to find and less expensive than other hunting rounds
Cons
More expensive than steel case FMJ ammo
Why We Chose It
When you need excellent terminal ballistics, deeper penetration, and field-tested reliability, you should reach for Hornady Black 123-Grain SST ammo. Perfect for deer hunting and home defense, the Hornady SST is a true "jack-of-all-trades" bullet that fills multiple shooting roles.
Developed with whitetail hunting in mind, the Hornady Super Shock Tip bullet utilizes a polymer tip to protect the hollow point and ensure smooth semi-automatic feeding. When it encounters soft tissue, the polymer tip plunges into the hollow point and acts like a wedge to initiate expansion almost immediately.
The Hornady SST was developed for supreme accuracy, sporting a secant ogive, boat tail profile for an incredibly accurate and aerodynamic bullet holding true to Joyce Hornady's, "Ten bullets, through one hole" view on accuracy.
In terms of ammo availability, the SST is easier to find and is less expensive than other hunting rounds, making it our top choice to put venison in your freezer this hunting season.
Federal Fusion 123 gr FSP
Specs
Casing: Brass
Bullet Type: Fusion Soft Point
Bullet Weight: 123 grains
Muzzle Velocity: 2,350 fps
Muzzle Energy: 1,508 ft-lbs
Pros
Proven deer hunting bullet design
Affordably priced
High availability
Cons
Not the best for long range shooting
Why We Chose It
Federal Premium Ammunition and deer hunting go together like backstraps and bacon grease.
Federal Fusion is a proven deer hunting round and is the go-to choice of thousands of sportsmen every fall. Similar to the older Federal Power-Shok ammo, Federal Fusion was purpose-built with deer hunting in mind.
The Fusion 123 grain soft point provides quick expansion and some of the highest weight retention in the industry to maximize penetration and reliably reach the vital organs.
Coming in as the least expensive American-made ammo on our list, Federal Fusion rounds are cheap enough to use them for target shooting and varmint hunting, while powerful enough for to put down any deer, hogs, or coyotes who dare come near your hunting blind.
Not only does Federal help keep precious dollars in your wallet, but it is also plentiful and easy to find. This means you should have a much easier time stockpiling rifle ammo for plinking and hunting.
The only downside to Federal Fusion is its bullet design. Soft point bullets, by nature, are not extremely aerodynamic. This means they are not ideal for long range shooting. However, we found that this ammo was perfectly fine for shots around 200 yards, which is more than enough range for most hunting situations.
Winchester Deer Season XP 123 gr Extreme Point
Specs
Casing: Brass
Bullet Type: Winchester Extreme Point
Bullet Weight: 123 grains
Muzzle Velocity: 2,380 fps
Muzzle Energy: 1,547 ft-lbs
Pros
Purpose-built for deer hunting
Oversized hollow point for massive impact trauma
Polymer tip for rapid expansion
Cons
Why We Chose It
If you're looking for a purpose-built deer hunting round, then look no further than the Winchester Deer Season XP.
Deer Season XP fires the new Extreme Point bullet. Descended from the Power Point bullet fired by Winchester Super X cartridges, the new Extreme Point was developed to inflict maximum impact trauma and massive wound channels for a clean and quick kill.
Winchester started with an oversized hollow point to increase bullet expansion. Furthermore, they topped the bullet with a polymer tip to not only streamline the bullet for increased accuracy, but to also initiate bullet expansion upon impact.
The result is a bullet that hits like a Mack truck and really does a number on whitetail deer and hogs.
The only downside to Deer Season XP is that it can be very tricky to find this ammo in 7.62x39. However, if you can get your hands on it, you won't be disappointed!
Looking for more ammo options, check out our Winchester 7.62x39 ammo page!
Nosler 123 gr Expanding Tip Lead-Free
Specs
Casing: Brass
Bullet Type: Spitzer E-Tip
Bullet Weight: 123 grains
Muzzle Velocity: 2,350 fps
Muzzle Energy: 1,508 ft-lbs
Pros
Extremely accurate
Reliable expansion at low velocities
Exceptional terminal ballistics
Cons
Why We Chose It
If you like firing the best of the best, then the Nosler 123 grain Expanding Tip 7.62x39 hunting ammo is what you're looking for.
Loaded with extreme precision for accuracy downrange, Nosler E-Tip ammo is one of the best options for long-range hunting ammo you can load into your Ruger American Ranch or Mini-30.
Not only do their Spitzer E-Tip bullets have rapid and devastating expansion results in medium sized game, but they are also lead-free for states and territories that restrict the use of lead bullets.
This Nosler ammo was some of the most accurate ammunition in our test rifles and the terminal ballistics will bring tears of joy to your eyes.
There's only one problem…this ammo is about as rare as hen's teeth and is pricey to boot. However, if you want the best of the best, Nosler Expanding Tip 123 grain ammo is hands down the best choice.
Specs
Casing: Brass
Bullet Type: Jacketed Soft Point
Bullet Weight: 123 grains
Muzzle Velocity: 2,461 fps
Muzzle Energy: 1,653 ft-lbs
Pros
Least expensive option
Easy to buy in bulk
Highest muzzle velocity and energy in the top 4
Cons
Higher potential for over penetration
Why We Chose It
Rounding out our top 5 list we come to the only non-American made ammo selection in the Prvi Partizan 123 grain jacketed soft point.
Like the Federal Fusion, the Prvi Partizan (PPU) utilizes the older soft point bullet design to maximize bullet expansion and terminal ballistics. This is great for medium game hunting, but it also suffers from the same lack of long-range potential.
However, the PPU ammo makes up for this by having the highest muzzle velocity and energy on our top 5 list. This gives it a flatter trajectory than the other four ammo options, but it also introduces the potential for over penetration.
Coming in at the lowest cost per round on our list, the Prvi Partizan 123 gr JSP is a great option when you want to buy bulk 7.62x39 ammo for both deer hunting and for saving a few boxes for self-defense purposes.
Parting Shots
The 7.62x39 is an intermediate cartridge that is more than capable of putting meat on the table just as well as a 300 Blackout, 30-30, or 308 Winchester. Combined with any of our top 5 selections, your AK or (converted) AR-15 carbine will provide you a semi-auto hunting rifle that will be more than capable of filling your deer tags every season and keep your freezer stocked with more venison than you can eat.
To check out all of the 7.62x39 ammo we have in stock, check out our full 7.62x39 ammo page or keep scrolling if you'd like to read our buyers guide to 7.62x39 ammo.
Buyer's Guide: What to Look for in 7.62x39 Self Defense Ammo
Welcome to our buyers guide for 7.62x39 hunting ammo. There are a lot of myths and misunderstandings about 7.62x39 that we want to clear up in this guide. In it we will discuss what cartridge cases you should look for, the best bullet for hunting rounds, and how to save money on 7.62x39 ammo.
Let's go!
Steel Case vs Brass Case Ammo
A lot has been said about the downsides of using steel cased ammo all over the net. If you want to read our full write-up about it, click on this link: Steel Cased vs Brass Cased Ammo.
If you want the Cliff's Notes version instead, here's the rundown:
Steel cased ammo is great for use in the Soviet designed AK-47 or SKS
Brass cased ammo can have problems in the AK or SKS due to violent extraction, causing a stuck case
The AR-15 carbine, Ruger Mini-30, and bolt action rifles function best with brass cased ammo
Generally, accuracy will be better when shooting brass cased ammo
Steel cased ammo is typically less expensive and easy to buy in bulk
Although this is just the tip of the iceberg, the bottom line is that most semi-automatic rifles or handguns on the market should be able to fire both brass and steel case ammo. The important thing is to test your chosen ammo in your rifle at the range before taking it into the woods or needing it for self-defense.
Expanding vs FMJ Bullets
When it comes to hunting ammo, generally you always want to use an expanding bullet to reduce over penetration.
It's true that the 7.62x39 is an effective round and a boat tail full metal jacket (FMJ) bullet is very accurate. However, that doesn't mean it's the best choice for hunting varmints or medium-sized game.
For hunting, you want expanding bullets to maximize damage, increasing blood loss, and limiting the pain and suffering of the animal. Most hunting rounds utilize a soft point or hollow point to initiate expansion and increase your chances of damaging a vital organ.
FMJ bullets are great for target practice and plinking, but not the best choice for home defense.
With so many different hunting ammo variants, you have plenty of options for finding the best hunting rounds for your rifle.
Save Money on 7.62x39 Ammo
One of the best aspects of this round is that bulk 7.62x39 is extremely affordable. This helps you keep your cost per round as low as possible by buying a lot of ammo all at once. Although the upfront cost is a little higher than buying one box at a time, buying in bulk ensures that you always have plenty of ammo for target practice or plinking.
If you are in a tight budget, no need to worry. You can still buy individual boxes at a regular price. Do not forget to check out our Tulammo 7.62 ammo, or PMC 7.62x39 ammo for more ammo options.
However, there are two very different types of bulk ammo that we want to talk about. Let's get into it!
Surplus Soviet Ammo
If there's one thing the Soviet Union was good at, it was producing ammunition. During the decades following WWII, the Soviets mass produced 7.62x39 for the AK-47, making it one of the most common cartridges across the globe.
The Russians hermetically sealed their ammo in spam cans so it would be combat-ready even decades after it was manufactured.
After the fall of the Soviet Union, the Russian Federation looked to liquidate some of its surplus ammo stockpiles by selling it to us Capitalist dogs at an extremely low cost per round.
Surplus ammo sounds great, doesn't it?!
Surplus ammo is excellent if you want something cheap to shoot, but it has a few problems you need to be aware of.
The biggest issue is that it's corrosive.
To be more specific, the Berdan primers used by the Russians had corrosive salts in them. To read more about corrosive ammo, check out this article: Corrosive Ammo Explained.
To summarize the article in a few words, you can safely shoot corrosive ammo in any of your firearms so long as you follow the cleaning procedure outlined in the article. It adds an extra step of complexity that most shooters don't want to deal with.
Berdan primers are also a pain in the buttstock to remove, so if you plan on handloading your cases you should probably skip surplus ammo.
And this leads us into the second category of bulk ammo, which is…
Modern Bulk Ammo
Modern bulk steel cased ammo comes from manufactures like Wolf, Tula, Brown Bear, and Barnaul.
Generally, it is slightly more expensive than surplus military ammo, but it has some major benefits too.
First off it is non-corrosive. This means no extensive cleaning sessions after a trip to range. Instead, you can crack open a cold one and spend more time dogging on your shooting buddy's poor marksmanship skills!
Although these rounds will still be steel cased and not suitable for reloading, most shooters find that modern bulk ammo is more consistent and accurate than older surplus ammo. This is thanks to tighter modern manufacturing tolerances.
This is not to say that surplus ammunition is not accurate, as many shooters report great accuracy from spam can ammo. However, most shooters find that modern ammo is more consistent than older surplus ammo.
Tulammo and Wolf Ammo are particularly popular with the AK and SKS crowd, as they offer inexpensive ammunition that won't break the bank and are often more consistent than old Soviet surplus ammo.
If you're wondering what the best AK ammo is, check out this article: 4 Best AK-47 Ammo Picks.
Back to the Best 7.62x39 Ammo for Self Defense
Now that you have a clearer understanding of what to look for in your hunting rounds, let's get back to our top 5 list by clicking HERE!