Exotic 9MM Ammo: Explained and Ranked by Experts at Ammo.com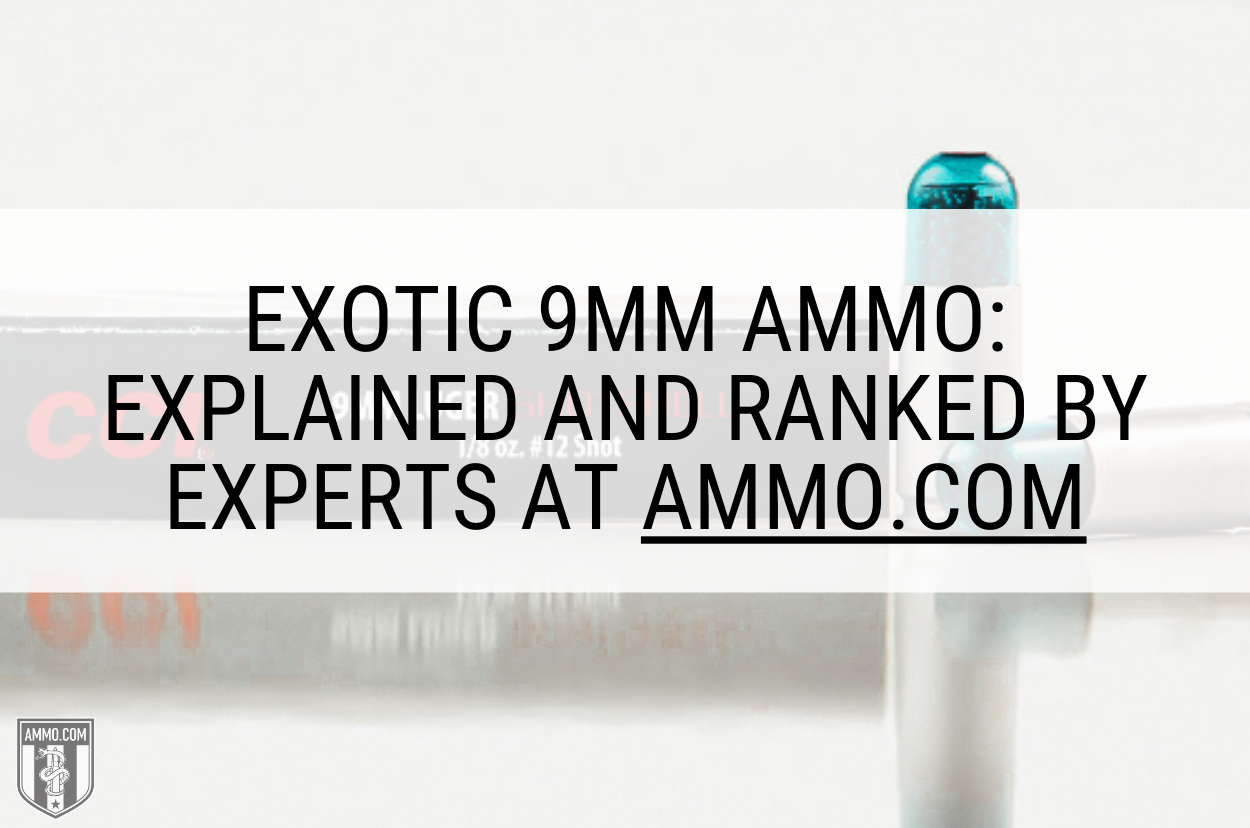 Exotic 9mm ammo is creative, to say the least, but is it worth your hard-earned money?
Can you trust your life with unconventional or even wacky bullets? Such as incendiary rounds or external hollow points?
Yes, but I don't recommend trusting just any exotic 9mm ammo.
Most exotic ammo should only be used in a controlled environment, such as at the gun range, while other rounds are definitely worth loading into your EDC.
Below you'll find my top 3 picks for 9mm exotic ammo, and then I'll explain my reasoning behind choosing to shoot exotic ammo.
Let's get started!
Top 3 Picks for Exotic 9mm Ammo
Underwood 9mm +P+ Xtreme Defender - 9/10 - Best Overall
G9 9mm 80gr External Hollow Point - 8/10 - Runner-Up
Fiocchi 9mm 124 Grain JHP - 7/10 - Best Imported Ammo
Best Exotic 9mm Handgun Ammo Overall
Specs
Casing: Nickel-Plated Brass
Bullet Type: XD
Bullet Weight: 90gr
Muzzle Velocity: 1,550 fps
Muzzle Energy: 480 ft-lbs
Pros
Hard-hitting for a 90-grain bullet
Reliable
Trusted brand
Cons
Expensive
More recoil than the average 90gr bullet
Why We Chose It
Underwood 90gr 9mm +P+ XD is the best exotic 9mm ammo overall because it's ridiculously reliable and packs a punch compared to other 90-grain bullets.
Shooters who aren't afraid of a little extra kick (comparable to a 45 ACP) will quickly fall in love with these exotic rounds.
This ammo is so dependable because of the nickel-plated brass casing and the high-quality powder Underwood uses.
Nickel-plated brass is stupid smooth, so the empty case is 10x less likely to catch and cause a malfunction.
While you never see the gunpowder, it is one of the most essential aspects of ammo. You need a powder that will light no matter what when the primer goes off, that's precisely what this Underwood +P+ ammo does.
In case you're wondering, "What the heck does +P+ mean?" It simply means they put more powder in the case than the average round while maintaining safe pressures. There's also +P, which we will discuss below.
The downsides to the best exotic 9mm ammo are its cost and the increased recoil from the extra power.
So if you're sensitive to recoil, these are not the rounds for you. The increased recoil can also make a shooter less accurate as they try to anticipate the recoil instead of squeezing the trigger smoothly.
With that said, I would still trust these rounds in a self-defense situation because I'm not afraid to spend a little extra if it means I'm getting a higher-quality product. I want to stop the threat as quickly as possible, so the extra power will help, especially if they wear thick clothing.
You should test Underwood 9mm +P+ 90 XD for yourself before you need it and don't have it.
Honorable Mentions
If you're looking for a round with a little less kick, there's also Underwood 9mm +P 90 Grain Xtreme Defender. It's basically the same round with less powder than the +P+, so it has less recoil.
However, that also means it has slightly lower muzzle velocity and energy.
G9 9mm 80gr External Hollow Point
Specs
Casing: Brass
Bullet Type: External Hollow Point (EHP)
Bullet Weight: 80gr
Muzzle Velocity: 1,480 fps
Muzzle Energy: 389 ft-lbs
Pros
High-quality ammo
No jacket separation
Excellent barrier penetration
Low recoil
Cons
Expensive
Lightweight bullet
Why We Chose It
The Underwood 90gr +P+ ammo only narrowly beat out the G9 Defense 9mm 80gr EHP because of its high price. However, that should be expected from top-of-the-line ammo that utilizes the latest technologies.
With G9 EHP bullets, you get the piece of mind, knowing there is ZERO jacket separation and incredible barrier penetration, all packaged with little recoil.
G9 Defense EHP bullets have no jacket separation because they're machined from a solid piece of copper, so there's no need for a metal jacket like a full metal jacket (FMJ) bullet has. This allows the bullets to be lighter, which means less recoil and higher velocities, but it has a couple of downsides that we will discuss below.
The EHP bullet is also engineered to penetrate drywall and windshields, which is ideal for law enforcement and self-defense scenarios.
While it is "barrier blind," it's also designed to "slow quickly in tissue to prevent over-penetration" while simultaneously transferring the maximum amount of energy to the target, making it a prime choice for defensive situations.
As I mentioned, the cons are the price tag and the lightweight bullet. The high price comes from the patented bullet design, so that you won't find the EHP bullet on any other ammo (but there are similar-looking bullets on the market).
The lightweight bullet can be a pro or con, depending on your take. While it lowers the recoil, which is a pro for many people, it also reduces the energy. Lower energy means less knockdown power. The +P version of these rounds helps eliminate that concern, as well as the bullet design.
Overall, I'm blown away by the G9 Defense 9mm 80gr EHP with its barrier penetrating abilities, reduced over-penetration, and low recoil.
These rounds are perfect for recoil-sensitive shooters who still want to carry a high-quality exotic 9mm round for protection.
Honorable Mentions
The Sellier & Bellot XRG Defense 9mm 100 Grain SCHP is another solid copper bullet. It's exotic because it's not made in the USA but is a traditionally shaped hollow point bullet.
It's priced perfectly for regular practice and carrying it without having to refinance your home. However, the ballistics are not as good as the G9 EHP 9mm Luger rounds, nor does it penetrate through barriers as efficiently.
Specs
Casing: Nickel-Plated Brass
Bullet Type: Jacketed Hollow Point (JHP)
Bullet Weight: 124gr
Muzzle Velocity: 1,100 fps
Muzzle Energy: 333 ft-lbs
Pros
Trusted brand
Ultra reliable
Dependable bullet design
Cons
Low muzzle velocity & energy
Why We Chose It
Fiocchi is one of the most trusted ammo brands imported into the US. They manufacture reliable 9mm self-defense ammo, among other calibers.
This JHP ammunition functions flawlessly because it is encased in a nickel-plated brass casing, which is smooth like butter, nearly eliminating all malfunctions caused by sticky brass.
The jacketed hollow point has been trusted for generations to provide solid accuracy while reducing the risk of over-penetration.
These rounds are priced just right for the quality of the ammo you get when you buy a box or case of Fiocchi 124gr 9mm JHP.
I find the velocity and energy a little lacking compared to other rounds. However, this is partly due to the heavier bullet, so we're not comparing apples to apples in that regard. One might think that the heavier bullet would help with stopping power, though.
Above all, Fiocchi 9mm 124 Grain JHP can be trusted in a home defense situation to end the threat to yourself and your family because of the low probability of a malfunction and the proven effectiveness of the JHP bullet.
Be sure to check how much Fiocchi 124gr 9mm JHP we have in stock today.
Honorable Mentions
If you're looking for an exotic round that's made in the USA, then check out CCI 9mm 53 Grain #12 Shot. This is unique ammo because it's multiple pellets instead of a single projectile, very similar to traditional shotgun ammo.
In essence, you can have some of the benefits of a shotgun in your semi-automatic Glock when you use this ammo. I wouldn't recommend using it for home defense; you might as well use a shotgun and buckshot for that, but it would be handy for rodents and pests.
I will warn you that the case is aluminum, so your pistol, whether it's a Glock, Remington, Ruger, Sig, or Walther, might not like it and malfunction more than it typically does.
How to Choose the Best Exotic 9x19 Parabellum Handgun Ammunition for Your Situation
Most of the time, exotic 9mm ammo is used at the range for fun, but some of it is designed for concealed carry purposes. So how do you know which is which?
The best way is to test it and consider your situation seriously.
Let's continue by defining "exotic ammo."
What is Exotic Ammo?
Exotic ammo can vary widely and be a tricky term to define. However, after asking many shooting enthusiasts and spending hours researching the term, I've concluded that you can define it in two ways.
The first and most popular is the wacky non-traditional bullets. Projectiles like nails, oddly shaped bullets, two slugs or multiple shot sizes in one shotgun shell, incendiary rounds, frangible bullets, and armor-penetrating rounds can all be classified as exotic ammo.
The other way is to take the word "exotic" at its meaning and refer to exotic ammo as any ammo imported into the US. Most gun nuts don't mean this when they use the terms exotic ammo, but I added a few to the list above, just in case.
That's why brands like Barnes, Blazer, Federal American Eagle, Hornady, PMC, Speer Gold Dot, and Winchester were omitted above.
Intended Use
Whenever you're buying ammo for any gun, whether it's a 357 magnum handgun, 300 Blackout carbine, or 12 gauge shotgun, you should always consider how or why you'll be using it, as some ammo is better suited for the range over self-defense.
For instance, CCI 9mm 53 Grain #12 Shot might be fun to try and shoot clays using your pistol; however, it makes a terrible protection round as it's much less lethal than Underwood 9mm +P+ 90gr Xtreme Defender.
Cost
Exotic rounds cost more than regular 9mm rounds because they're specialty items. It's unlikely that you'll need to stock up thousands of exotic rounds, as you would with target ammo, so it's okay to splurge a little.
Reloading is often an excellent way to save money on ammo, especially for standard calibers like 9mm and 380 ACP, but that is not the case for exotic ammo, as it's much more difficult to load and, at times, requires special tools. So you're better off just buying factory ammo.
Reliability
If you're using exotic ammo for home or self-defense, you need it to be reliable. Reliable ammo goes bang when you pull the trigger and cleanly ejects while cycling.
If you have a lot of malfunctions while testing your ammo at the range, I recommend continuing your search before using it as your concealed carry ammo.
Frequently Asked Questions
Are there special types of 9mm ammo?
Yes, there are special types of 9mm ammo. There are many different types of bullets, powder configurations, and cases; each combination has specific benefits that make it best in certain circumstances.
What is the most lethal 9mm round?
The most lethal 9mm round is the one you're most accurate with. Generally, a JHP bullet is precise and lethal.
What 9mm ammo is most powerful?
+P+ 9mm ammo is the most powerful.
Parting Shots
Exotic 9mm ammo comes in many forms, so you'll find some that provide a fun day at the range or protection based on your needs and budget.
My top pick for the best exotic 9mm ammo is Underwood 9mm +P+ XD because it's reliable, reasonably priced, and produced by a trusted brand.
Be sure to check out all the 9mm ammo we have in stock at Ammo.com!