Best 300 Blackout Ammo for a 7.5" Barrel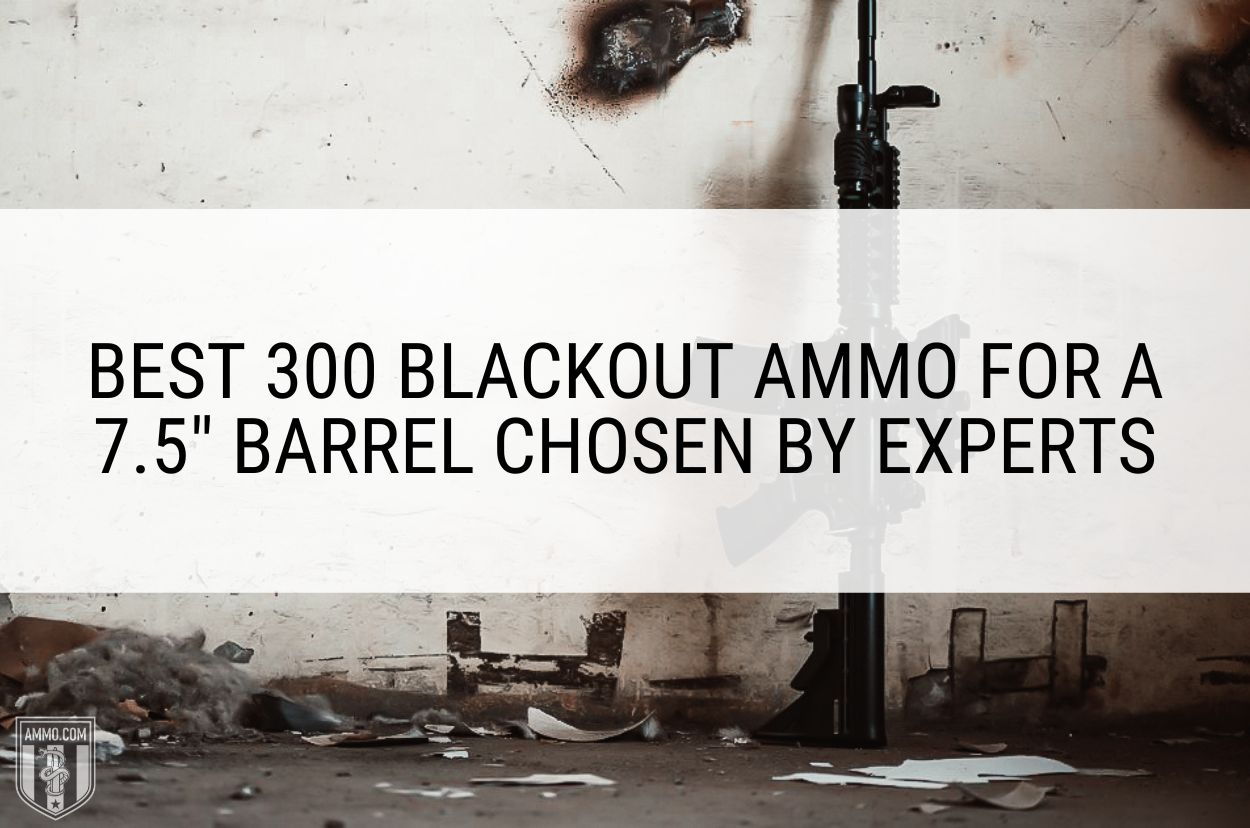 Now that you've bought a 7.5-inch barrel for your 300 Blackout, you need to know which ammo will work best.
After hours of research and testing, I've concluded the best 300 Blackout ammo for a 7.5" barrel is Barnes Precision Match 300 AAC Blackout 125 Grain OTM BT.
However, a few others challenge the Barnes 125gr for the title.
So if your rifle prefers another brand, don't worry; we have you covered, from the best defensive ammo to the best plinking ammo and everything in between.
The Best 300 Blackout Ammo for a 7.5" Barrel On the Market
1) Barnes Precision Match 300 AAC Blackout 125gr - Best Range Ammo Overall - 9/10
2) Black Hills Ammunition 300 AAC Blackout 110gr TTSX - Best Defensive Ammo - 9/10
3) Winchester Super Suppressed 300 AAC Blackout 200gr Open Tip - Best Suppressed Ammo - 8/10
4) Ammo Inc. 300 AAC Blackout 150gr FMJ - Best Plinking Ammo - 7/10
Best 300 Blackout Ammo Overall
Specs
Casing: Brass
Bullet Type: Open Tip Match Boat Tail
Bullet Weight: 125gr
Muzzle Velocity: 2,215 fps
Muzzle Energy: 1,362 ft-lbs
Pros
Trusted Brand
Very Accurate
Fast
Lightweight Bullet
Cons
Why We Chose It
Barnes bullets are used by many ammunition manufacturers and reloaders because of their high-quality standards.
Their bullets are some of the best on the market today, especially the OTM BT. However, you'll pay a higher price for the better bullet.
The Open Tip Match Boat Tail bullet is incredibly accurate because it has a high Ballistic Coefficient (BC). While short barrel rifles (SBRs), or rifles with a barrel shorter than 16 inches, are less than ideal for long-distance shooting, they can still be accurate when using this ammo.
When shooting the 300 BLK at the range, I prefer to have a light recoil, and the 125-grain lightweight bullet delivers this much better than a heavier bullet.
Plus, the lower recoil helps me to be more accurate.
The Barnes Precision Match 300 AAC Blackout 125gr is expensive per round, so if the low recoil isn't the factor that prevents you from getting a sore shoulder, the high price will be. Yet it's still the best 300 blackout ammo for 7.5" barrel.
Honorable Mention
A slightly less expensive option with comparable ballistics is Winchester USA Ready 300 AAC Blackout 125gr OT.
There's a lot to love about this ammo, starting with it being made in the USA. I love to support companies that provide Americans with jobs.
Winchesters Open Tipped bullet is another thing worth mentioning. It's designed to be an incredibly aerodynamic range projectile, which makes it accurate without breaking the bank.
I choose to shoot Winchester Ammunition year after year because of the reasonable pricing and reliability I have tested in multiple calibers, including the 300 AAC Blackout.
Best Defensive Ammo for the 300 AAC Blackout
Specs
Casing: Brass
Bullet Type: TTSX
Bullet Weight: 110gr
Muzzle Velocity: 2,250 fps
Muzzle Energy: 1,237 ft-lbs
Pros
High-Quality Bullet
Lightweight
Fast
Trusted Brand
Cons
Why We Chose It
Even though Black Hills Ammunition is some of the most expensive, it's worth it because of the high level of quality they bring to each round.
When you pull the trigger, you know every round will go "bang" and cycle. This is a comforting thought when faced with protecting your family and yourself against a threat.
The 110gr Barnes TTSX bullet that Black Hills Ammunition uses for this round is the best bullet for self-defense situations because it's lightweight, fast, and accurate.
You need lightweight and fast projectiles to avoid overpenetration, while an accurate bullet is required because you can't stop a threat that you can't hit.
TTSX bullets are also designed to lower the risk of overpenetration as they quickly expand on impact, causing immediate damage to vitals, which stops the threat ASAP.
As I mentioned, you will pay more to get all the benefits of the Black Hills Ammunition 110gr TTSX. But it's worth it, as I'm willing to pay more for ammo that I can count on in a high-pressure home defense situation.
Honorable Mention
A 125gr bullet that's great for defense is the Sierra 300 AAC Blackout Gamechanger. This round is a little slower, coming in at 2,115 feet per second, but it also has a lower cost per round and more muzzle energy.
The Sierra Tipped Game King is designed for hunting purposes, but you shouldn't overlook it as an excellent choice for self-defense or the range because it's a boat tail and polymer-tipped bullet. So it's deadly accurate with exceptional stopping power no matter the situation.
All things considered, Sierra Gamechanger is one of the best options if you plan to use your 300 BLK for multiple purposes.
Best 300 Blackout Ammo for Suppressors
Specs
Casing: Brass
Bullet Type: Open Tip
Bullet Weight: 200gr
Muzzle Velocity: 1,060 fps
Muzzle Energy: 499 ft-lbs
Pros
Trusted Brand
Reasonably Priced
Best for Suppressors
Accurate
Cons
Why We Chose It
Winchester is one of the most trusted brands in the firearms and ammunition industry. I use Winchester ammo in most of my guns for various activities, from hunting to plinking at the gun range.
Winchester Super Suppressed 200gr Open Tip is specifically designed to be used with silencers, so if you have a suppressor on your 300 Blackout 7.5 barrel, this is the ammo for you.
If you're wondering why the ballistics look pitiful compared to supersonic rounds. It's because subsonic ammo is designed to be quieter, so manufacturers use less powder, allowing the bullet to remain below the speed of sound.
Subsonic rounds are great for shooting indoors or in close quarters, but they're a poor choice for long-distance shooting.
With that said, they're still accurate at close range, thanks to the OT bullet.
The heavy 200-grain bullet raises the risk of overpenetration in a home defense situation. Still, since these rifle rounds are similar to a hollow-point bullet and are subsonic, the heavier bullet isn't as much of a concern.
The lower price is welcomed by many shooters, myself included. It's by no means the cheapest ammo; more like the middle of the road, but I would prefer not to trust my life with discount ammo.
If price is your main concern, you can always buy Winchester Super Suppressed in bulk to save some money per round.
Honorable Mention
A great option for shooting indoors is the Ammo Inc. stelTH 220 Grain TMJ because the Total Metal Jacket eliminates lead vapors, preventing you and those around you from breathing in harmful chemicals.
These rounds are less expensive and offer better ballistics than the Winchester Super Suppressed; however, I'm not a fan of the 220gr bullet, as it raises the risk of going threw the intended target and hitting something or someone else.
The TMJ projectile also increases this risk; therefore, I prefer not to use it for self-defense. Some indoor ranges require a TMJ bullet, so I must admit it has its place at the range.
Best 300 AAC Blackout Ammo for Plinking
Specs
Casing: Brass
Bullet Type: Full Metal Jacket
Bullet Weight: 150gr
Muzzle Velocity: 1,850 fps
Muzzle Energy: 1,140 ft-lbs
Pros
Cons
Less than Ideal for Self-Defense
Why We Chose It
If you're looking for ammo that's not going to drain your bank account yet is accurate and reliable when plinking, look no further than Ammo Inc. 150gr FMJ.
This supersonic ammo is ideal for your 300 Blackout rifle with a shorter barrel because of the bullet weight.
The 150gr bullet will allow you to remain reasonably accurate when long-range shooting due to the minimal recoil and solid velocity.
However, I don't recommend these for competition shooting as the FMJ bullet is not designed for optimal accuracy.
The FMJ bullet is good for hunting hogs because it penetrates their thick hide and strong bones, so you can double dip with this ammo if you're a hog hunter.
Even though this projectile is suitable for hog hunting, it's prone to overpenetration in home-defense situations because it doesn't expand on impact like a hollow point or polymer-tipped bullet.
Honorable Mention
I often use Federal American Eagle 150 Grain FMJ when I fill like popping off a few mags because it's also inexpensive and reliable.
I rarely get a malfunction when shooting Federal American Eagle, which is why I return to it repeatedly.
However, it is slightly more expensive than Ammo Inc., but it has marginally better ballistics, which means it's still just as versatile since they use identical bullets.
Now that you have a clearer understanding of the best ammo for a 7.5-inch 300 Blackout Barrel, let's get back to our top 4 list by clicking HERE!
Buyer's Guide: What to Look for in the Best 300 BLK Ammo
Buying ammo gets confusing, especially when you're a new shooter. However, it doesn't have to be as long as you know how to spot quality ammo, which bullet types and weights are best, and what ballistics you should expect to get out of your 300 BLK Carbine.
How to Spot Quality Ammo
I spot quality ammo by first choosing trusted brands. I grew up shooting big brands like Hornady, Remington, and Winchester because they were at a reasonable price at my local sporting goods store.
Nowadays, there are a few other ammo and bullet brands that I trust to shoot, such as Barnes, Nosler, and Lehigh.
These smaller brands are often more expensive, but their quality standards are higher because they're not producing the volume the other brands can produce.
Two dead giveaways on low-quality ammo are the casings and primers used.
If the casings are steel, it's cheap ammo and less reliable. Brass and Nickle-Plated Brass are the best casings as they're smoother and less likely to get jammed.
You should be looking for ammo with boxer primers, as these are the most reliable primers to go bang when the firing pin strikes them.
Lastly, the price often determines the quality of the ammo you purchase. So if you must go cheap, understand you won't receive the level of quality you would get with higher-priced ammo.
If you still have problems after purchasing high-quality ammo, consider speaking with a gunsmith about your gas system if you don't want to change your barrel length.
300 Blackout Bullet Types
There are many 300 BLK bullets on the market. The type of bullet you choose will determine the price and the activity in which you should use the ammo.
Below are the most common bullet types for a 300 Blackout with a barrel length of 7.5".
FMJ
A Full Metal Jacket bullet is often the least expensive because it's the least technologically advanced bullet.
It's great for plinking or hunting animals with a thick hide like hogs, but it's not as accurate as some of the other bullet types, nor is it suitable for self-defense because it's more likely to over-penetrate.
TMJ
A Total Metal Jacket bullet is similar to an FMJ, except the metal jacket completely covers the lead, which makes it great for shooting indoors.
It's typically not much more expensive than an FMJ and has all the same pros and cons as an FMJ bullet.
HPBT
A Hollow Point Boat Tail bullet is the most accurate, especially when a polymer tip is used.
It's often one of the most expensive bullets due to the engineering and design behind the bullet.
It's best used for hunting, self-defense, and long-range shooting.
The Winchester Open Tip (OT) is sometimes an HPBT; other times, it does not have a boat tail, lowering its Ballistic Coefficient.
Standard 300 Blackout Bullet Weights
Bullet weight is one of the most critical factors to consider when shooting a 300 Blackout AR pistol or rifle with a 16-inch barrel or shorter.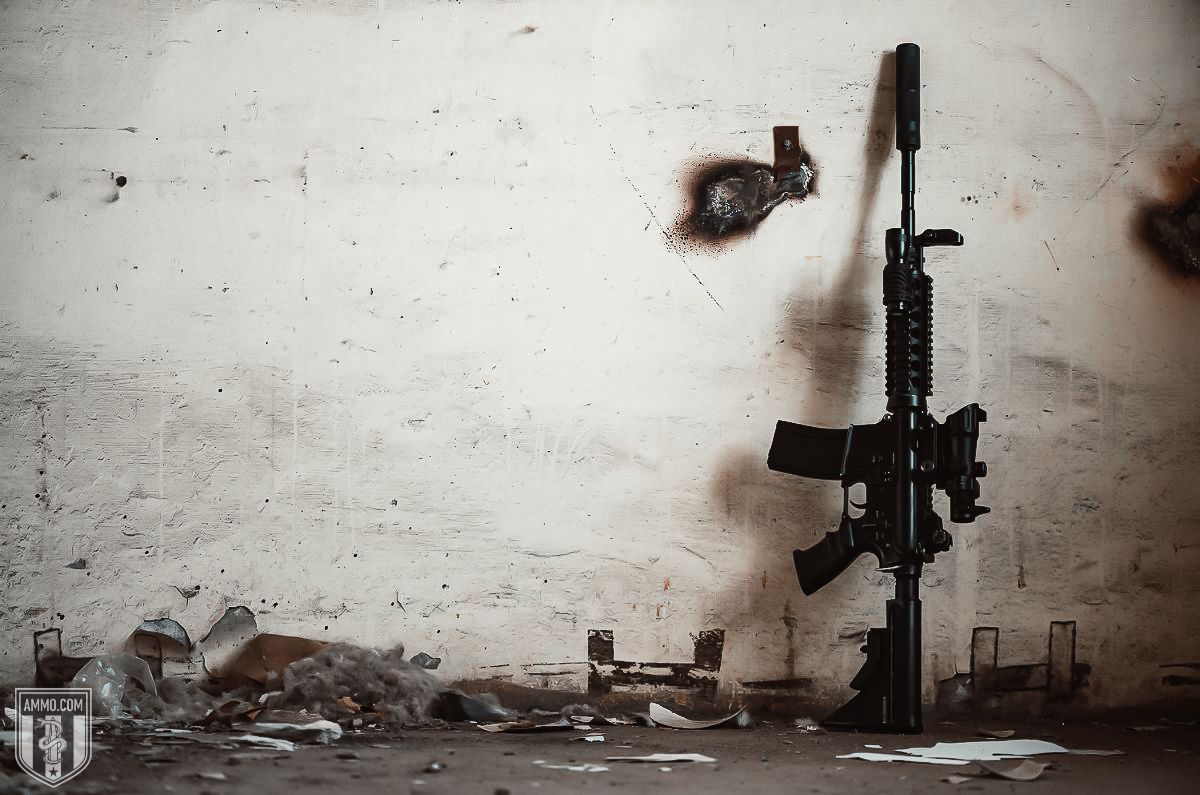 Heavy bullets are prone to over-penetrate and don't perform as well as lighter bullets.
Here's a list of several bullet weights commonly used in the 300 BLK cartridge:
110gr
125gr
147gr
150gr
200gr
208gr
220gr
It's also important to note that the barrel twist rate can increase your effective range. Experimenting with different twist rates and bullet weights will allow you to choose the most effective ammo.
This is easy to do on the AR platform, as you only have to switch the upper receiver to change the barrel quickly.
300 Blackout Ballistics
Note: This information comes from the manufacturer and is for informational purposes only. The actual ballistics obtained with your firearm can vary considerably from the advertised ballistics. Also, ballistics can vary from lot to lot with the same brand and type load.
300 Blackout Bullet WEIGHT
Muzzle VELOCITY (fps)
Muzzle ENERGY (ft. lbs.)
TRAJECTORY (in.)
Muzzle
100 yds.
200 yds.
300 yds.
400 yds.
Muzzle
100 yds.
200 yds.
300 yds.
400 yds.
100 yds.
200 yds.
300 yds.
400 yds.
110 Grain
2150
1886
1646
1432
1254
1128
869
661
501
384
0
-8.3
-29.6
-67.8
125 Grain
2250
2031
1826
1636
1464
1404
1145
926
743
595
0
-7
-24.4
-54.8
220 Grain
1000
968
n/a
n/a
n/a
488
457
n/a
n/a
n/a
0
n/a
n/a
n/a
To learn how the 300 AAC Blackout compares to other rifle cartridges, check out the articles below:
Brief 300 Blackout History
SAAMI approved the 300 AAC Blackout cartridge on January 17, 2011.
Advanced Armament Corporation developed the .300 AAC Blackout in conjunction with Remington Defense in 2010 to offer a .30 caliber cartridge that could outperform the 5.56mm ammunition currently in use.
The main reason for replacing the 5.56 NATO was the increased terminal performance offered by a .30 caliber round. However, this alone would not justify replacing the military's primary issue rifle. Any cartridge that replaced the 5.56mm must be compatible with the M4.
The .300 AAC Blackout works in the M4 system because the case was built from the 5.56mm cartridge. This means these rounds use the same magazines. The barrel is the only part that needs to be changed to convert an M4 rifle to a .300 Blackout.
Other ammunition manufacturers tried to chamber AR-type rifles in .30-caliber ammunition with little success. The problem with the 7.62x39mm was its feeding issues unless it used highly specialized and modified AK-47 mags.
The 6.8 SPC and 6.5 Grendel also had similar problems.
Since its introduction, the round has not seen widespread adoption as a standard-issue military round. Special forces only use it in the few places it has been adopted, the Netherlands, the United Kingdom, and the United States.
How to Save Money on Ammo for the 300 Blackout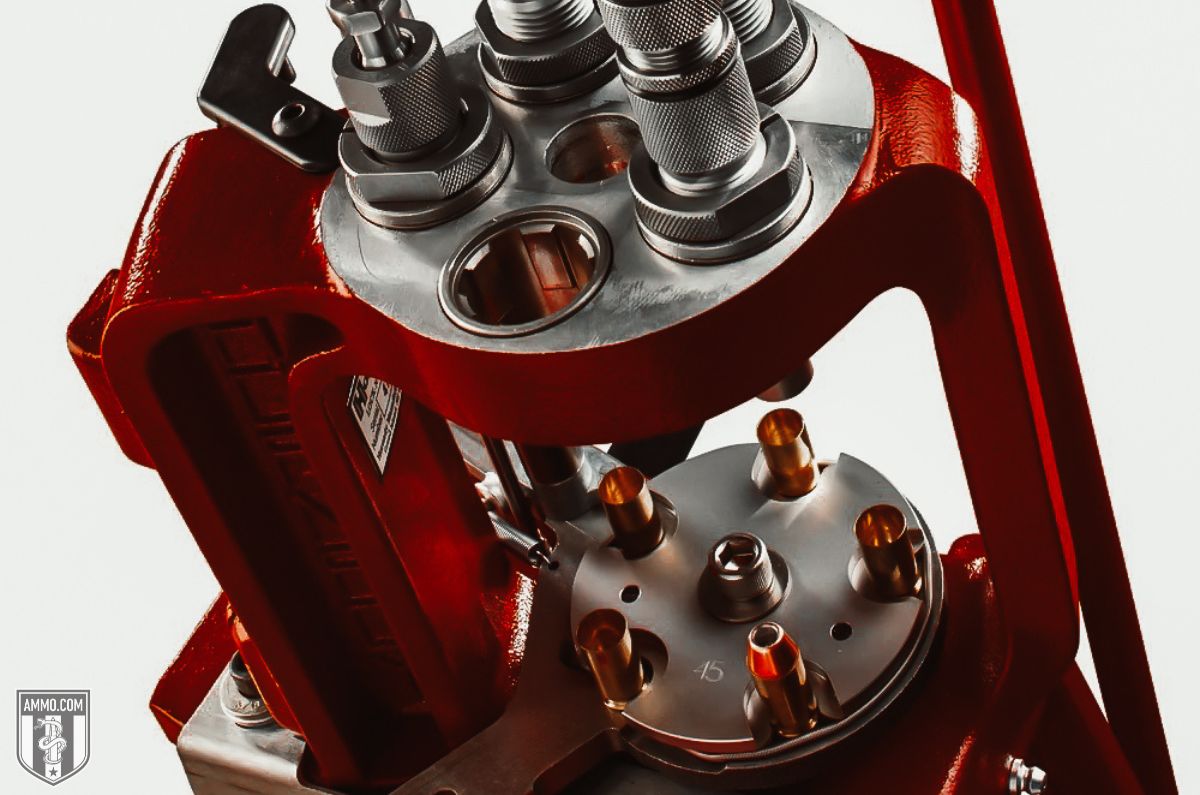 As ammo prices continue to increase, we're all looking for ways to save money. Over the years, I've found a few ways to keep more money in your wallet.
The first is buying in bulk. Yes, it costs more money upfront, but when you factor in the price it costs to pull the trigger, you'll thank me you bought 300 Blackout ammo in bulk.
The following way is to try your hand at reloading or handloading. Once again, this is expensive to start, but once you've bought the equipment and supplies, the price per round depends on how fast you can pump out quality rounds.
I like handloading because it gives you more control over the process so you can craft the perfect round for your 300 Blackout.
The last way to save money on 300 Blackout ammo is to combine both approaches. By reloading the spent casings, you bought in bulk; you'll maximize your savings.
Frequently Asked Questions
What does AAC stand for in 300 AAC Blackout?
AAC stands for Advanced Armament Corporation in 300 AAC Blackout. The Advanced Armament Corporation is one of the companies that helped develop the 300 BLK.
Is 300 AAC and 300 Blackout the same?
Yes, 300 AAC and 300 Blackout are the same cartridges.
Is 300 Blackout effective with a 7.5-inch barrel?
Yes, the 300 Blackout is effective with a 7.5-inch barrel in close quarters. However, this short barrel does not perform well when shooting long distances.
What is the best round for a 300 Blackout with a 7.5-inch barrel?
The best round for a 300 Blackout with a 7.5-inch barrel is the Barnes Precision Match 300 AAC Blackout 125gr.
Parting Shots
Now that you know that Black Hills Ammunition 300 AAC Blackout 110gr TTSX is the best 300 Blackout ammo for a 7.5" barrel in home defense situations; you can confidently purchase a box or two to protect your loved ones.
Remember that a lightweight bullet tends to be better for a short barrel, so I go with a 110gr or 125gr bullet in this instance.
Don't miss your chance to stock up on 300 Blackout ammo while you can at ammo.com!