Best 380 Self-Defense Ammo: Small Package Protection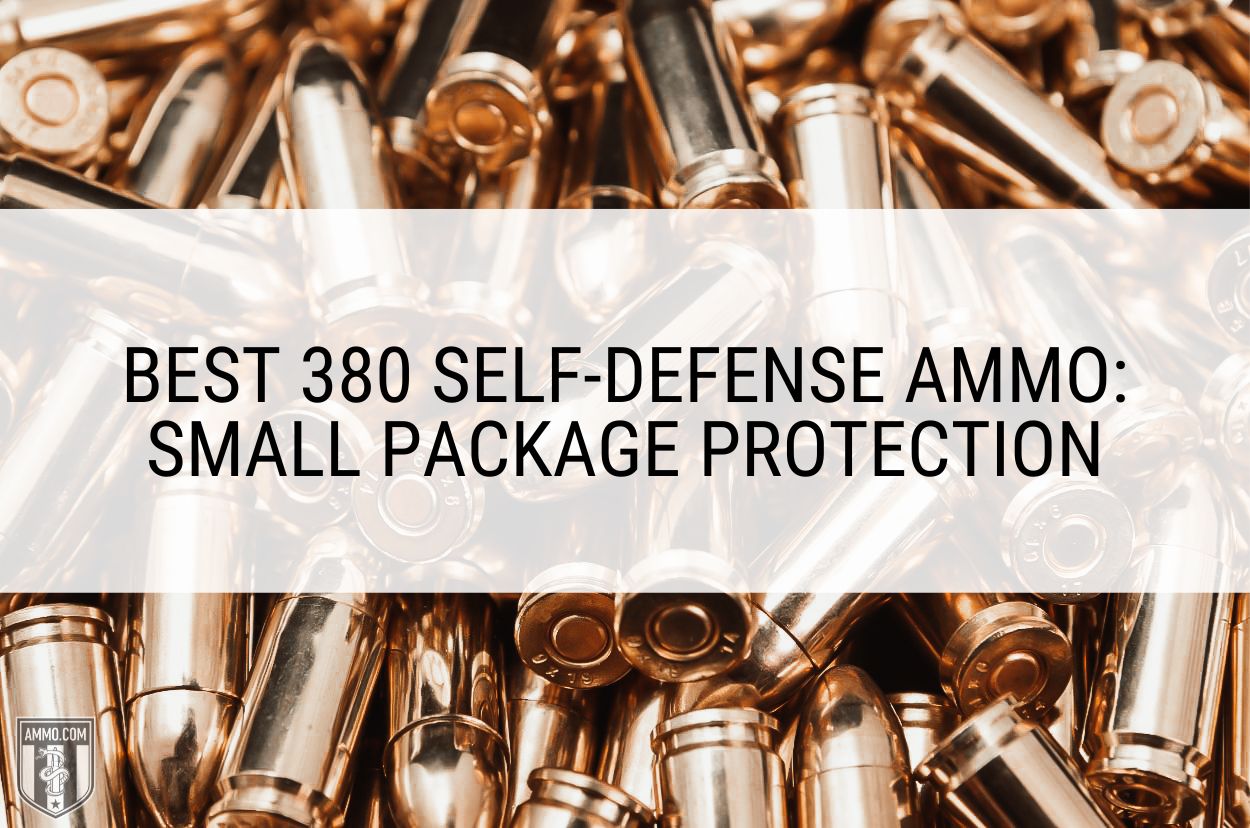 Many argue that the 380 Auto doesn't have enough knockdown power for self-defense. The same used to be said about the 9mm.
However, with recent bullet technology improvements, calibers that were once underpowered can be used for personal protection.
I prefer to carry a 9mm Shield, but my wife would rather carry a 380 Kimber, so I began the hunt to find the best 380 self-defense ammo.
You'll find my discoveries below based on ballistics, price, and reliability though not all three did not equally weigh into my decision.
Best 380 Self-Defense Ammo Picks
Specs
Casing: Brass
Bullet Type: Jacketed Hollow Point with Polymer Tip
Bullet Weight: 90gr
Muzzle Velocity: 1,000 fps
Muzzle Energy: 200 ft-lbs
Pros
Trusted brand
Solid ballistics
Reliable
Unique bullet
Cons
Why We Chose It
Hornady Critical Defense is trusted by many concealed carriers, myself included. My wife nor myself has ever had a malfunction when shooting this ammo.
That's not to say it's impossible, but malfunctions are definitely rare, so I know when I need it most, it will fire.
The ballistics are comparable to all other bullets of this grain, so you're not sacrificing anything ballistically when choosing to carry these rounds.
The polymer-tipped bullet makes it unique when compared to most other 380 ACP bullets. A polymer tip helps aid in accuracy and bullet expansion once it penetrates the target.
Though it might not seem like much, the plastic tip helps this round stand above the rest.
The one downside to this ammo is the price.
It's not cheap ammo, but you can save money per round when you buy Hornady 380 ACP 90 Grain JHP in bulk.
Honorable Mentions
If you still want to stick with the trusted Hornady brand but aren't convinced that polymer-tipped bullets are for you, then check out Hornady American Gunner 380 ACP 90 Grain JHP.
The bullet weight and ballistics are identical; the main difference is the lack of a plastic tip.
If you looking for ammo with more stopping power, the Underwood 380 ACP 102 Grain BJHP rounds are worth testing.
The heavier bullet has more muzzle energy but less muzzle velocity at a higher price.
However, the bonded jacketed hollow point bullet and nickel-plated brass casing are technological advancements that help with accuracy and reduce malfunctions.
Specs
Casing: Nickel-Plated Brass
Bullet Type: Jacketed Hollow Point
Bullet Weight: 85gr
Muzzle Velocity: 1,000 fps
Muzzle Energy: 189 ft-lbs
Pros
Trusted brand
High velocity
Nickel-plated brass casing
Made in the USA
Cons
Why We Chose It
Federal Premium Punch is a self-defense round crafted by a trusted brand in the shooting community.
Which means it will go bang when you pull the trigger.
The 85-grain bullet has a high muzzle velocity of 1,000 fps and still packs enough punch to stop a threat in a defense situation.
The nickel-plated brass casing is smoother than traditional brass casings, which reduces the potential for the spent case to get jammed or not eject properly.
I especially love supporting companies that make their products in the US, even if they're more expensive.
Because they're high-quality rounds, they're not cheap, so you won't want to take these rounds target shooting.
Honorable Mentions
If budget is the least of your concerns and you're wanting a lighter bullet, Barnes 380 ACP 80gr TAC-XP HP rounds are some you should add to the cart to test out.
The specialized bullets help prevent over-penetration, and the nickel-plated brass case helps prevent malfunctions.
Or you can go with the opposite end of the spectrum in bullet weight with Remington Ultimate Defense 380 ACP 102 Grain BJHP rounds.
The casings are nickel-plated brass, and the bullets are bonded-jacketed hollow points which helps increase accuracy and reduces lead fouling in your barrel, so you don't have to clean it as often.
Specs
Casing: Brass
Bullet Type: Jacketed Hollow Point
Bullet Weight: 90gr
Muzzle Velocity: 975 fps
Muzzle Energy: 190 ft-lbs
Pros
Inexpensive
Solid ballistics
Trusted brand
Loaded in the USA
Cons
Must buy in bulk to get the low price
Why We Chose It
Fiocchi Defense Dynamics 380 ACP ammunition is inexpensive, so you can practice with these rounds without breaking the bank.
Even though they're easy on the wallet, they still offer ballistics that you'd expect from more expensive 380 ACP pistol ammo at a common bullet weight.
While Fiocchi is rarely the first ammo brand people think of, it's a common brand, especially for budget-friendly ammo options.
I like that these rounds are loaded in the USA, so they should go boom when you pull the trigger.
The one downside is that in order to get these rounds so cheap, you must buy Fiocchi 380 ACP 90 Grain JHP in bulk.
However, that just means you get to spend more time at the range!
Honorable Mention
Sellier & Bellot XRG Defense 380 ACP 77 Grain SCHP is unique thanks to its bullet. The most obvious point is that it's the lightest bullet on the list.
What's not as obvious is that it's one of two solid copper bullets. Thanks to the lower bullet weight, it has a higher-than-average muzzle velocity and muzzle energy. However, that could cause the terminal performance to suffer.
It's also less expensive; the downside of copper bullets is that they don't expand as well as lead bullets, so you might run the risk of over-penetration.
Specs
Casing: Brass
Bullet Type: Jacketed Hollow Point
Bullet Weight: 85gr
Muzzle Velocity: 1,000 fps
Muzzle Energy: 189 ft-lbs
Pros
Trusted brand
Designed for defense
Made in the USA
Cons
Why We Chose It
For decades, Winchester SilverTip .380 ACP rounds have been trusted for self and home defense. Winchester Ammunition is one of the premium ammo brands, so you know you're purchasing reliable rounds.
SilverTip handgun ammo was designed for defense situations giving you the power to defend your family and yourself.
You're supporting the US economy when you purchase these rounds because they're made in the USA.
The biggest drawback is that these bullets are time-tested.
How is that a bad thing?
The bullets use old designs and technology, so if you're looking for the latest, greatest ammo, this isn't for you.
However, if you're looking for repeatedly proven ammo, pick up a box and test it out for yourself.
Honorable Mentions
If you're looking for a little newer bullet technology, then grab a box of Corbon 380 ACP 80 Grain DPX.
DPX stands for Deep Penetrating X-panding.
This is a solid copper hollow-point bullet designed for hunting and self-defense.
It has excellent ballistics; however, they're more expensive than the average 380 Automatic Colt Pistol defense round.
How to Choose the Best 380 Ammunition
When writing this article, I realize that the best ammo for my situation might not be the best for you. That's why I listed several options.
However, this article aims to help you learn how to choose the best 380 ammo by determining your budget and testing the rounds.
Determine your budget
I'm not here to convince you to spend more money on ammo than you can afford. So determine ahead of time how much you can spend without taking food off the table and stick to that budget.
Below you'll find a few ways to save money on ammo.
Testing the Rounds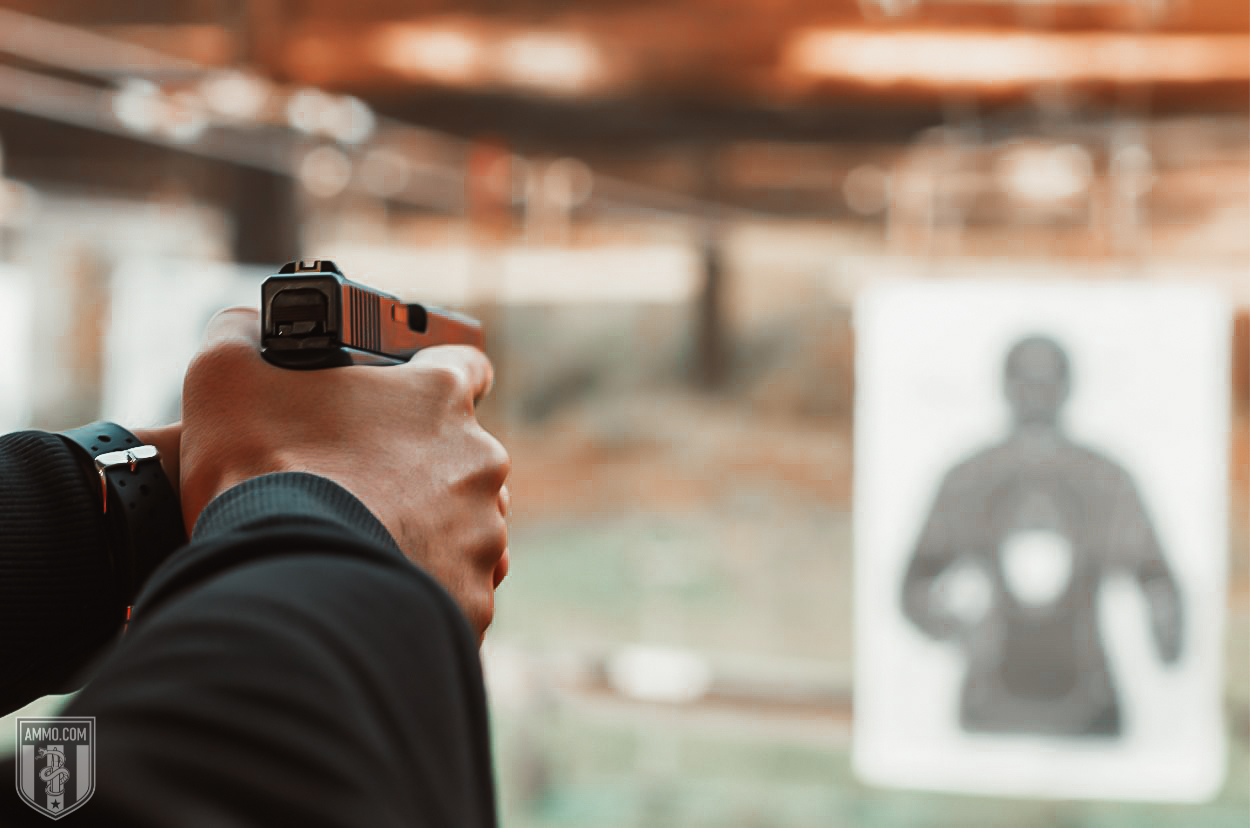 The truth is some guns like certain ammunition better than others. A Ruger LCP will like a different bullet type and brand than a Sig Sauer, which likes different ammo than a Glock.
That's why buying several different brands and bullet types to test is the best option. You might find that Federal Hydra-Shok works better than Federal Punch, or it can't shoot either of those without malfunctioning, but it shoots Speer Gold Dot flawlessly.
How to Save Money on 380 ACP Ammo
There are a few ways to save money on ammo, so you can spend more time at the range and less time working to pay off the credit card bills from your ammo purchases.
Buying Bulk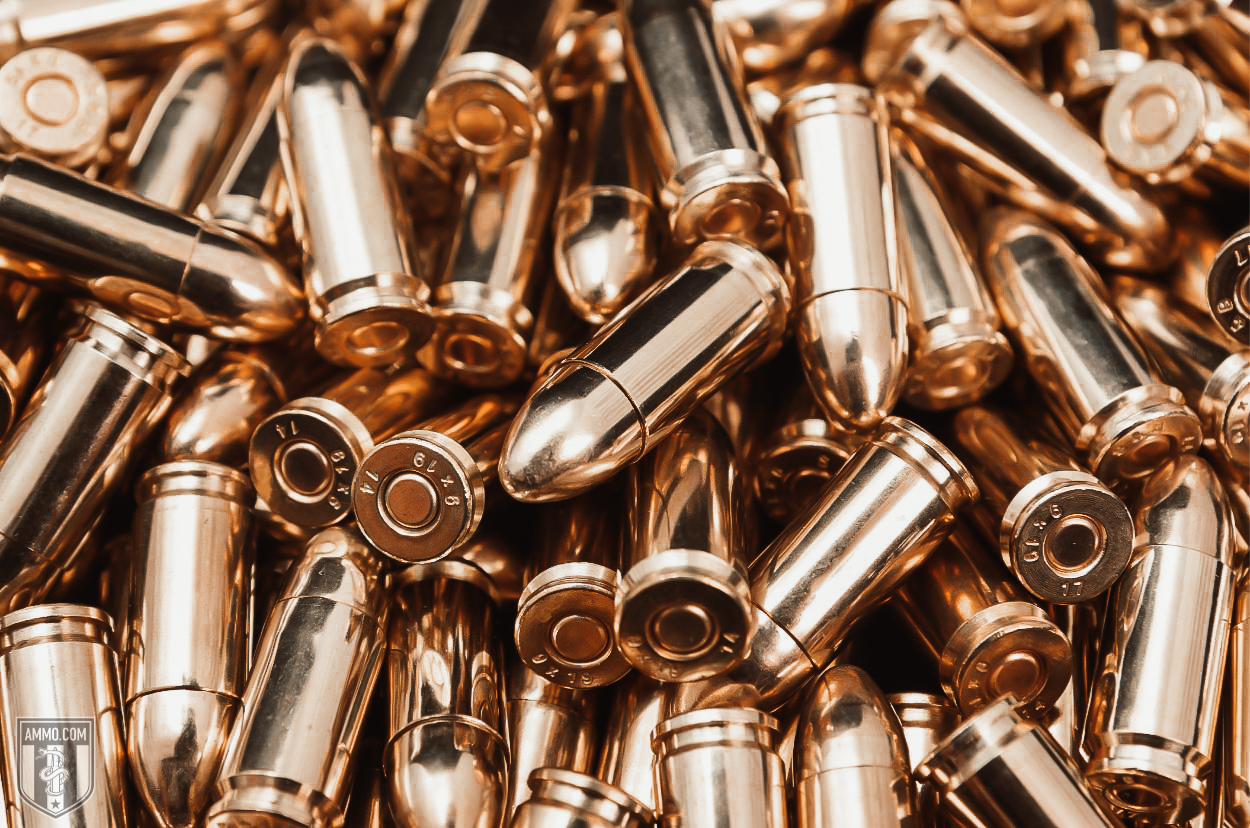 Buying bulk ammo is more expensive upfront. However, when you do the math, you save several cents per round, which quickly adds up to significant savings if you shoot hundreds of rounds each time you visit the range.
I would recommend testing out which handgun ammunition works best in your pistol before randomly buying bulk ammo.
Reloading
Reloading also costs more initially, but once you get it dialed in, you have more control over the final product so that you can get a high-quality round at a much lower price.
The amount you save depends on how fast you can crank out rounds.
Combine Them
To exponentially increase your savings, combine both approaches. Reload the spent brass that you bought as bulk ammo.
Is 380 Good for Self-Defense?
Yes, the 380 is good for self-defense, despite what some naysayers claim.
The myth that bigger is always better has been disproven for a while, thanks to accurate ballistic measurements of various calibers.
While more powerful calibers such as the 9mm Luger or 45 ACP will have more inches of penetration during ballistic gel tests, that shouldn't discredit the 380 ACP from entering the discussion of a viable concealed carry weapon (CCW).
The 380 ACP has less recoil than larger calibers, making it more accurate with follow-up shots. It's also less likely to over-penetrate, keeping the bystanders safer in a defensive situation.
When using proper defense ammunition, such as a JHP, the wound channel created by the bullet is more than enough to stop a threat.
Common .380 Personal Defense Bullets
When looking for ammo, you'll notice many different bullet types. They all have their purpose, but not all are good for self-defense.
FMJ
A full metal jacket bullet is not designed for personal or home defense. It does make an excellent round to take to the range because they're inexpensive and easy to find.
JHP
A jacketed hollow point bullet is a step above a hollow point and is commonly used for self-defense and hunting. While it's not the most technologically advanced bullet, it's been time-tested and proven to work effectively.
BJHP
A bonded jacketed hollow point bullet is the next step up from a JHP. The primary difference is the jacked is chemically bonded to the lead core. This allows it to hold its shape better to be more accurate.
SCHP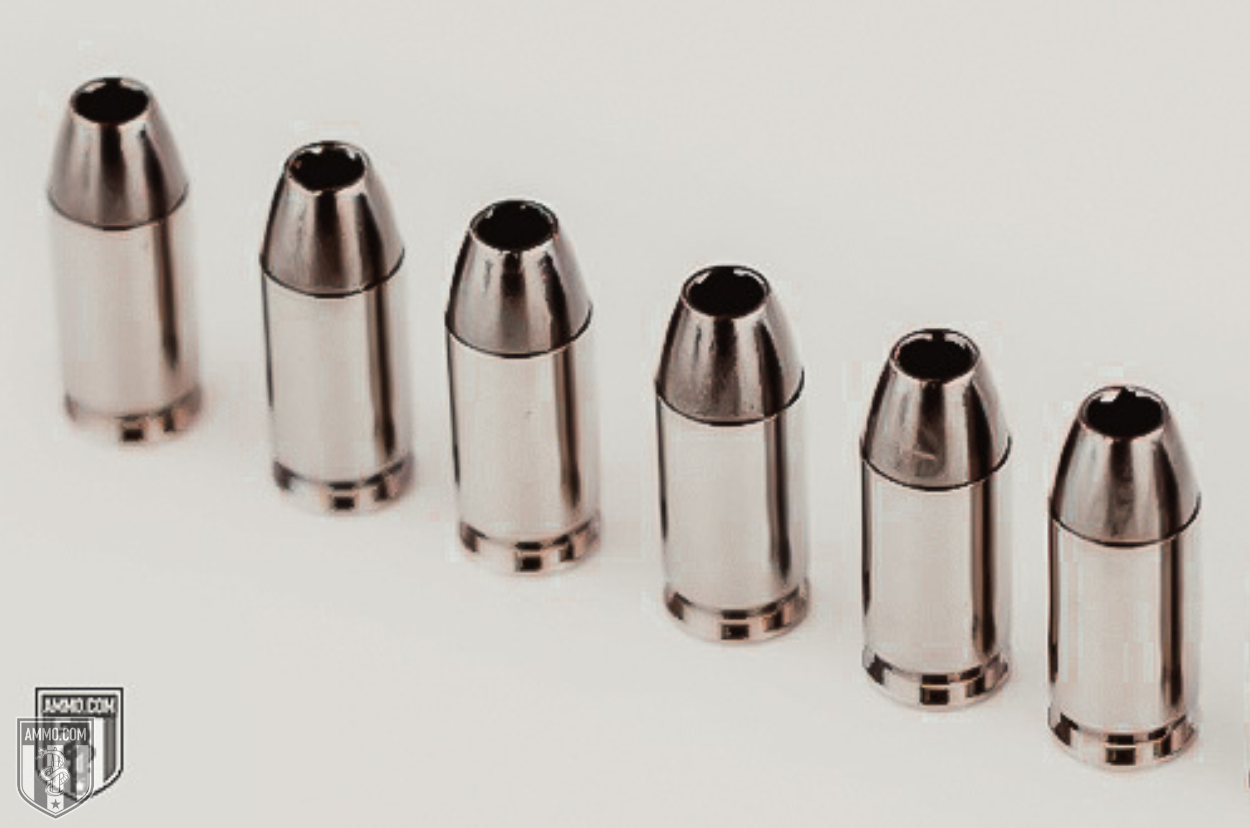 Solid copper hollow point bullets are precisely as they sound from their name. Instead of lead, copper is used, which makes the bullet lighter and stronger.
However, during home defense situations, this can mean that there is an increased risk of over-penetration because copper doesn't expand as quickly as lead.
Parting Shots
While some might argue that the 380 ACP doesn't have enough power to stop a threat, I'd like to remind them that penetration depth and size of the wound channel aren't everything.
If you're scared to pull the trigger because of the recoil, then you're less likely to hit what you're aiming at; in that instance, I'd recommend stepping down a caliber or two.
The FBI and many other law enforcement agencies have used 9mm Luger pistols for their duty guns for many years and have no plans to return to a larger caliber.
The 380 is a 9mm short, so at close range, it still has the power to stop a threat.
When you use the best 380 self-defense ammo in your pocket pistol, which is Hornady Critical Defense 90 Grain JHP, in my opinion, you won't have to worry if you have enough power to stop the threat.
Instead, you can focus on protecting your loved ones and yourself.