Best Ammo for the Taurus GX4: For Compact 9mm Shooters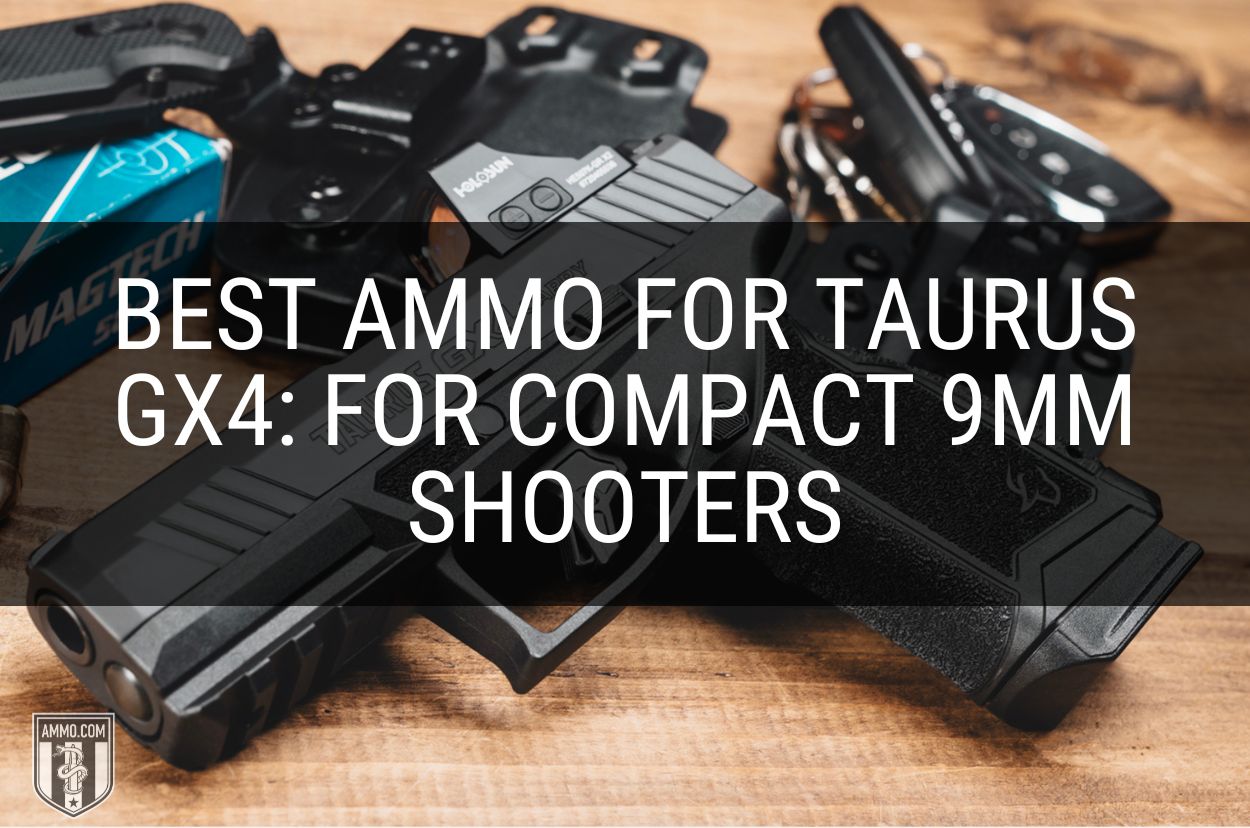 Thanks to my tiny hands, a micro-compact pistol has the best ergonomics for me. Which is why my carry gun is small, like the new Taurus GX4.
However, I've found that certain 9mm ammunition works better in semi-auto compact and subcompact carry pistols. Still, one round that is always near the top of any 9mm pistol shooter favorites is Federal HST 124gr JHP.
Don't worry if Federal HST doesn't quite hit the spot for you; I've picked out more of the best ammo for the Taurus GX4 for target shooting, self-defense, and training purposes.
Taurus GX4 Recommended Ammo
Specs
Casing: Nickel Plated Brass
Bullet Type: Jacketed Hollow Point
Bullet Weight: 124 grains
Muzzle Velocity: 1,150 fps
Muzzle Energy: 364 ft-lbs
Pros
Trusted brand
Extra smooth casings to reduce jams
When you pull the trigger, they go boom
Readily available
Made in the USA
Cons
Why We Chose It
Federal Premium Ammunition is trusted to perform by CCW'ers and law enforcement officers daily. No wonder it's one of the largest ammo manufacturers in the world!
Since Federal Ammo is such a prominent manufacturer, they're often one of the first brands back in stock each time a surge in buying ammo happens. So, you can rest assured you can purchase these rounds when that time comes.
So many shooters say you can't go wrong with Federal HST because it rarely jams and goes bang with each trigger pull, thanks to the buttery smooth nickel-plated casings and the high-quality Boxer Primers.
I don't mind shooting them in a small striker-fired pistol because the 124gr bullet doesn't have as much kick as the Federal Personal Defense 147gr Hydra-Shok JHP or the Federal Law Enforcement HST +P 124gr JHP.
The reduced recoil allows you to be more accurate and get back on target faster, whether you're shooting the 11-round magazines or extended 13-round magazines.
Don't worry; even though it shoots a slightly lighter bullet, it still has plenty of knockdown power to take out someone trying to harm you or your family.
As great as these rounds are, they're pretty expensive, but that's the case with most self-defense rounds due to the stringent testing and technology that goes into creating a high-performing round.
And when you compare Federal HST to other defense rounds, they're not anywhere near the most expensive.
Overall, I wouldn't hesitate to load these into any semi-automatic 9mm pistol, including the Taurus GX4 or my Smith & Wesson M&P Shield.
Specs
Casing: Brass
Bullet Type: FTX Jacketed Hollow Point
Bullet Weight: 115 grains
Muzzle Velocity: 1,140 fps
Muzzle Energy: 332 ft-lbs
Pros
Trusted American brand
Uses technologically advanced FTX bullets
High-quality materials mean you can count on them to fire when it matters most
Readily available
A lighter bullet has a lower recoil
Cons
Why We Chose It
I friggin' love shooting Hornady Ammunition! I've shot it in nearly all my firearms and NEVER had any malfunctions, which is why I trust it with my life and my family's lives in my concealed carry handgun.
My EDC 9mm Luger pistol currently has Hornady Critical Defense 115gr JHP loaded in it because I know that I can count on the high-quality materials that Hornady uses in all of its rounds, including the FTX bullets.
Since Hornady is the largest independently owned maker of ammo and bullets in the world; you can usually find these rounds in stock, even during times of high demand.
Another reason why this ammo outshines its competition is because of the lower recoil. Because the Taurus GX4 is a lightweight, small gun, some rounds, especially +P and heavier bullets, have much more recoil than they would shooting from a full size Glock 17.
However, Hornady Critical Defense comes at a high price. As in, it's one of the most expensive rounds on the market per trigger pull, so I understand why it's not for everyone.
Hornady XTP 9mm Luger 147gr JHP is a better option for those on a tighter budget, but it'll have more kick, and the XTP bullet technology is less advanced than the FTX bullets.
Remington High Terminal Performance (HTP) 115gr JHPs have a similar amount of recoil at an even lower price than the Hornady XTP bullets, yet they still have plenty of knockdown power to protect you and the ones you love.
Even though Hornady Critical Defense 115gr JHPs are expensive, they're worth every extra penny because they're dependable, accurate, and reasonably easy to find.
Specs
Casing: Aluminum
Bullet Type: Full Metal Jacket
Bullet Weight: 115 grains
Muzzle Velocity: 1,145 fps
Muzzle Energy: 335 ft-lbs
Pros
Inexpensive
Trusted brand
Bulk ammo is available for even more discounted prices
Reliable
Low recoil for quick target acquisition and all-day shooting
Cons
Why We Chose It
Blazer is a baseline ammo brand produced by CCI, which makes it the perfect candidate to take to the range and burn through a couple hundred rounds through your polymer frame Taurus pistol because it's inexpensive yet reliable.
You don't have to take my word for it; here's what an Ammo.com customer had to stay after taking it to the range.
Aaron said: "Shot around 300 of these over the weekend, w/ no issues. We used them in 3 pistols, Canik SFX, Hellcat, and Smith & Wesson, and also shot them through the Hi-Point T995 Carbine. Amazing performance & not a single problem."
I especially love the price; Blazer 115gr FMJ is some of the least expensive 9mm Luger rounds you will find available, which means you get to stay at the range longer, WITHOUT mortgaging your home for a fourth time.
Speaking of shooting all day, your hands will also thank you because this ammo doesn't have much recoil, especially compared to rounds with heavier grain bullets, like Igman 124gr FMJ and Sellier & Bellot 124gr FMJ when shooting with the flush-fit magazines of the Taurus GX4.
The most disappointing feature of these rounds is that you can't reload them because they're aluminum cases and have Berdan primers. But at this low price, they're still nearly impossible to beat.
Blazer 115gr FMJs are perfect for a day at the range, breaking in your new Taurus GX4, or shooting a Ruger LCR 9mm revolver thanks to the low recoil and cheap price.
Specs
Casing: Nickel-plated brass
Bullet Type: Jacketed Hollow Point
Bullet Weight: 124 grains
Muzzle Velocity: 1,150 fps
Muzzle Energy: 364 ft-lbs
Pros
Trusted Brand by law enforcement
Solid ballistics
Available in bulk
Excellent for self-defense
Cons
It is somewhat expensive, especially if you plan on training with it
Why We Chose It
I've had many of my law enforcement buddies say they choose to shoot Speer over most brands, and if guys and gals who are putting their lives on the line daily trust it, then it's good enough for me!
The ballistics match many training rounds, which means an easy transition from training to real-life situations. I don't know about you, but that's exactly what I want: an easy transition!
If you're a shooter who prefers to train with the ammo you plan on carrying, these rounds aren't ridiculously overpriced, but they are more than double the cost of Winchester 124 Grain FMJs and Federal American Eagle 115gr FMJ. So, on the days your trigger finger is extra itchy, you may want to find a less expensive round.
Or you can always purchase these rounds in bulk to lower the price. Ammo.com has a wide selection of bulk ammo, including Speer Gold Dot.
Speer hit it on the head with the 124gr JHP because you could step up to a heavier bullet, which some believe to be the best self-defense option; it would have more recoil than the Speer Gold Dot 124gr JHP has, making you less accurate and less likely to train.
And that's a VERY bad combination because you NEED to train with your carry gun!
Speer Gold Dot 124gr JHPs are excellent self-defense rounds because they are produced by a trusted brand, offer solid ballistics, and are ultra-reliable.
Specs
Casing: Brass
Bullet Type: Total Metal Jacket
Bullet Weight: 124 grains
Muzzle Velocity: 1,017 fps
Muzzle Energy: 285 ft-lbs
Pros
Reasonable price
It can be used in indoor ranges
Decent ballistics
Reloadable casings
Cons
Why We Chose It
Even though Ammo Inc. is a relatively unknown brand, they still offer shooters quality ammo perfect for indoor shooting ranges.
The Ammo Inc. 124gr TMJ is ideal for indoor ranges because the total metal jacket doesn't create lead vapor, which is very harmful to humans in confined spaces when pushed down the barrel by the propellant.
Unless you want to potentially increase your lead levels in your blood from inhaling lead vapors (typically not a good thing), a TMJ bullet is the way to go at indoor ranges. Another route you can take is Federal Syntech Action Pistol 150gr Total Synthetic Jacket, but it's more expensive.
If price is a primary concern, you can always reload the Ammo Inc. casings since they're brass and use Boxer primers. Just remember that shooting handloads will typically void your handgun warranty, which is why you want inexpensive factory ammo for practicing at the range.
The biggest drawback for Ammo Inc. 124gr TMJ is that it's a relatively new ammunition company that not many shooters have heard about, so it's still yet to be determined where Ammo Inc. will stack up against well-established ammo brands like Browning, Remington, Sig Sauer, and Winchester.
Thanks to the reasonable price, indoor usability, and reloadable casings, Ammo Inc. 124gr TMJ is more than worth testing out in your Taurus GX4 the next time you visit an indoor shooting range.
How to Choose Ammo For Taurus GX4
For some, the thrill of buying a new gun ends with the realization that they now have to buy ammo after spending $500 MSRP. For me, it's all an enjoyable part of the journey of being a gun owner.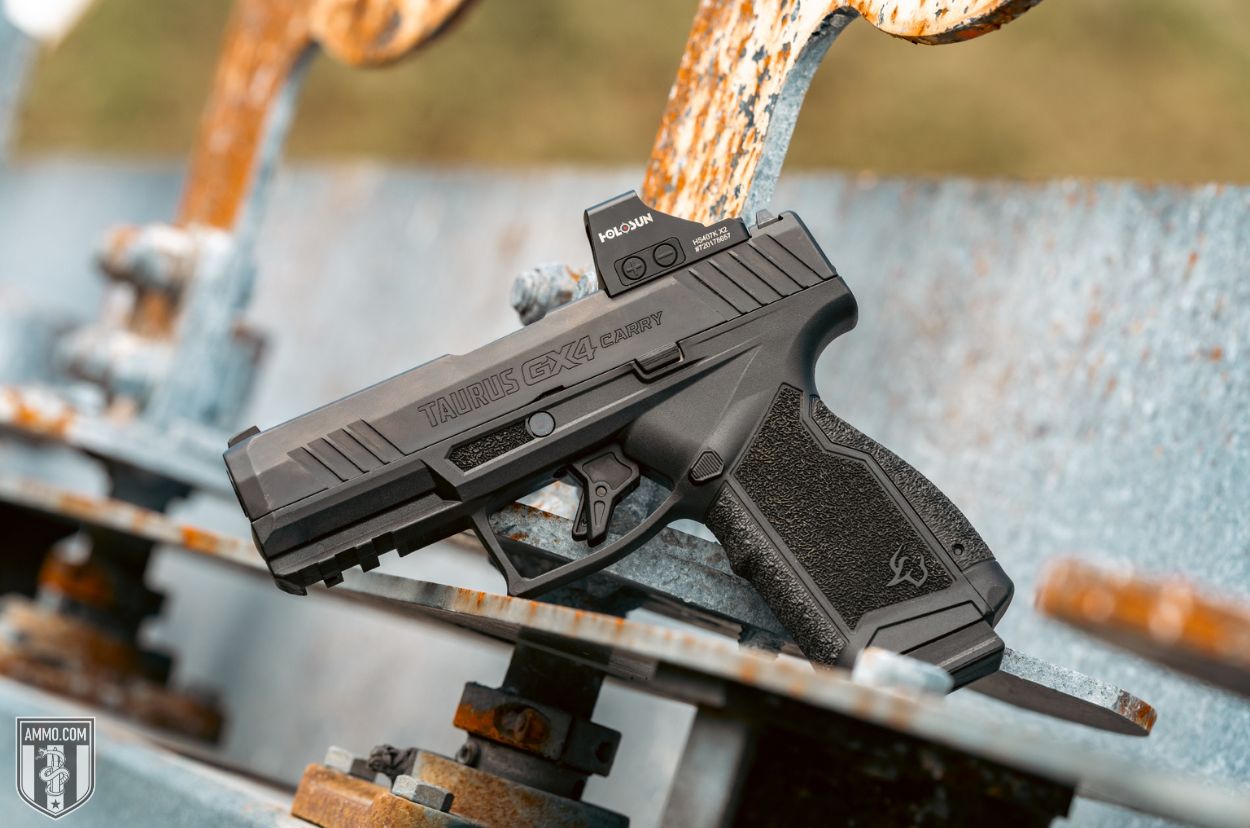 I have a different approach to take up when choosing self-defense ammo vs training ammo vs competition ammo. Each instance has specific requirements that determine which rounds work best.
However, whether I'm testing ammo on a new Taurus, Springfield, Ruger, or Smith & Wesson, these approaches remain the same.
So, whether you just bought a new Taurus GX4 Carry T.O.R.O, red dot sight ready, with an easy takedown pin for disassembly with a flathead screwdriver, trigger safety and squared trigger guard, reversible magazine release, 3.7-inch barrel with satin black DLC coating, a Gas Nitride slide finish, and 6.5-inch overall length with a loaded chamber indicator on the side of the frame; or the Taurus GX4 Graphene Micro-Compact with a white dot front sight, blank rear sight, and texturing on a polymer grip frame that your pinky hangs off, with serrations on the single-action trigger, and a stainless steel 3.06-inch barrel, the process is the same.
Self-Defense
Because self-defense ammo is so much more expensive, I rarely buy it in bulk. Instead, I purchase several different brands, bullet weights, and loads to see which shoots best from my new gun.
I'll test to see which one I'm the most accurate with, which has the lowest recoil and cycles through my firearm the best.
Sometimes, a specific round doesn't stand out; in that instance, choose whichever one you are the most comfortable shooting.
At other times, there's a clear winner for which rounds you should carry in your EDC pistol.
All self-defense rounds should use a type of hollow point bullet, as hollow points have been proven to stop the threat quicker and are less likely to over-penetrate and endanger people who might be behind the bad guy.
Training
With training ammo, my approach varies because I'm less concerned about recoil, though it still does factor in, but price and reliability often play the most significant roles.
I want ammo that matches the ballistics of my carry ammo as closely as possible, but I also don't want to break the bank so that I can train more often.
It's also important to train at night or in low-light situations, whether you have aftermarket night sights or not, because you'll find you see things very differently, and you might want to vary your ammo based on your findings.
There are many different types of training bullets; FMJs, TMJs, and Synthetic bullets are what I tend to use the most when I'm not shooting my carry ammo for training.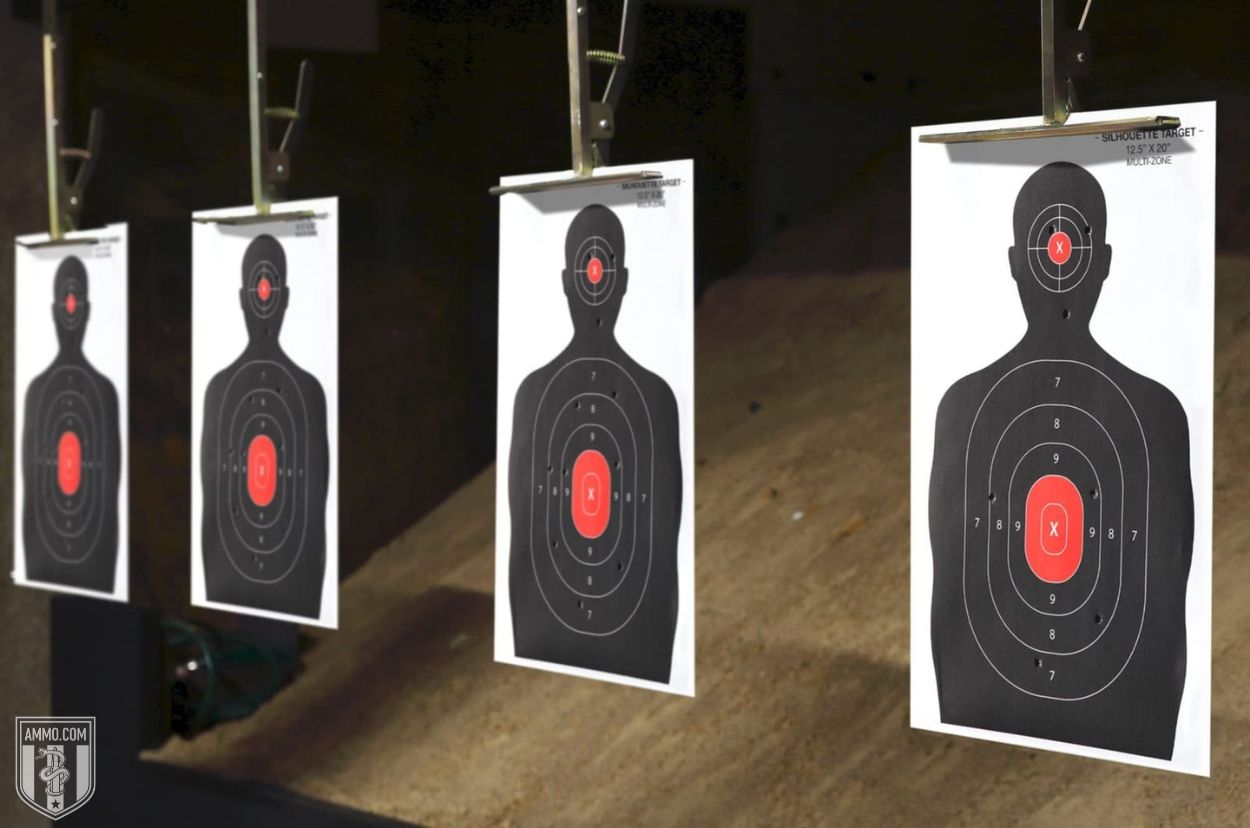 Competition/Target Shooting
When in a competition, speed and accuracy are critical. So, a round with low recoil and an accurate bullet are what you need.
I don't recommend getting the cheap stuff in this instance. If you want to win, you must purchase the high-end rounds.
Competition bullet types vary, but most competitive shooters use FMJs or TMJs.
Serious competitive shooters tend to handload their rounds to ensure a consistency that factory ammo is unable to provide.
Frequently Asked Questions
Below, I've taken the liberty of rounding up a few commonly asked questions regarding the best ammo for a Taurus GX4.
What kind of ammo does a Taurus GX4 use?
A Taurus GX4 fires 9mm Luger ammo.
Is the Taurus GX4 rated for +P ammo?
Yes, the Taurus GX4 is rated for +P ammo.
What grain 9mm should I use for the range?
The grain of 9mm bullets you should use for the range depends on your gun, goals, and recoil sensitivity. 124gr is an excellent place to begin. Your gun will often have a preference for a specific bullet weight, and you'll find that you shoot better using a certain weight of bullet.
Parting Shots
Now that you know the best ammo for a Taurus GX4 is Federal HST 124gr JHP in a self-defense situation, it's time to stock up! I love these rounds because they're made in the USA, readily available, and rarely jam.