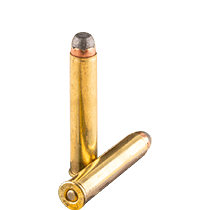 444 Marlin Ammo For Sale
Live Inventory
Introduced in 1964 as a big bore, lever action rifle cartridge, the .444 Marlin is sutiable for all North American game out to 200 yards. Its power and suitability to use a lever action platform make .444 Marlin ammo a great hunting round.
Learn More
There are no products matching the selection.
History of 444 Marlin Ammo
In 1964, Marlin Firearms and Remington Arms joined forces to develop a cartridge that filled the gap created by the lack of lever action rifles chambered in .45-70. The result was the .444 Marlin, which was chambered in the acclaimed Model 336 lever action rifle. To develop the cartridge, designers from Marlin and Remington started with a .44 Magnum case, lengthened it by nearly an inch and capped it with a jacketed soft point bullet weighing 240 grains. The bullet actually has a diameter of 0.429 inches, the same as a .44 Magnum bullet. But similarities to the .44 Magnum end there, as the performance of the .444 Marlin is on another level entirely.
The .444 Marlin is currently sold with bullets weighing between 240 and 300 grains. The design of these bullets are soft points, flat noses or hollow points. Muzzle velocities range between 2,000 and 2,350 foot pounds, making the .444 Marlin a cartridge more than adequate to harvest most game in all of North America. Hornady recently released .444 Marlin ammo in their new LEVERevolution line, with a reported muzzle velocity of more than 1,650 feet per second and energy levels of more than 1,600 foot pounds at 200 yards.
Cowboy action shooting has recently grown in popularity, and along with it, a demand for rifles chambered in .45-70. Several manufacturers have responded to the increased demand and are now making lever action rifles in this caliber. As a result, the sales of .444 Marlin rifles dropped sharply. While demand has fallen off for .444 ammo, hunters still respect the cartridge for being a heavy, hard-hitting bullet that works great for hunting in dense brush and for longer shots across a clearing in the woods.
444 Marlin Ballistics: Chart of Average 444 Marlin Ballistics
Note: This information comes from the manufacturer and is for informational purposes only. The actual ballistics obtained with your firearm can vary considerably from the advertised ballistics. Also, ballistics can vary from lot to lot with the same brand and type load.
444 Marlin Bullet WEIGHT
Muzzle VELOCITY (fps)
Muzzle ENERGY (ft. lbs.)
TRAJECTORY (in.)
Muzzle
100 yds.
200 yds.
300 yds.
400 yds.
Muzzle
100 yds.
200 yds.
300 yds.
400 yds.
100 yds.
200 yds.
300 yds.
400 yds.
240 Grain
2350
1815
1377
1087
941
2942
1753
1001
630
472
2.5
-15.1
-31
0