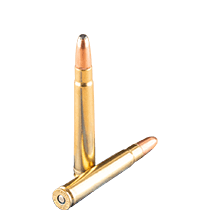 375 H&H Magnum Ammo For Sale
Live Inventory
One of the most popular hunting cartridges in the world, the .375 H&H Magnum is suitable for hunting all African game. Although originally designed for Holland & Holland single and double rifles, it is now chambered in several rifles and is available across the globe.
Learn More
Prvi Partizan 375 H&H Magnum Ammo - 10 Rounds of 300 Grain SP Ammunition

Muzzle Energy

4264 ft lbs

Federal Power-Shok 375 H&H Magnum Ammo - 20 Rounds of 270 Grain SP Ammunition

Muzzle Energy

4338 ft lbs

20 Rounds
$4.50 per round
Made by Federal
History of 375 H&H Magnum Ammo
Holland & Holland, a firearms company from England, developed the .375 H&H Magnum in 1912 – a cartridge that would eventually come to be called the "Queen of the Medium Bores." The .375 H&H Mag was specifically designed for hunting big game in Africa, and it was successful. The cartridge is sufficient to harvest any large game animal on the continent, including the Big Five species. Although it's been around for over 100 years, it still warrants respect, and is often chosen by both professional hunters and sportsmen. The .375 is the base of Holland & Holland's most popular cartridge, the .300 H&H Magnum.
A significant advantage to shooting the .375 H&H Magnum is that independent of bullet weight, the same flat trajectory is maintained. Therefore, if a hunter wants to switch bullet weights depending on the hunting situation, the impact point will mostly stay the same. Hunters are provided with the ability to choose bullets with different weights quickly, without the need to worry about a change in the point of impact.
The .375 H&H Magnum cartridge was only the second belted magnum design. This belted design and case shoulder with a gentle slope allowed for the use of higher pressure loadings, but still made case extraction easy. Because of this, the popularity of the .375 H&H Magnum was tremendously boosted – especially for use in tropical climates like those found in Africa and India.
One of the key advantages of the .375 H&H is the wide diversity of bullet types and weights available, which is part of what makes this cartridge so versatile. Bullet weights commonly range between 200 and 300 grains. Soft point bullets are suited well for medium-size game animals and even some of the most dangerous African game. Muzzle velocity ranges between 2,650 and 3,200 feet per second, giving the .375 H&H Mag a muzzle energy in the area of 4,500 foot pounds.
Don't forget to take a look at our inventory of Hornady 375 H&H ammo.
Soon after being introduced in Europe, the .375 H&H Magnum arrived in America and began gaining adherents among the hunters there, where it boasted sufficient power to harvest all North American large game animals. In 1925, Winchester was the first U.S. company to manufacture a rifle chambered for .375 H&H Magnum – including their iconic Model 70 rifle to this day.
375 H&H Magnum Ballistics: Chart of Average 375 H&H Magnum Ballistics
Note: This information comes from the manufacturer and is for informational purposes only. The actual ballistics obtained with your firearm can vary considerably from the advertised ballistics. Also, ballistics can vary from lot to lot with the same brand and type load.
375 H&H Magnum Bullet WEIGHT
Muzzle VELOCITY (fps)
Muzzle ENERGY (ft. lbs.)
TRAJECTORY (in.)
Muzzle
100 yds.
200 yds.
300 yds.
400 yds.
Muzzle
100 yds.
200 yds.
300 yds.
400 yds.
100 yds.
200 yds.
300 yds.
400 yds.
250 Grain
2890
2675
2471
2275
2088
4636
3973
3388
2873
2421
1.7
0
-7.4
-21.5
250 Grain
2670
2450
2240
2040
1850
3955
3335
2790
2315
1905
2.5
-0.4
-10.2
-28.4
270 Grain
2690
2420
2166
1928
1707
4337
3510
2812
2228
1747
2.5
0
-10
-29.4
270 Grain
2800
2562
2337
2123
1921
4700
3936
3275
2703
2213
1.9
0
-8.3
-24.3
270 Grain Heavy Magnum
2870
2628
2399
2182
1976
4937
4141
3451
2150
1845
1.7
0
-7.2
-21
300 Grain
2530
2245
1979
1733
1512
4263
3357
2608
2001
1523
2.5
-1
-10.5
-33.6
300 Grain
2660
2345
2052
1782
1539
4713
3662
2804
2114
1577
2.4
0
-10.8
-32.6
300 Grain Heavy Magnum
2705
2386
2090
1816
1568
4873
3793
2908
2195
1637
2.3
0
-10.4
-31.4