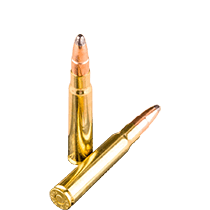 8mm Ammo For Sale
Live Inventory
Introduced in 1905, the 8mm Mauser continues to be a respected military cartridge to this day. It also has a great following among hunters as it is a proven round for use on medium- and larger-sized game.
Learn More
There are no products matching the selection.
History of 8mm Ammo
The Gewehr-Prufungskommission developed the 8mm Mauser in 1905, a cartridge also known as the 7.92x57mm Mauser. This cartridge was developed with the goal of improving upon and replacing the Patrone 88 or M88 cartridge, which was being used at the time. The 8mm Mauser has more than a century of active service in the military, and to this day it is still in reserve status in many countries.
The Germans used the 8mm Mauser in WWI, where the cartridge gained the attention of other nations. It earned respect for its accuracy and power, and many people likened the performance to that of the American .30-06. By the time WWII started, the British had mounted 8mm machine guns on their trucks and Jeeps. The Germans manufactured several versions of the cartridge including incendiary rounds, tracer rounds, armor piercing steel core rounds, and sniper rounds. The cartridges made for sniping were manufactured to the strictest standards, and are comparable to match ammunition made today.
The 8mm Mauser is mostly found in the United States, chambered in surplus Gewehr 98 rifles and short Karabiner 98k rifles. Hunters like the cartridge for its effectiveness on game of medium size. The proper ammo easily reaches out with effectiveness to more than 400 yards, taking bear, boar and deer. Blaser, Steyr, Mauser and Zastava are some of the better known companies that still make hunting rifles in this caliber. Prvi Partizan, Sako and Sellier & Bellot currently manufacture 8mm Mauser ammo, most commonly with Soft Point or Full Metal Jacket bullets weighing 196 grains – although lighter loads are also available.
The shooter today should know that not all cartridges that carry the 8mm Mauser or 7.92x57mm name are the same. The M88 cartridge, also sold with the name 8x57J, cannot be fired from most military surplus Mauser rifles or civilian rifles, as the bore of these rifles is sized for a 0.318-inch caliber bullet. There are rimmed versions of the 8x57J as well as the 8mm Mauser, and the buyer should know for sure which version their rifle fires before committing to an ammunition purchase.
The 8mm Mauser has a long record of excellent service, and it has earned the respect of many hunters and target shooters alike – all of whom will certainly keep using this great cartridge for many years to come.
8mm Ballistics: Chart of Average 8mm Ballistics
Note: This information comes from the manufacturer and is for informational purposes only. The actual ballistics obtained with your firearm can vary considerably from the advertised ballistics. Also, ballistics can vary from lot to lot with the same brand and type load.
8mm Bullet WEIGHT
Muzzle VELOCITY (fps)
Muzzle ENERGY (ft. lbs.)
TRAJECTORY (in.)
Muzzle
100 yds.
200 yds.
300 yds.
400 yds.
Muzzle
100 yds.
200 yds.
300 yds.
400 yds.
100 yds.
200 yds.
300 yds.
400 yds.
170 Grain
2360
1969
1622
1333
1123
2102
1464
993
671
476
2.5
-3.1
-22.2
0
196 Grain
2500
2338
2182
2032
1888
2720
2379
2072
1797
1552
2.4
0
-9.8
-27.9
Customer Reviews
firejohn said:

This ammo was great,it surpassed my expectations