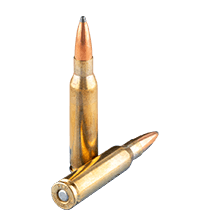 7mm-08 Rem Ammo For Sale
Live Inventory
Noted for having a wide range of bullets available, the 7mm-08 Remington has been proven effective on moose and smaller game – all the way to varmints. Its accuracy also makes it a good choice for competitive shooting.
Learn More
Prvi Partizan 7mm-08 Rem Ammo - 20 Rounds of 140 Grain SP Ammunition

Muzzle Energy

2543 ft lbs

Hornady 7mm-08 Rem Ammo - 20 Rounds of 120 Grain SST Ammunition

Muzzle Energy

1907 ft lbs

20 Rounds
$1.75 per round
Made by Hornady
History of 7mm-08 Rem Ammo
In 1980, Remington Arms Company developed the 7mm-08 Remington cartridge as a round for multiple applications, from small-game hunting to competitive long-range shooting. Though the wildcat cartridge had been part of the hunting and shooting scene for years, Remington boosted the appeal of the cartridge by chambering it in their Model 700 and Model 788 rifles, and also their unique bolt action pistol, the XP-100.
Hunters have used the 7mm-08 to pursue many different kinds of game. It has been established as a respectable cartridge with a wide array of bullet weights and configurations available, for just about every need, for even the most demanding hunter. Several respected shooters of large game animals endorse the 7mm-08 as a good cartridge for hunting deer, elk and even moose.
The 7mm-08 Remington performs similar to a few well known cartridges – including the 7x57mm Mauser, .308 Winchester and even the venerable .30-06. Bullets commonly weigh between 120 grains and 165 grains, and are configured in every design shooters want. Muzzle velocity on the low end is about 2,500 feet per second, and at the high end is about 3,000 feet per second. The muzzle energy of the 7mm-08 is between 2,300 and 2,500 foot pounds. Downrange performance is impressive, with most bullets still carrying 1,400 foot pounds or more as far out as 300 yards.
This cartridge is great for all game in North America, except the largest and most dangerous, and is regularly used to take elk and feral hogs. It's efficient and performs well in crosswinds, not to mention that the recoil is manageable for most shooters.
The 7mm-08 is most often chambered in lever action and bolt action rifles, although it is also available in a few semi-automatic rifles, such as the Remington R-25. Federal, Hornady, Remington and Winchester are the better known companies that produce ammunition in 7mm-08. They top these cartridges with a large variety of bullets, from standard soft point to the most advanced hunting bullets that money can buy.
Sport shooters and hunters alike would be well served to have a 7mm-08 in their gun collection.
7mm-08 Rem Ballistics: Chart of Average 7mm-08 Rem Ballistics
Note: This information comes from the manufacturer and is for informational purposes only. The actual ballistics obtained with your firearm can vary considerably from the advertised ballistics. Also, ballistics can vary from lot to lot with the same brand and type load.
7mm-08 Rem Bullet WEIGHT
Muzzle VELOCITY (fps)
Muzzle ENERGY (ft. lbs.)
TRAJECTORY (in.)
Muzzle
100 yds.
200 yds.
300 yds.
400 yds.
Muzzle
100 yds.
200 yds.
300 yds.
400 yds.
100 yds.
200 yds.
300 yds.
400 yds.
120 Grain
2675
2435
2207
1992
1790
1907
1579
1298
1057
854
2.2
0
-9.4
-27.5
120 Grain
3000
2725
2467
2223
1992
2398
1979
1621
1316
1058
2
0
-7.6
-22.3
139 Grain
2840
2608
2387
2177
1978
2489
2098
1758
1463
1207
1.8
0
-7.9
-23.2
139 Grain Superformance
2950
2857
2571
2393
2222
2686
2345
2040
1768
1524
1.5
0
-6.8
-19.7
140 Grain
2860
2625
2402
2189
1988
2542
2142
1793
1490
1228
2.5
0.8
-6.9
-21.9
154 Grain
2715
2510
2315
2128
1950
2520
2155
1832
1548
1300
2.5
1
-7
-22.7
Customer Reviews
Al said:

That caliber was hard to find ,luckily they had plenty in stock