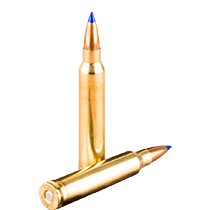 300 Win Magnum Ammo For Sale
Live Inventory
The .300
Winchester
Magnum has been a leading choice in the large-game hunting community since its introduction in the 1960s. Not only is it a tremendously powerful cartridge, but the .300 Win Mag is also accurate enough for 1,000-yard shooting competitions.
Learn More
History of 300 Win Magnum Ammo
The .300 Winchester Magnum descended from the legendary .375 H&H cartridge, which after many successful hunts in Africa, developed a reputation for being capable of taking every game animal on the entire continent. Following in the footsteps of its predecessor, the .300 Win Mag has a reputation of being able to take any game animal in North America. When you compare .300 Win Mag vs .30-06, in most cases, the .300 Win Mag enjoys a velocity advantage of nearly 300 feet per second over the .30-06, a cartridge that lives up to its heritage and name.
The popularity of the .300 Win Mag surged again in the early years of the new millennium, since the U.S. Army started converting its sniper rifles from .308 Winchester to the .300 WM cartridge – which is able to engage targets of human size at ranges as great as 1,200 meters. This distance is 50-percent farther compared to the reach of the .308 Winchester, a very effective sniper rifle cartridge.
Competitive shooters also have warmed up to the 300 Win Mag, as they prefer the flatter trajectory of 300 Win Mag compared to 308. Federal 300 Win Mag Gold Medal Match ammo is some of the most accurate ammo on the market and will often be found on the firing line at PALMA and F-Class matches across the country.
The .300 Win Mag is commonly chambered in rifles with bolt actions like the Remington 700 and the Winchester Model 70. It has, however, also been chambered in semi-automatic rifles like the Browning BAR and even lever action rifles including the Browning BLR.
300 Win Magnum Ballistics: Chart of Average 300 Win Magnum Ballistics
Note: This information comes from the manufacturer and is for informational purposes only. The actual ballistics obtained with your firearm can vary considerably from the advertised ballistics. Also, ballistics can vary from lot to lot with the same brand and type load.
300 Win Magnum Bullet WEIGHT
Muzzle VELOCITY (fps)
Muzzle ENERGY (ft. lbs.)
TRAJECTORY (in.)
Muzzle
100 yds.
200 yds.
300 yds.
400 yds.
Muzzle
100 yds.
200 yds.
300 yds.
400 yds.
100 yds.
200 yds.
300 yds.
400 yds.
150 Grain
3290
2951
2636
2342
2068
3605
2900
2314
1827
1424
2.5
1.9
-3.8
-15.8
150 Grain Superformance
3400
3150
2914
2690
2477
3850
3304
2817
2409
2043
1
0
-5.1
-15
165 Grain
3100
2877
2665
2462
2269
3522
3033
2603
2221
1897
2.5
2.4
-3
-16.9
178 Grain
2900
2760
2568
2375
2191
3509
3030
2606
2230
1897
2.5
1.4
-5
-17.6
178 Grain
2960
2770
2588
2413
2245
3463
3032
2647
2301
1992
1.5
0
-6.7
-19.4
178 Grain Super Match
2960
2770
2587
2412
2243
3462
3031
2645
2298
1988
1.5
0
-6.7
-19.4
180 Grain
2960
2745
2540
2344
2157
3501
3011
2578
2196
1859
2.5
1.2
-5.5
-18.5
180 Grain Superformance
3130
2927
2732
2546
2366
3917
3424
2983
2589
2238
1.3
0
-5.9
-17.3
190 Grain
2885
1691
2506
2327
2156
3511
3055
2648
2285
1961
2.5
1.2
-5.7
-19
200 Grain
2825
2595
2376
2167
1970
3545
2991
2508
2086
1742
-2.5
1.6
-4.7
-17.2
220 Grain
2680
2448
2228
2020
1823
3508
2927
2424
1993
1623
2.5
0
-9.5
-27.5