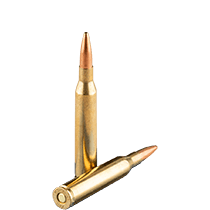 25-06 Ammo For Sale
Live Inventory
Because of the wide variety of bullets available, the .25-06 is a great choice for varminting as well as hunting game as large as elk. Based on the venerable
.30-06
, .25-06 ammunition offers a lighter, faster and flatter shooting bullet that excels at long ranges.
Learn More
There are no products matching the selection.
History of 25-06 Ammo
In the early 1900s, Charles Newton earned acclaim as a designer of ammunition with his .22 Savage, .250-3000 Savage and many more cartridges bearing the Newton designation. He also held patents for many different designs of projectiles and firearm assemblies, including trigger groups.
Newton, in his time, was a successful inventor of a large amount of ammo and mechanisms for firearms. The best known of all his great inventions is the .25-06 cartridge. He based this on a .30-06 case, which he necked down to take a bullet with a diameter of 0.257 inches. The result was a remarkably versatile cartridge that came closer to the holy grail of being "one gun for all occasions" than any other cartridge past or present.
In 1969, Remington brought the wildcat cartridge into the mainstream by chambering their Model 700 and Model 40X rifles in .25-06. Many other manufacturers since then have also produced .25-06 rifles and .25-06 ammunition.
The .25-06 launches a soft point bullet weighing 100 grains out the muzzle of a rifle at 3,230 feet per second. The resulting muzzle energy exceeds 2,300 foot pounds. Bullets can weigh between 87 and 130 grains, and various manufacturers today sell no less than 17 different loads. Shooters can pursue a wide variety of game with these loads, including animals as diverse as prairie dogs and elk.
.25-06 ammo enjoys the advantage of being a powerful cartridge, yet only delivers moderate recoil. The rifle can therefore be lighter than other calibers with similar power. Consider that the recoil of an eight-pound .270 Winchester rifle and 6.5-pound .25-06 rifle is virtually identical when firing the same 130 grain bullet. This may not appear to be a significant advantage at first glance, but imagine how much that extra pound and a half feels after hiking all day in the mountains in pursuit of elk.
The .25-06 retains its place on the list of most popular U.S. hunting cartridges, and for good reason. This caliber, with its versatility and portability, is a great addition to the collection of any hunter.
25-06 Ballistics: Chart of Average 25-06 Ballistics
Note: This information comes from the manufacturer and is for informational purposes only. The actual ballistics obtained with your firearm can vary considerably from the advertised ballistics. Also, ballistics can vary from lot to lot with the same brand and type load.
25-06 Bullet WEIGHT
Muzzle VELOCITY (fps)
Muzzle ENERGY (ft. lbs.)
TRAJECTORY (in.)
Muzzle
100 yds.
200 yds.
300 yds.
400 yds.
Muzzle
100 yds.
200 yds.
300 yds.
400 yds.
100 yds.
200 yds.
300 yds.
400 yds.
87 Grain
3440
2995
2591
2222
1884
2286
1733
1297
954
686
2
1.1
-2.5
-14.4
90 Grain
3350
3001
2679
2378
2098
2243
1790
1434
1130
879
1.2
0
-6
-18.3
90 Grain
3440
3043
2680
2344
2034
2364
1850
1435
1098
827
2
1.8
-3.3
-15.6
100 Grain
3230
2893
2580
2287
2014
2316
1858
1478
1161
901
2
0.8
-5.7
-18.9
117 Grain
2990
2770
2570
2370
2190
2320
2000
1715
1465
1246
2.5
1
-7.9
-26.6
117 Grain Superformance
3110
2861
2626
2403
2191
2512
2127
1792
1500
1246
1.4
0
-6.4
-18.9
120 Grain
2990
2730
2484
2252
2032
2382
1985
1644
1351
1100
2.5
1.2
-5.3
-19.6
122 Grain
2930
2706
2492
2289
2095
2325
1983
1683
1419
1189
2.5
1.8
-4.5
-17.5