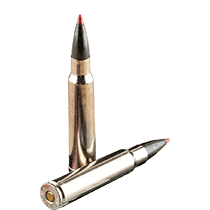 338 Win Magnum Ammo For Sale
Live Inventory
Designed with the big game hunter in mind, the .338 Winchester Magnum is especially popular among elk and moose hunters. With ballistics similar to a
.30-06
– but more commonly featuring heavier bullets – it has found favor among African plains hunters as well.
Learn More
There are no products matching the selection.
History of 338 Win Magnum Ammo
In 1958, Winchester introduced their .338 Winchester Magnum to a specific group of hunters of large North American game. The popularity of the cartridge soon spread to Africa, where hunters used it to harvest medium-sized game as well as some large animals.
The .338 used a .375 H&H Magnum case that had been necked down to take the smaller .338 caliber bullet. This allowed the use of a rather heavy bullet, which meant that with enough powder, a 200 grain soft point bullet could reach 3,000 feet per second and a muzzle energy exceeding 3,800 foot pounds. The Winchester Model 70 Alaskan was among the first rifles chambered for this cartridge and was designed with the hunter of big Alaskan game in mind. With a reputation for being one of the best cartridges for hunting elk in use today, the .338 has also been employed with great success for bear hunting. A great advantage of this cartridge is how well it retains energy at long distances. With the right load, it has nearly 2,000 foot pounds of energy available at 400 yards – making the effective range of the .338 better than the .375 H&H Magnum.
But all that power and reach comes with a cost. The rifles that fire .338 are built heavily and weigh an average of eight to ten pounds. More often discussed than gun weight is the recoil factor. While the .30-06 generates recoil in the range of 15 foot pounds, the .338 Winchester Magnum generates recoil in the range of 30 foot pounds! This is a significant number for recoil, but it's not enough to dissuade hunters who need the performance that this cartridge presents.
Several major manufacturers sell rifles chambered for the .338 Winchester Magnum, including Winchester (obviously), Ruger, and Remington. Weatherby and Savage also make some of the more well known options. Bolt action rifles are the most common platform, although Browning makes a BAR semi-automatic rifle that is chambered for the .338.
.338 Winchester Magnum ammunition is also for sale from nearly every U.S. manufacturer. Federal and Hornady sell high-performance ammo for hunting, and their advanced bullet designs make this excellent hunting cartridge even better.
338 Win Magnum Ballistics: Chart of Average 338 Win Magnum Ballistics
Note: This information comes from the manufacturer and is for informational purposes only. The actual ballistics obtained with your firearm can vary considerably from the advertised ballistics. Also, ballistics can vary from lot to lot with the same brand and type load.
338 Win Magnum Bullet WEIGHT
Muzzle VELOCITY (fps)
Muzzle ENERGY (ft. lbs.)
TRAJECTORY (in.)
Muzzle
100 yds.
200 yds.
300 yds.
400 yds.
Muzzle
100 yds.
200 yds.
300 yds.
400 yds.
100 yds.
200 yds.
300 yds.
400 yds.
185 Grain Superformance
3080
2850
2632
2424
2226
3896
3337
2845
2413
2034
1.4
0
-6.4
-18.8
200 Grain
3030
2820
2620
2429
2246
4077
3532
3049
2621
2240
1.4
0
-6.5
-18.9
210 Grain
2830
2590
2370
2150
1940
3735
3130
2610
2155
1760
2.5
1.4
-6
-20.9
225 Grain
2785
2517
2266
2029
1808
3871
3165
2565
2057
1633
2.5
0.4
-8.5
-25.9
225 Grain Superformance
2840
2758
2582
2414
2252
4318
3798
3331
2911
2533
1.5
0
-6.8
-19.5
230 Grain
2780
2573
2375
2186
2005
3948
3382
2881
2441
2054
2.5
1.2
-6.3
-21
250 Grain
2660
2456
2261
2075
1898
3927
3348
2837
2389
1999
2.5
0.2
-9
-26.2
250 Grain Ultra
2860
2645
2440
2244
2057
4540
3882
3303
2794
2347
1.7
0
-7.6
-22.1