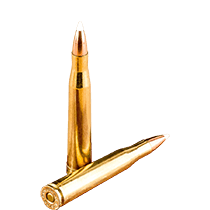 300 H&H Magnum Ammo For Sale
Live Inventory
With slightly better ballistic performance than the
.30-06
, the .300 H&H Magnum has been used for hunting all large African game since its introduction in 1925. The .300 H&H Mag is commonly found in the fine double rifles of its inventor, Holland & Holland.
Learn More
There are no products matching the selection.
History of 300 H&H Magnum Ammo
British company Holland & Holland introduced the .300 H&H Magnum in 1925. Initially called the "Super-Thirty," it was designed to hunt African plains animals – all of which it can harvest except the very largest. The first .30 caliber magnum to hit the commercial market, .300 H&H Mag ammo has also been successfully employed for elk hunting, as well as taking moose and other large game animals in North America.
You probably won't find it at your local mom-and-pop shop, but if you're willing to do a little digging (or handloading) you can see for yourself why this was the 300 round for almost 40 years – and why weapons chambered for this cartridge fetch a pretty penny on the secondhand market.
Harris Holland and the History of Holland & Holland
The history of Holland & Holland is shrouded in a bit of mystery. No one is entirely sure when this company, which boasts two royal warrants, was founded, though it's known that it was sometime in the 1850s. Founder Harris Holland did not apprentice with any of the major gunsmiths of the era, known as London's Best.
Indeed, little is known for certain about Harris Holland and how he became one of the most innovative British gunsmiths of his generation. We know for certain that he was born in London in 1806. It is generally accepted that his father was an organ builder and that he previously owned a tobacco wholesaler. He was apparently successful at this, as he was often seen shooting at some of the most fashionable clubs in London and leased his own grouse moor in Yorkshire.
Holland had no children. The second "Holland" in Holland & Holland is his nephew Henry. Henry started as an apprentice in 1861, but he was a full partner by 1867. The name change to "Holland & Holland" took place in 1876. Still, the original Holland was in firm control and was the only partner able to sign a check until the death of Harris in 1896.
The company first rose to prominence in 1883, when it entered a series of trials put on by The Field magazine. It won every single category available to rifles. In 1885, they received a patent for the Paradox gun, a shotgun including two inches of rifling at the end of the barrel.
Today the company is owned by, of all parent companies, Chanel. Yes, the company mostly known for fashion and cosmetics. This becomes less ironic when one learns that handmade weapons produced by Holland & Holland go for as much as £100,000 before custom engraving, which might as much as double the price.
Ben Comfort Wins the Wimbledon Cup With 300 H&H
In 1935, Ben Comfort changed the world of competitive shooting forever using the 300 H&H at the Wimbledon Cup. Comfort knew his way around a rifle, but he was not a renowned competitor. Griffin & Howe made Comfort a rifle chambered for the .300 H&H Magnum, which had, until that time, never been used in major competition.
Comfort was in natural gas for his profession, but also owned a working farm. It was on this Missouri farm where he built a 1,000-yard range with telephone service running between the pits and the firing line. Farm hands provided pit service while he learned how to shoot at 1,000 yards in preparation for his Wimbledon Cup appearance.
Comfort still wasn't sure that he had the right stuff. So he entered the President's Match, which in 1935 still had a 1,000-yard stage. This is the match where he verified his settings and got ready for the big show. Some objected, but his shooting was allowed to stand. He won the Wimbledon and won it big.
There were eight perfect scores on that day, but Comfort's was the best by far. He beat some of the best long-range shooters in the world that day, including former Olympic and World Champion Morris Fisher. Since then, the 300 H&H has been the standard in 1,000-yard competition shooting in general and the Wimbledon Cup in particular. This was the spark it needed to catch fire on the international market. When the "rifleman's rifle," the Winchester Model 70, included this cartridge as one of its offerings, the writing was on the wall – this was a hot round.
300 H&H Magnum Performance
This cartridge is almost obsolete, but like many archaic rounds, it hangs around thanks to a committed fanbase of amateur gunsmiths, skilled handloaders and enthusiasts of strange calibers. One of the reasons that aficionados of the .300 H&H Magnum Automatic round swear by it is simple: speed. The flatter trajectory of the 300, as compared to other .30 rounds like the .30-06, is another reason one might still opt for this cartridge over others.
The 300 H&H boasts some serious impact: 3,400 feet per second when loaded with a 150-grain bullet, over 3,200 with a 180 grain and almost 3,000 feet per second with a 200 grain. This is enough to take down even the thickest skinned game you might come across. Indeed, the notoriously speedy .300 Weatherby Magnum is little more than an improved version of the 300 H&H.
Bullet weights for this cartridge are available between 150 grains and 220 grains, muzzle energy can exceed 3,700 foot pounds, and muzzle velocities can exceed 3,300 feet per second. The case for the .300 H&H Mag is based on Holland & Holland's most popular cartridge – their .375 H&H Magnum. They necked down the case to accept a 0.309" bullet, belted it and gave it a narrow sloping shoulder. While it is unusual to see a narrow shoulder like this, the .300 H&H Magnum has proven to have superior ballistics to the .30-06. With a heavy bullet that moves fast, a high ballistic coefficient and a range beyond 200 yards – the hunting community took notice of these numbers immediately. Even as far as 400 yards out, the .300 H&H retains about 2,000 foot pounds of energy.
When the .300 Winchester Magnum was introduced in the 1960s, the .300 H&H Magnum declined in popularity. Some voices of the gun culture speculated that only the fine double-barreled rifles made by H&H were what kept the cartridge alive, but it has experienced a new growth in popularity over the past few years, likely due to manufacturers selling bullets on the leading-edge of ballistic technology. Federal, for example, sells Nosler Partition bullets and Barnes Triple-Shock bullets in the .300 H&H Magnum cartridges they manufacture.
300 H&H Magnum Ballistics: Chart of Average 300 H&H Magnum Ballistics
Note: This information comes from the manufacturer and is for informational purposes only. The actual ballistics obtained with your firearm can vary considerably from the advertised ballistics. Also, ballistics can vary from lot to lot with the same brand and type load.
300 H&H Magnum Bullet WEIGHT
Muzzle VELOCITY (fps)
Muzzle ENERGY (ft. lbs.)
TRAJECTORY (in.)
Muzzle
100 yds.
200 yds.
300 yds.
400 yds.
Muzzle
100 yds.
200 yds.
300 yds.
400 yds.
100 yds.
200 yds.
300 yds.
400 yds.
180 Grain
2870
2678
2494
2318
2148
3292
2866
2486
2147
1844
1.7
0
-7.3
-21.6
180 Grain
2880
2640
2412
2196
1990
3315
2785
2325
1927
1583
2.5
0.8
-6.8
-21.7
200 Grain
2750
2596
2447
2303
2164
3357
2992
2659
2355
2079
1.8
0
-7.6
-21.8
220 Grain
2550
2267
2002
1757
n/a
3167
2510
1958
1508
n/a
-2.5
-0.4
-12
0